Rokker City Sneaker review
Published on: 10/07/2018 10:05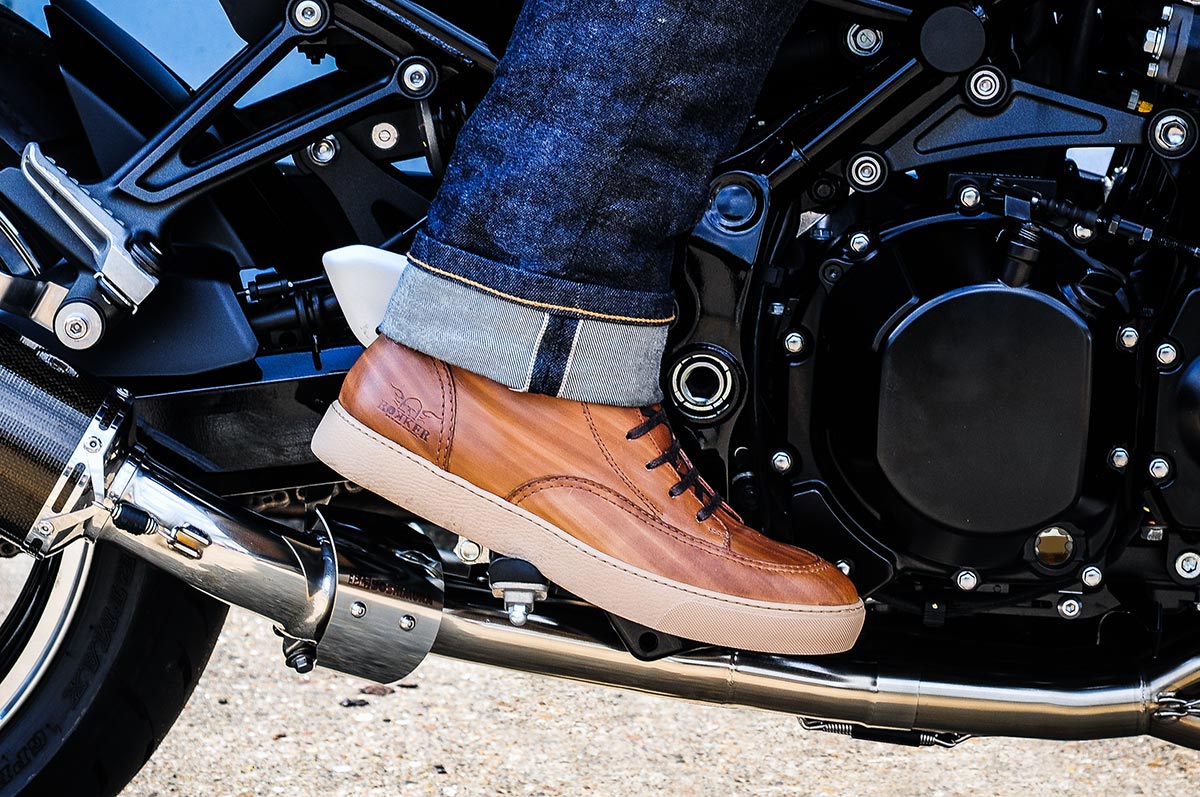 THE MOST STYLISH, SHORT MOTORCYCLE BOOT ON THE MARKET

This is probably the most anticipated piece of motorcycle footwear of the last 12 months.
And that's for two reasons.
Firstly, because it comes from Swiss company Rokker. In a relatively short period of time, Rokker has built up a huge following. Rokker aficionados have come to realise that when these guys produce something, they go all out to make it the best.
Their single-layer jeans are streets ahead of anything else on the market. Their chinos are smart enough for the office, yet deliver an abrasion time way beyond leather. Their Revolution jeans are as waterproof as a pair of Rukka pants. Whilst their Urban Racer boots are about as tough and rugged as it gets.
These guys are on it, and rarely make a mistake.
We've known about their new City Sneakers for almost a year. We first saw them when we visited the company in Switzerland last June. And, even though what we saw were prototypes, we understood straightaway that Rokker had kind of created a new category of riding boot.
The leather, ankle, motorcycle boot has been around for years. Based on a Caterpillar-style silhouette, just about every maker produces a variation on this theme. From TCX, there's the X-Blend and Hero. From Stylmartin, there's the Indian. Spidi has the Goodwood, Falco the Ranger, Furygan the Caprino, Helstons the Travel, and so on.
And then there's the ultra-lightweight and easy-to-wear trainer-style boot. Here we're talking about boots like the TCX X-Street, the Stylmartin Iron and so on. These boots are great for urban riding, for tootling around in in the summer, and for popping out for a bacon sarnie on a Sunday morning. But, in our view, they're not really up to the job of more arduous riding.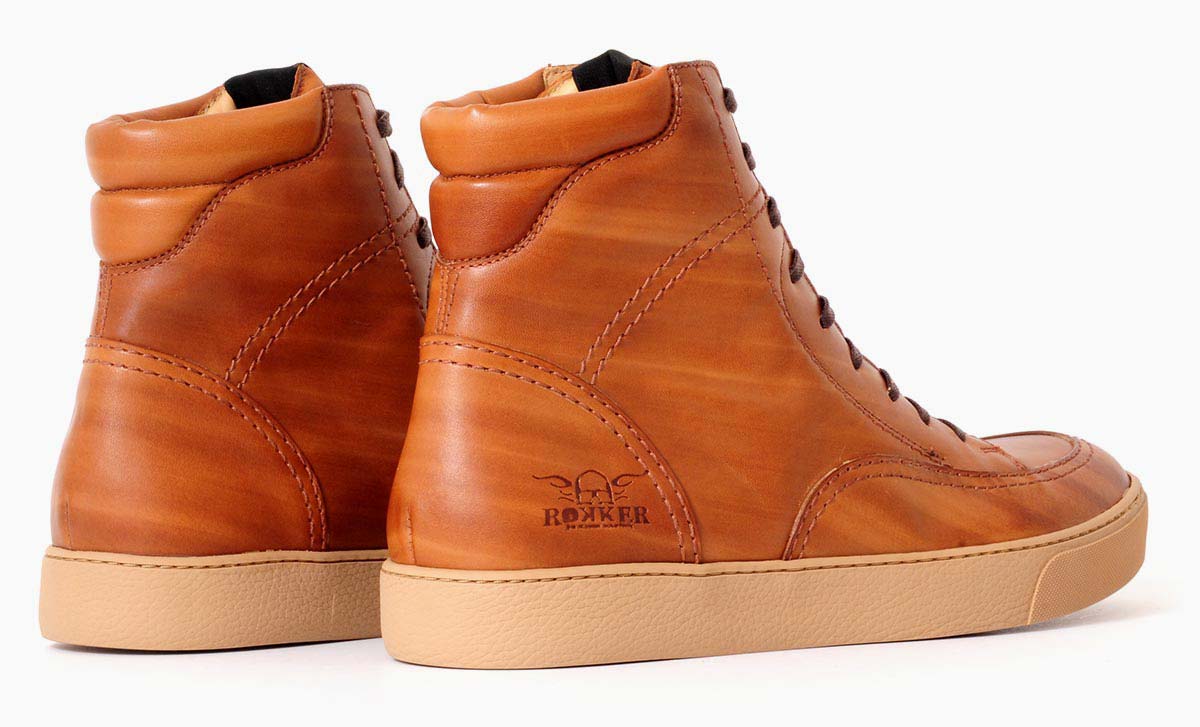 Well the Rokker City Sneaker sits somewhere between the two. It has the comfort of the traditional motorcycle trainer boot, but at the same time it has some of the robustness and solidarity of what we'd call a proper, short motorcycle boot.
If the trainer style is too lightweight for your liking, and if a full-on, Vibram or Commando soled leather boot is too heavy, the Rokker City Sneaker might just hit the spot.
Stock has only just arrived with us (Tuesday 10th July), but in secret I've been wearing a pair for a few weeks.
I love the styling. In truth, if I'd come across a pair in a shop window on Jermyn Street, I would have made a beeline for them, even if they hadn't been made for motorcycling.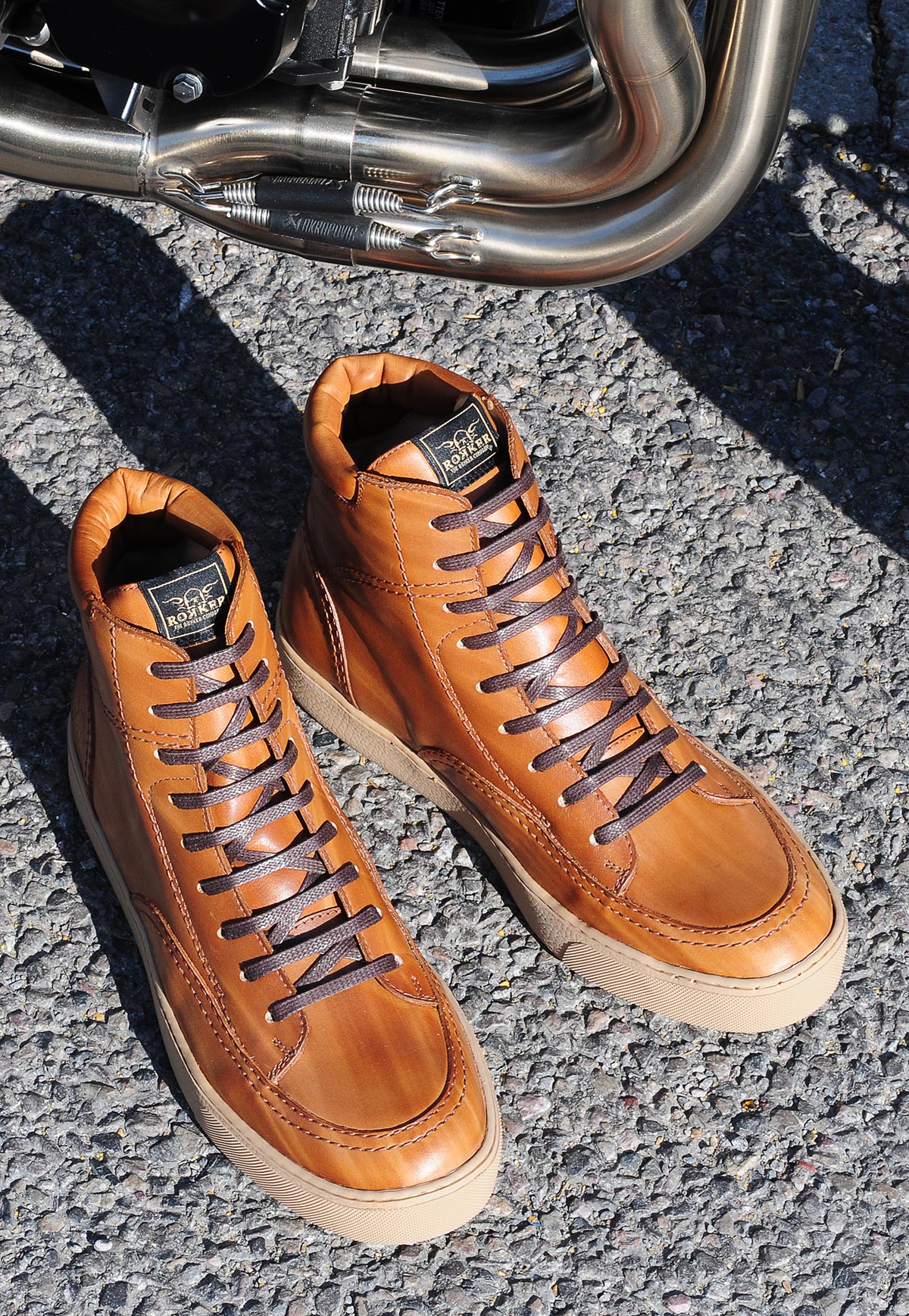 They are perhaps the most stylish motorcycle boot I've come across. You can wear them with jeans; they'll look great with chinos, and for most of us, they would not look out of place in the office. They are, without doubt, very smart.
Comfort-wise, it's the same deal. I would be happy to wear a pair even if I didn't own a motorcycle. The interior, including the tongue, is fully padded and calf-lined. Personally, I'm a bit of a leather fetishist (no, not that kind of leather fetishist), and I can tell from the smell of a leather whether the quality is there. The City Sneakers smell just like a high quality, Bond Street leather handbag. I doubt that anybody has ever used a better quality leather in a motorcycle boot. I've worn mine for a few weeks, and very quickly they've become my go-to footwear. I only take them off when I go to bed. And even then, I do so reluctantly.
So, the key question is how do they rate as a proper biking boot? Well, as I've intimated, they're probably less substantial than most proper, full-on, short, motorcycle boots, but they are more robust than any trainer-style biking boot.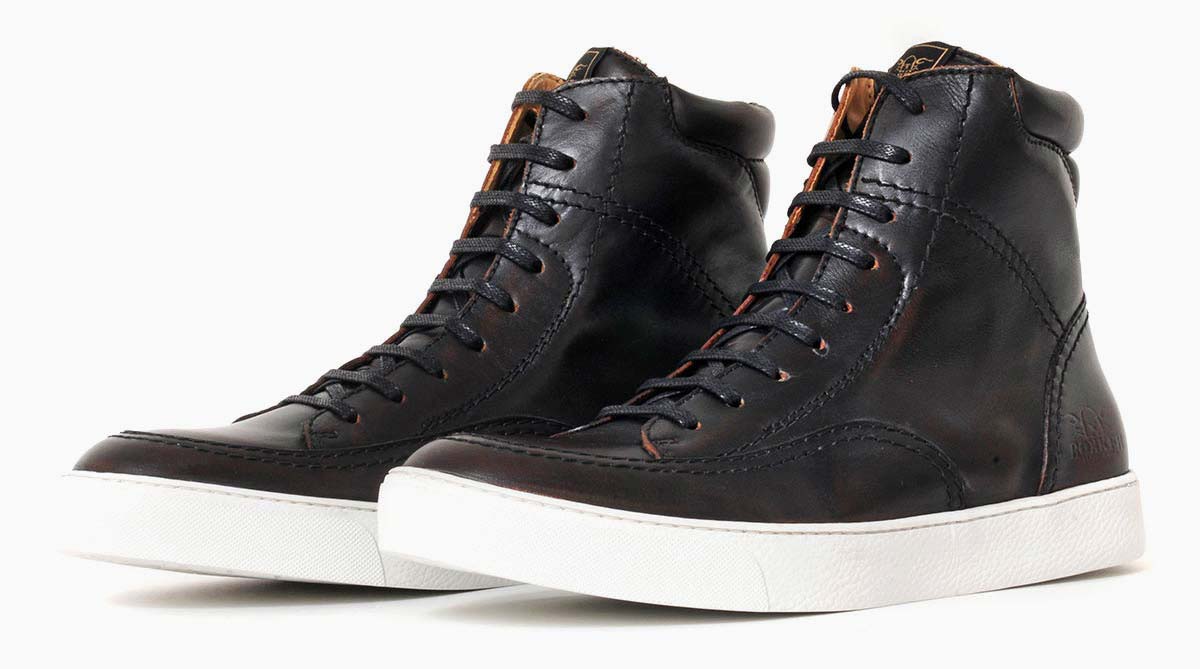 They have a counter in the heel, and a hardened toe-puff. There's a shank in the sole for torsional rigidity, whilst the ankles are padded, although there are no ankle protectors.
Rokker did sample this boot with all kinds of ankle protectors, including one from D3O, but they couldn't get the comfort they wanted, so they opted not to have them.
On the bike, they work well, but there's no gear-change pad, so I reckon they're better suited to days out rather than overseas tours. There is, on the tan colourway, the possibility that the rubber on the gear lever will mark the leather a little, but over time the boot is going to darken, so with use this will be less of an issue.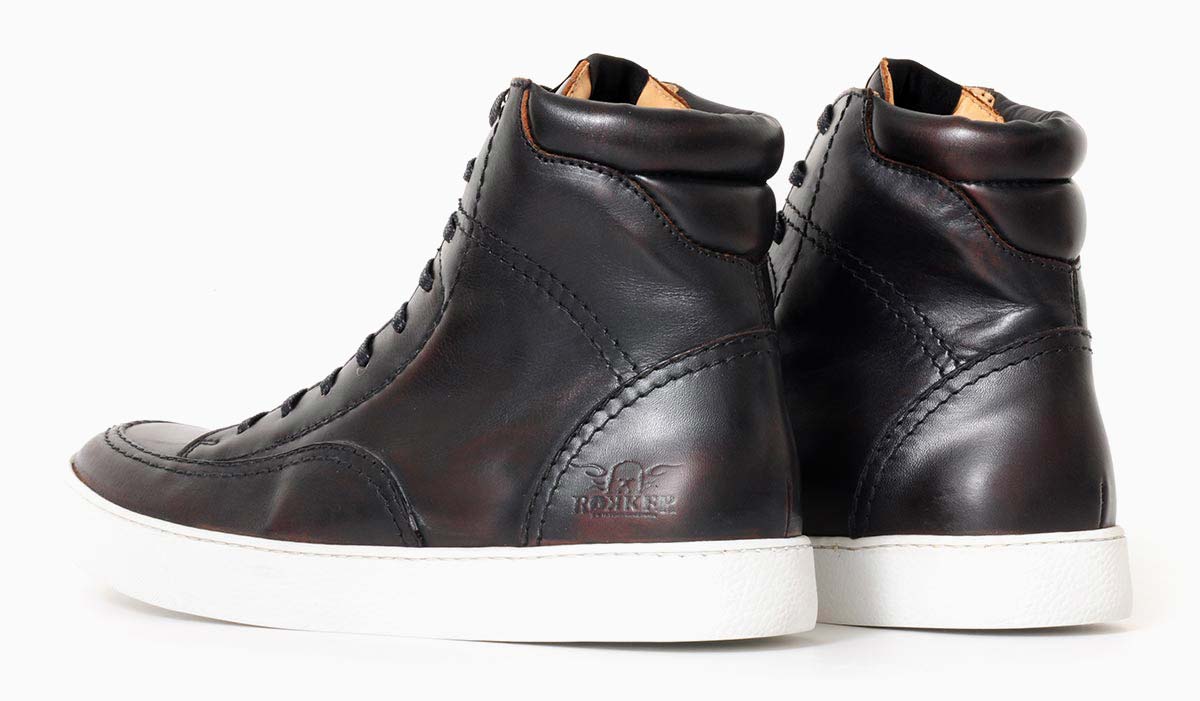 They're not waterproof, but that's fine by us. It makes them nicer to wear in the summer which, after all, is what these boots are about.
Overall, we have to say we're a bit smitten, but we accept that they're not for the person who only has one pair of bike boots. I reckon, they're for those who perhaps already have a proper tall boot and a proper, heavy-duty short boot; these are for 'Sunday Best'.
What they are not is cheap. One doesn't expect Rokker gear to be cheap; you'd be disappointed if it were. But even we think that £299.00 is pushing the boundaries. It is, after all, the same price as their hugely solid Urban Racer boots, and the City Sneakers feel somewhat weedy in comparison.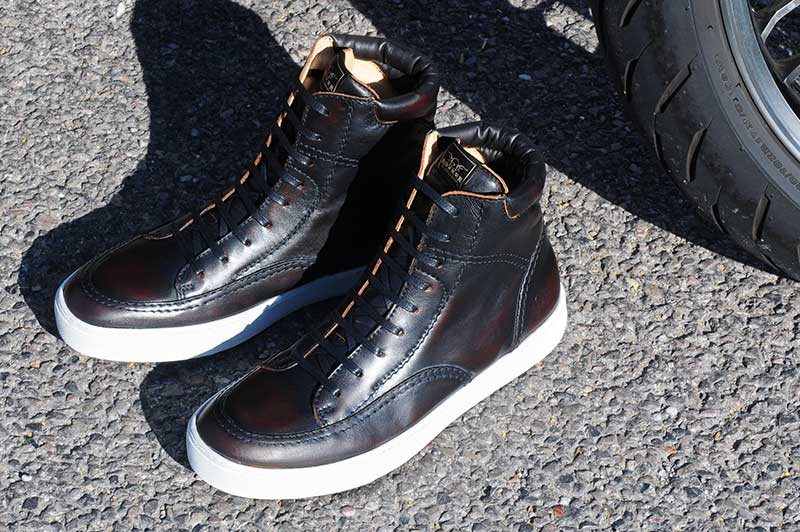 But Rokker tell us that the construction is just as expensive, and that the leather is more so. Unfortunately, therefore, the price is the price.
If you can afford them, they're lovely to own and wear. If you can't, there are better value options out there; probably the most comparable is the Helstons Basket. And that's just £165.
Truth be told, though, the Helstons boots don't feel like the Rokkers. Come and see us in Guildford and try a pair for yourself. You'll see what we mean.
CLICK ROKKER CITY SNEAKER TO SHOP NOW
Want some more? Please

click here

to return to our editorial menu.
Share this story