Rukka Overpass jacket and pants review
Published on: 06 February 2018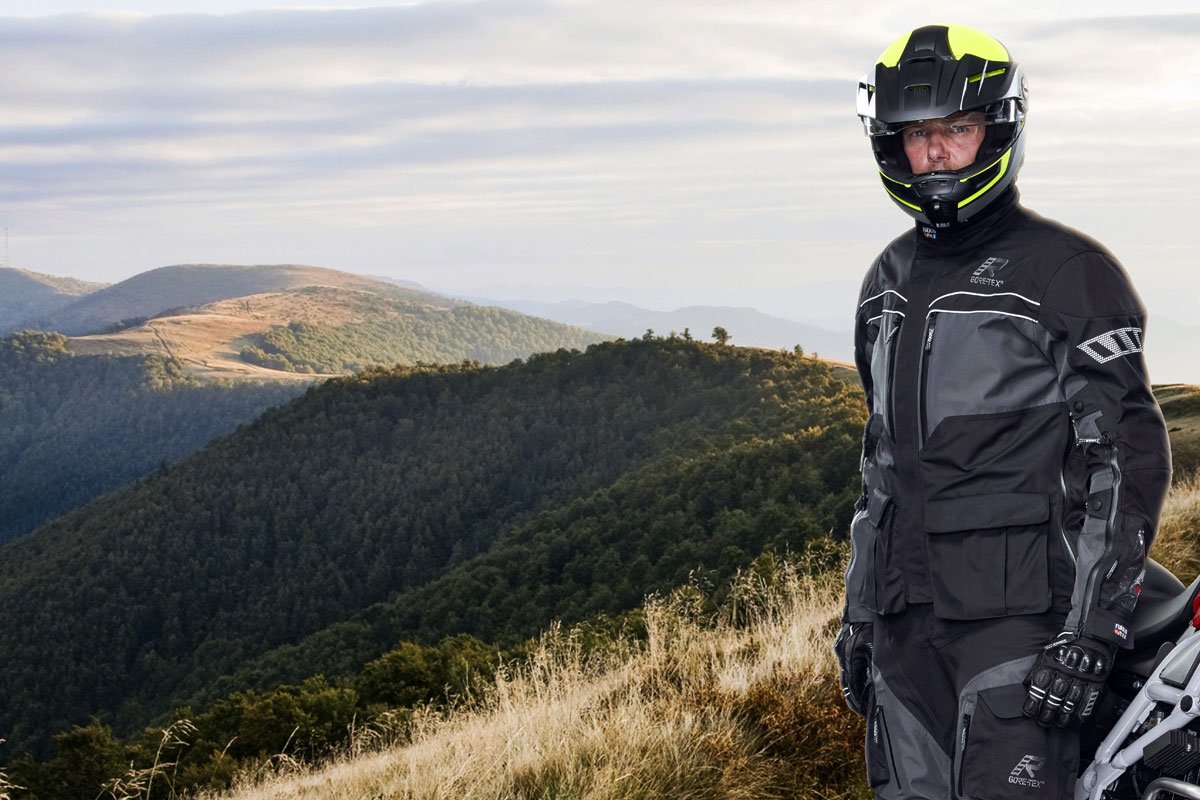 THE PERFECT TWO-PIECE COMMUTING SUIT

Some years ago we spoke to Rukka about creating a laminated suit that could be worn over work clothes by those who people commute into work, but who don't have the facilities to change their clothes when they get there. It was something a lot of customers were asking for. The only company that really produces a suit that works for commuting is Aerostich in the US, but their technology is not very twenty first century. Their outfits are a bit clunky, and their prices are high once you add in duty and VAT. Getting the sizing right can also be a challenge!
A lot of commuters wear a normal motorcycle suit over their work clothes, but it's rarely a comfortable solution. And that's because motorcycle suits are not really designed to be worn like this. In the summer the chances are that you'll end up arriving at work all hot and bothered. Walking around off the bike will never be easy. In a drop-liner suit, you'll sometimes find yourself putting on a damp jacket on the way home. But with the stiffness of a traditional Gore-Tex Pro, three-layer, laminated outfit you'll barely be able to move. It just wouldn't be nice.
What we wanted, we told Rukka, was a lightweight, laminate suit with a slightly looser fit, but with excellent venting for summer commuting. Well the suit that they have released, the Overpass, is pretty much exactly what we were looking for.
First, it does have, as we requested, a slightly more relaxed fit. It's in no way baggy, but wearing a shirt, a lightweight jumper and a pair of trousers underneath the Overpass should be easily manageable.
Commuting in the summer, you can become extremely hot, particularly in slow traffic, and especially if you're wearing your work clothing underneath, which is why we asked Rukka to make this their best vented suit ever. And we believe it is. There are ventilation openings in the chest, on the sleeves, up the flanks and across the back of the jacket. On the pants, there are large vents on the thighs.
Of course, wherever there's a vent, there's somewhere where the rain can seep in. A suit with no vents may, in prolonged heavy rain, be marginally more waterproof, but it will not work in hot weather. On the Overpass, the vents are protected with zips with rain flaps. Nobody can guarantee that water will never find its way in, but on an hour and a half's commute, it's most unlikely. And certainly the membrane itself is guaranteed to be totally waterproof.
But what makes the Overpass so appropriate for wearing over normal clothing is that it's made not from Rukka's normal three-layer, Gore-Tex Pro fabric, but from a two-layer laminated material. We've spoken at length with Gore about the material, and they tell us that, in the future, two-layer laminates will probably become the norm. And that's because the material is much softer and more flexible.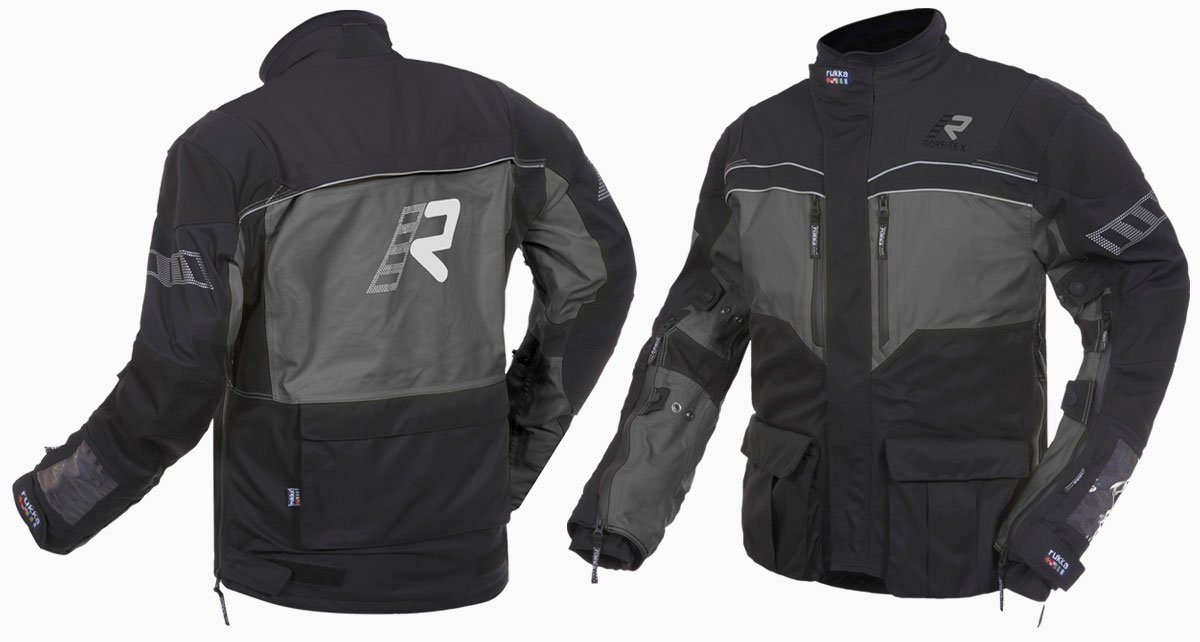 A three-layer laminate is usually rather stiff. This often makes for a somewhat uncomfortable garment. The third layer is applied to the inside of the waterproof membrane, and it is there to protect the membrane from damage, but with a good quality 'comfort' liner next to the body the third layer actually adds little in terms of protection, but a lot in terms of stiffness. Which is why, in the Overpass, Rukka still offers its standard five year warranty (extendable to six on registration).
But even though the Overpass is much more comfortable to wear than any Rukka laminated suit that has gone before, it's still highly protective. The outer is a durable polyester shell, but for added abrasion resistance you get 500 dernier Cordura panels on the shoulders, elbow, knees, shin and seat.
Most of the other stuff is what you would expect to find in any high-end Rukka outfit. On the jacket, there are adjusters for volume in the arms. The arms have elasticated panels for ease of movement, and you get GTX cuffs. The cuffs close by zip and Velcro. The hem also adjusts by Velcro. Pockets are everywhere. Two on the chest, and two lower down. There's a large pocket on the back of the jacket, two internal pockets, and a small clear pocket in the sleeve that's designed to take a pass card. For comfort, and to stop rain seeping into the jacket, the collar is lined with neoprene.
It's a similar story on the pants. There are adjusters for the waist and legs. The leg bottoms have been made wider to allow the suit to be taken off easily and quickly if you're dressing or undressing next to the bike. There are two outside pockets on the trousers: two slash pockets and two large thigh pockets. The pants also have extra stretch panelling in the crotch area, and leather panels in the seat and on the inside of the legs. There's Rukka's usual air-cushion system in the seat to help air flow. Now obviously the jacket and pants can be zipped together, and we would always recommend this.
The one break from tradition with the Overpass is that it is not supplied, as standard, with D3 armour. And apparently this is because many city commuters, particularly on the continent, want abrasion resistance, but are not so interested in impact protection. We assume that we are talking about scooterists here. In our view, in the UK, most people will want armour top and bottom, and in the back. Obviously, it's available, but at extra cost.
Which brings us to pricing. Rukka is never going to be cheap, but with the Finnish maker you only ever get the best materials and components. Given what the suit is and what it does, we actually think the price is not unreasonable.
The jacket is £590. Now that's only £70 more than Halvarssons' new 2-layer jacket called the Wish. That's not quite a fair comparison because the Halvarssons jacket comes with armour and a thermal liner, which the Rukka doesn't have.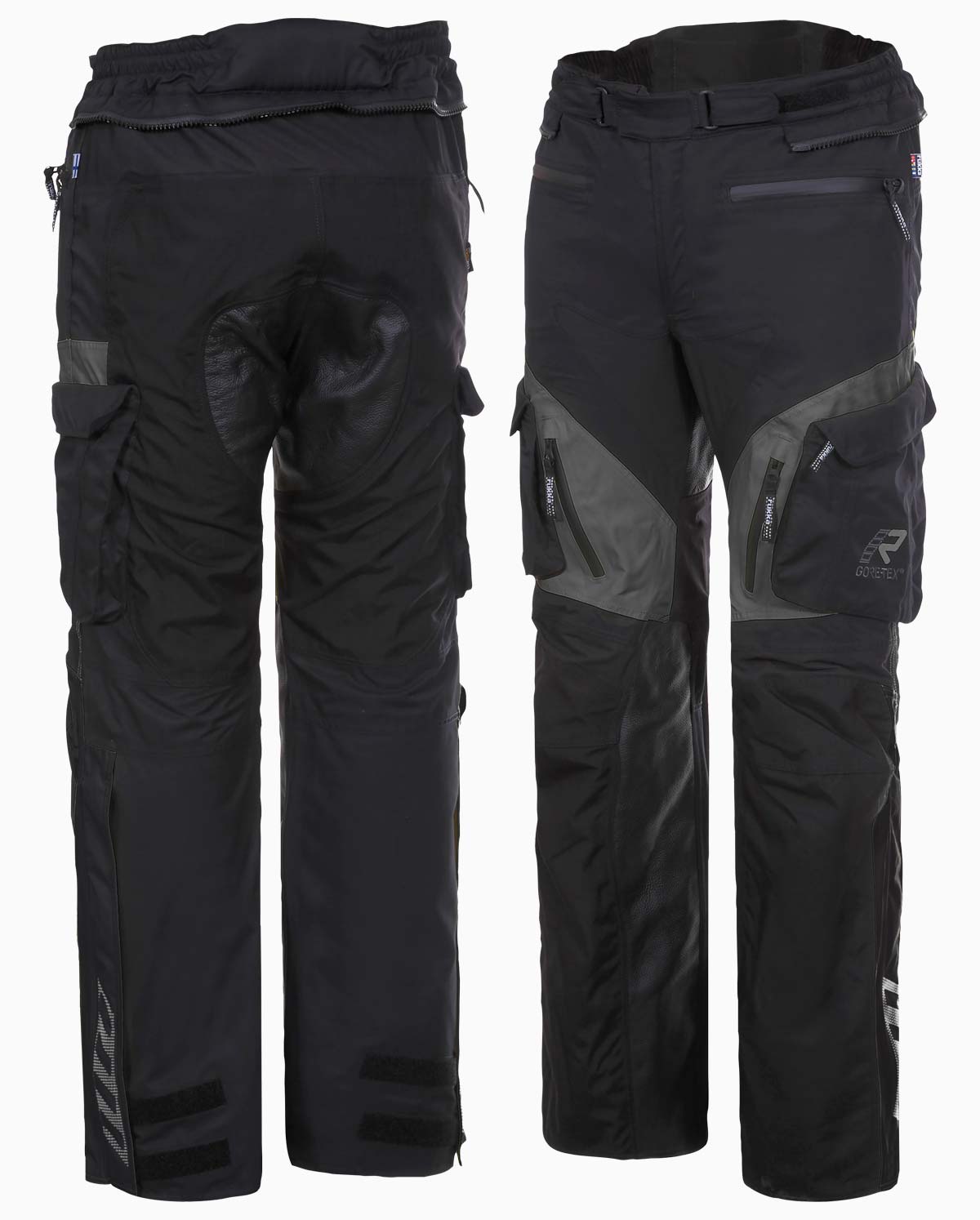 Add £70 for elbow and shoulder protection, and you're up to £660. You might still want to add a level 2 back protector, which would add £75, although the Halvarssons' suit doesn't come with one as standard. But, of course, in any such price comparison you have to factor in Rukka's six year warranty. With Halvarssons, or indeed most other manufacturers, you'd only get two years.
The pants cost £490. Again the armour would add £70. Halvarssons' new 2-layer pant called the Wick costs £399, but again you have to factor in the extra four years' warranty you get with Rukka. And that's probably well worth paying something for if you're a high-mileage commuter.
Before we conclude this review, let's talk sizes. The jacket goes from 46 – 62. The trousers run from 46 – 62 in the standard leg length.
So, overall, what's our impression of the Overpass?
Well clearly, as the suit was our idea, we're pleased with the concept. Nobody in Europe is making a laminated commuting suit. And frankly, if they did, nobody could make a better job of it. We like the fact that it's made from a 2-layer laminate. It's going to be comfortable, amazingly waterproof, and incredibly well-ventilated. It is, in our view, the perfect suit for the serious commuter.
When we first took the idea to Rukka, we did, we admit, have a one-piece suit in mind such as Aerostich's Roadcrafter. Rukka was concerned about producing a one-piece laminated suit, as it presented a number of technical and sizing challenges.
And so they went with a two-piece suit. It works for us. There is, by the way, also a new Rukka one-piece suit that came out of our discussions with them. But we have decided not to offer it. It's a drop-liner suit so, in heavy rain, it will wet out, making it unsuitable for serious commuting. It also has no ventilation, meaning that it won't be nice in hot weather. We also had issues with the fit and about getting in and out of the suit. Bottom line; we think the Overpass is a superior proposition on every level. If you want to try one on, come and see us in Guildford.
If that's not possible, you can order on-line. Just order your normal size. This should allow you to wear clothing underneath it. If it's wrong, you get free returns, so you've got nothing to lose.
If you're a 52 week a year commuter, this might just be what you've been looking for.
CLICK RUKKA OVERPASS JACKET AND PANT TO SHOP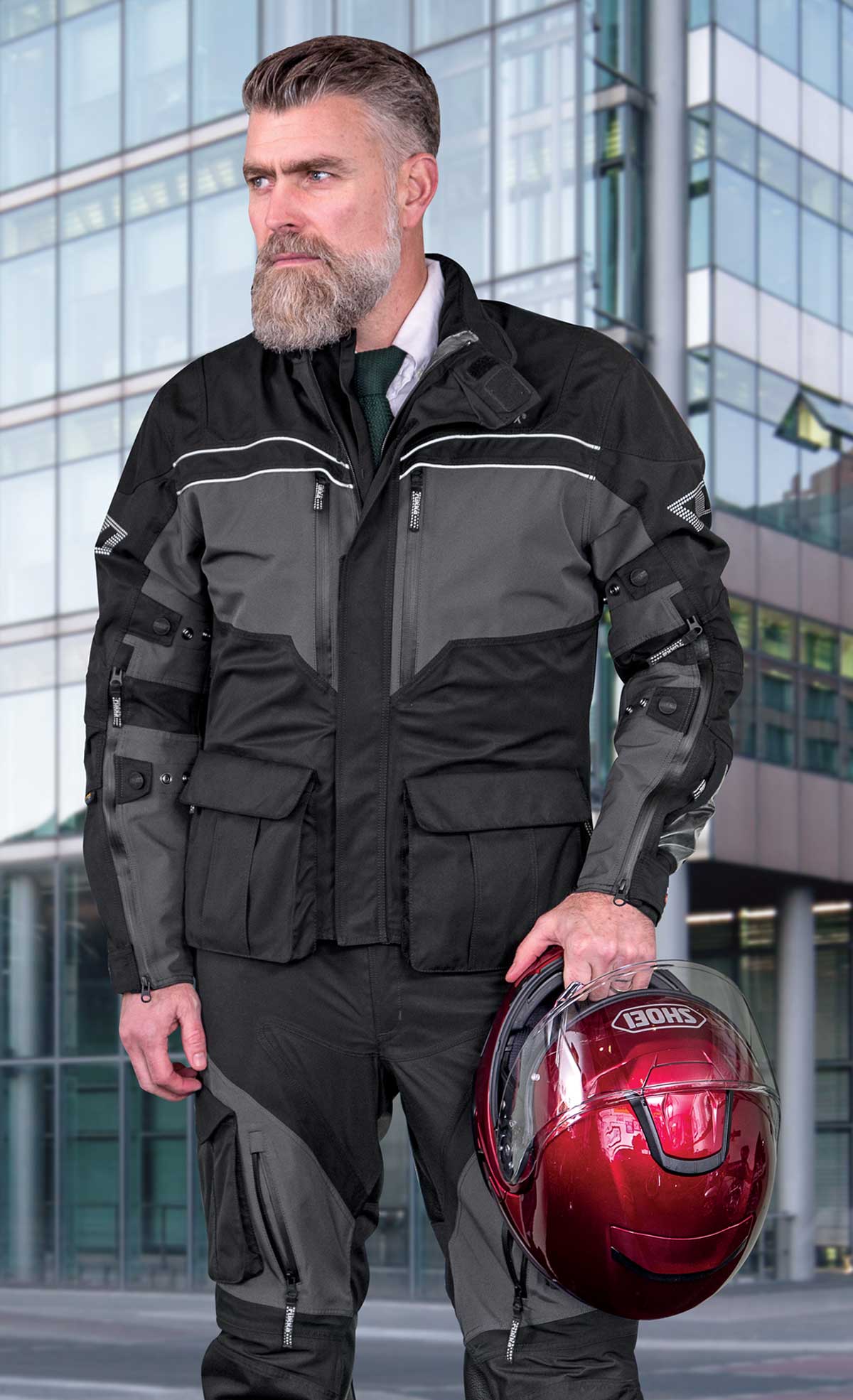 Want some more? Please

click here

to return to our editorial menu.
Share this story