Shoei Ex-Zero helmet review
Published on: 20/06/2018 13:02
The off-road helmet with its large, open-visor aperture and extended nose piece was invented by Bell back in the 1970s. Known even then as the Moto 3, every modern, off-road helmet still carries elements of the original's DNA.
Back in the day, everybody jumped on the bandwagon and, within a few years, most helmet manufacturers had their own version of a Moto 3; including, of course, players like Arai and Shoei.
Now, last year, Bell re-introduced their Moto 3, as a way of combatting all those artisanal makers who were copying it. There was, and is, nothing wrong with the Bell helmet, per se. But unlike some of the larger manufacturers who have different head fits for the American, European and Asian markets, Bell produces only one fit. It's a rather round, American fit, and not everybody over here gets on with it. In fact, we reckon nearly 50% of visitors to our shop in Guildford fail to make a Bell work for them. Which is a shame, because no brand has a heritage to equal Bell's.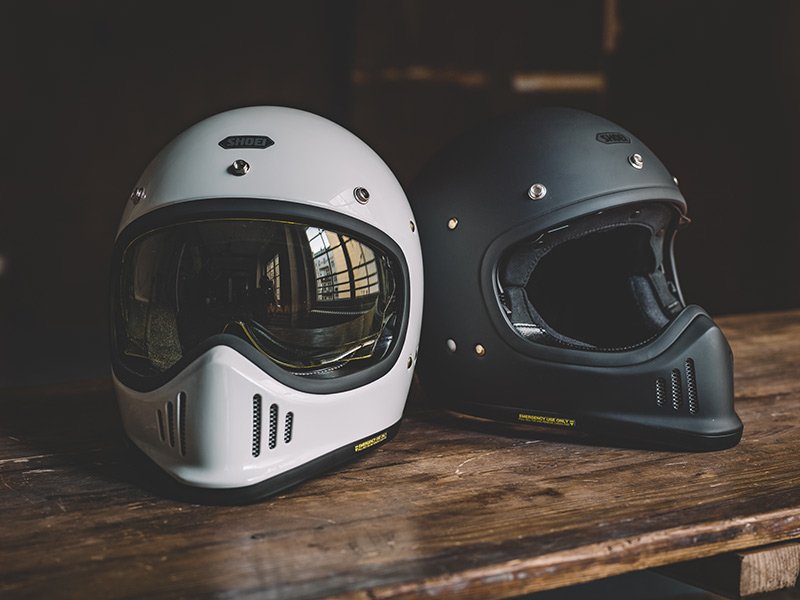 But recently Shoei released an updated version of their 1980s' off-road helmet. Shoei being Shoei, however, this is a helmet that will look totally authentic and original, but that will have all the creature comforts of any modern Shoei.
It features Shoei's famed AIM, multi-composite shell that the company uses in all its high-end race helmets. This delivers a medium density shell that offers a perfect blend of strength and energy absorption. It's also commendably light.
Three shell sizes also mean that the Ex-Zero will have a pleasingly low-profile fit. But whereas the fit of the Bell is somewhat compromised, the Shoei will come with the option to fit three different thicknesses of headliner and three different sizes of cheekpad.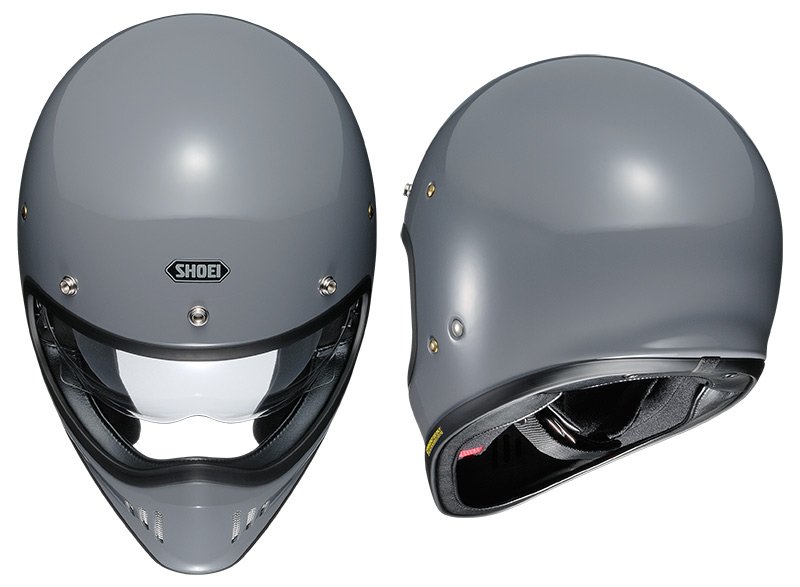 The interior of the Ex-Zero is actually based on that of the Shoei J.O, a helmet we hold in particularly high esteem. It's far and away the best fitting and most comfortable, open-face helmet on the market, and rare is the head that we cannot make comfortable in it.
It's exciting to think that we will be able to make the Ex-Zero to fit as well as the J.O. But there's another reason to prefer the Shoei over the Moto 3, or indeed any of the similar looking helmets on the market.
And it's that the Shoei, uniquely, comes with a drop-down visor. In fact, it's exactly the same visor that is fitted to the J.O. It has three different positions and comes in clear, yellow or smoke.
Overall, we think the Ex-Zero represents an unbeatable package.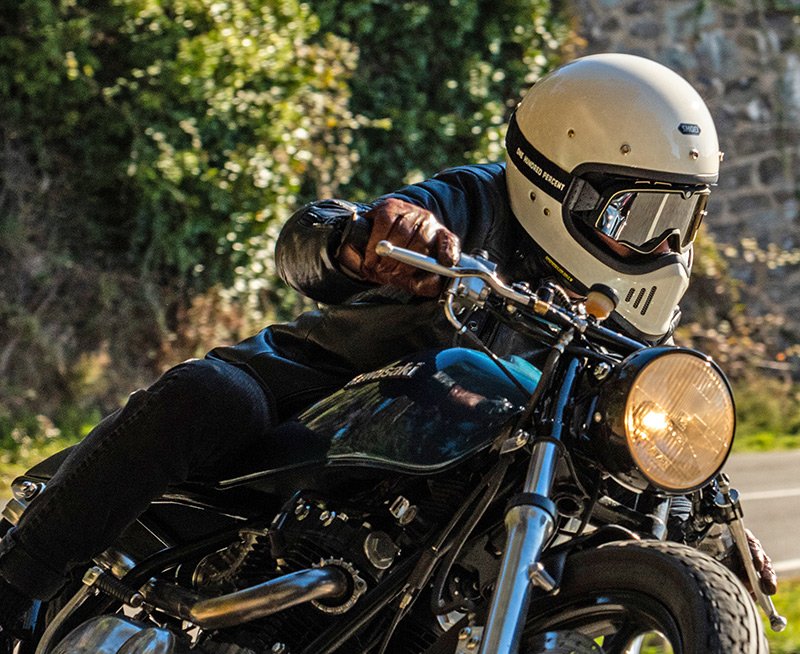 With its high-tech shell and multi-density EPS, the Ex-Zero is almost certainly a better made and safer helmet than any other such helmet on the market. It's certainly going to fit better than any of the others, especially as some only come in one shell size. The winning card, however, comes courtesy of the drop-down visor which, with its sculpted lower lip, will do a great job of protecting your eyes from the wind.
What you still need to realise, of course, is that the Ex-Zero, like the Moto 3, is not in any way an off-road helmet. If you're riding seriously off-road, there's more specialist kit out there.
The Ex-Zero, unashamedly, is a road helmet. It has a great, classic look that will work well on any retro, classic or custom bike. On something like a Ducati Scrambler or R nineT Urban G/S, it'd be the perfect piece of headgear. But it'll be appropriate for any sit-up bike.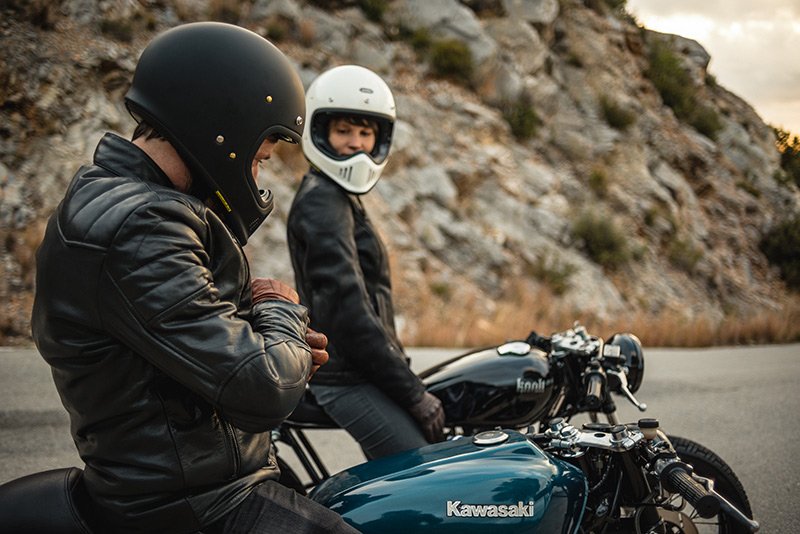 But, for us, the Ex-Zero has a much wider remit. The way we see it, this is an open-face helmet for those who don't want to risk losing their chins. You'll get that wind-in-your-hair feeling you only get with a classic jet hemet, but you'll get all the protection of a traditional full-face helmet. Throw in a drop-down visor, and you've got the perfect summer riding helmet.
The good news is that the Ex-Zero recently came into stock.
As ever, we'll have all the differently-sized cheekpads and headlinings, so if you want your Ex-Zero to fit properly, you should come and see us in Guildford. We reckon that when we fit Neotecs, J.Os and RYDs here in the shop, we change the cheek pads or headlining in more than 60% of instances, so if you want to get a professional, custom fit, come and see us.
See our full colour range of Shoei Ex-Zero helmets.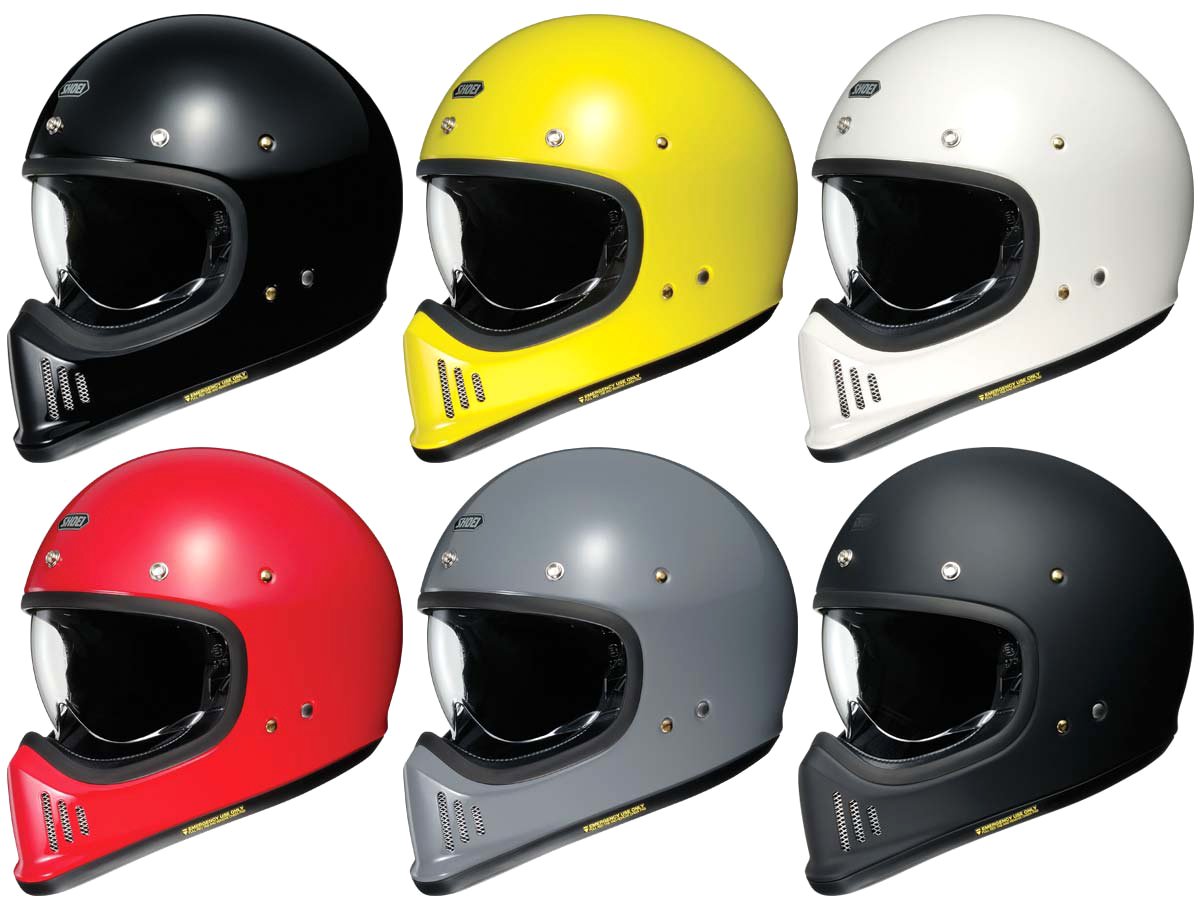 Want some more? Please

click here

to return to our editorial menu.
Share this story