Motolegends sponsors Henry Cole's The Motorbike Show
Published on: 20 June 2023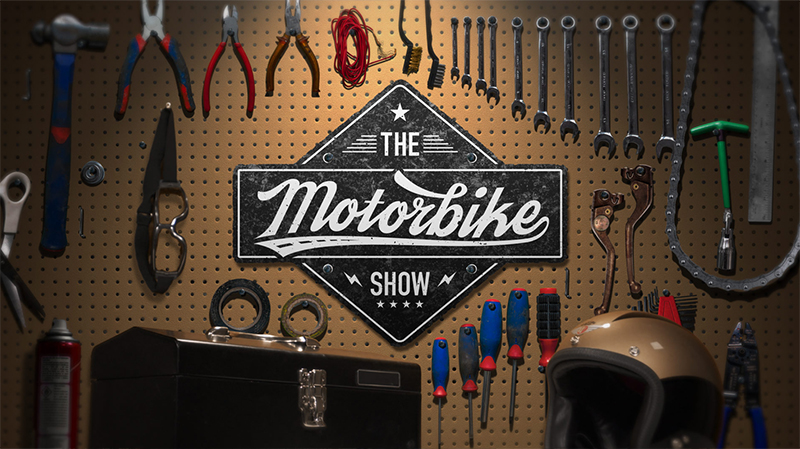 Motolegends is proud to sponsor The Motorbike Show!
We really are!
Henry Cole and his gang of merry helpers on The Motorbike Show get to do the kind of things many bikers would like to do. Try out exotic machines, old and new. Meet interesting folk who live for motorcycling. Travel the roads less travelled. Visit famous biker haunts. Sample different forms of motorcycle sport. Restore the occasional box of bits. And so on.
This is the 12th series of The Motorbike Show and it is broadcast on ITV4 at 9 pm on Monday evenings throughout June and July.
We eventually got to meet Henry through Allen Millyard at the back end of 2022. Allen has been a customer for years. He had turned up to a couple of our breakfast meetings. And, of course, he gave a great talk to our customers at the The Richard Onslow in Cranleigh.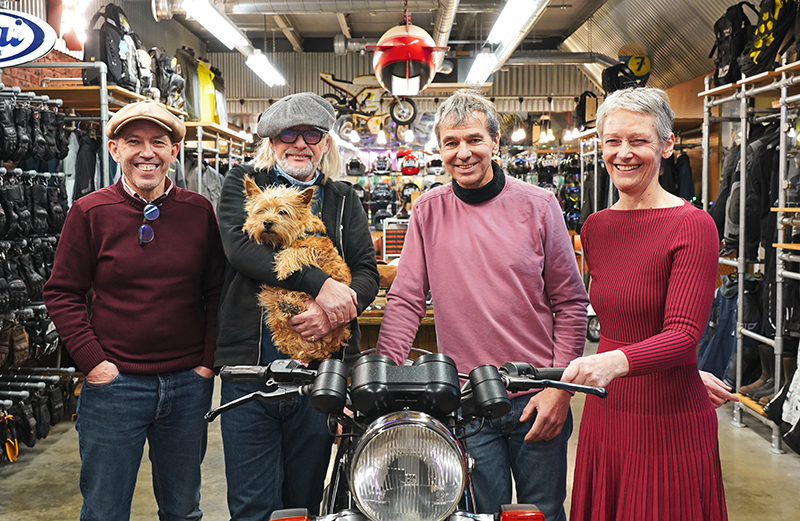 We met Henry when he came to the shop with Allen. And Jellybean!
Having become a bit of a regular fixture on the show, Allen said that he would try and bring Henry into the shop the next time they were passing. And just before Christmas that's exactly what happened. Allen turned up with Henry and, importantly, Jellybean. We talked about the show. We told Henry a bit about Motolegends. We spoke about motorcycle clothing, and showed him how far gear had come in recent years. How much more comfortable and protective jeans are these days, and so on. It was a fun day.
What we didn't tell Henry was how hard we had tried to buy TV advertising in and around the show. And we had done this because we felt that the kind of people who watched his show were the same kind of people who came to see us in the shop.
One day, we mentioned to Allen, en passant, that if ever The Motorbike Show was looking for a sponsor we would be keen to talk. But this is not the world we live in, and so we had no idea whether this would even be a possibility. Well, it turns out that The Motorcycle Show was indeed looking for a sponsor. Some discussions were had, and Henry delighted us by saying that he would be interested in having us come on board.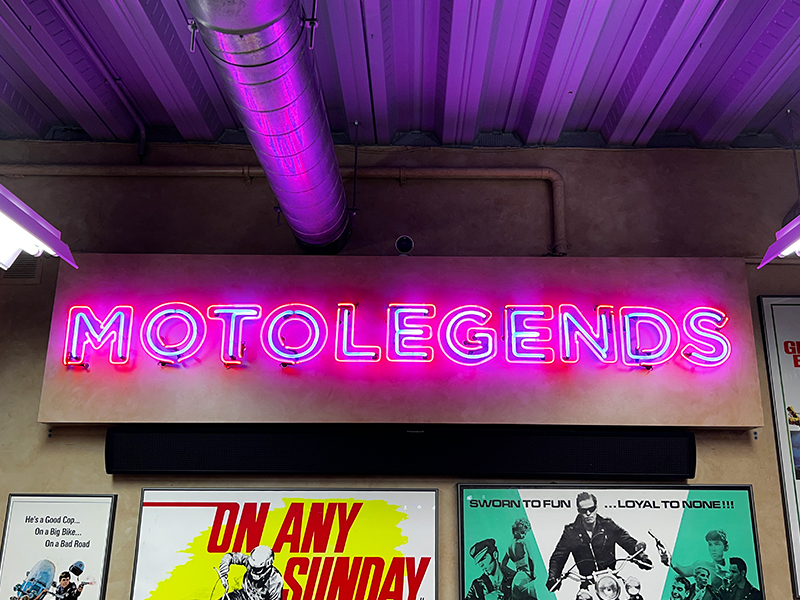 A message from our sponsor……
Of course, it is in itself a great privilege for a small retailer like us to be associated with such a high-profile TV programme, but one of the benefits of sponsoring a programme is that you get an opportunity to produce what are known as 'bumpers'. These are the messages - they are not commercials - that you get to announce your participation.
Now when it is aired, an episode of the show has four segments, and as a sponsor you get a 'bumper' before and after every segment. The bumpers are just 10 seconds in duration. You will undoubtedly have seen some, often with household names sponsoring a particular programme, or even a programme theme, like Murder Mysteries.
Normally, a sponsor will create a couple of bumpers, but we asked if we could create eight different ones. This was unusual, we were told, but not against the rules; and so we spent a Saturday in the shop filming a series of scenarios.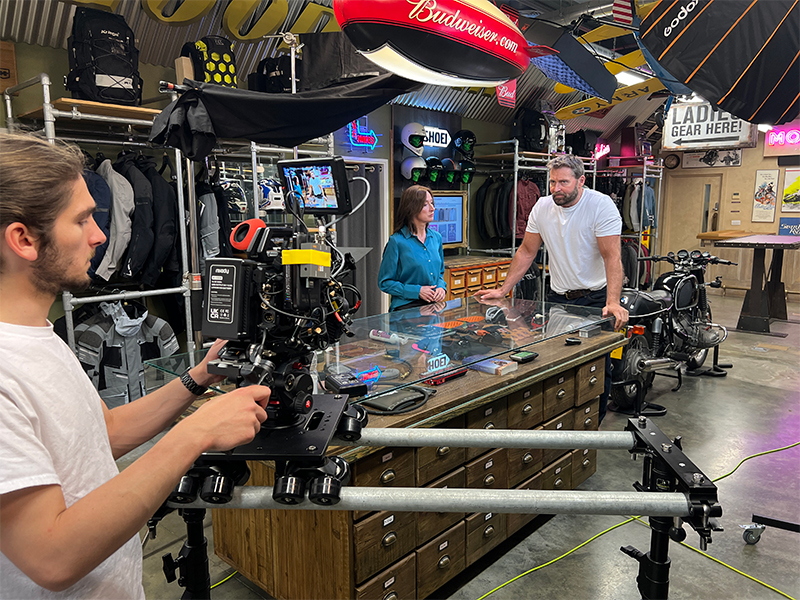 We spent a fun day filming our bumpers, but this time Adrian kept his kit on!
Now you don't really get the opportunity to show much in just 10 seconds; and you don't get to say much either, especially as the key communication is meant to be the announcement of the tie-up. But we'd like to think that if anybody watches an episode of the new series of The Motorbike Show they will, by the end of it, have an idea as to not only what Motolegends does, but also as to what kind of company we are.
But to try and give our little skits a bit of gravitas we did splurge out in one area: the voice over.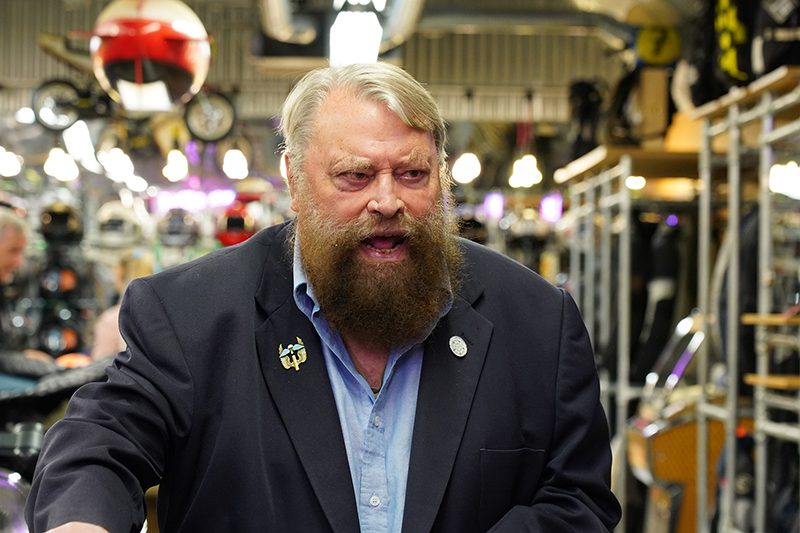 Flash Gordon to the rescue
A little uncertain as to whether our bumpers might be deemed a little wanting, we decided that the way to give them a little more 'oomph' would be to get a recognised and authoritative voice to convey our message. And surely there is no more commanding voice than that of PC Fancy, or Flash Gordon or Boss Nass?
And so a few days later Brian Blessed, who lives quite locally, came in to see us. We gave Brian the short, five second script. He was clearly not impressed. He reckoned he could do better, although some of his suggestions would never have made it past the ASA! We reached a compromise; and Brian added some very Brian-like motorbike sounds to the v/o!
Before he left he wanted to visit the shop. But he seemed to get lost in the warehouse. I went to investigate, and found him deep in conversation with Mark, one of our packers. Now Mark, unbeknownst to us, is a huge fan, and was somewhat surprised to find Brian passing his packing desk. They struck up a conversation, and when I went out to see what had happened to Brian, I found him and Mark bandying dialogue from some of Mr. Blessed's more famous roles.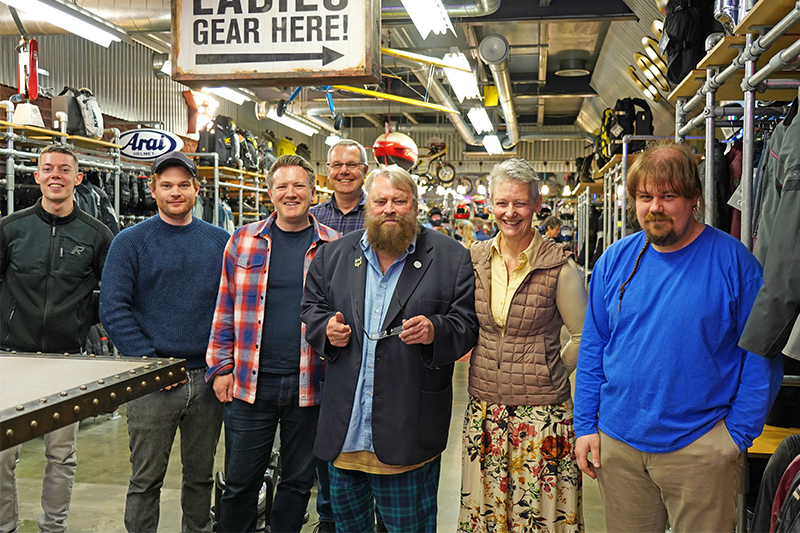 Brian asked to look around the shop. To the right is his new best friend, Mark.
Brian did eventually make it into the shop, much to the bemusement of customers in various states of undress. None more so than a gentleman from Switzerland who had just turned up on his bike, and who couldn't understand why this guy kept shouting at everyone!
Ever the thesp., Brian deserted the stage with a theatrical wave, declaring this to be one of the finest bordellos in which he had ever had the misfortune to find himself. He was still reciting verse at the top of his voice as his car left the estate. It was a morning we will not forget. He is one of the country's national treasures, and should certainly be officially recognised as such.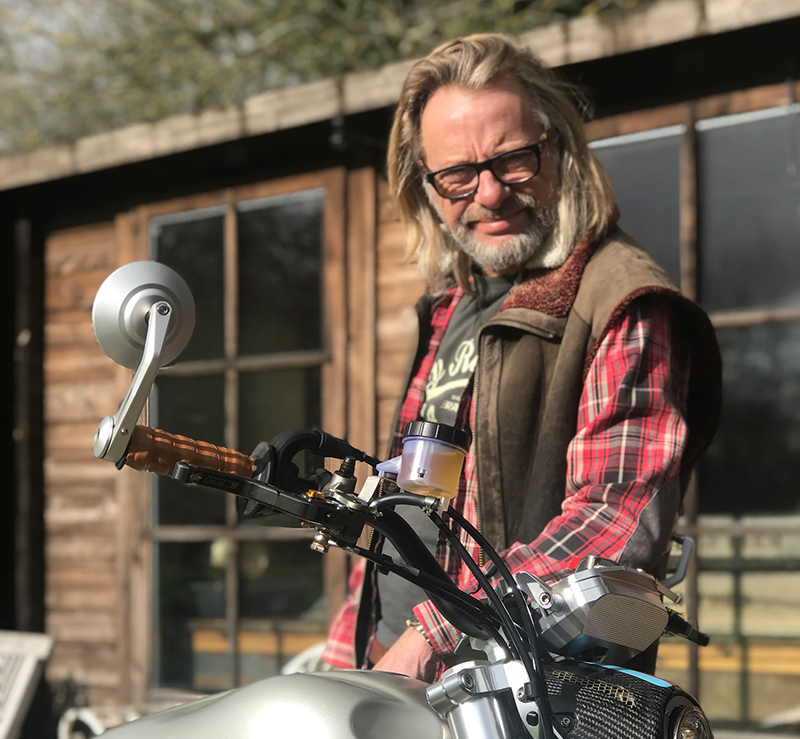 Proud to be a sponsor
Companies often issue statements saying how proud they are to be associated with, or a sponsor of, an event or programme. But the truth is that we genuinely are excited. Motolegends has only been around for about ten years. And although we seem to have a loyal following amongst certain types of biker, we are still relatively unknown.
Hidden away on an industrial estate on the outskirts of Guildford, it is not uncommon for visitors to the shop to announce that, even though they live only a couple of miles away, they didn't know we existed.
The truth was that when we first enquired about becoming a sponsor of The Motorbike Show, we assumed that we would be rejected because Henry had no idea who the hell we were. But Allen, I suspect, put in a good word, and Henry had no issues.
And so we are delighted to be involved. Henry is simply our kind of biker. Whilst, like Henry, we love all types and styles of motorcycle; for us biking is about the people, the places, the journeys. It's not about getting from A to B as fast as you can. It's not about showing off. It's about the joy of being out on the road. What we love about motorcycling is the way it brings together people from all walks of life, and from all backgrounds and ages. And that's very much the secret of the show's success. It's why we really are proud to be its sponsor!
If you haven't seen the show then you can watch it on catch up on ITV.
---
Want some more? Please

click here

to return to our editorial menu.

Share this story