Top 10 motorcycle gloves
Published on: 21/05/2021 09:02
It's that time of year. The new season is here, and the latest products have started to turn up, so clothing retailers like us are keen to put out lists of their favourite styles. But because we receive the bulletins from all of our putative competitors, we have seen some pretty poor Top 10 offerings in recent weeks. And this may be because a lot of the gear we are all anticipating hasn't turned up yet.
But one of my personal favourites was a bulletin from one of the large chains that announced 'Top 10 motorcycle helmets for 2021'. But every single helmet featured was heavily discounted. More accurately that bulletin should have been headed 'Top 10 helmets we are desperate to get rid of'!
Having made this observation, I feel obliged to qualify our own suggesting that we are highlighting the 10 best motorcycle gloves out there. That is actually not what we have here. This bulletin incorporates some mighty fine gloves, but actually what we are presenting are 10 of our favourite new-for-2021 gloves. And obviously there's a difference. Some of our favourite gloves overall, some of the very best gloves out there, have been on the market for many years. And you won't find any of those in this particular listing.
Nonetheless, we are inordinately excited to be able to bring you what we consider to be the best new gloves that we've added to our roster this spring. So here goes. In the headline video, Chris gives us a brief run down on all the gloves in question. We say a 'brief' run down, but obviously Chris is not the kind of presenter to use ten words when a hundred will do almost as well. You won't be getting any of those 'one-minute' video reviews here, alas!
But for those of you who want to be a little more targeted in their research, all the gloves have their own write-ups below. Each also has its own dedicated video.
Anyway, try to find a few minutes to take a look. Despite our caveat above, there are some terrific new gloves for this season.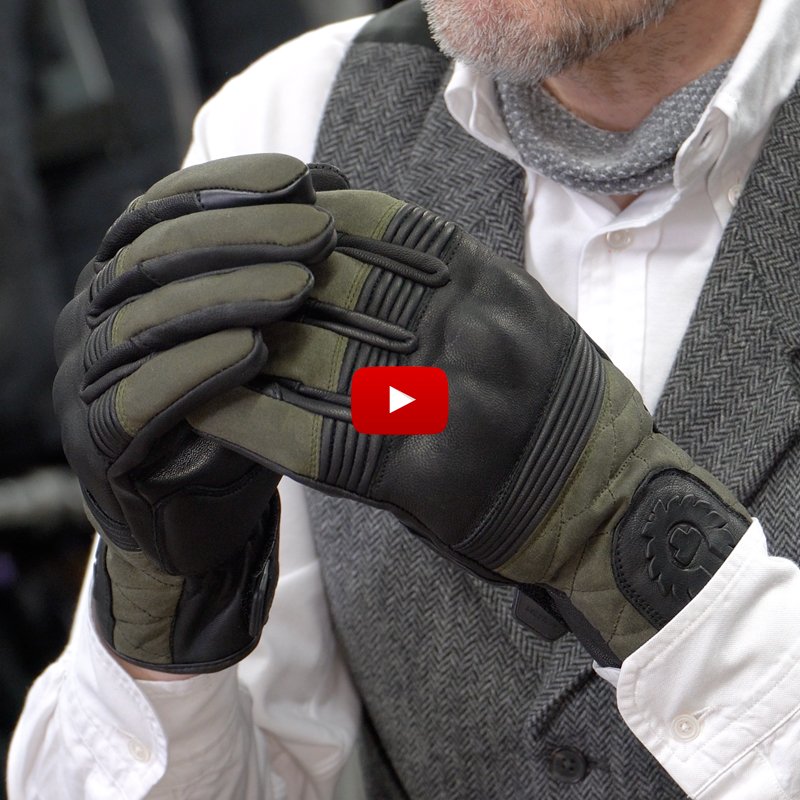 On one level the Hampstead is a pretty basic summer glove. It's made from a combination of goatskin and what is called Techwax. Now Techwax is the fabric that was developed by British Millerain for Belstaff. It is wax cotton combined with synthetic fibres, and the material was created so that wax cotton garments could meet the new CE safety standards.
The palm is all leather. There's an extra pad at the base of the palm that some might call a slider; not sure that we would. Where the hand grips the bars there's a suede panel for extra grip. The fingers are perforated for extra airflow. The index finger is also touchscreen sensitive. You get concertina bands on the fingers and on the back of the glove for easier articulation of the hand. On the knuckles there's a hard protector, although this is foam backed, again with comfort in mind.
The wrist is finished with lightly padded, diamond stitching. It looks great; very Belstaff. The wrist fastens by means of elasticated banding as well as a Velcro strap. The gloves have no membrane, so think of them purely as summer gloves. With no membrane, they are not going to have any protection from the wind. And clearly they won't be up to much in the rain.

The Madoc is not a summer glove; nor is it a winter glove. It is something in between. It is a Gore-Tex waterproof glove. The short knitted cuff at the end of the wrist is designed to tuck inside the sleeve of a jacket. It's not an arrangement that's going to be appropriate in the heaviest rain, but that's not what this glove is designed for. We like knitted cuffs, and we find that they work particularly well with a leather jacket.
The Madoc comes lightly insulated. It would not be up to a mid-winter commute, even with heated grips. And it wouldn't be the perfect glove for riding when the temperature gauge starts to rise to the thirties. But for most of the year this might be the only glove you need. Being a Held glove, it is of course beautifully made.
The palm is goatskin. The back of the hand is textile infused with stretch. The hard, knuckle protector is backed with a foam pad for comfort, and for added protection you get energy-absorbing pads in the fingers and at the base of the palm. Concertina stretch in the fingers aids articulation. The index finger is touchscreen sensitive, and you get a visor wipe on the left hand. The glove fastens with a Velcro strap.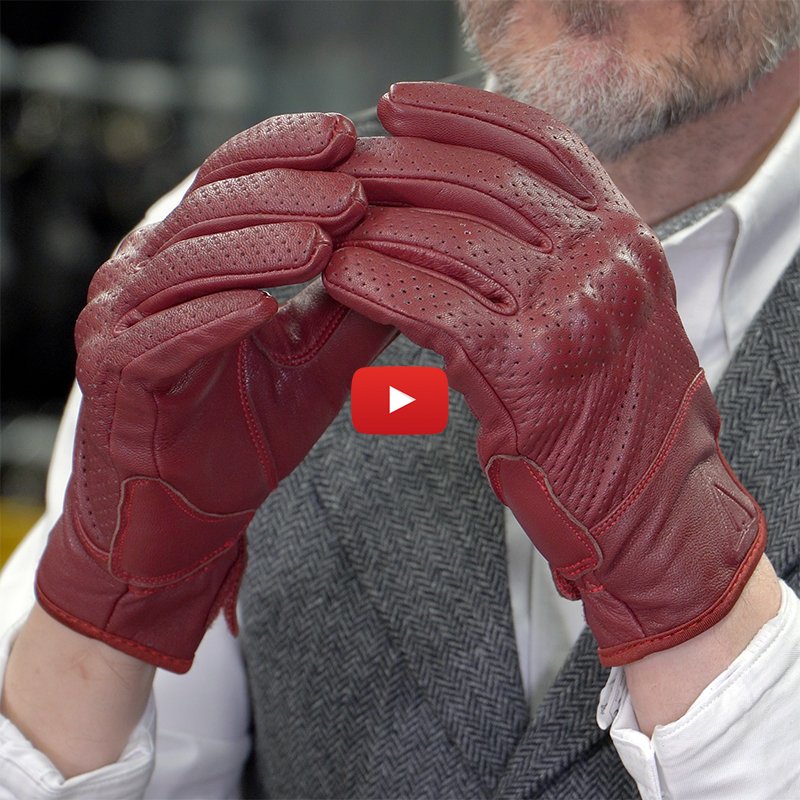 We don't really sell Racer gloves. There's nothing wrong with this Austrian brand; but with the brands we already offer, Racer didn't seem to add much to our range other than confusion. But in early 2021 when we were visiting the UK distributor we came across this glove. Now we have to be honest; what attracted us was the colour. We do get bored by all those black gloves, so when we find a glove in a nice blue or green or red we have a tendency to get over excited.
The burgundy colour of the Verano is distinctive yet still quite subtle. But this also happens to be a lovely glove in its own right. Now evidently it's very much a summer glove. It's made from a good-quality, super-soft cow hide. The leather is extensively perforated for breathability. You get a hard, foam-backed protector for the knuckles, and a protector at the base of the palm. The wrist closure is by means of a Velcro strap. Obviously this is a CE approved glove.
One little anomaly. The Verano has a three year warranty. Now we shouldn't complain, but it's a little meaningless as the warranty only covers manufacturing faults. In truth, almost anything that goes wrong after, say, the first year will nearly always be attributable to wear and tear. We thought you should know.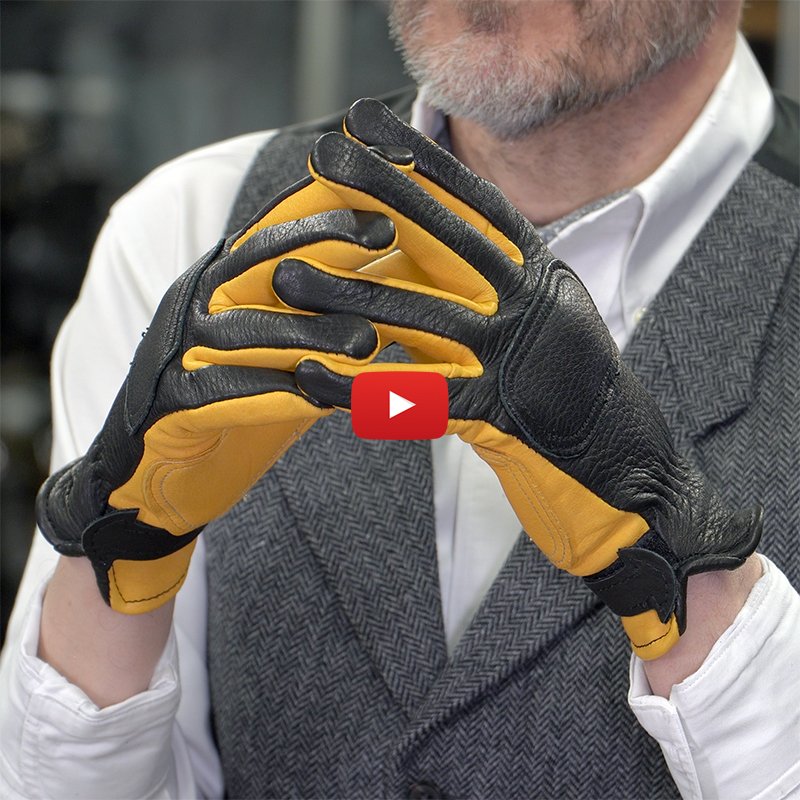 Lee is well known in the US as a bit of a road riding guru. These gloves are his other claim to fame; truth be told, he's a bit obsessive about them. At their core, they're a cowboys' roper glove. But Lee has turned his into a pretty special motorbike glove.
The chassis is a 27.5 ounce deerskin. What makes deerskin so special is that it's four times stronger than cowhide, yet has a super-soft, almost buttery texture and feel. On his glove he puts an extra panel of deerskin on the knuckles and another on the palm. Because seams are the weak point in any glove, Lee has designed them so that there are only four seams in the entire glove. And he runs two threads through every stitch hole for extra strength. The seams in the glove are internal, but to make the gloves more comfortable, the seams are shaved.
Lee's gloves might look like they're the kind of gloves you'd wear for walking the dog, and of course you could use them for this, but actually they are probably the strongest gloves we sell. However, they are not CE approved, so we are not even allowed to suggest that they are, in any way, protective! Heaven forfend!
Now the glove we have here is a version that Lee has made specifically for us. It is a replica of the glove that Steve McQueen wore when he was competing for the American Vase team in the 1964 ISDT event in East Germany. Technically, it's no different to Lee's standard glove; it's just a bit cooler looking.
Finally, a word on sizing. Go a size down on your normal size. These gloves should be as tight as possible on the first wearing. They will relax, and eventually become the most comfortable gloves you have ever owned. But give them time to to stretch and mould to your hand.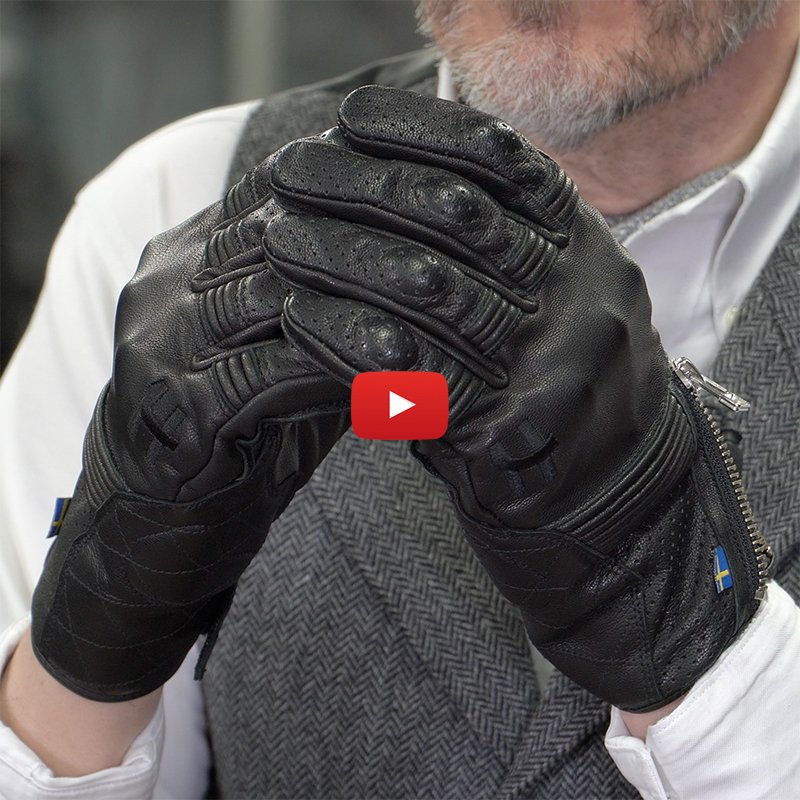 The Hofors is an out-and-out summer glove. It's made from a super-soft, perforated goatskin. For added protection, there's a pad of abrasion-resistant Hi-Art in the palm. Whilst, on the knuckles, you get a hard-formed, knuckle protector. The fingers are touchscreen sensitive, so that you can use the phone or satnav whilst you're on the bike. The lining is also laminated to the ends of the fingertips to prevent the lining being pulled out of the gloves. The glove fastens by means of a side zip. It comes in black and in brown.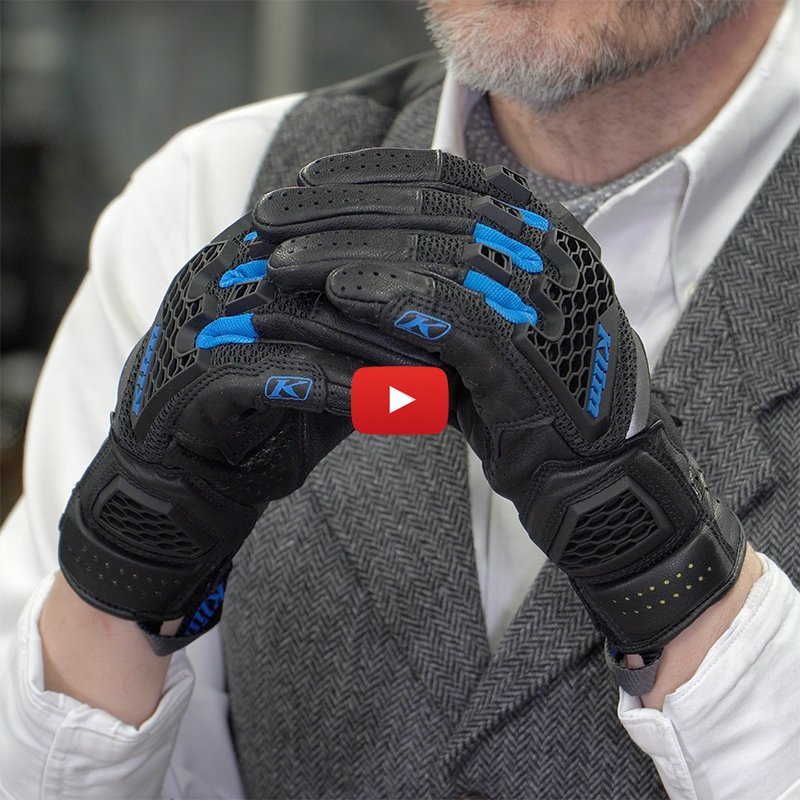 The Baja S4 is new to Motolegends for 2021, although it is not new for Klim. It is very much off-road oriented, and designed for use only in hot conditions. The chassis is made from a 500 denier stretch micromesh. Laid over the mesh base are panels of perforated leather for extra strength. Across the knuckles you get a large TPU protector that is also vented for extra airflow. On the base of the palm there's an XRD foam pad for comfort and protection. There's an extra layer of leather on the palm for abrasion resistance. The forefingers are touchscreen sensitive.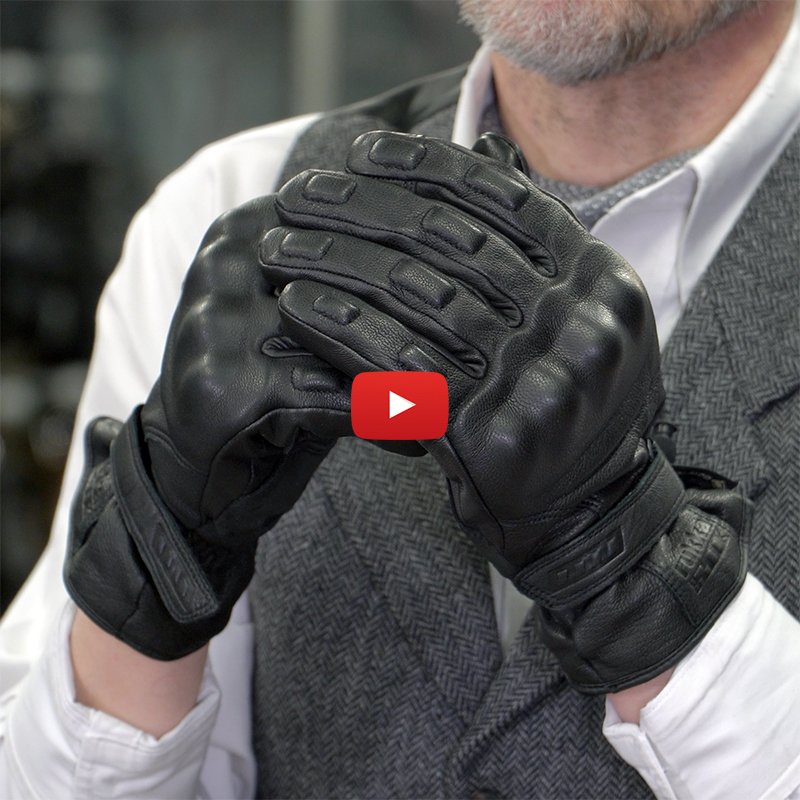 Until recently, nobody produced what we would call a stylish and subtle, technical-quality, waterproof glove. There were, and are, lots of cool-looking gloves on the market, but there are very few that come out of the top draw, and even fewer that come with a laminated membrane. But, for 2021 Rukka has introduced this glove: the Bartlett.
It is all leather, and comes equipped with a Gore-Tex laminated membrane. You get a hard, knuckle protector, extra layers of leather on the palm, a touchscreen-sensitive index finger and a Velcro strap to secure the wrist. Richa produce a very similar glove called the Urban Atlantic. The Rukka is a supremely comfortable glove, and it is here where it scores perhaps over the Richa. The Rukka is simply the nicer glove to wear; and that can only really come down to the superior quality of the leather used by Rukka. It makes for a more wearable glove. Unfortunately, though, it does not come in brown; the Richa does.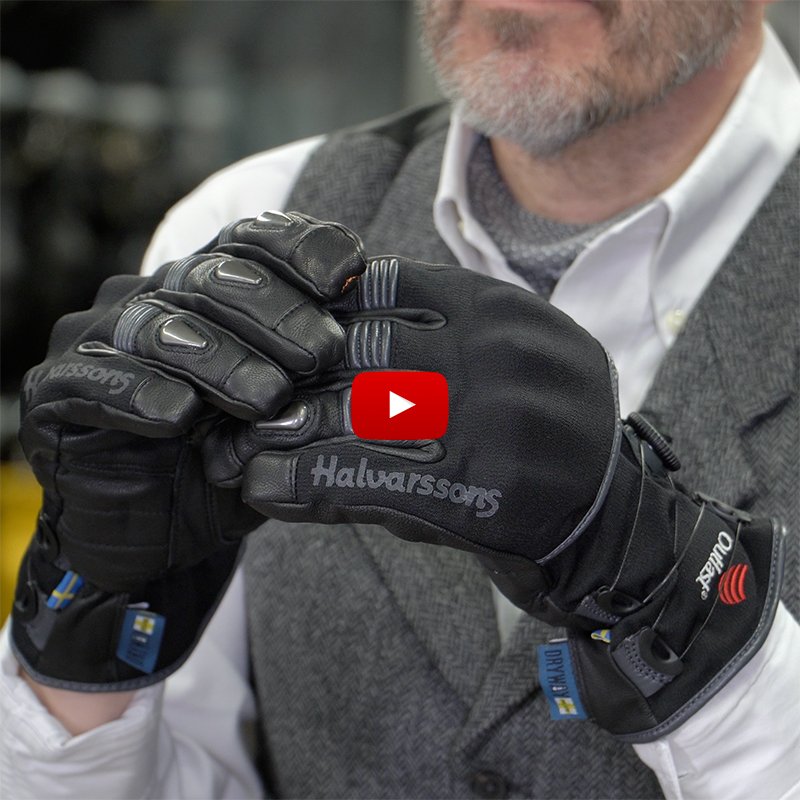 Like the Beast glove, the Ljusdal, which apparently is named after a town in Sweden, is a bit of an all rounder. It is more than what we'd call a summer-waterproof glove, but less than what we'd think of as a full-on winter glove. It'd be fine for a chilly autumn day, but for commuting in the depths of winter when you'll be on the bike at 6.00 am, this won't be the glove for you. If, however, you're looking for a single pair of gloves that, at a pinch, you could ride in all year round, this is a glove you should give serious consideration too, although on the very hottest days it might get a bit sweaty!
The starting point is a goatskin chassis. We love goatskin. It's, in our view, better than cowhide when it comes to balancing feel against strength. For added abrasion resistance, you get a layer of Hi-Art in the palm. For the back of the hand, you get a formed, knuckle protector. The waterproof membrane is Halvarssons' own Dryway membrane; a membrane that in some situations is better than Gore's, Halvarssons tell us.
There are two thermal components to the unpronounceable Ljusdal. The first is a material called Innoborne, which is a Thinsulate alternative. The other lining is Outlast, which we all know and love, and which helps keep you warm when it's cold and cool when it's hot. Outlast, of course, also works really well with heated grips, because the heat from the grips goes around the membrane to also heat the back of the hand. Another nice little touch with the Ljusdal is 'MC-fit' that bonds the fingertips to the membrane, thus making the membrane 'impossible', actually let's just say 'difficult', to pull out when you take the gloves off. The fingers on the glove are also touchscreen sensitive, so that you can use the phone or GPS when you're wearing them.
Of course, knowing how shallow and superficial most of us bikers actually are, a lot of people are going to be drawn to this glove because of its flash BOA lacing system, and indeed that was what first caught our eye! It's pretty trick, but it also has to be said that it works really well; it's certainly more than just a gimmick. And the same has to be said of the Ljusdal itself. It's actually a heck of a glove. Lastly, and we quote from Halvarssons' catalogue, the Ljusdal has a 'vizer viper'; and we can all work out what that is!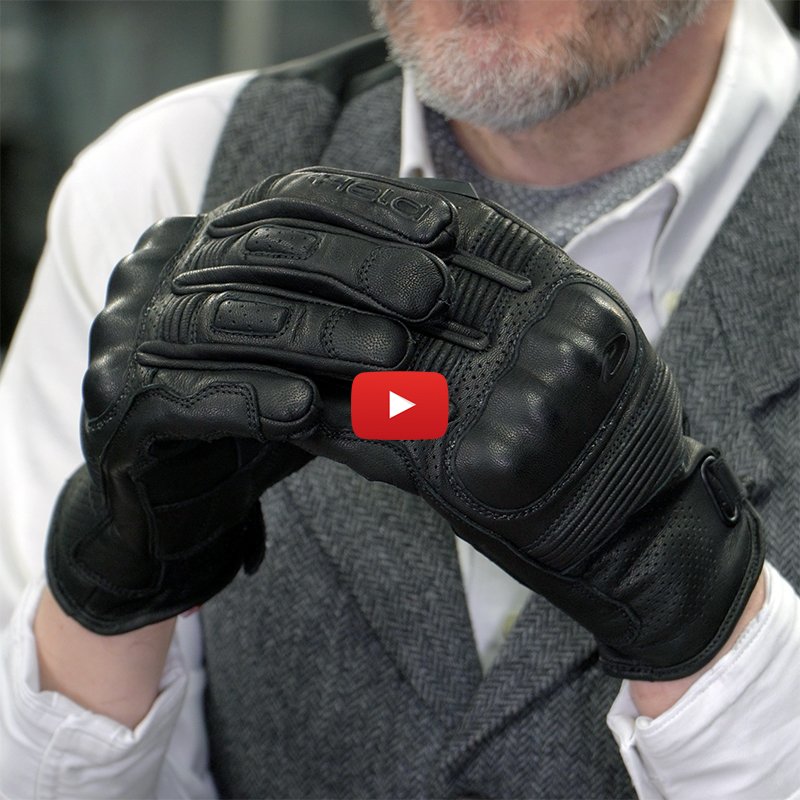 The Held Burt glove is very much a summer glove, so no membrane or thermal lining. We've done the brown version before, but new for us in 2021 is the black glove. In looks, it takes its inspiration from the old Roland Sands Diesel glove that has been copied by many other manufacturers. But the Held version is superior to any of those. First, it's made entirely from goatskin, which makes it superbly comfortable. The leather is incredibly soft and supple. The Burt is a beautiful glove to wear. With its hard knuckle protector and goatskin chassis, it's also an impressively protective glove. We love it. Looking cool has never been so easy. Or so safe!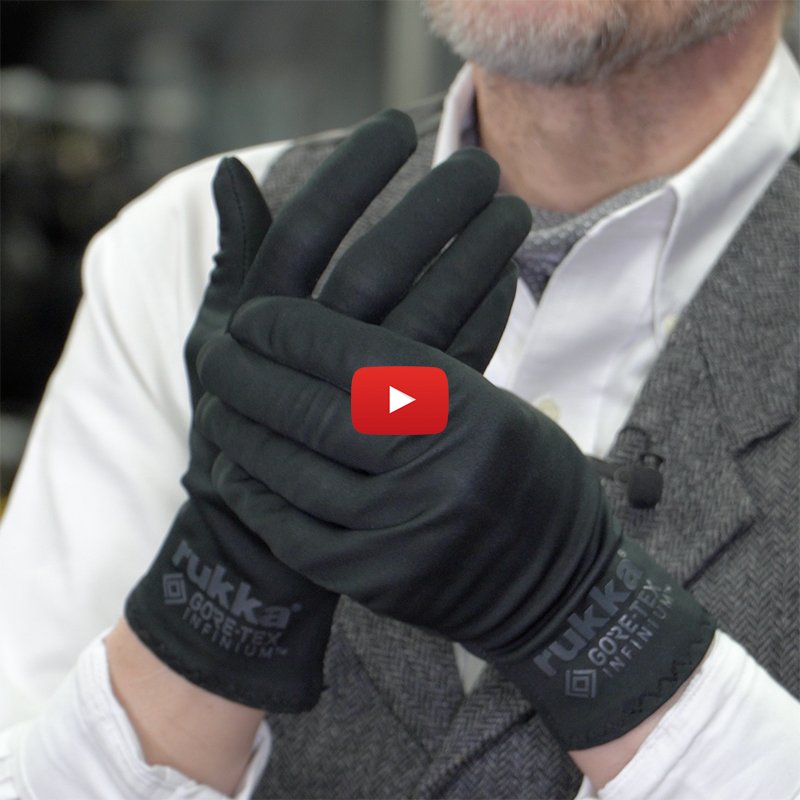 The Rukka Offwind Infinium GTX
These new inner gloves from Rukka look like silk gloves, but operate in a totally different way. They are made from 'Infinium', which is Gore's new name for Windstopper. What this means is that the gloves, which are made from a combination of Polyester and Elastane, are bonded to a windproof membrane. And so, when worn inside an outer glove, the effects of wind chill will be reduced. Will that make them more effective than silk liners? Well, that depends on the conditions. There won't be such a 'friction' effect but, there again, a silk fabric will do nothing as far as preventing cold air reaching the hand is concerned. But the fact is that, whatever outer glove you are wearing, this inner glove will serve to keep your hands warmer.
Now, there's another potential benefit with this glove. And it comes down to the fact that a windproof membrane is also a waterproof membrane. In essence, a membrane goes from being a windproof one to being a waterproof one when the seams that join the panels together are taped. And what this means is that these inner gloves are going to give you a degree of waterproofing as well. Now worn inside a waterproof glove you will not notice any difference, but worn inside your favourite summer glove, you can turn those gloves from the kind of gloves you'd only wear in the very warmest of conditions into a pair of gloves that you can wear when it's colder and wetter.
Now don't get carried away here. This is not a way of getting a pair of proper waterproof gloves on the cheap, but it may be worth carrying a pair with you just in case. Let's say you go out one Sunday morning. It's a warm and sunny day. But you end up coming home later than anticipated. Your summer gloves will not give much protection from the cold. Slip these on, and life will improve dramatically. Especially if it then rains! A pair of these kept on the bike is going to come in handy more than you could ever imagine.

Want some more? Please

click here

to return to our editorial menu.
Share this page