Who makes the world's best motorcycling suit?
Published on: 08/10/2019 11:30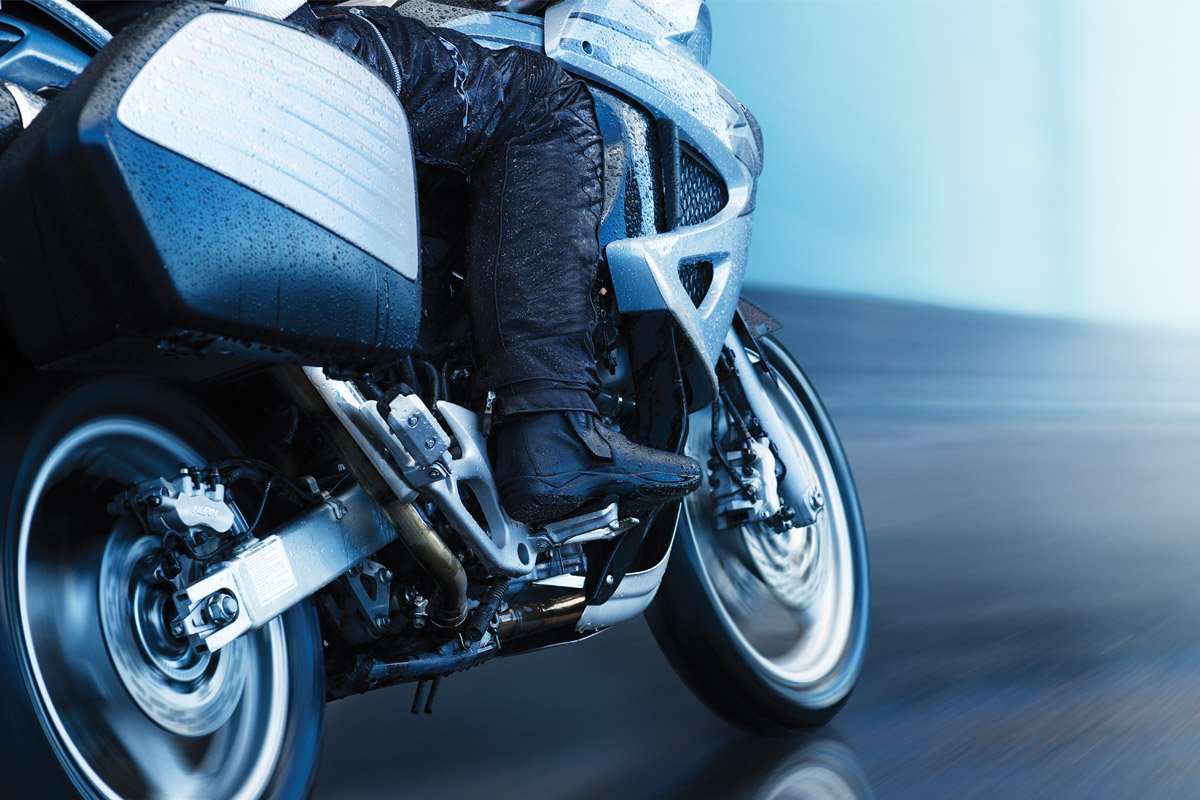 Here at Motolegends we spend a lot of time telling our customers that there is no such thing as the perfect motorcycling outfit; that there is no suit that is going to work in all conditions; and that it is the kind of riding that you do that will dictate what kind of suit is going to work best for you.
And we stick by this. For most weekend riders, the perfect solution is probably going to be a drop-liner pairing, although recently we've come up with a layering-based system that is going to give great results in just about any condition. The only problem is that our 'system' comprises five or six separate pieces; and frankly not everybody is keen enough, or organised enough, or disciplined enough, to make it work.
What many people want is a matching suit that will keep them dry, warm, cool, comfortable and safe in all circumstances. As we've stated, the suit that does all this flawlessly does not exist, yet if we narrow down the requirements a little, we think it is possible name a suit that does most things, and certainly all the important things, better than any other.
To get to this point, I'm going to rule out two types of suit or rather two types of construction; namely, 'drop-liner' and 'removable membrane' outfits.
Ironically, for 95% of riders, those riding, say, less than 10,000 miles a year, a good drop-liner suit is going to be the best option. There are hundreds of drop-liner suits on the market, but if we take our favourite Halvarssons' suit, the Wien jacket and its matching W pant, you're going to get amazing comfort, good waterproofing, high levels of impact protection and abrasion resistance, warmth, not bad venting and so on. In truth, this is one of the best drop-liner outfits around and, for most people most of the time, it's going to deliver everything you need.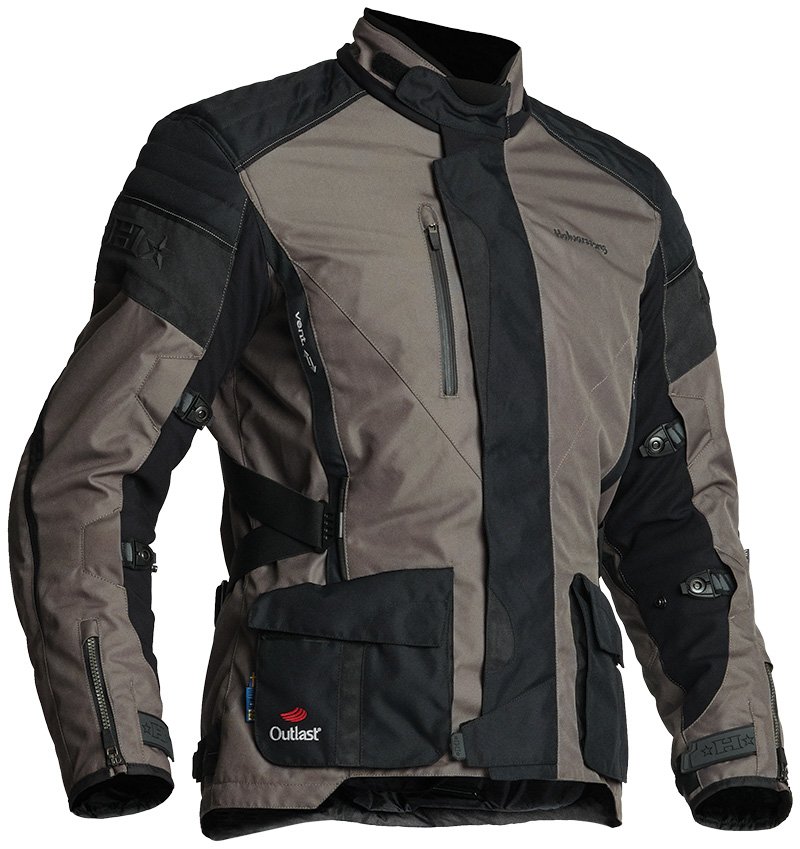 The Halvarssons Wien is probably the best drop-liner suit on the market.
But a drop-liner garment does have some inherent weaknesses. In heavy, prolonged rain, a suit like the Wien will become waterlogged. Now this will only happen after three, four or five hours in the rain, but eventually it will happen. We call the result 'wetting out'. Water gets through the outer fabric of the jacket, and although the membrane prevents this water from reaching the body, the suit will become heavy. And If you're riding along at 70mph on a cold day, the wind-chill factor will make you feel somewhat uncomfortable. You will eventually start to shiver.
It is the amount of water that can be absorbed by a drop-liner jacket that can make such a suit less than perfect for somebody who is commuting all year round. Let's say you have a commute of an hour or more either way. Now if, on your way to work, it rains really hard, you won't actually get wet, but the jacket and trousers will. The problem is that, with the amount of moisture in the material, it may well still be damp when it comes to going-home time. And nobody wants to put on a wet jacket and pants at going-home time. I'd stress that for a 30, or even a 45 minute, commute it's probably not going to be a problem. In the eight hours between arriving at work and leaving your outfit will dry out. But on a longer commute, drying out could be an issue.
There's one other slight, structural issue with drop-liner garments. And that is that they don't vent particularly well. And this is because, when you put a zip in the outer layer, the incoming air still has to pass through a waterproof/windproof membrane. Some air will get through to the body, and the incoming air will have a cooling effect, but a drop-liner jacket is never going to be particularly well vented.
The other form of construction that we're ruling out from this particular competition is the suit that comes with a removable waterproof lining. These suits are sometimes known as three-in-one or three-layer outfits. They tend to be popular in southern Europe, for those who travel to places like African and India, and for those who ride seriously off-road.
The main benefit of these suits is that, when you remove the waterproof lining, the garments become incredibly breathable. These suits often have large vents, and when they're open huge amounts of cool air can reach the body, and if it's hot and steamy the skin can breathe more easily, which again has a cooling effect. But a jacket or pant with a removable membrane will still wet-out, and because the liner zips in, and is not secured by tape, these suits tend not to perform well in the rain. And this is why we think such products cannot be considered for the prize of the "world's best motorcycle suit".
"No suit does everything perfectly but, if you want a suit that can handle all conditions, you're probably going to want to go for a laminate suit."
Where this takes us to is the world of laminated products. Now most motorcyclists have some understanding of laminates and how they work, but for those who haven't here's a brief synopsis. As we've explained, in a drop-liner suit water can enter the outer fabric. In heavy rain the rain will eventually soak the outer material. Eventually, water will swirl around inside the jacket between the protective layer and the waterproof membrane.
With a laminated motorcycle garment, the waterproof membrane is heat sealed onto the inner surface of the external fabric. This means that water simply cannot pass through the outer layer. The material won't become soaking wet; it won't wet out. Of course, it will become damp, but because of the waterproof backing, the water simply cannot pass through the outer layer.
This means that laminated outfits stay relatively dry. They don't get heavy, and when it's raining they won't cause you to feel as cold as you might do in a drop-liner outfit. A laminated garment, because it doesn't get very wet, will also dry out quickly; usually in a matter of hours.
Another benefit of a laminated jacket is that where you have zipped vents, the incoming air doesn't need to pass through a separate waterproof membrane. The air goes directly through to the body, which is more effective, although it does mean that a laminated jacket has to be equipped with high-quality waterproof zips to stop the rain reaching from reaching the body.
The bottom line is that the very best suits on the market these days are laminated? For most high-mileage riders the greatest bugbear is getting wet, and in a laminated suit there's a much better chance of staying dry than there is with any other type of jacket.
But before we go on we should, in the interests of fair reporting, mention the downsides of laminated jackets because, as we've said, no one product does everything perfectly. Laminates tend to be expensive. For some that's not an issue, and if you do 15,000 or more miles a year, you might take the view that a £2000 suit that might be guaranteed for five years or more is money well spent.
There are cheaper laminate garments on the market, but we know how much it costs to get a sophisticated product like this to work. And if you're spending less than £300, or even £400, for a laminated jacket, we don't think it will do what you want it to do.
Laminate suits also tend not to be particularly comfortable. When you bond two, and sometimes three, layers of material together the end result is a fabric that is quite stiff, and therefore not always nice to wear. If your main priority is comfort, go for a good drop-liner suit. It'll be nicer to ride in. If you go laminate, you are trading a bit of comfort for extra functionality. That's part of the deal. Some laminates are more comfortable than others, but comfort is not really what laminates are about.
Laminate outfits are also not perfect in the hottest of conditions. If you are riding through Death Valley, you really don't want to be wearing anything with a membrane in it. Laminates are amazing in the rain, but despite the myth created by Klim that they're perfect if you're exhausting yourself off road, a laminated garment is not really the best thing to wear when either you or the conditions are really hot. Yes, the venting works better on a laminate than it does on a drop-liner suit, but if you want to stay super cool, a laminate is not the answer.
The final weakness in the laminate suit's armoury is that it is not particularly warm in cold weather. And that's because there's no air gap between the outer surface and the membrane. Air gaps are good for insulation. Remove the gap and you remove a layer of air that can help you stay warm.
For us, this is not a huge issue. Staying warm on the bike is actually the easiest problem to solve. Wear good base layers and a down mid-layer and you'll be pretty toasty most of the time. If this doesn't work for you, go electric; then you'll never be cold.
But despite the weaknesses inherent in just about all laminated suits, we still take the view that if you want the very best, all-round solution, you've still got to go laminate. So, let's talk about the championship contenders. In our view, three suits stand head and shoulders above the rest. One's a suit from Klim called the Kodiak, there's the brilliant Nivala suit from Rukka, and finally one from Stadler: the Supervent
There are, undoubtedly, other good laminate suits out there, but in this instance, we're looking for the best. We know every suit out there, we know all the brands, but if you want the best of the best then the three suits that we're going to tell you about are the only ones that make the grade as far as we're concerned.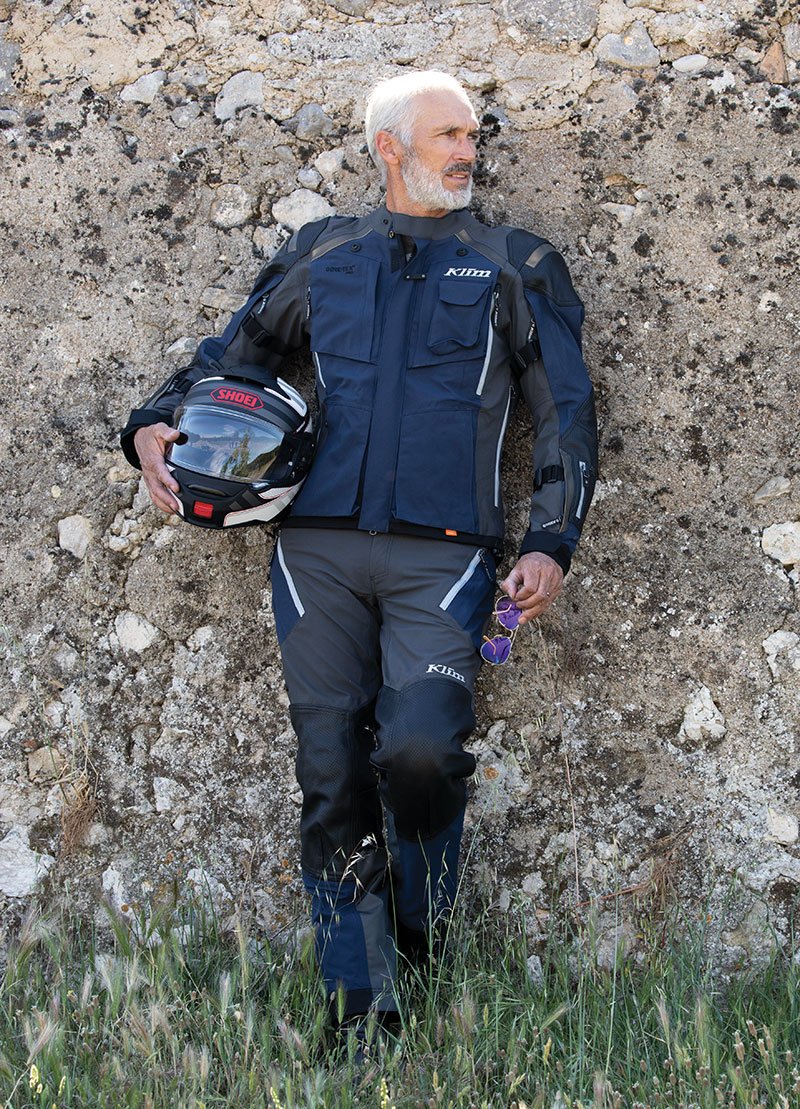 The Klim Kodiak: Totally waterproof. Lots of pockets. Huge vents. No thermal protection. Leather panels for abrasion resistance. Small range of sizes.
The first suit we're going to look at is the Klim Kodiak. The Kodiak is not as well known as the American brand's Badlands suit, but the Kodiak is their first purely-road suit. The Badlands is great for off-road, but it fits like a sack of potatoes and is just too baggy for proper road riding.
The Kodiak is a fantastic bit of kit. It's made from Gore-Tex's famous three-layer Pro-Shell fabric. Nothing is more waterproof or more robust. The suit comes with D30 armour throughout, leather patches on the shoulders and elbows for abrasion resistance, zillions of pockets and an unfeasibly large number of vents. And that's just the start of the spec..
"The Kodiak is a brilliant suit. It is totally waterproof and really well vented, but still lacks certain refinements."
But in the margin, it's a bit uncomfortable. It doesn't feel quite the finished article, and in typical Klim fashion it's just a shell. If you want to stay warm, you're going to need to get some extra layers. This would not be a major problem, but the Kodiak lacks perhaps the refinement one looks for in a road suit. It's not quite the real deal. It feels a bit like an off-road suit masquerading as a road suit! But, for us, one of the biggest weakness is its lack of sizes. There's no short leg or long leg options, and on the jacket the sizing only goes from 48 to 58. If the Kodiak fits you, it's a good suit. It is extremely well vented, has a great warranty, and has some lovely little bells and whistles that you won't find in other outfits. Perhaps it's unfair to mark the suit down on the basis of its sizing. It's a bit like saying that a Ferrari is not a great sports car because it's no good if you're over six foot, but if only 40% of the population can be accommodated in a suit, we don't feel we can suggest it's the best, all-rounder that money can buy. Sorry Klim aficionados!
Which brings us to the two heavy-weight finalists: the Rukka Nivala and the Stadler Supervent. They're both brilliant bits of gear, but they're very different, meaning that any judgement is going to be pretty subjective. The truth is that the Rukka will suit some; the Stadler will be better for others.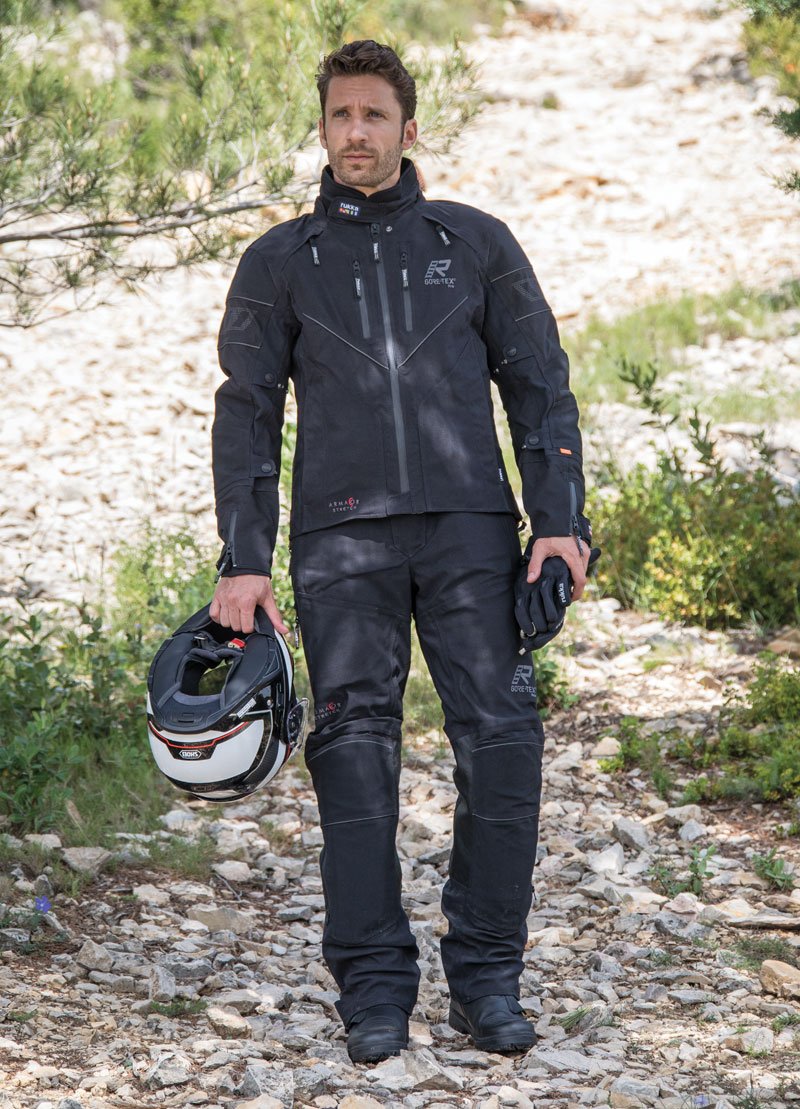 The Rukka Nivala: Totally waterproof. The best thermal lining. The most comfortable laminate ever. Poor venting. Level 1 back protector. No SuperFabric or leather panelling.
Let's start with the Rukka. The Rukka Nivala is the company's top model. It's been around for a couple of years now. It is a fabulous suit, although we cannot help but feel that, in producing it, Rukka has shot itself in the foot. And that is because it is so much nicer, and so much better, than anything else in the Rukka range. Yes, it's more expensive than the Arma T that sits below it, but when you look at the extra features you get with the Nivala, you have to conclude that it's more than worth the relatively small premium you'll have to pay.
The Nivala, like the Klim and indeed the Stadler, uses a three-layer Gore-Tex Pro-Shell. And that's as good as it gets. But the Rukka has two standout features that set it apart from anything in the laminate arena.
First is the fact that the outer fabric has some stretch woven into it. It's the only laminate that does, and it makes a huge difference to comfort. You wear it tight, otherwise you cannot enjoy the benefits of the stretch, but when it's on it really is nice to wear, nice to walk around in, and nice to ride in. It's in a different league to the Klim and the Stadler.
The second standout feature of the Nivala is its 90% duck-down inner jacket and pants. These don't button or zip into the outer layers, and this makes them far easier and more convenient to use. They squash down into tiny stuff sacks. You keep them somewhere on the bike, and only put them on when you need them. They add little volume underneath the outer garments, and they're warmer than anything this side of something that is heated electrically.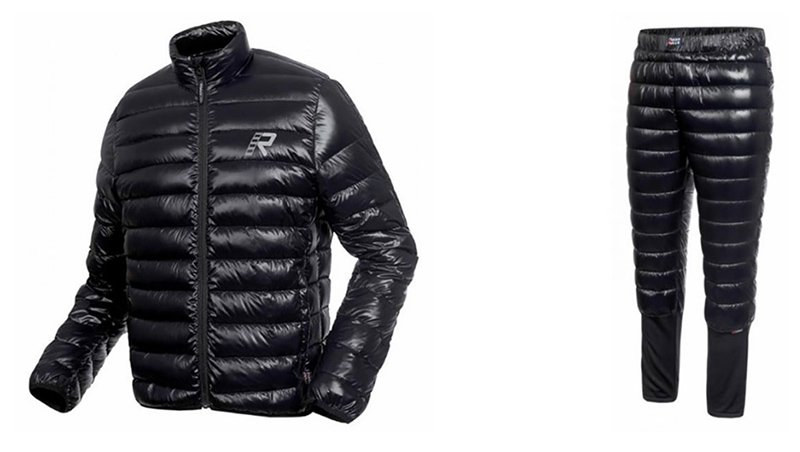 Rukka's amazing Down-X, duck-down jacket and pants.
D30 armour throughout the suit reinforces the feeling of comfort of the Nivala, although to us it's disappointing that, at this end of the market, the Nivala only comes with a Level 1 back protector. There are lots of other little design features that make the Nivala easy to live with. The clever GTX cuffs, a D3O chest protector, a storm collar, braces and so on. The greatest weakness of the Nivala, vis-a-vis its main competitors, is its venting. There are two small shoulder vents, and there are two full-length zips up the flanks of the jacket. In truth, that's pretty standard fair with Rukka, but the reality is that venting just isn't Rukka's thing. Rukka is brilliant in the wet and in the cold. They make great gear for those who commute right through the winter. But, in really hot weather, you don't want to be wearing the Nivala, or indeed any all-season Rukka jacket. A cold morning in November from Guildford to central London, tick. A hot day in June in the middle of Spain, cross.
In terms of the quality of construction, we have to say that there have been very few issues with the Nivala since it launched. A couple of zips, perhaps, occasionally a popper or a button. Provided you register the jacket you get a six-year warranty on the Nivala, which is impressive. Less impressive, at times, is the amount of time it takes to get minor repairs undertaken, as everything has to go back to Finland. The good news, though, is that the importer is normally able to supply a loan jacket whilst yours is away. In terms of sizing and fit, the Rukka will work on most people. The jacket goes up to a 66 size, and the pants are available in short, regular and long leg configurations. Because the jacket is relatively short, we would suggest that it's more important than it is with some suits for the two halves to be zipped together.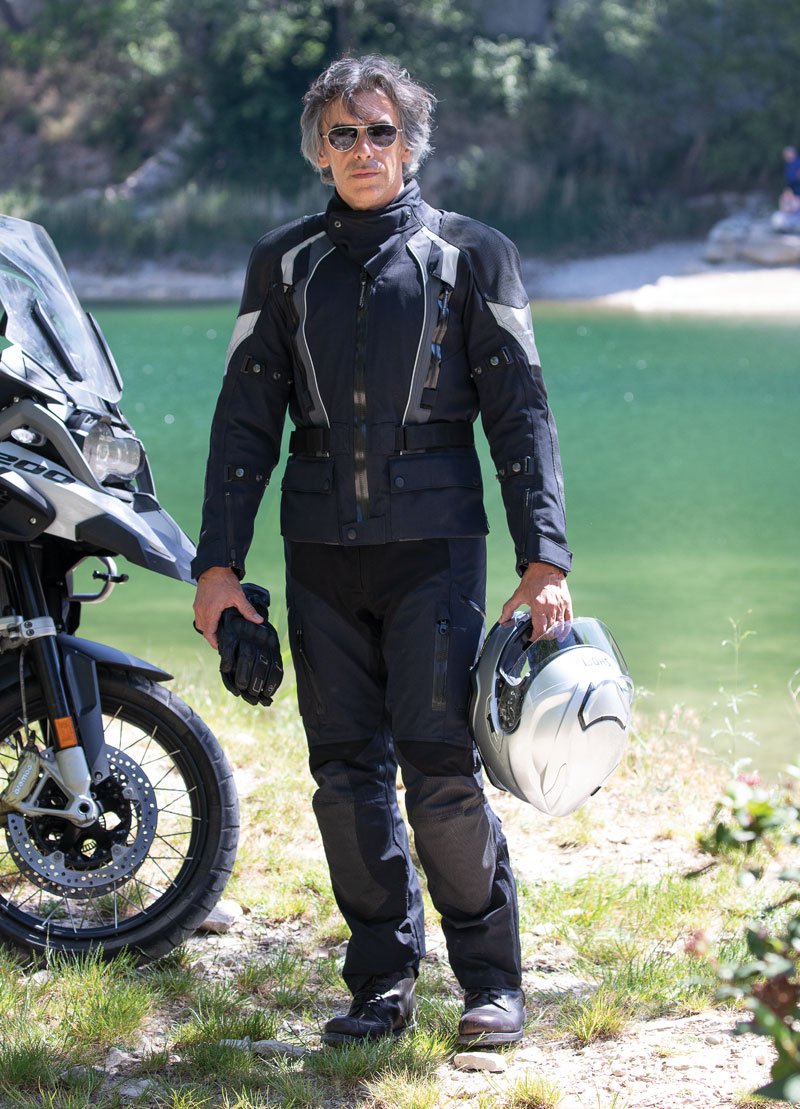 The Stadler Supervent: Totally waterproof. Stiff jacket but great pants. Just average thermal liner. Very effective venting. The best armour. SuperFabric for abrasion resistance.
The Stadler Supervent III is very different to the Rukka Nivala, but it's the only one that shares its breadth of qualities. It's frankly better in some areas; not so good in others. Stadler is a German company, and although they've been producing motorcycle wear for over 40 years, they're not so well-known in the UK. It's a family-run business. The owner is obsessed with safety. He uses only the very best components. He personally vets anybody who wants to sell the gear, and he is fiercely protective of the brand's reputation. Impressively, Stadler supplies suits to every single German Police force. Their suits have a 10-year warranty. They can repair suits after a crash, and can do bespoke colouring ways and sizes if required.
The suit we offer combines the Supervent III jacket with the 4AllPro pant. The jacket sits longer than the Nivala, although it's not as long as an adventure jacket. Zipped gussets at the hem allow the jacket to splay so that it does not push up into the neck when you're sat on the bike.
"The Stadler Supervent is uncompromising. It's not the most comfortable textile suit in the world, but it might just be the most protective."
Like the Rukka, the Stadler is constructed from Gore-Tex's three-layer Pro Shell material. But unlike the Rukka, the Stadler makes do with stretch panels rather than having stretch woven into the fabric. But there's one thing we need to be clear about with the Stadler; this isn't a comfortable jacket. It's not in the same league as the Rukka, and with its heavier armour it might not even be as comfortable to wear as the Klim. Now Mr Stadler is unapologetic when it comes to the comfort of his jacket. "It is not" he told us "designed for drinking cappuccinos". It is designed to work on the bike, and in this he is correct. Sit on the bike and the left and right-handed armour slides into place. On the bike, provided you get the right size, the jacket is perfectly comfortable to ride in; the rest of the time, not so much!
Part of the reason for the stiffness and rigidity of the Supervent is its armour. Stadler is all about safety. The Police are Mr. Stadler's biggest customer. He doesn't really rate D30 for a number of reasons. His own armour exceeds the highest Level 2 standard by up to 60%. Whilst the protector in the back of the jacket is the largest we've ever seen in a road suit. It's a monster, but it's very reassuring. If you find yourself in a winter resort, you could probably go snowboarding on it!
You also get huge swathes of Superfabric on the shoulders and elbows. Now Superfabric is the most abrasion-resistant fabric you can use on a motorcycle garment. Rukka used to employ it in the Arma-S jacket years ago, but they stopped using it because it was too expensive. Stadler's agenda is clearly a different one.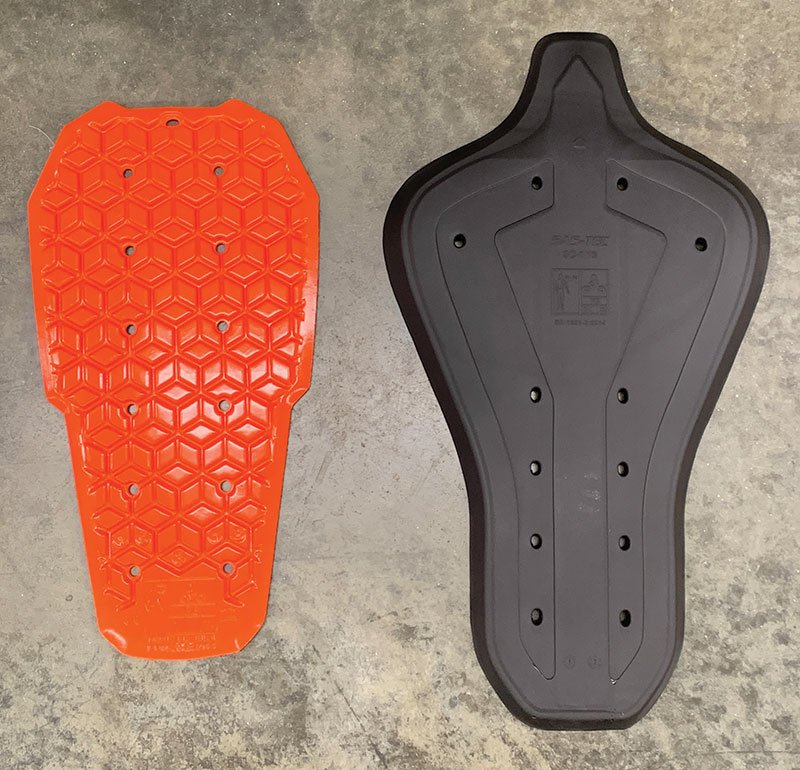 Rukka's Nivala comes with a Level 1 D3O protector. The huge protector in the Stadler exceeds the higher Level 2 by 60%.
The other main standout feature on the Stadler, and it is suggested by its name, is that it is particularly well-vented. It might not be as vented as the Klim, but it's way, way better than the Rukka. It has two huge zipped vents in the chest and two equally large zip vents in the back. But it is what makes these vents work that is interesting. The inside of the jacket is lined with uncrushable, 3D piping that runs from the front vents to the back ones. This piping contains a honeycomb structure that means that as air comes into the front of the jacket at 70mph, it is propelled around the body to cool you down. It works. In addition, the jacket can be worn with the main placket undone, which reveals a second zip placket that has a large mesh insert. For a road jacket the Supervent really is well-vented.
There is one other downside to the Stadler, in addition to its relative lack of comfort. And it is that it comes with a pretty rubbish thermal lining. Of course, it's better than the Klim's non-existent, thermal lining. But the Stadler zip-out thermal jacket is little more than average. And the reason, Mr Stadler tell's us, is because Germans don't tend to ride through the winter. It's just too cold. People put the bike away at the end of October, put the steel wheels on the car, and go by four wheels instead.
That all sounds plausible to us, but here in the UK many people do ride through the winter. As we said before, however, staying warm on the bike is easier to legislate for. Just wear a warm mid-layer. Stadler do a great down jacket called the Snug, although we might still go for the Rukka Down-X. If that's not good enough, put on a Warm & Safe electric jacket.
To finish on the Stadler there are a couple of points we would make. Having said that the jacket is not the most comfortable to wear, their pants are. They're brilliant. They're lighter and, for most, they are more comfortable even than the Rukka Nivala pants.
Sizing will never really be an issue on Stadler. Their sizing chart is huge and complex, although after a couple of years working with the company we kind of understand it. Jackets and pants come in short and long lengths as well as stout fittings, and if these don't work they can easily do bespoke fits. The largest standard size on the jacket is a 62, but we can order larger sizes if required.
There aren't many things that disappoint with the Stadler suit. We've had very few issues in the two years we've worked together. There was one jacket zip, two popper issues; and I think there was one waterproofing issue that was swiftly sorted. Warranty repairs go back to Germany by express mail, and are normally turned around very swiftly. We can do all the poppers and buttons in-house. The only thing that disappoints us a little is that we think the suit should come as standard with a storm collar and braces. Both are available as extras, and we keep them in stock, but at this price we reckon they should be included.
So, where do we end up? Which of these contenders is the best motorcycle suit in the world? Well, as we've suggested already, the final is a Germany v Finland fixture. The Americans did well to get to the semis, but in truth all-year-round riding isn't really their thing.
Of the final two contenders, the suit you prefer may well be dictated by the quality of the fit, but we suspect that the kind of biker you are, and the kind of riding you do, will dictate which suit is best for you.
The Rukka is the most comfortable. In standard trim it's the warmest. The Stadler is not as comfortable. It just isn't. With Rukkas's thermal liner it would be just as warm, though. For the summer the Stadler is much better vented than the Rukka.
"Price is never unimportant, but this is not a context to be decided on cost. You will choose the suit that works for you. For us, though, the Stadler is more accomplished."
Where we get to, in terms of all-year-round usage, is a view that suggests that you can make the Stadler work well when it's cold by supplementing it with a better thermal solution, but you can't do much about the Rukka when it's hot.
Importantly, for us, the Stadler is a safer suit with stronger, more shock-absorbent armour, as well as Superfabric reinforcement for extra abrasion-resistance. The Stadler has a four year longer warranty than the Rukka, and we like the fact that the company can effect crash repairs.
What we haven't really touched upon is price. And that's because, at this end of the market, a few extra quid is not normally the deciding factor. Although the Stadler and the Rukka are the same price in Germany, because we import the Stadler suit directly from Germany, the Supervent and its matching pant are cheaper than the Rukka over here.
In round terms, the Stadler suit is £1735, the Rukka is £2130. If keeping warm is a primary concern, you could add the Down-X or a Warm & Safe heated jacket and a controller to the Stadler, and still come in below the Rukka price.
If the capital investment on these suits is going to create cash-flow difficulties, you could always look at interest-free finance. The Rukka is available on 0% finance over 24 months. That would equate to less than £19 a week for 24 months. On the Stadler, you can get 0% finance over 36 months. In round terms that would be around £10 a week, and after three years is up you'd still have a seven years of warranty remaining.
Ultimately, whilst we rate both suits highly, we come down marginally on the side of the Stadler. It is more versatile, because it's going to be a better option for those who ride through both the summer and the winter. And the Stadler is more protective. It isn't as nice to wear on the bike as the Rukka, but if we were riding 20,000 miles a year, we'd probably be prepared to trade a touch of comfort. But it's a close call, and even here at Motolegends there's no consensus. It's a bit like Brexit. Some want in; some want out. We suspect that choosing a suit in this rarified end of the market is not always going to be a rational decision. Just like Brexit really!
---
Want some more? Please click here to return to our editorial menu.

Share this story