Bering Freeway jacket review
Published on: 09 August 2023
Bering is not the first name to come to mind when we're talking about adventure riding gear, or indeed technical wear, per se. There's nothing wrong with Bering's quality, and the pricing is usually pretty reasonable. But we are not short of options in this sector; and with brands like Halvarssons, Held, Klim and Rukka we can usually meet most of our customers' needs. But when the distributor showed us the Freeway suit, we did kind of fall for it.
Before we go further, however, let's address the elephant in the room. When we are talking about adventure gear, we normally end up having a conversation about garments that have either a laminated membrane or a membrane that is removable. And that's because adventure suits are meant to be about riding off road or in hotter conditions. Outfits with laminated membranes have direct-to-body venting, and will never wet out if you end up riding all day in the rain. Whilst clothing where the membrane can be removed will be even more breathable.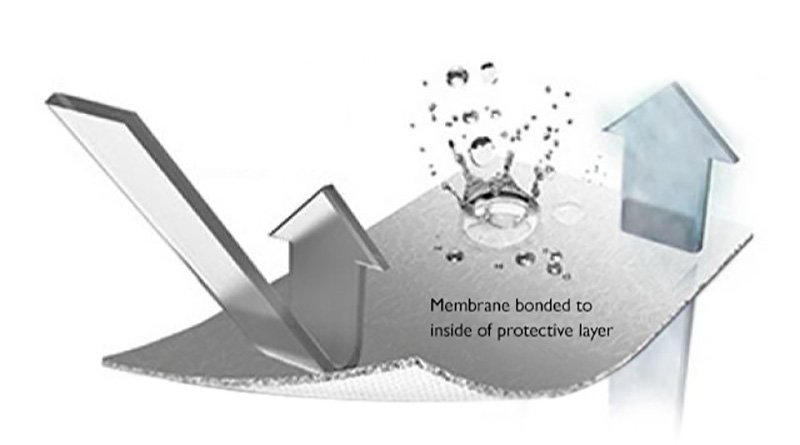 Many adventure suits will come equipped with a laminated membrane.
An adventure suit with a traditional drop-liner membrane might be considered somewhat lacking. It won't vent as well as a laminated one. And in prolonged rain, a drop liner garment will eventually 'wet out'. But an adventure suit with a drop-liner membrane will be more comfortable, warmer to wear when it's cold and, on a pari-pasu basis, less expensive.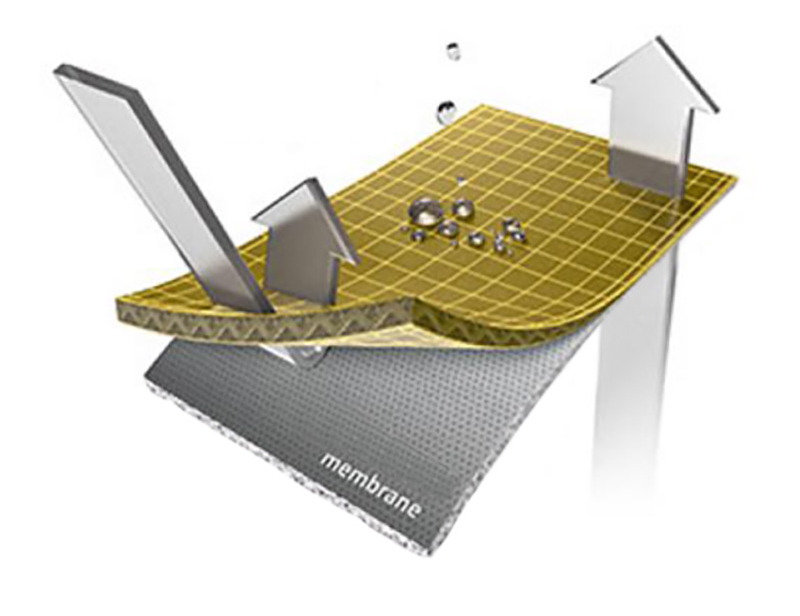 Drop-liner garments, like the Freeway, are waterproof but can still wet out.
But here's the deal, if you do ride off-road a lot, and if you do often find yourself somewhere exotic in thirty degree plus temperatures, something laminated, or something without a membrane, might conceivably be advantageous. But most adventure bike riders never go off road, and many rarely leave these shores. And for such people an adventure suit with a drop-liner membrane makes a lot more sense.
There is, currently, a bit of an obsession with laminated motorcycle gear. Our view is that if you really need laminated gear, go for it. But the truth is that 90% of motorcyclists really don't. And most of us, therefore, would be better off with a drop-liner suit like the Freeway.
Anyway, let's talk through the jacket and pants, because we reckon they're worth a look.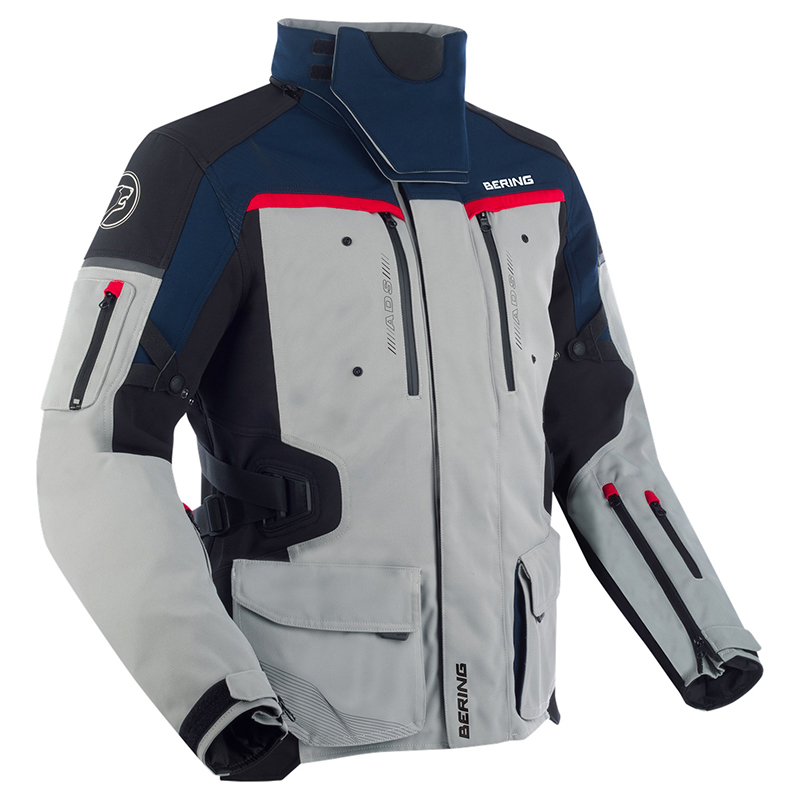 The Bering Freeway jacket
The styling is pure 'adventure', although everybody does this look reasonably well these days. Even the cheapest, budget brands can make a jacket look as though it's up to a round-the-world expedition. And so you always tend to get a mid-length jacket with lots of pockets, multiple vents and waist adjuster straps. These jackets will inevitably come in an array of 'adventure' colours: greys, blues, browns, greens, and so on.
One of the things we really liked about the Freeway when we first came across it was the fabric. Its chassis is a combination of a cavalry twill with panels of soft and stretchy softshell. The result is a jacket that is just about as comfortable as anything we've come across. The Freeway reminds us of the Halvarssons Wien that, for many years, we considered to be the perfect jacket for 90% of motorcyclists. That was until Halvarssons discontinued it!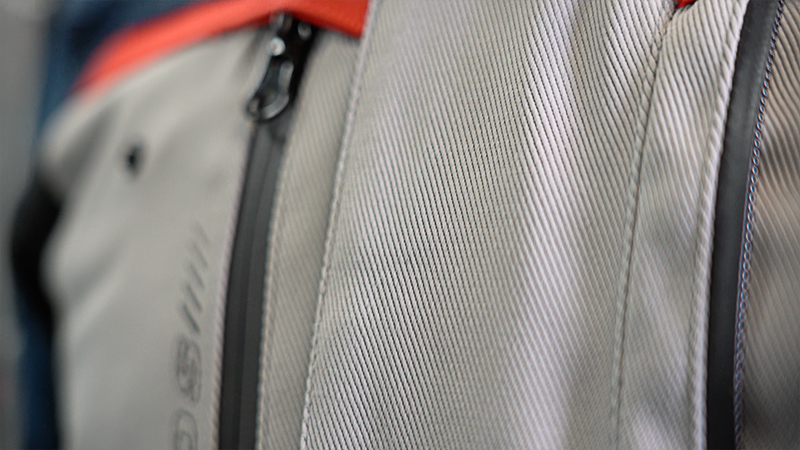 The cavalry twill-style fabric on the Freeway feels incredibly luxurious.
The Freeway comes with Level 1 armour in the elbows and shoulders. This could be upgraded to Level 2 if you wanted. There's a pocket for a back protector. There's a removable thermal liner, but whilst it will do a job, we'd probably remove it, put in in a drawer somewhere, and replace it with a down jacket of some description. It will be warmer, more comfortable, wearable off the bike; and you will never have to wrestle with zips and poppers ever again.
There is lots of pleasing detail with the Freeway. The Magneto main zip is one of them. Once you get used to it, it's very clever, and easy to use.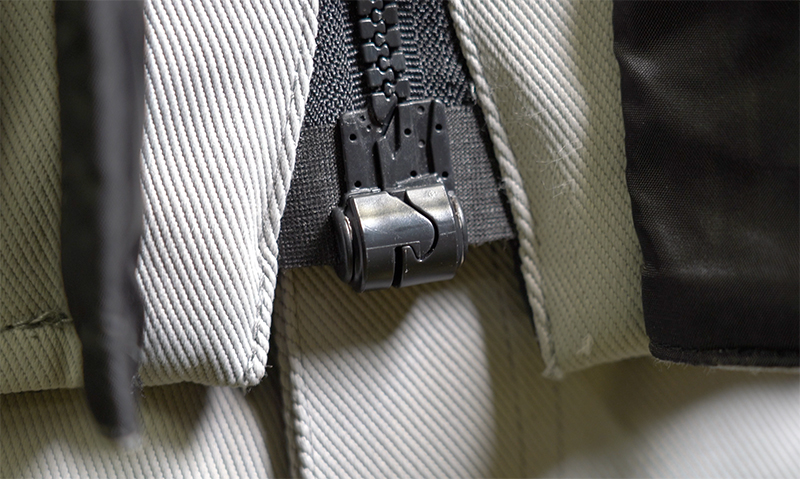 The Magneto zip is incredibly clever and simple, once you get used to it.
You get two vents on the chest; and what's interesting about them are the poppered straps that allow the vents to be held open. The zips at the cuffs will also double as vents. There's also a large exhaust vent across the back. Now everybody talks about the direct-to-body venting that you get with a laminated jacket; and that is true. But the problem is that if the zip fails, or if it's left just partially open, you will quickly get wet. Not so in a drop-liner outfit like the Freeway. If the rain gets through the vent, you won't get wet because there's still a membrane that needs to be negotiated.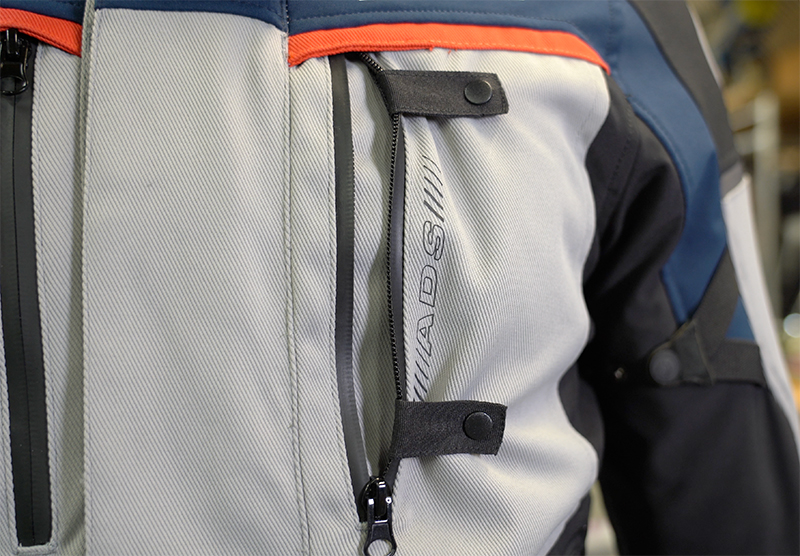 We really like the Freeway's system for holding the vents open.
The main zip has a storm flap, both on the outside and the inside, so although the zip is not waterproof, the rain is not going to find its way through it. You also get zipped gussets at the hem of the jacket to allow it to splay a little when you're sat on the bike. There are zips at the ends of the sleeves to enable the cuffs of a waterproof glove to be fitted inside the sleeve ends.
On the arms you get volume adjusters. There's also a neat belt arrangement that allows the jacket to be cinched or relaxed dependent upon what is being worn beneath it.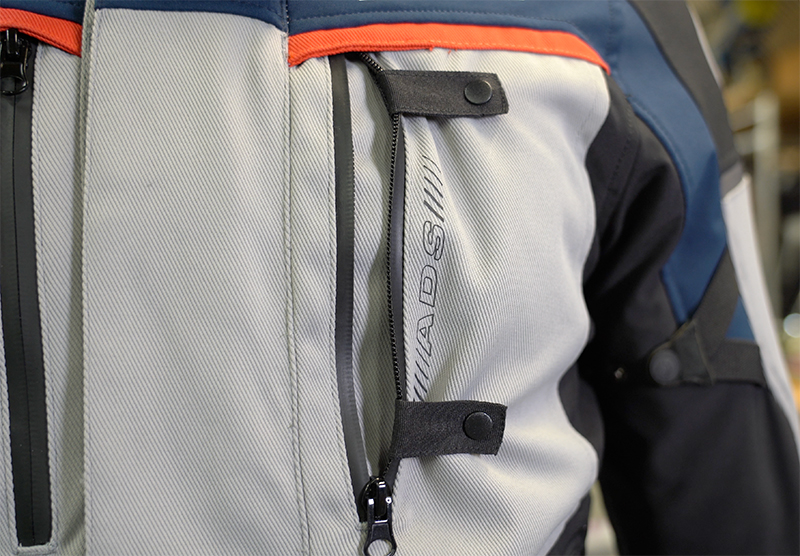 The detailing on the Freeway is particularly impressive.
Pockets are very much part of the adventure look. And so, in total, there are seven on the outside, including a large map pocket on the back. You get two more inside, one in the lining; one in the thermal. You also get a removable neck collar that attaches to the jacket with a zip, but that fastens by means of Velcro and poppers. Finally, as you would expect, you get a zip to enable to connect the jacket to the matching pants. So let's talk about those matching pants.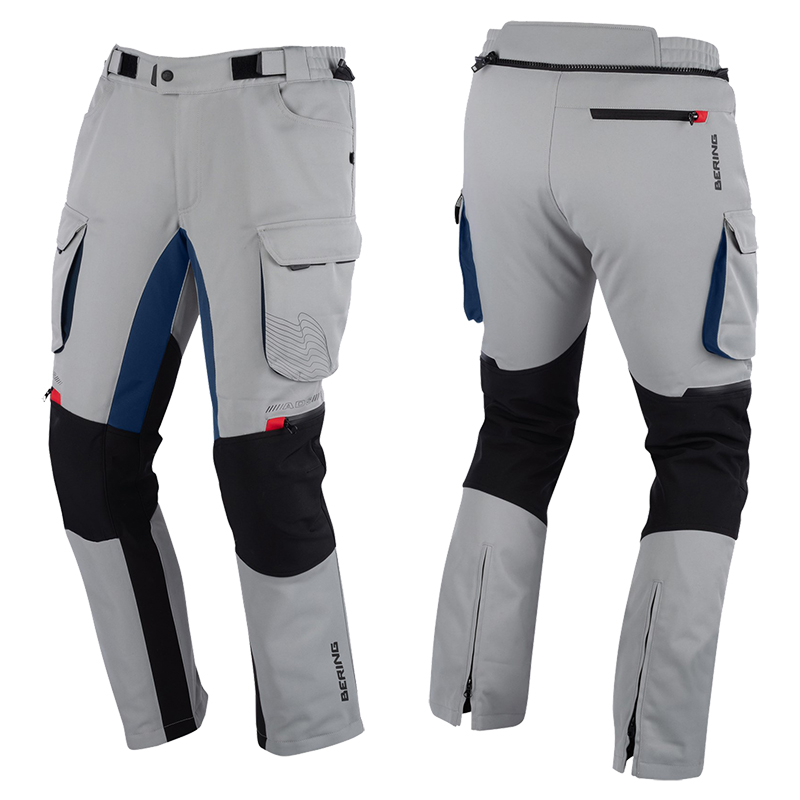 The Bering Freeway pants
As is usually the case with a suit, the Freeway pants mirror the jacket in most respects. So you get the same fabric mix. Level 1 armour in the knees and hips. Vents on the thighs. An elasticated waist belt. Enough pockets. Longish zips at the hem that are supposed to accomodate taller boots. And so on. But on this last point of detail there's an issue. The Freeway fits so tightly around the ankle that, in smaller sizes, you couldn't fit them over a touring boot, let alone an adventure one. And that really is a bit of schoolboy error!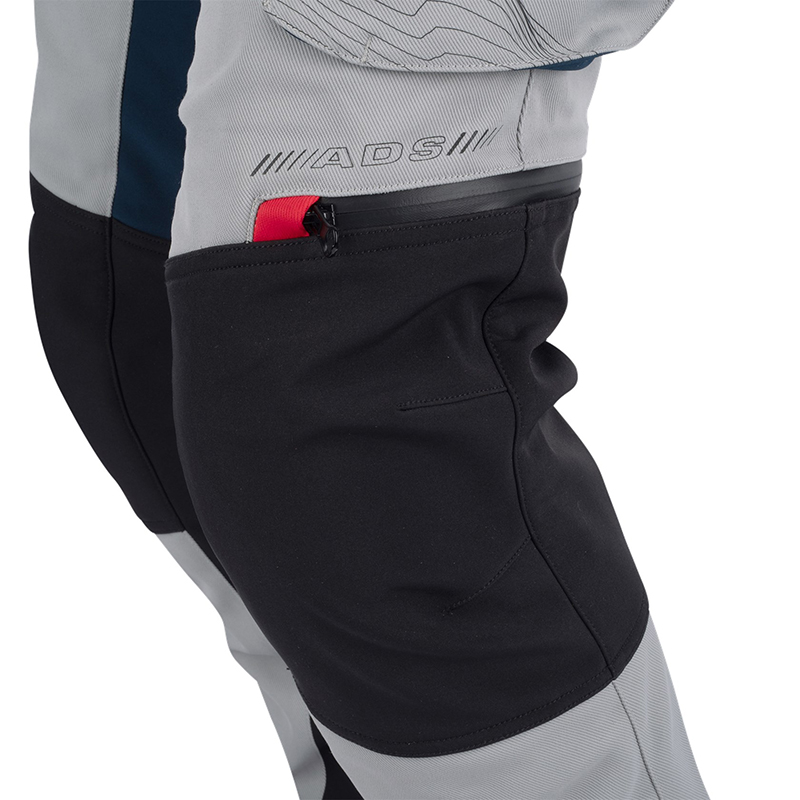 The same fabric mix, the same armour, vents, adjusters, and so on.
But there is an issue with these pants, as there is with every Bering pant we have ever come across. And it's that they come in only leg length. And what that means is that they will only work on perhaps 50% of motorcyclists. We are all proportioned differently. But if you're below 5'. 7" or over 5'. 11', you might have a problem.
Now Bering has a slightly cockamamie system that enables you to fold the hem up, and Velcro the excess material to the inside of the pant. It kind of works, but frankly these days you shouldn't have to resort to DIY alterations to get a motorcycle pant to fit properly.
The importer talks very highly of the Bering product, as you might expect him to do. But in our experience, he is right to point out that Bering's gear tends to work. And it is true that we almost never have issues with it. But, as ever, it feels as though all Bering's energy went into the jacket, such that nobody was able to give much thought to the pants. But until Bering sorts its pants out, we don't think anybody will take the brand seriously at what might be termed the serious end of the market.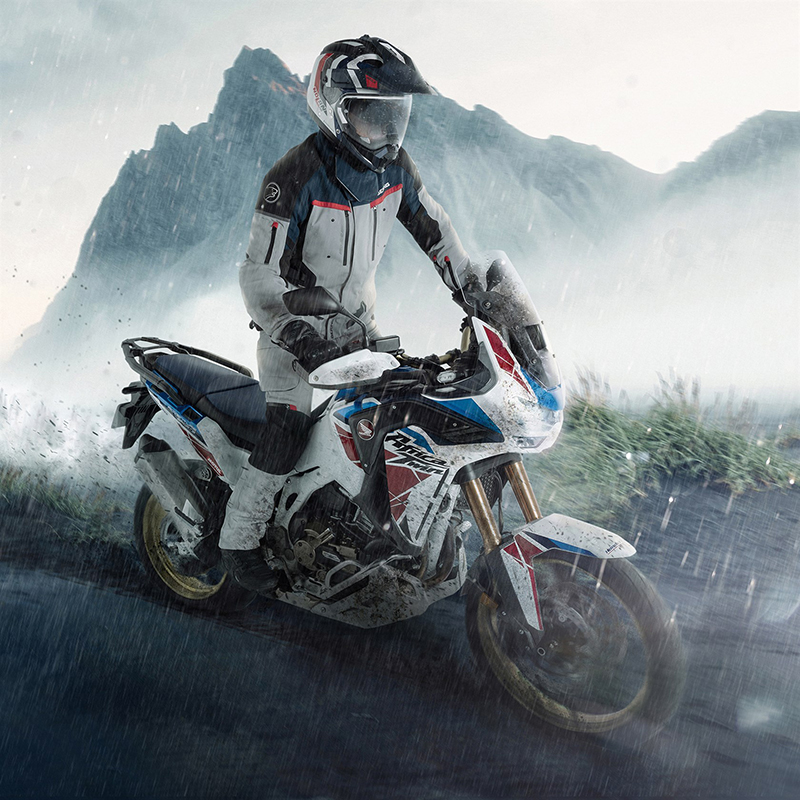 In conclusion
We really like the Freeway jacket. A laminated jacket is not a necessary accessory on an adventure bike. And for most people, a jacket like the Freeway will be more than up to the job, and much easier to live with. It looks right, it's comfortable, and has all the bits you would expect.
If the pants work for you and your height, then fine, but with their single leg length they do somewhat let the side down. But what we are seeing increasingly is a propensity to wear a technical, waterproof jacket with a pair of jeans. Now this might seem a little incongruous, but the combination actually works well for a number of reasons.
First, it's more important to keep your upper body, and your core, warm and dry. If they are, you will be pumping warmer blood to your limbs and other extremities. And of course any jacket with a membrane will indeed enable your core to stay warm, whether it's raining or not.
In some ways your legs are less important; they kind of come along for the ride. If they do get a bit cold, it's sometimes not the end of the world. Sometimes, of course, your legs are protected from the wind by the tank, or by a fairing. Sometimes they benefit from the heat of the engine. Obviously, if the rain is hard you will need to stop, and put on a set of Scotts over your jeans, but what we all know is that it simply does not rain all the time.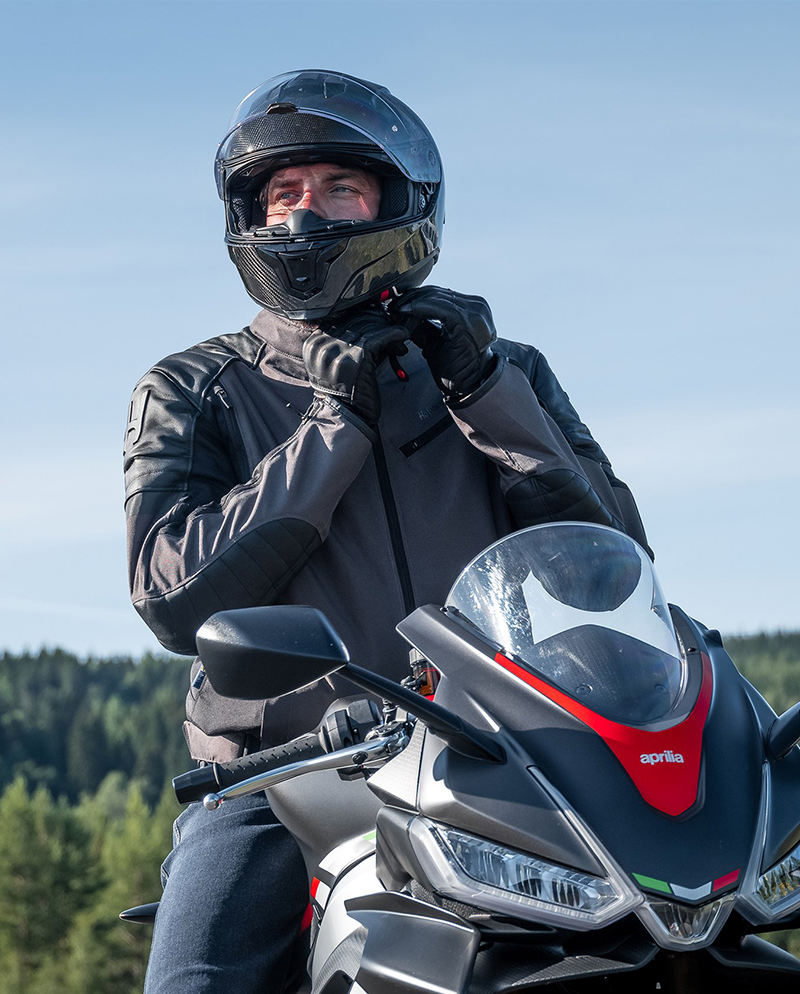 Wearing a jean with a technical jacket is becoming increasingly popular.
One of the main reasons that riders like to wear jeans beneath their technical jackets is that when you get to your destination you can take you jacket off, and leave it on the bike, or hang it up somewhere. Meaning that you'll look like, and be able to move about like, a normal human being. But you can't do the same with a traditional, technical trouser. Wear a technical pant; and you'll be wearing them all day. In the cafe. In the shop. As you walk around a town. And so on. Jeans are so much nicer off the bike. And, by and large, they are more protective on it.
And that's probably the way we'd go with the Freeway suit. If you really need, or want, to wear the Freeway as a suit; and if the pants fit, then go for it. It will be a great suit for those who spend all their time on the road. And it will not cost you an arm and a leg. The jacket costs £490. The pants cost just £300. So a good-looking, comfortable, warm and well-equipped suit for under £800. In anybody's book; and given what you get, that's got to be a bit of a bargain.
But me, I'd go for the Freeway jacket over a pair of Rokkertechs. But then I do love those jeans!
For more information and to buy online, click Bering Freeway jacket.
---
Want some more? Please

click here

to return to our editorial menu.

Share this story