Halvarssons Myrvik jacket review
Published on: 24/10/2022 10:06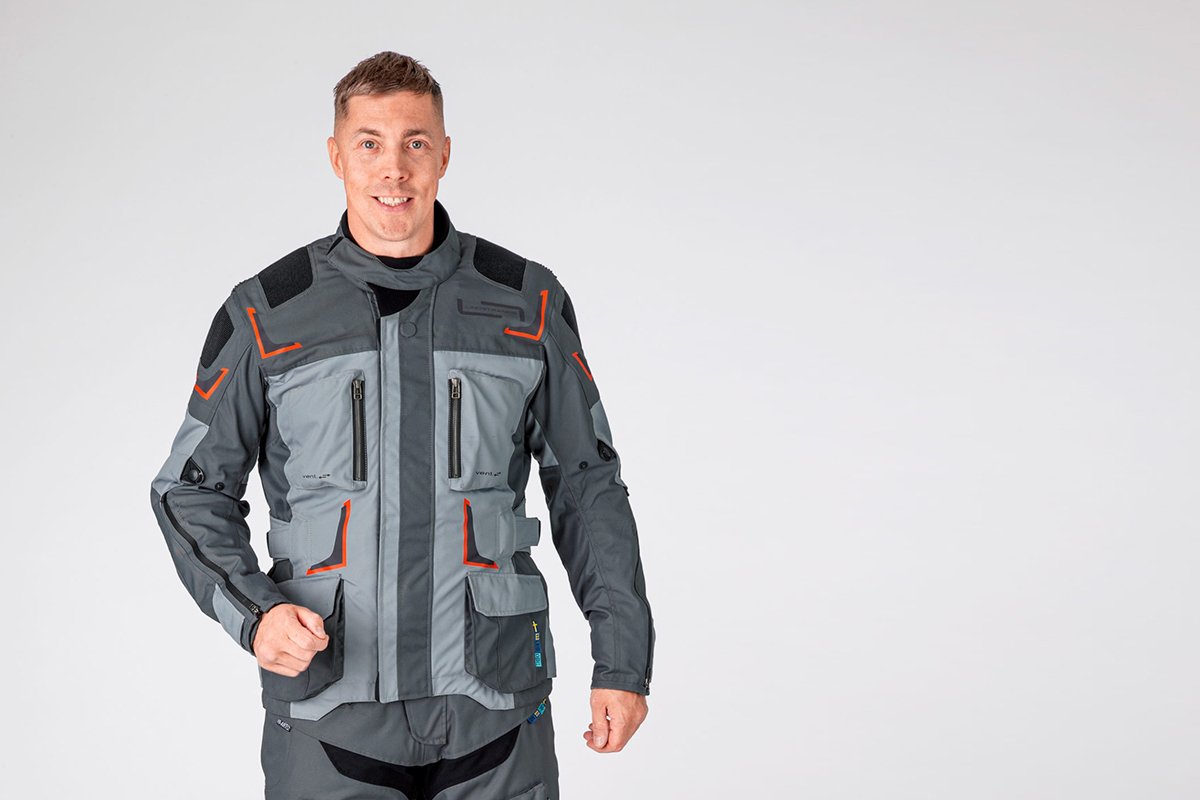 The Myrvik jacket and its matching Myrtorp pant constitute a new-for-2022 adventure suit. It will eventually replace the Mora and Malung. But let us be clear about what an adventure suit is, because there are lots of different kinds of suits out there that purport to be designed for adventure riding.
For some manufacturers, the adventure suit is more about a look than it is about any aspect of functionality. Some are equipped with a drop-liner membrane; some with a laminated one. And indeed, this latter form of construction is what Klim considers to be an adventure suit. But a real adventure suit has a removable waterproof inner, and that's because if you're having a real adventure somewhere hot, or if you're working hard off the beaten track, you need to be able to discard the waterproof layer to enhance breathability.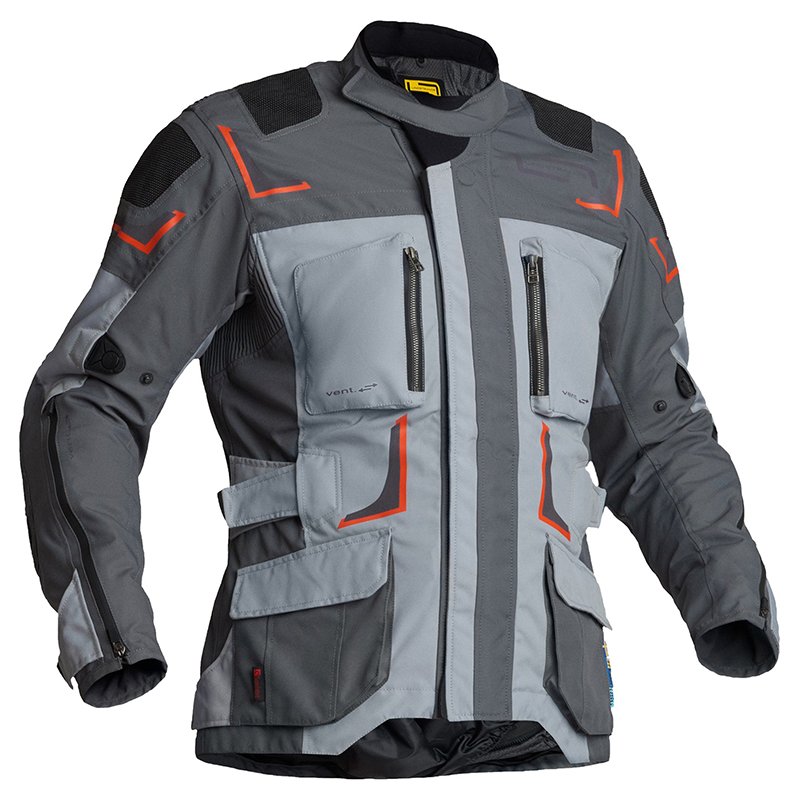 The Halvarssons Myrvik has a removable membrane to help you keep cool if you're somewhere hot.
The Halvarssons Myrvik jacket
Anyway, let's talk about the Myrvik jacket in a bit more detail. The shell is constructed from a 600 denier Cordura-style fabric. The membrane, obviously, is removable. You get a couple of chest vents as well as long sleeve vents, and an open exhaust vent on the back of the jacket. In truth, we've come across better vented adventure jackets, but the Myrvik is still going to be way cooler to wear than anything with a fixed membrane.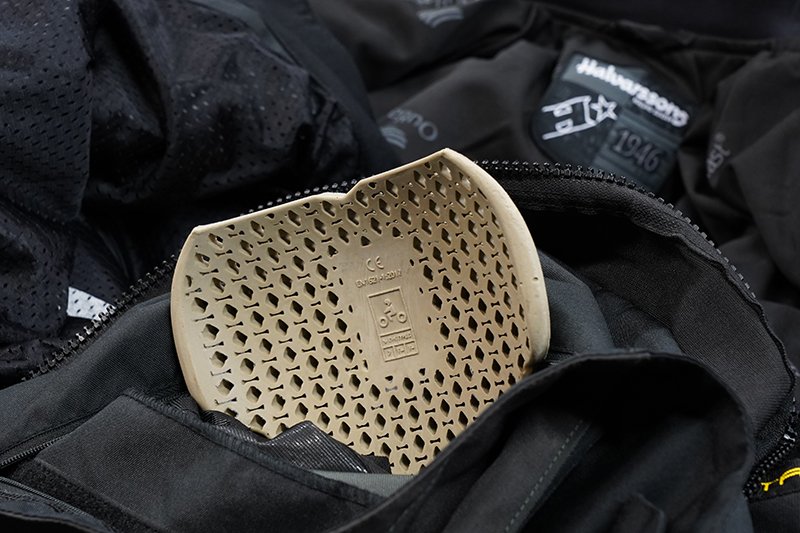 The suit comes equipped with Halvarssons' lovely Level 2 armour.
As far as protection is concerned, you get Halvarssons' new, super-pliable Level 2 protectors in the elbows and shoulders. Honestly, it's the nicest Level 2 armour out there. There's a pocket for a black protector, but in contrast to Halvarssons' new limb protectors, we wouldn't go for their surfboard-like back protector. We'd go for a D3O Level 2 Viper protector in size nine, but this needs to be the Velcro version. The jacket also has Napoleon style pockets on the inside to take a chest protector. For added abrasion resistance, you get lightweight SuperFabric on the shoulders and elbows which, at this price, is pretty impressive. The jacket is rated AA under EN17092. You can zip the jacket to any Halvarssons or Rukka pant.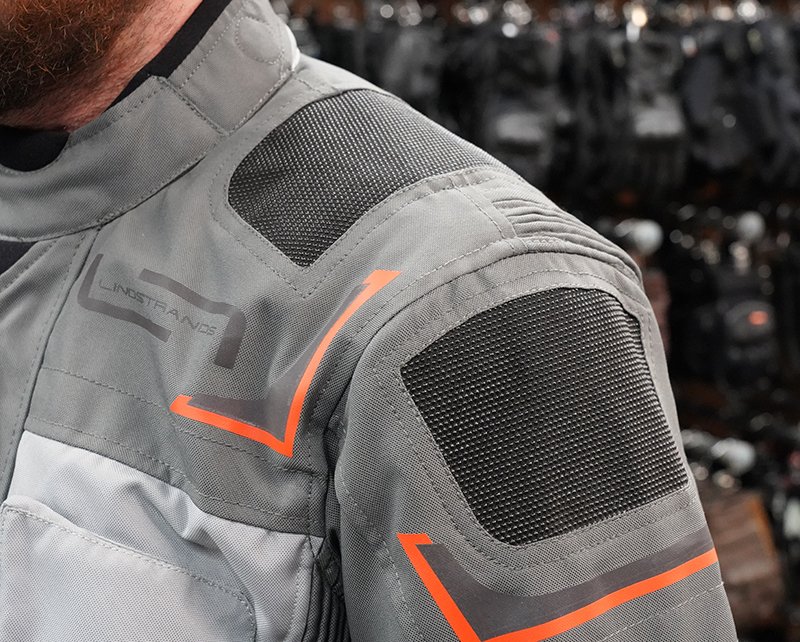 SuperFabric is not what you'd expect on a jacket at this kind of price.
To aid fit and comfort, the Myrvik has elasticated waist straps, a feature that we think is pretty much essential on a mid-length, adventure jacket. You also get concertina stretch behind the shoulders and in the upper part of the sleeves. There are also velcro adjuster straps at the hem, at the neck and at the ends of the sleeves. You also get volume adjusters on the upper sleeves.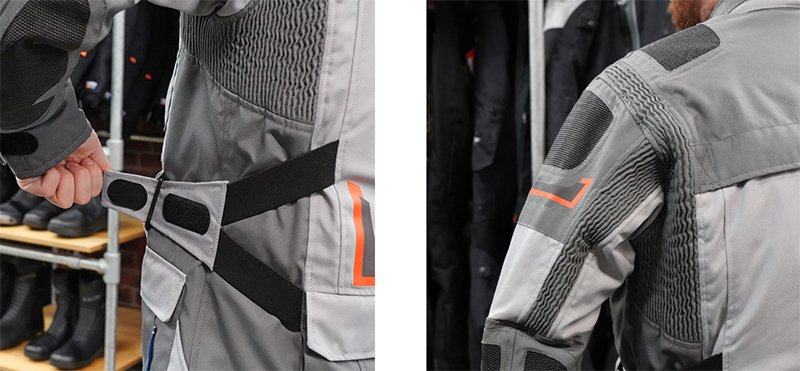 The Myrvik has loads of adjusters for fit and comfort.
When it comes to pockets you get two large, lower flap pockets closed, again, by Velcro. When you're not seeking added airflow, the chest vents can also double as pockets. The jacket is pretty well covered with hi-vis panels and reflective bands, so being seen, day or night, should not be a problem. The removable neck warmer is also hi-vis.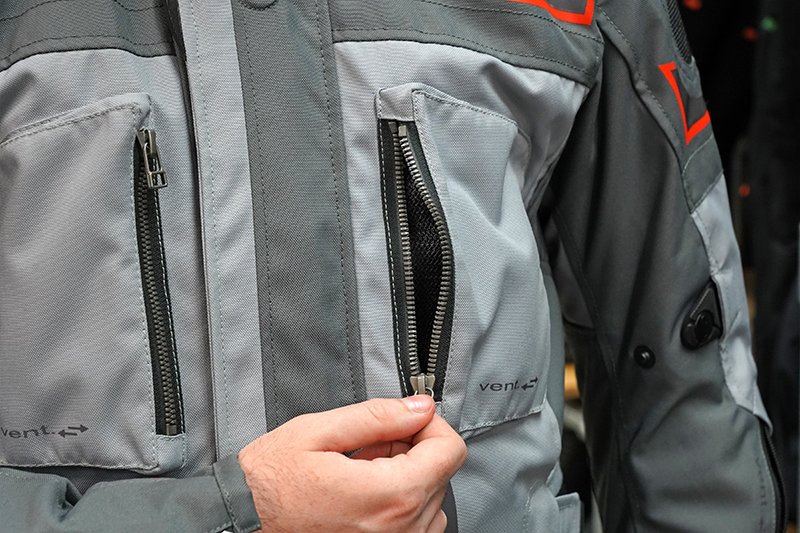 The upper vents can double as pockets when not being used for air flow.
The jacket also comes with a removable thermal lining. In truth, this isn't of the highest order, and we would probably just go for a separately-worn down jacket. But the thermal liner is much better than the one in Halvarssons' similar Mora jacket because, in the Mora, the thermal layer is permanently attached to the removable waterproof membrane.
Now, the Myrvik is a nice jacket that will pass muster across a wide array of conditions, but what has to be accepted is that a removable waterproof liner is probably the weakest of all constructions when it comes to waterproofing; and that's largely because water can leak through the zips. And so if you buy into the Myrvik you need to know what you are getting into. This is not the jacket to buy just because you've got an adventure bike. This is not a jacket for winter commuting. This is a jacket for those who want to ride in all conditions, but in some ways it is a jack of all trades, and a master of none. It is not for everyone.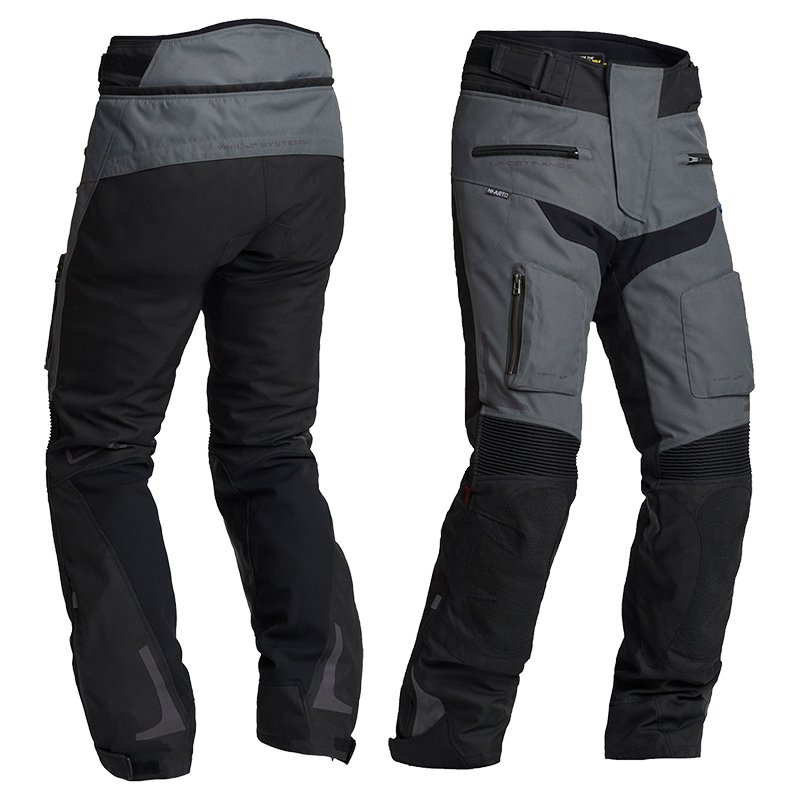 In pretty much all regards, the Myrtorp mirrors the construction of the jacket.
The Halvarssons Myrtorp pant
The Myrtorp pant is the matching lower half designed to go with the Myrvik adventure jacket.
It is made from a 600 denier Cordura-style fabric. And like the Myrvik, as you would expect, the pants come with zip-out thermal and waterproof inners. For extra breathability, you get vents on the thighs and under a flap at the waist. When it comes to protection, you get Halvarssons' Level 2 armour in the knees and hips. There's lightweight SuperFabric on the knees, and leather patches in the seat. The Myrtorp is rated AA under EN17092.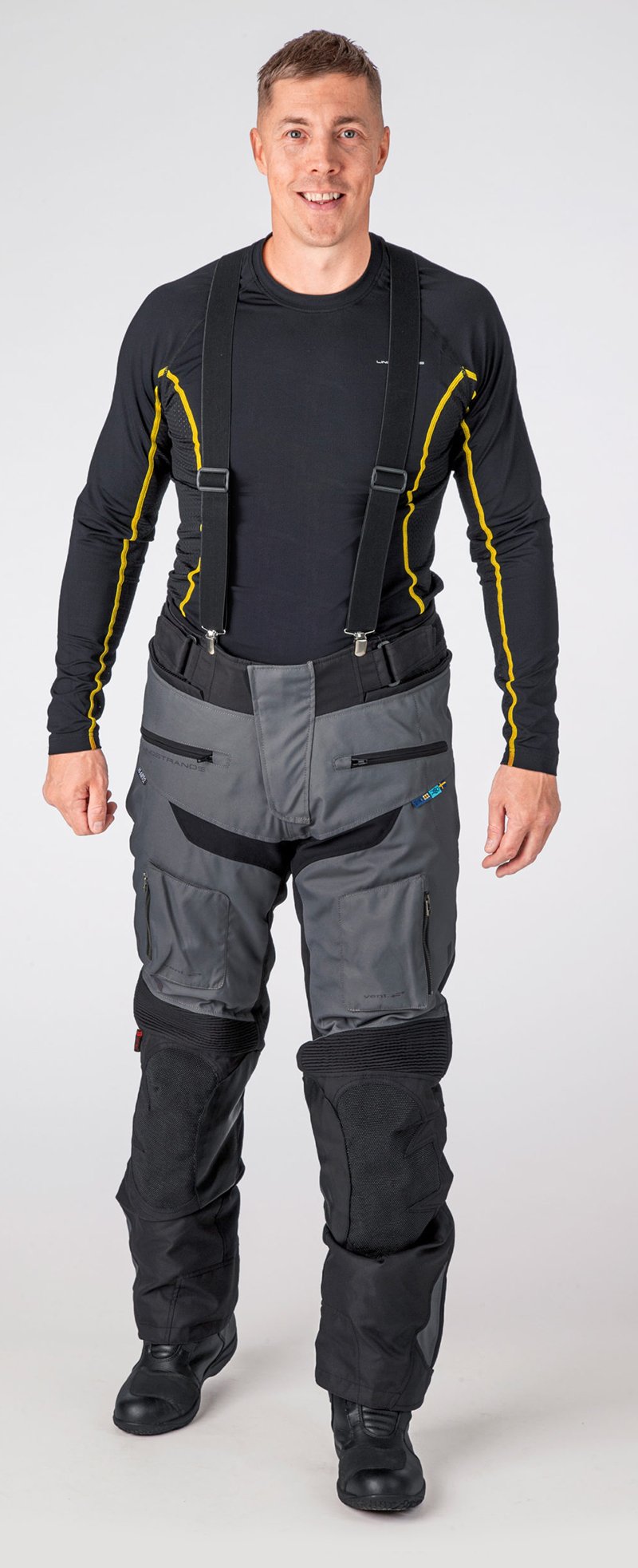 The Myrtorp has a baggier, off-road fit, but leg length is an issue.
For comfort, there are stretch panels in the crotch and in the back of the legs. You also get concertina banding at the knees. The pants come with braces, which are useful off the bike, although on it you can zip into the jacket with the full length zip. The waist features elasticated adjusters. In the lower part of the leg, long zips will allow you to wear the Myrtorp over almost any boot. You also get a Velcro closures at the bottom of the leg.
But there is one problem with the Myrtorp pant, and that is that it only comes in one length. And that's a major weakness, because it means that these pants are not going to work on people under, say, five foot seven or over six foot. And so that means that the pant is only going to be wearable by about 60% of people. It makes it difficult for a retailer like us to really get behind them. Frankly, if you want to be a serious player at this end of the market you need to be offering both short and long-leg configurations. The pant is a nice one, so we find this bit of corner and price cutting a bit disappointing.
In conclusion
The Myrvik and Myrtorp is, as we have suggested, a proper adventure suit, in that the removable inners are removable.
The suit is designed for those who are going to be riding in hot conditions, or who are going to be generating heat in the riding they do.
If this is the kind of suit you want, then Halvarssons has made a pretty good fist of it, but there are other options. Obviously, there is Halvarssons' own Mora and Malung pant. If you want the best iteration of a suit with a removable liner, you should look at Held's Carese Evo and Torno Evo. But you will pay £1500 for the suit. The Halvarssons will set you back around £820. The Held is the better bit of kit in just about every respect. Better venting. A Gore-tex liner that can be worn on the inside or the outside. Different length trousers as well as different length jackets. It's a class act. The other option is to combine Klim's Baja S4 suit with a set of Scott waterproofs. This will set you back £1260, but you'd get a more protective suit as well as one that flows more air.
As ever, it's a matter of horses for courses. There's no suit that is perfect for everybody. You just have to work out which of the ones you can afford works best for you.
For more information and to buy online, click Halvarssons Myrvik jacket and Myrtorp pant.
---
Want some more? Please

click here

to return to our editorial menu.

Share this story