Klim Zephyr windproof jacket review
Published on: 25/08/2022 15:22
A hundred pounds, let's face it, doesn't buy you much these days when it comes to motorcycle apparel.
You'll get a helmet or two from Lidl. You might get a decent pair of summer gloves, an average pair of waterproof gloves, or a not very impressive pair of winter gloves. And it's not going to get you much when it comes to a pair of pants or a jacket. It will, it has to be said, get you a nice, breathable, base layer; you might even be able to get yourself a lightweight Merino top.
And so I stand by my original assertion. In the world of motorcycle clothing, a hundred quid doesn't buy you much.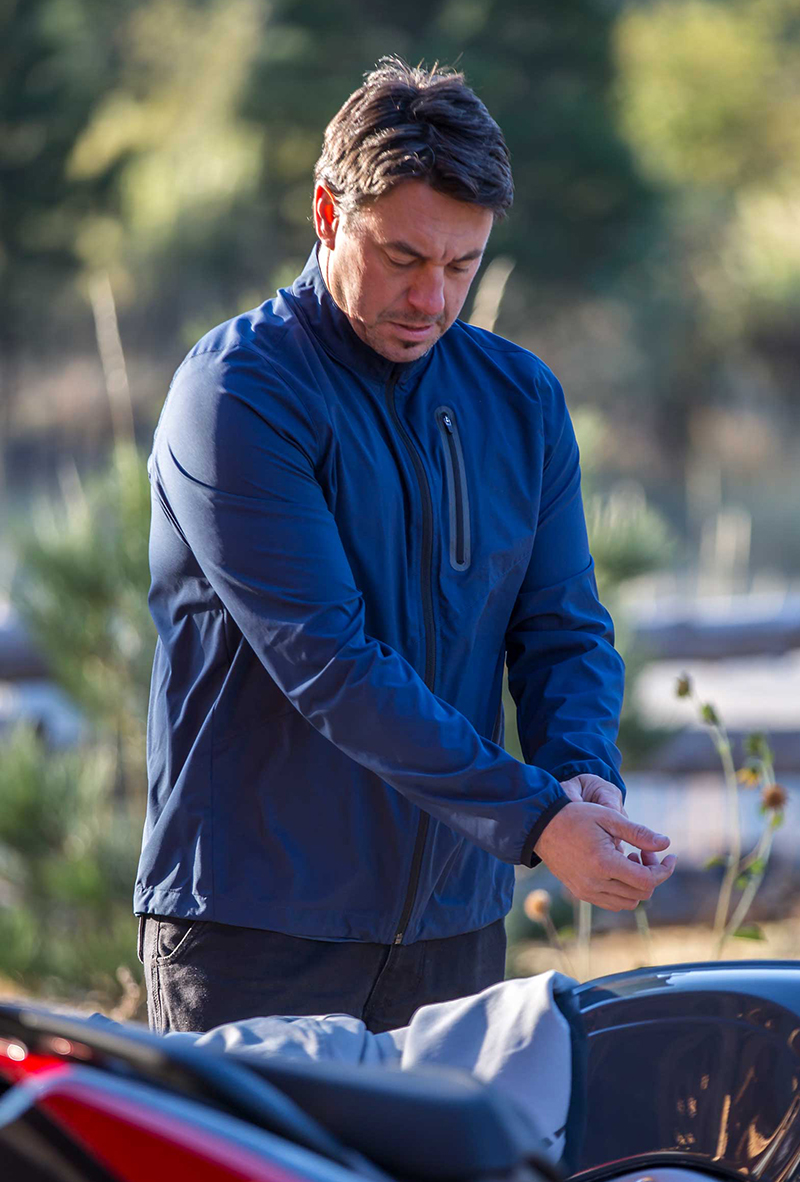 Nobody should leave home without a Zephyr somewhere on their whereabouts.
The Klim Zephyr windproof jacket
But a hundred quid does buy you a Zephyr jacket from Klim. And a Zephyr is a lot of jacket for the money.
In concept, it is a gossamer-thin, windproof mid-layer. Unfortunately, it does not come in its own stuff sack, but it scrunches up small enough to go into a pocket. And packed into a pannier it will disappear into the crevices between other bits you are carrying. In other words, it takes up no space at all.
What many people don't realise is that the waterproof membrane in a jacket is not there purely as a barrier against the wet stuff. It's there also to reduce the effects of wind chill.
The oncoming air when you are riding a bike at speed can make you feel much colder than the prevailing ambient temperature. Ride at 70 mph when the temperature is six degrees, and your body will perceive the temperature as minus two degrees. This is known as the wind-chill effect, and a waterproof membrane will significantly reduce its pernicious effect.

Our speed through the air can have a great effect on how we feel the cold.
Now a windproof membrane is the same as a waterproof membrane in that it comprises millions of little holes, thus allowing perspiration to pass out through it, keeping the wearer dry on the inside.
Worn beneath a mesh-style jacket, or indeed beneath any jacket without a membrane, the Zephyr will combat the impact of wind chill and thus make you feel much warmer. This will considerably increase the wearability of a highly breathable jacket. Such a jacket may be perfect on a warm day, but ride home in it when the sun has slipped below the horizon, and it's a totally different experience. You will very quickly start to feel the cold. Put on the Zephyr, and your situation will improve markedly. Simply put, if you ever ride in a jacket without a membrane, you should not leave home without a Zephyr.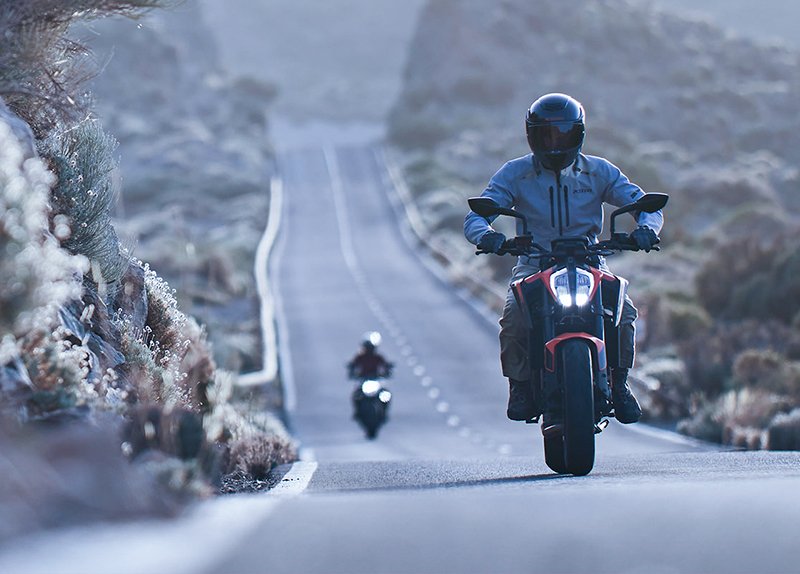 High air-flow jackets are lovely to ride in until it gets cold.
But the Zephyr can perform another role worn beneath such a jacket. And that is that it will deliver a degree of waterproofing. And it will do this because a waterproof membrane is basically the same as a windproof membrane. The only real difference is that the waterproof version will be taped at the seams; the windproof version will not be. And so, worn inside a non-waterproof jacket, a Zephyr will keep you dry, albeit not for very long; perhaps an hour or so. And that's because, eventually, the rain will find its way through to the body through the untaped seams. But worn in this way, the Zephyr will provide a more than acceptable, get-you-home level of waterproofing. And there will be times when that is exactly what you need.
But the Zephyr isn't only useful worn beneath a breathable jacket. It can also be of service when worn beneath a waterproof jacket. And that's on the basis that two membranes are better than one. If you're feeling cold in your waterproof jacket, the usual remedy would be to add another insulating layer. And that will work too, but the Zephyr can be just as effective, and it will take up far less room; especially valuable if space beneath the jacket is at a premium!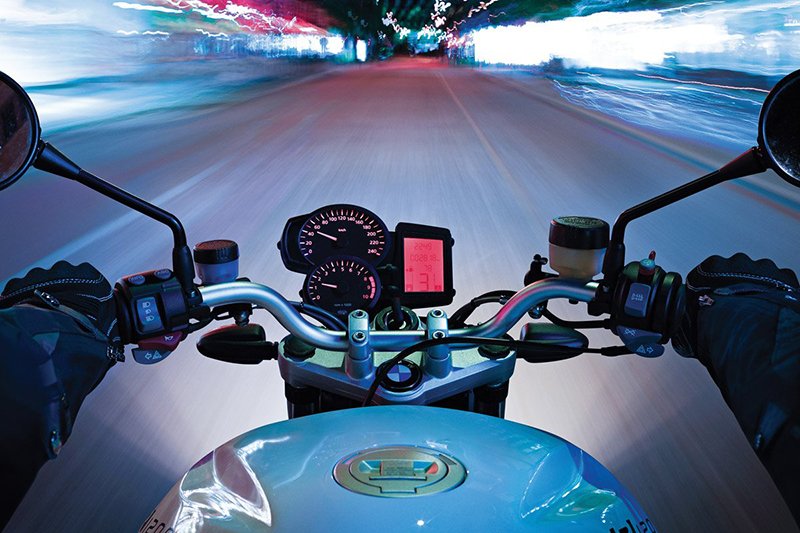 The Zephyr will make you feel warmer even if worn under a waterproof jacket.
There is no magical ingredient in the Zephyr. In certain situations, there may be better ways of staying warm on the bike although, arguably, if you're wearing a jacket without a membrane, the wind will still be able to pass through even the best thermal layers.
But we are convinced that there is nothing that can make such a contribution to your comfort on the bike that costs so little, and that takes up so little space; space both under a jacket or in a pannier.
But the usefulness of the Zephyr is not just restricted to the motorbike. Often when I arrive somewhere and take my Marrakesh jacket off, I will leave my Zephyr on. I will wear it whilst walking around, and continue to do so when I sit down for a drink or bite to eat. Others, we know, play golf in their Zephyrs. One of our customers wears his beneath his suit jacket when walking into work!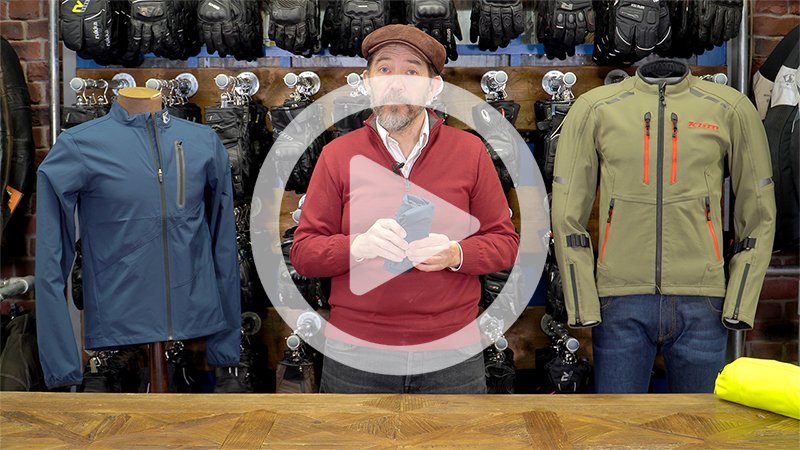 Click above to watch our Klim Zephyr review.
My advice? Get yourself a Zephyr. With its built-in stretch and lightness you will barely know you're wearing it. Until you need it, and then you will.
As we said, a hundred pounds is not a lot these days when it comes to bike gear. But if a Zephyr can make you feel warmer and more comfortable on the bike without making you look like the Michelin Man, it may indeed deliver the best return on investment in motorcycle apparel that you'll ever enjoy.
For more information and to purchase online, click Klim Zephyr windproof jacket.
---
Want some more? Please

click here

to return to our editorial menu.

Share this story