Touring South Africa on a motorcycle
Published on: 02/02/2023 15:41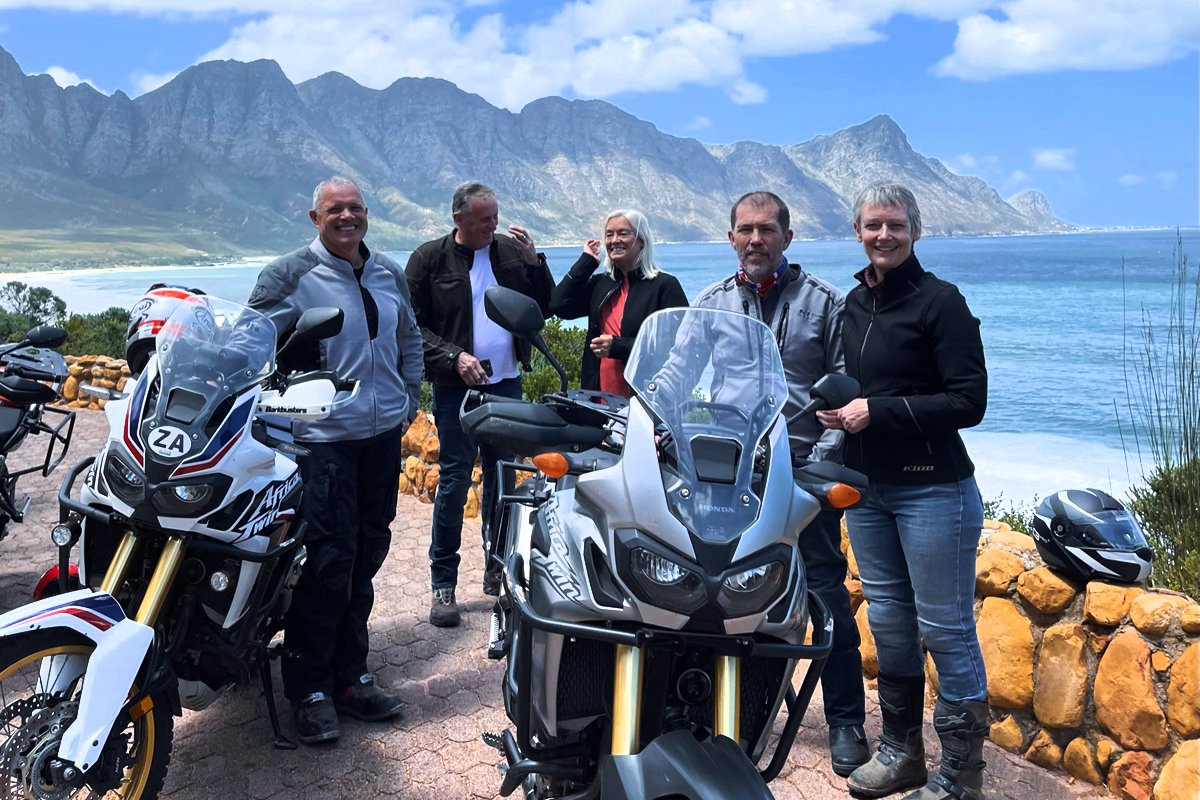 My wife and I are both keen motorcycle riders. But our work lives are a bit hectic, and so we don't tend to get a lot of time away from the office. But things slow down in the run-up to Christmas, and the business we run together closes between Christmas and New Year, so that tends to be a good time to get away. We like biking holidays, but the timeframe means that we like to hit the ground running. We normally like to find somebody local who can sort out all the logistics, supply the bikes, book hotels for us and so on.
For our trip to South Africa, we were going to be travelling with two friends, and so we decided that we wanted to be accompanied for the duration of our time in the country, especially as we were a little nervous about safety. We had all read about issues, and we didn't want to find ourselves in the wrong places.
Sara started her research six months before the trip, but found it difficult to locate the kind of tour we wanted. We have done a lot of trips with somewhat ropey operators; tours where the guides are more interested in drinking than riding; tours where the emphasis is on doing things as cheaply as possible. But we wanted something tailored to us; we simply didn't fancy tagging on to a World of BMW tour where we would find ourselves shoehorned into a set itinerary with a group of riders we didn't know. We sought a more bespoke approach.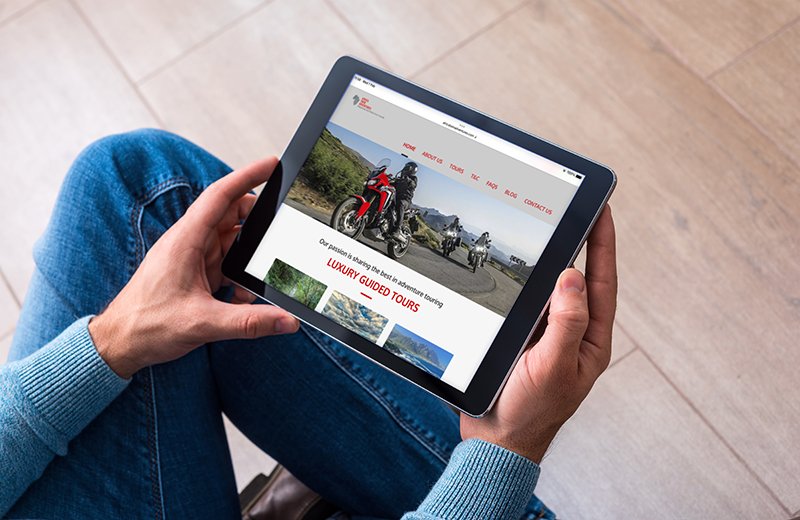 Sara did a lot of research, but it was Gavin who put it all together.
Eventually, Sara came up trumps with a company called 'Africa Twin Adventures', run by a chap called Gavin. He responded promptly to emails, and seemed to understand the kind of holiday we were looking for. We wanted a few days on our own somewhere before the trip commenced, in order to decompress, and a few at the end to relax before the return to Blighty. After a flurry of email exchanges, Gavin came up with an itinerary that seemed to deliver everything we wanted.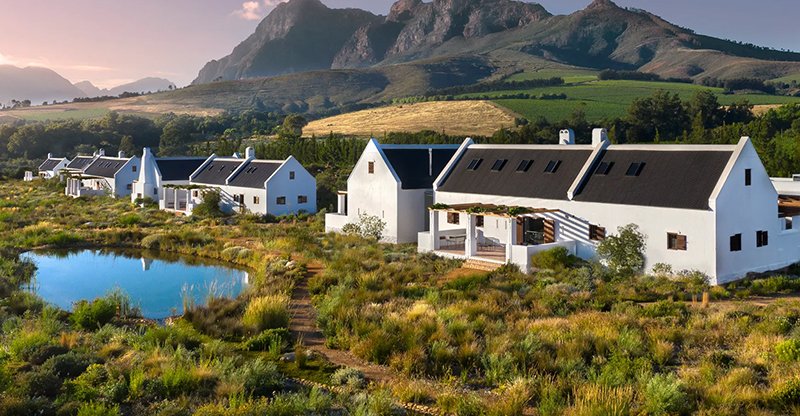 Babylonstoren was a great way to decompress before the riding got underway.
And so it was that, a few days before Christmas, our little group found itself at a wonderful winery-cum-farm-cum hotel called Babylonstoren. It hit the spot. A few days by the pool, some walks in the garden, an evening drive up into the mountains, and we felt ready to swing our legs over the bikes.
We took a taxi into Cape Town to a hotel called Gorgeous George. Accommodation in the city in the run-up to Christmas had been hard to find, but this trendy, little boutique hotel, clearly designed with Instagram in mind, was a lot of fun. Gavin joined us on the roof bar for a briefing. He talked us through the itinerary, and assuaged about any fears we had. He explained that, although there were places where one would not venture alone as tourists, especially at night, our tour would be confined to the Western Cape region, and with his guidance and local knowledge we would have no grounds for concern, as indeed turned out to be the case.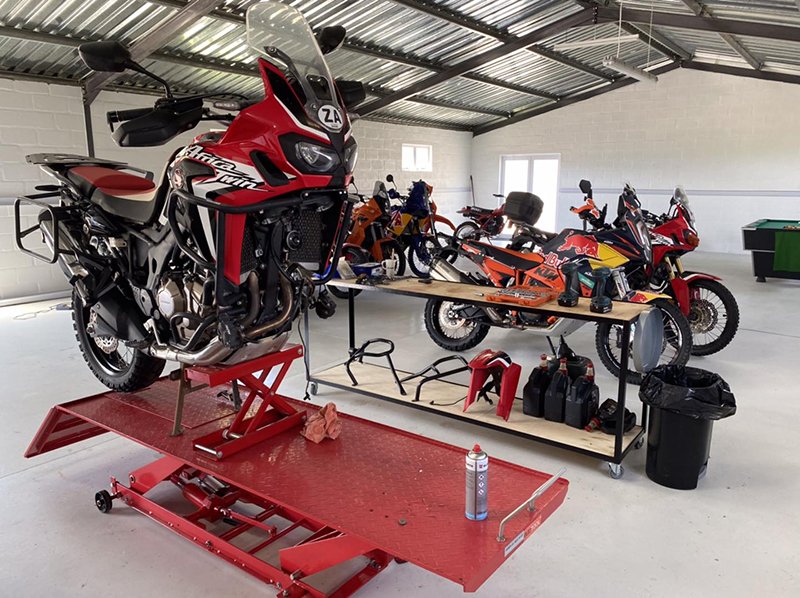 All of Gavin's bikes are immaculately maintained in his own workshop.
In the morning Gavin was back to take us and our luggage to the bikes. Now the name of the company should give the game away. Gavin runs a fleet of immaculately fettled Honda Africa Twins. It's a bike that Gavin reckons is perfect, whether you stay on the black stuff or want to take the road less travelled. Now Gavin's thing is off-road. He is a hugely experienced rider, often running trips that stay well away from the main roads. But we had made it clear that we couldn't afford the luxury of getting injured. Nevertheless, Gavin explained that on every day there were sections off-road that we could choose as an option, if we so wished.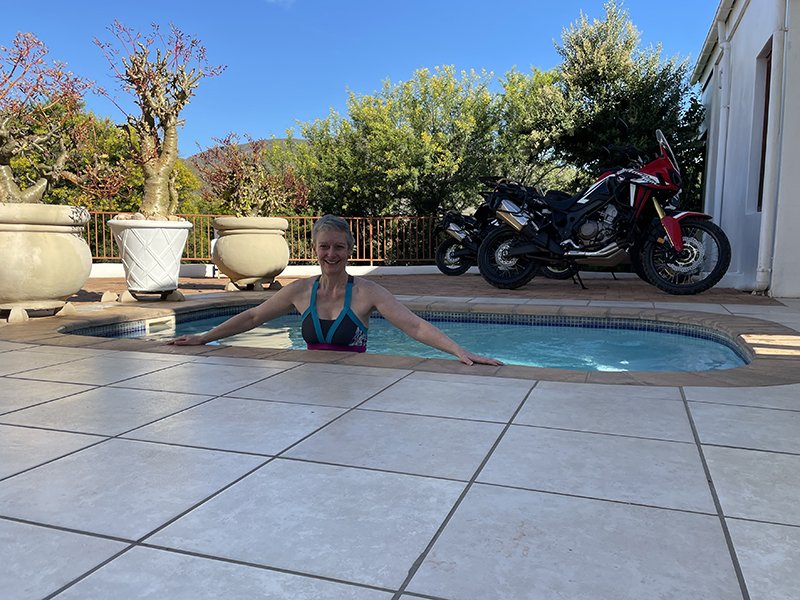 On our first night the pool was perhaps smaller than we expected!
Our first day would take us east out of Cape Town to a town called Robertson through serene countryside and beautiful vineyards, passing through the historic town of Stellenboch, before crossing the mountains through the Franschhoek pass. That evening we stayed in what might be termed a home stay, where Gavin and his back-up team prepared a traditional Braai for us.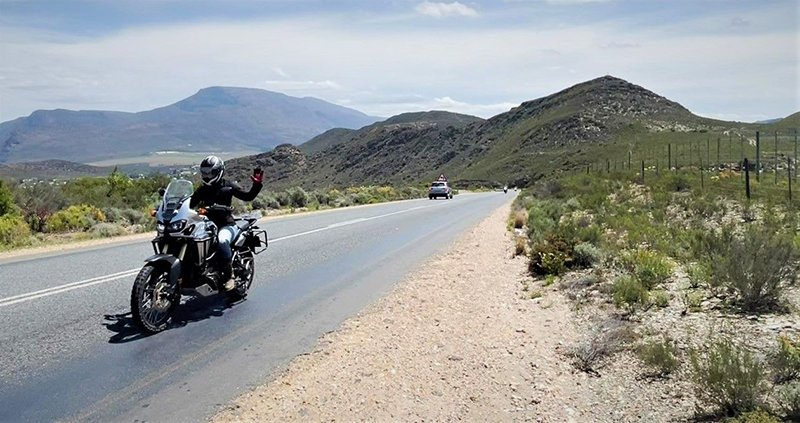 Today the temperature was up at 37 degrees whatever you wear, that's hot.
Day two saw us voyaging further east, as we rode along the, apparently legendary, Route 62. We travelled through the exquisite Tredou Pass, and overnighted at a small hotel in the hamlet of Calitzdorp, known as the sweet wine capital of South Africa. Today the temperature reached 37 degrees, according to the bike's dash! That's warmish in anybody's book.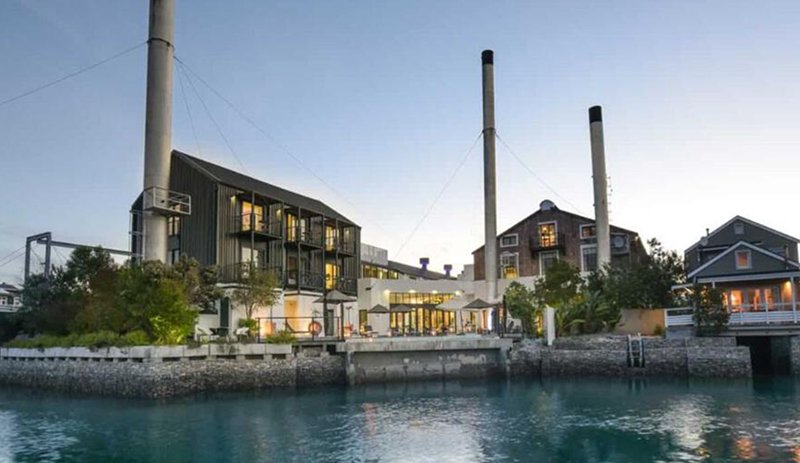 We had Christmas Day off at cool hotel called the Turbine.
After breakfast on the third day we head through an area known as the Little Karoo before descending down through the Outeniqua Pass. The vegetation becomes green and forest like, as we travel down part of the Garden Route. We have lunch in a town called Wilderness overlooking the sea. After lunch we follow the coastal road, making our way to a mini Florida Keys style development called Knysna on the island of Thesen. As we pull up at our super-cool boutique hotel designed around an old pump station, the heavens open. It's not cold, but we dodge a bullet! As today is the 24th December, we will be staying here for two nights.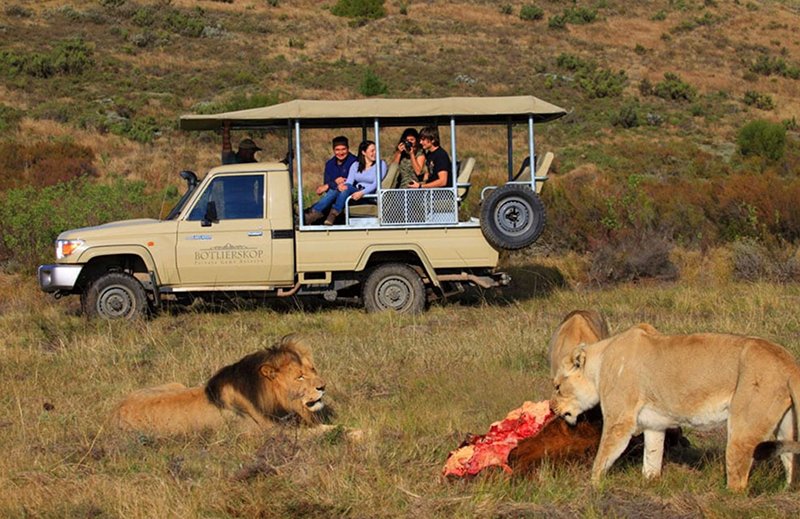 You can't go to Africa without a safari. Ours didn't disappoint.
On the 26th., we start to track back west. It's a relatively short day today; but for a reason. We arrive in time for lunch at the Botlierskop Private Game Reserve. It's not the Kruger, but the main building, and the lodges where will be staying, are exquisite. In the afternoon we go on a game drive. We get close up to four of the Big Five, only the cheetahs eluding us. This place is special; we know from the minute we arrive that we could stay here much longer than our allocated one evening.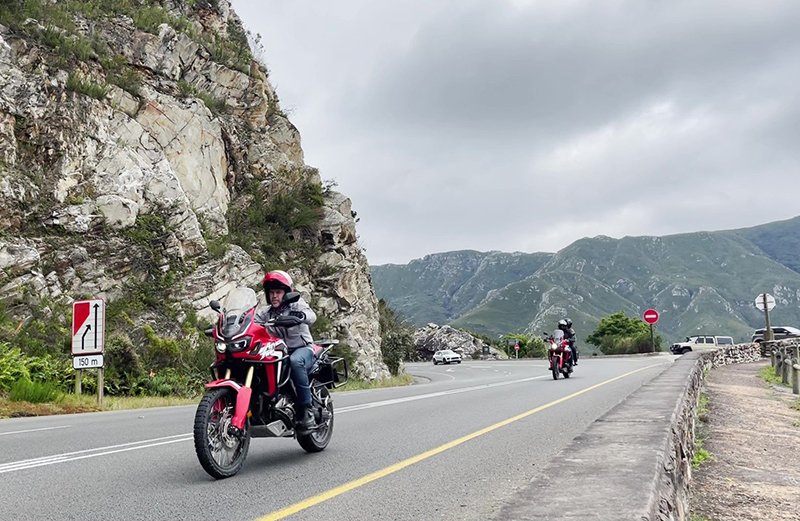 The roads were smooth and sinewy today. Cars were infrequent.
The next day sees us continuing our wester trajectory. We end up in a beautiful little town called Swellendam that, understandably, is famed for its beautiful Cape Dutch and Victorian architecture. Tonight our destination is billed as a guest house, but forget any notion of run-down B&Bs in dilapidated British seaside resorts. Our lodgings for the night have the appearance of a well-tended embassy compound from the 1930s. The place is beautiful; and the facilities a match for the best of hotels.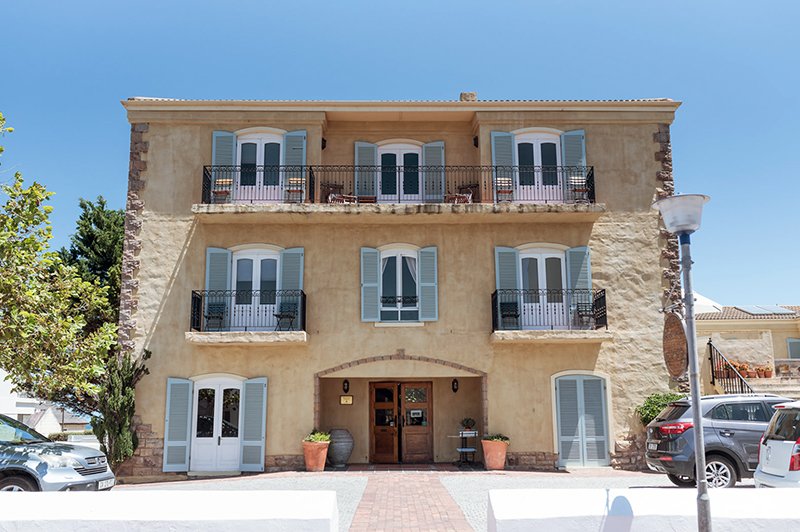 Our hotel in Hermanus could have been anywhere in Provence.
Today, the 28th., we take a detour to the southernmost tip of South Africa. It's one of those tourist things that it would be rude not to do if you were in the area. And so we ride south to Cape Agulhas, before retracing our steps and heading west once again to this evening's end point: Hermanus. It's a seaside town like many. We stay in a small but exquisitely put together hotel that could have been transported from any one of hundreds of small, rural towns in Provence. This place really is a melting put of different cultures; and to celebrate our own contribution we have fish and chips in the next-door fish restaurant.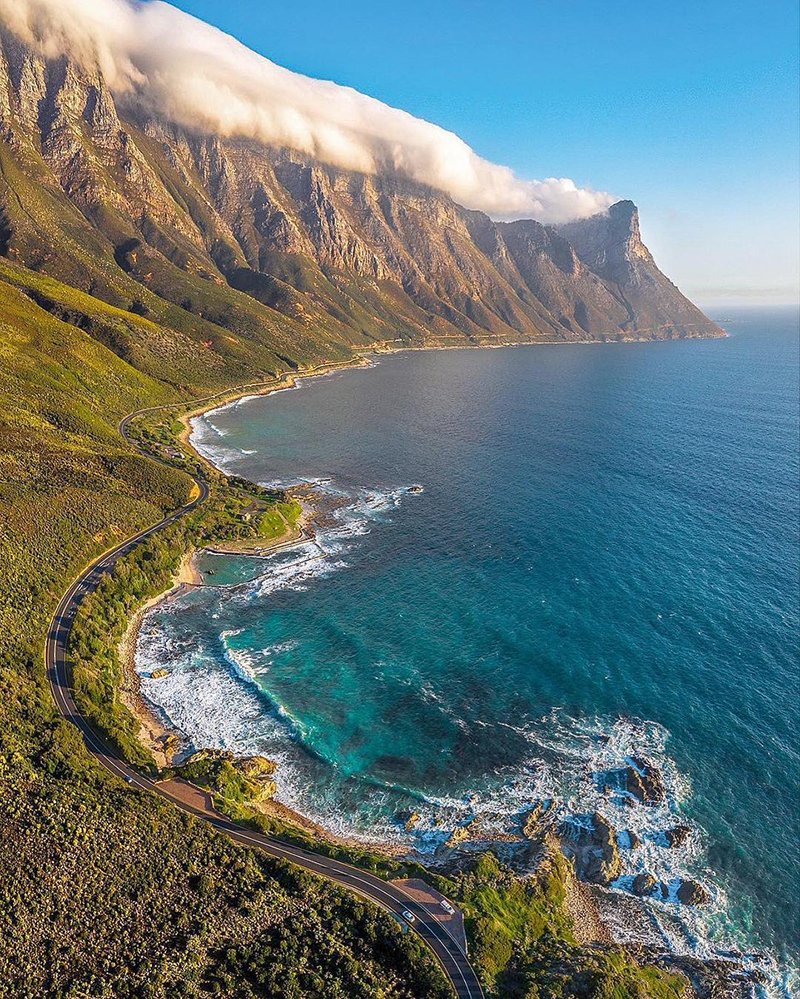 Our final ride was along the beautiful Clarence Drive. Not to be missed!
And so, inevitably, we make it to our last day of riding back to Cape Town. We head through Betty's Bay to Clarence Drive, also known as Whale Drive. One of the most scenic drives in the Cape Peninsula, this is a road seemingly designed for motorcycling, as it frequently follows the coast from sea level back up into the hills. We take a stop at one of the stations where lifeguards are on permanent watch for Great Whites. It's a lovely ride until, sadly, we hit the traffic that guides us back to Gavin's base near the centre of town. Bikes returned, he drops us at our last hotel of the trip, the Winchester, conveniently situated at Sea Point overlooking the bay. We will be here, once again, for two nights, the second of which will see us ushering in the New Year. It's been a great way of seeing out the old one.
Africa Twin Adventures
This was our trip, but the beauty of Africa Twin Adventures is that no two trips need to be alike. We knew what we wanted. Sara did a lot of research. She looked at a lot of websites, but nowhere in South Africa was she able to find someone to put together the kind of itinerary we wanted. And the truth is that if she hadn't stumbled across Gavin, we may well have ended up riding on a different continent.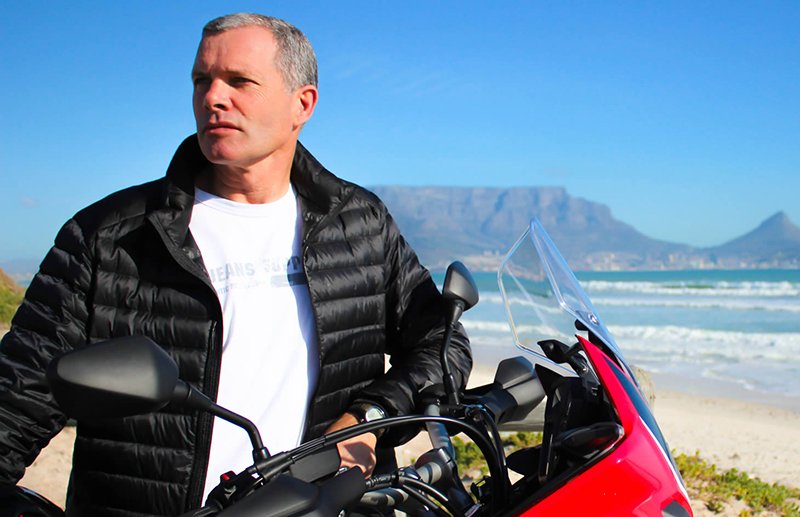 Gavin provided exactly the kind of bespoke tour we sought.
Gavin understood what we wanted. This wasn't in any way a money-no-object kind of trip, but we wanted someone who would hold our hand as we travelled through this beautiful, yet still for foreigners, slightly unnerving country. Could we have done it without a guide? Well conceivably, but it would have been hit and miss. We would not have found the hidden gems that Gavin took us to. We wouldn't have known, and probably wouldn't have taken, the small back roads that only the locals know. And, frankly, we would not have felt so secure. Gavin had everything covered. If there had been a problem with one of the bikes, it would have been sorted in a way that would have been impossible had we gone DIY.
Of course, Gavin does trips that are very different to ours. For some it's all about avoiding paved roads. Some may want to put in more miles than we did. Others might be less concerned about a comfortable bed. But African Twin Adventures is not about cutting corners. The bikes are bang up to date, and immaculately prepared. Ultimately, Gavin will put together a trip that meets your brief, and that meets your particular requirements. But whether you want to camp or stay in upscale hotels, whether you want to stick to the smooth stuff or get sand in your teeth, you can rely on Gavin and his team to get things done properly. And to take the hard workout of making the necessary arrangements, to make sure that you stay safe, and to make sure that you have fun.
We had a ball, and that was all down to Gavin and his team at Africa twin Adventures.
To visit the ATA website, click Africa Twin Adventures.
---
Want some more? Please

click here

to return to our editorial menu.

Share this story