Pando Moto Tuff chino review
Published on: 09 August 2023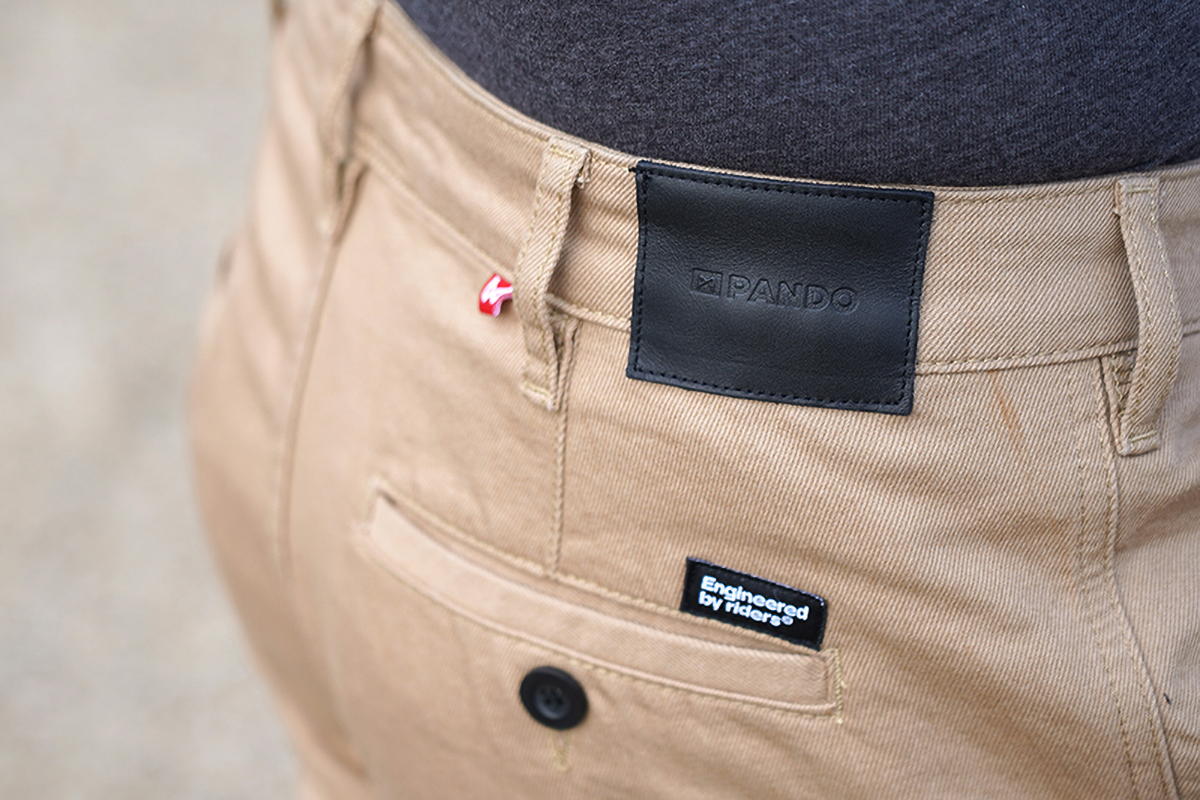 Many years ago, it was very simple. If you rode a motorbike into the office, when you got there you took all your gear off, and put your work clothes on. If you had nowhere to change at work you might have tried to wear your bike gear over your work wear. But that's rarely a nice way to ride.
Now when jeans, and more particularly single-layer jeans, became more prevalent, the dynamics changed a little. The best single-layer pants really did wear like a pair of Levi's. They could be incredibly comfortable. You really could do eight hours in the office in a pair. But the issue was the armour. Yes, these jeans, or sometimes chinos, were all-day wearable. But the armour was still an irritant.
Yes, you could go into the toilets, and take the armour out; but the problem was that, at the back end of the day, you had to return to the loo, and Velcro it back into the correct position. It worked for some, and still does. But it's less than ideal.
But what we have come to realise is that a significant proportion of those who commute into work in jeans or chinos simply don't wear the armour at all. And so we thought there might be a case for producing a protective riding trouser that doesn't even take armour; thus entirely doing away with the need for intrusive armour pockets, half linings, all those strips of Velcro. And so on.
We took the project to Pando Moto. We have been working with them for about six months in order to try and get exactly the trouser we were looking for. Well, now it is here. Let us tell you about it.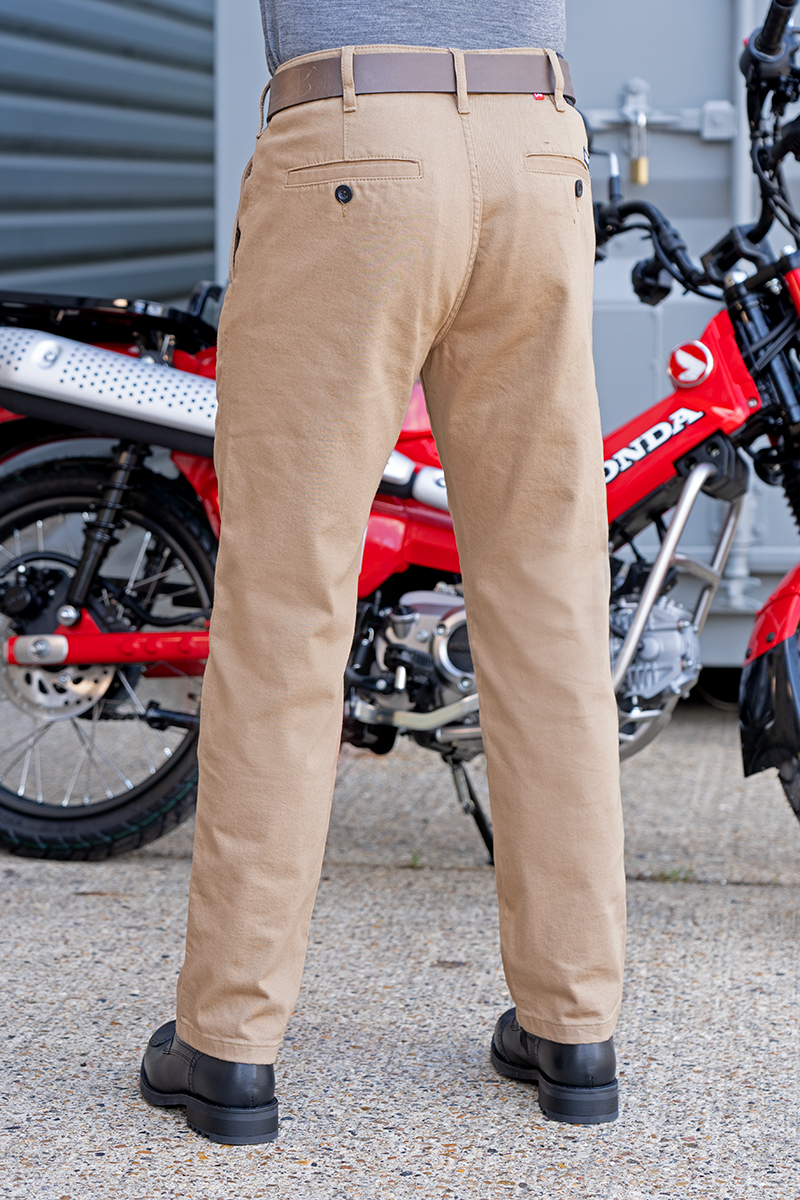 The Pando Moto Tuff chino
First thing, of course, was that we wanted this chino to look the part when you got into the office. And we kind of reckon we got that more or less right. The colour is somewhere between khaki and camel. The material feels, and looks, like a lightweight cavalry twill. The pants are not heavy, but neither are they summer-holiday lightweight. This is, after all, still a protective motorcycle trouser.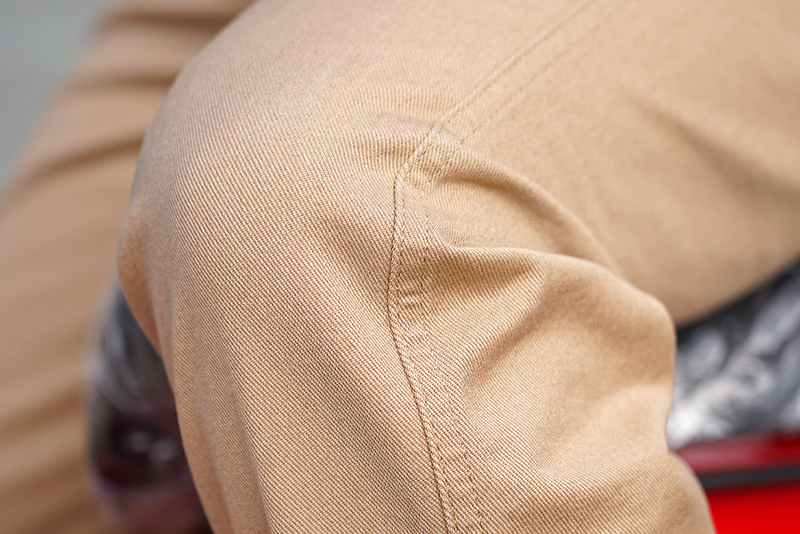 The Tuff chino's fabric has the feel, almost, of a cavalry twill.
It's certainly more a chino than a jean, however. Some offices don't allow jeans to be worn in the workplace. But no company that expects its staff to dress 'smart-casual' is going to object to these.
You get two side-entry, hand pockets on the hips. And two slit pockets in the seat that fasten by means of buttons. The fit is relaxed in the way you would expect a chino to be, yet there is still a slight taper from the knee down.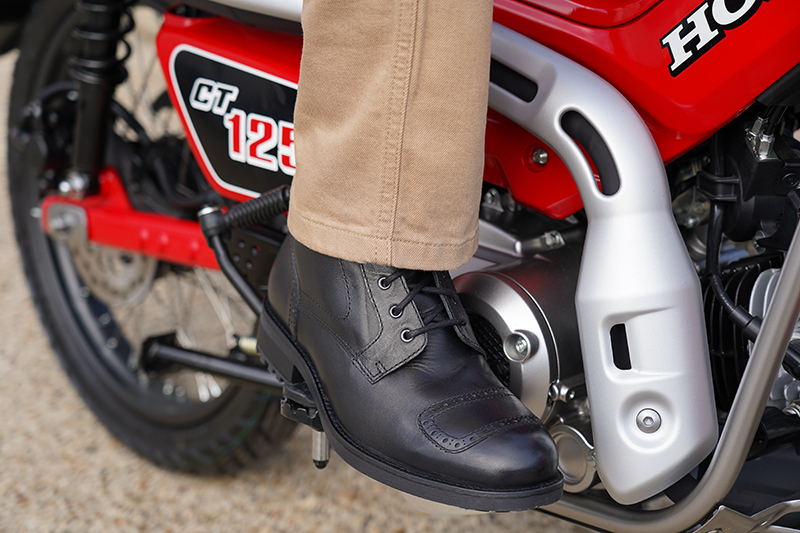 Wear them with a pair of smart boots, and you can go anywhere in these chinos.
It's true that you might not get away with them if you work in the City, although you probably would do on dress-down Fridays, but in just about any other office or semi-formal environment, they would more than pass muster. You could just as easily wear them with a blazer, a button-down and a tie, as you could with a T-shirt or polo shirt.
So, we think we got the look, the feel and the weight about right. But how will they fare on the bike?
A properly protective chino?
There are two ways in which a motorcycle jean or pant delivers protection to the rider. The first is in terms of abrasion, tear and puncture resistance. The second is through the impact protection that comes from the armour.
Now, this is a B-rated pant under EN17092. And this has to be the case if a trouser is supplied without knee armour. But the fabric actually passes the test for abrasion, tear and puncture resistance at the AA level. And so, had we decided to supply this chino with armour in the knees and hips it would have been rated AA overall.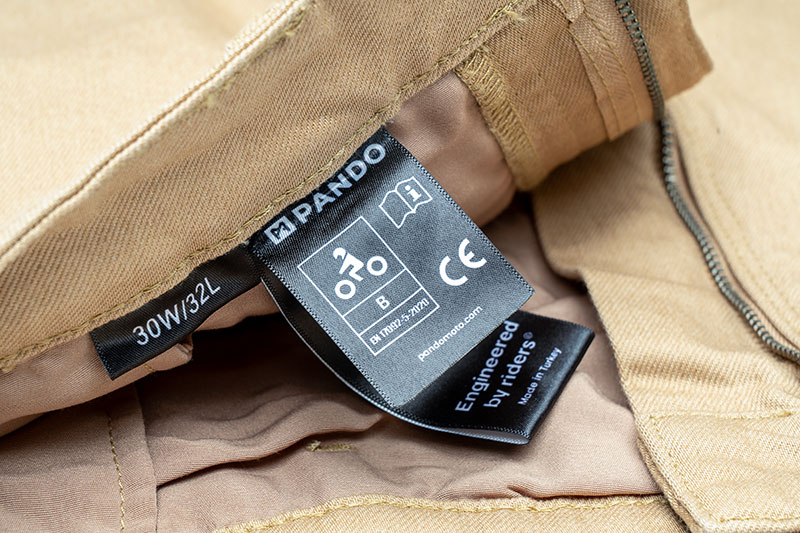 It says 'B' in the label, but this is really an 'AA' rated pant without armour.
And that is the brief we gave to Pando. So what we have here, in essence, is an AA-rated protective chino, albeit without armour.
Some people, of course, will not be interested in a trouser without knee and hip armour. This we understand. Armour has a role to play in keeping a rider protected, so this chino will not be for everybody. But, by the same token, we know of many motorcyclists who don't wear the armour their motorcycle pants come with. They might have a short commute, for example. Or they might only ever ride in town where speeds are low. And some people may simply want to prioritise comfort and convenience at work over protection on the bike. For these folk the tuff chino might be the answer.
Do we feel embarassed offering this solution to bikers? Well, not really. Yes, we believe in protection; but we live in the real world where compromises sometimes have to be made. And, in the backs of our minds, we are also hoping to attract some of those people who currently ride around in their Levi jeans or a pair of khaki pants from M&S. If we can remove the objection these people have to wearing proper motorcycle gear, then we might just have done the motorcycle world a great service! We will see, I suppose.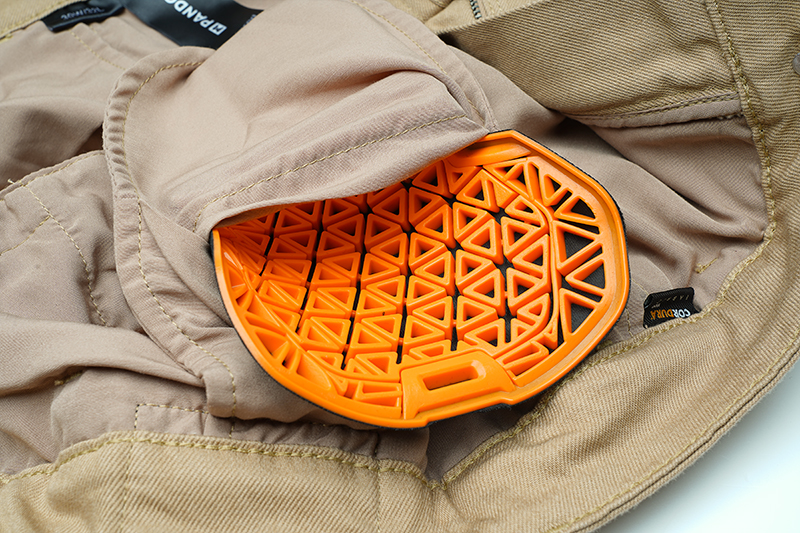 We recommend wearing Ghost hip armour. You'll never know it's in there.
Now, having acknowledged the comfort benefits of trousers without knee pockets and knee armour, we do see things slightly differently when it comes to hip armour. On one level, we take the view that hip protectors can be more useful than knee protectors; certainly when riding on the road. I have come off the bike many times. I have never hit my knees, but have nearly always come down on my hips. And as somebody who has broken a pelvis in a no-speed fall, I personally never go anywhere without hip armour. The other thing here is that, with Ghost armour, nobody can really feel they're wearing it. Which is why we have specified these chinos with armour pockets capable of taking Ghost hip protectors.
It does, however, occur to us that some people will not want to give up totally on the option of occasionally wearing knee armour with their chinos. But we think there's a solution. And that solution is to wear a set of Endura Ghost knee socks. We like these knee socks. They are quick and easy to put on and take off. What's more, they ensure that the knee armour is always in the totally correct position on the bike, and that's something that can never be guaranteed with most riding pants.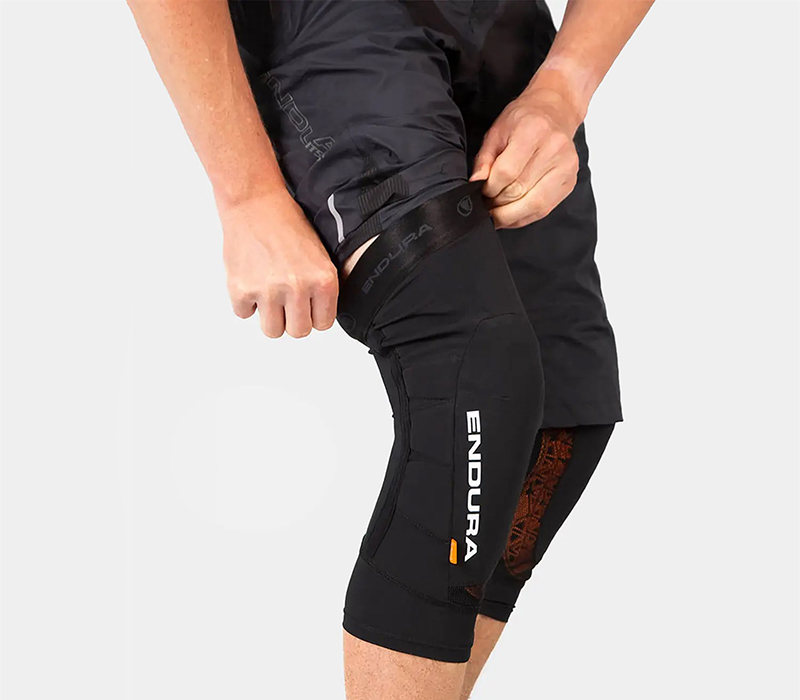 If you want to protect your knees, then try Endura's Ghost knee pockets.
This may also be the best answer for those who want the benefit of armour for the ride into and out of work, but who also want the comfort of no knee armour around the office. Of course, you may still have to visit the loo, but it's easier to remove and replace Endura's knee socks than it is to remove and replace armour into a fixed pocket in a pant.
What else do you need to know?
Pando Moto's Tuff chinos, as they are called, are going to be perfect for even the longest work day. They are going to be more than abrasion resistant enough for most commutes, although you will need to wear a knee sock if ever you want to protect your knees.
The chinos cost just £179.00. That is without armour. If you want to protect your hips, a set of Ghost hips will set you back another £29.99.
Waist sizes go from 30" up to 40". The chinos come in two leg lengths: 32" and 34". Now often, with a motorcycle pant, getting the right leg length is an important factor in making sure the armour is in the correct place, but clearly that's not a consideration here. And anybody can shorten and hem these chinos but, as ever, if you come and see us in Guildford, we'll do it for free.
This is not clearly not going to be the riding chino for everybody but, then again, here at Motolegends, we have never sought to appeal to the widest possible audience. Rather we seek out solutions. And for some people this new chino will be the perfect one.
For more information and to buy online, click Pando Moto Tuff chino.
---
Want some more? Please

click here

to return to our editorial menu.

Share this story