Rokker Legend single-layer jean review
Published on: 29 April 2022
We love single-layer motorcycle jeans. In fact, so enamoured are we of this form of construction that we haven't offered traditional kevlar jeans for quite a few years. Our dislike of lined jeans, whatever they are lined with, has little to do with how protective they are. And that's because some lined jeans are very protective. Some, of course, especially those that are only partially lined, are not particularly protective. But that's not our point; our antipathy towards lined jeans come down to one key factor. Namely, that they are lined.
The reason we all want to ride in jeans is that they are so much nicer and easier to wear, both on and off the bike. And so we cannot see the point in wearing a riding jean if it weighs more than waterproof Rukka trouser, and if it's not something you'd want to wear in a restaurant or when you're wandering around town.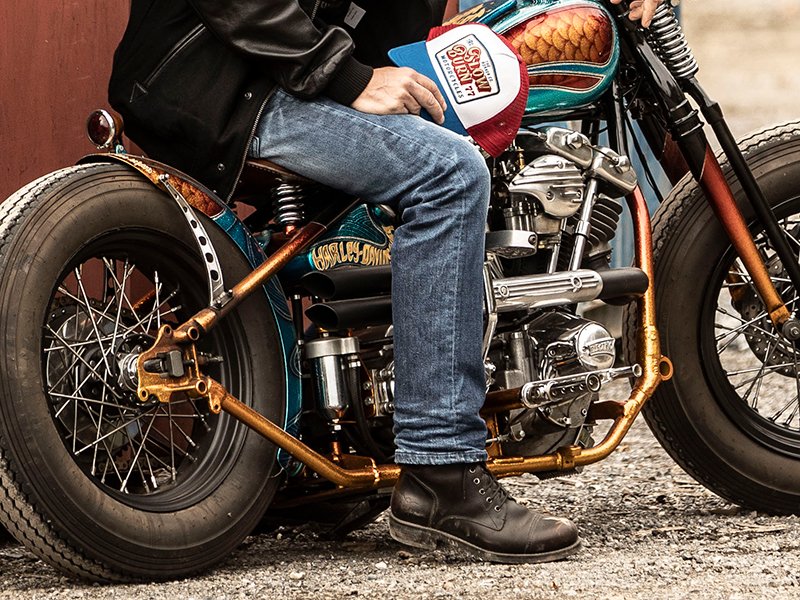 A single-layer, protective jean wears as comfortably as a pair of Levi's.
And if this is what you seek from a riding jean, then it is going to be something single-layer that you want. There are those who, unwilling to accept the march of time, still wish to nail their colours to the kevlar jean mast. I imagine there were people at the turn of the 20th. Century who felt the same about horses, proclaiming that they were stronger and more dependable about these new-fangled devices known as automobiles!ean mast. I imagine there were people at the turn of the 20th. Century who felt the same about horses, proclaiming that they were stronger and more dependable about these new-fangled devices known as automobiles!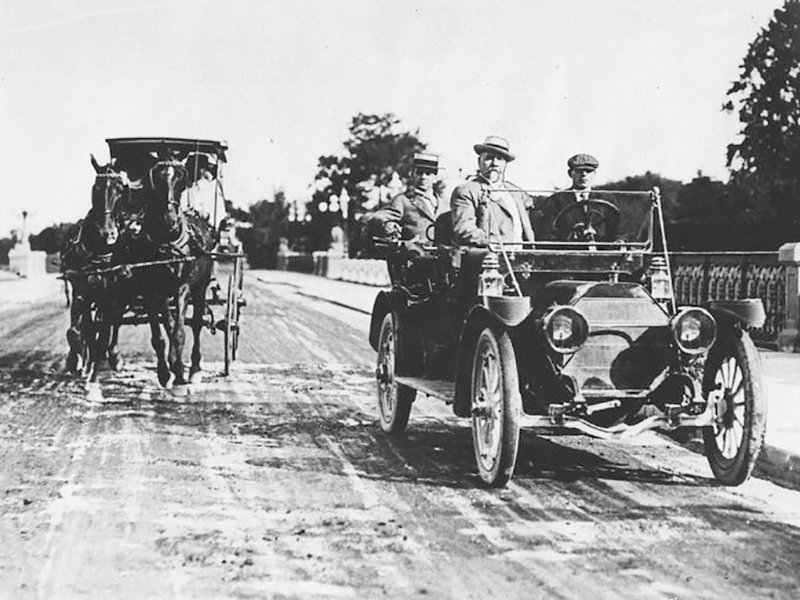 At the turn of the 20th Century, some felt that cars would not replace horses.
There are always people who find solace in what is known and familiar, and who fear that which is new and unknown. The future of the jean is single layer. In five years' time, you will probably find it impossible to find a kevlar jean anywhere. You might as well get used to this brave new world now; if you like the idea of riding in a jean you need to be thinking single layer.
The best single-layer jeans
There are lots of single-layer jeans on the market.
Some are quite simple and basic. They might be woven from Cordura and cotton, for example. Such jeans will usually be inexpensive. They will often be very comfortable. But they won't necessarily be at the top end in terms of protection.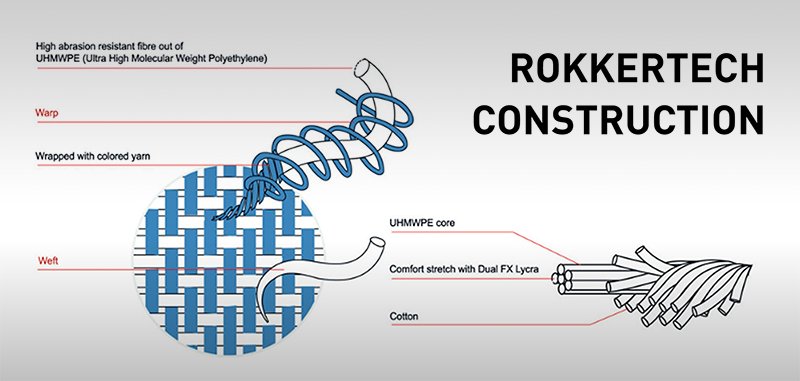 In the best jeans, cotton, and sometimes Lycra are wrapped around the UHMWPE.
Some single-layer jeans will be woven with aramid fibres like Kevlar, but the best, strongest, lightest and most wearable, single-layer jeans are constructed using a UHMWPE. This acronym stands for Ultra High Molecular Weight Polyethelene. Simply put, this is an insanely strong material. It is, apparently, 30 times stronger than carbon steel, yet is light enough to float on water.
When it is used in the construction of a motorcycle jean, cotton, and sometimes Lycra, is wrapped around the UHMWPE core. The result is a material that feels like regular denim, that looks like regular denim, and that wears like regular denim. It just happens to be much, much stronger than regular denim.
There are lots of companies that make single-layer jeans these days: Dainese, Spidi, John Doe, Resurgence, Saint, Bullitt, PMJ, Revitt, Fuel, Pando Moto, and probably many others besides. Many of these make jeans with some form of UHMWPE but, in our view, the very best are produced by the Swiss company Rokker.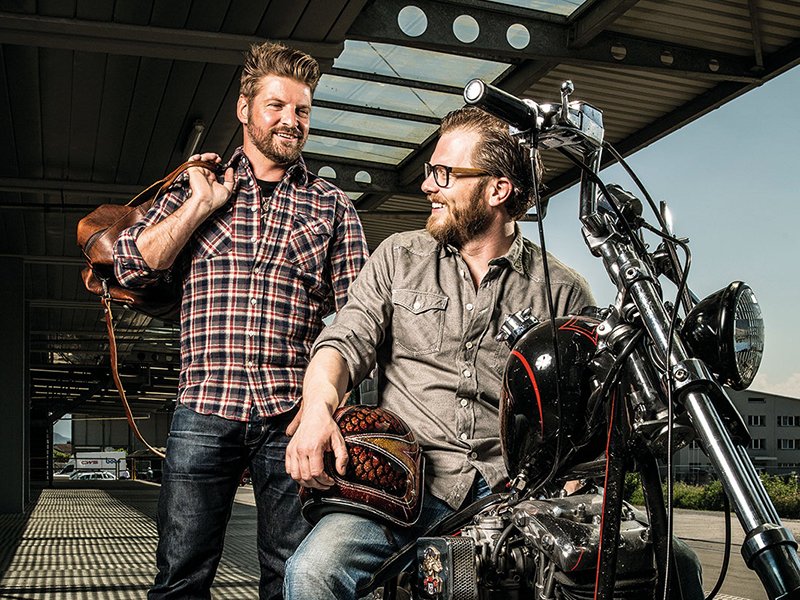 Rokker is run by two, young and dynamic guys called Michael and Kai.
Now Rokker is a very modern kind of company. The two guys who run it are young and dynamic. They have a great sense of style, but they are also very involved with all the latest technological developments in motorcycle apparel. For their jeans they usually use a UHMWPE called Armalith. A number of manufacturers use the same fabric, but we think that Rokker use it to make a better jean.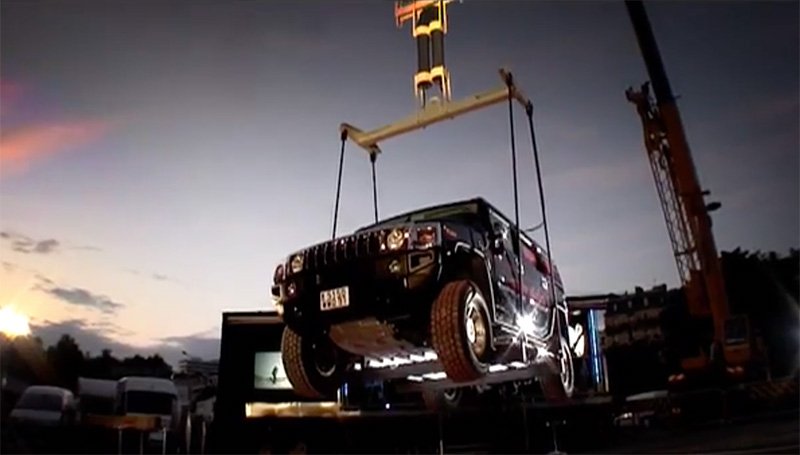 The lifting of this Hummer shows how strong Armalith is.
Rokker does 'washes' better than anybody else. And they do a wider range of fits. Sometimes they have stretch woven into the fabric, which makes them particularly comfortable. They have developed the best, lowest profile, most-adjustable armour pockets. Their jeans come in a larger range of sizes than other brands. And, of course, they use the thinnest, most pliable, D3O Ghost armour.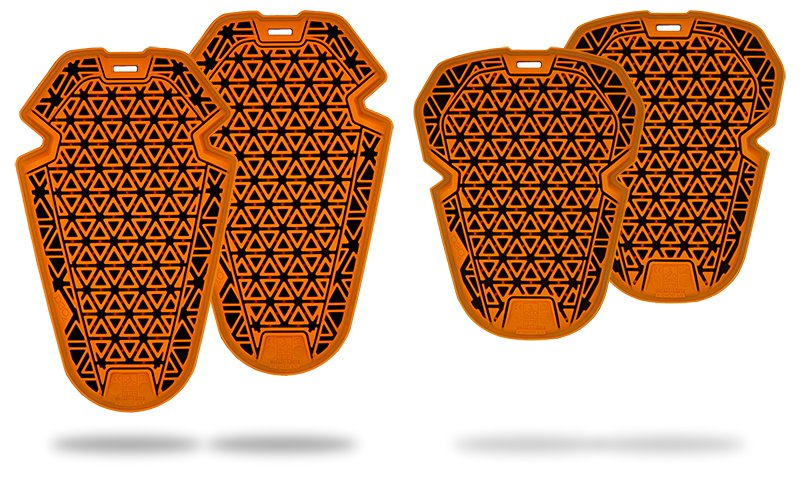 Rokker usually use D3O Ghost armour in their jeans.
We have sold many thousands of pairs of Rokker jeans over the years. We know how well they fit. We know how much our customers enjoy riding in them. We have seen the results of lots of accidents where Rokker jeans were being worn. And they have fared well. We are confident, therefore, that Rokker makes the best single-layer jeans that money can buy.
But on the subject of money, we would have to concede that Rokker's jeans are not the cheapest. If you're in pursuit of something less expensive, you will not have a problem finding cheaper jeans; especially if you're prepared to go for a lined or kevlar jean.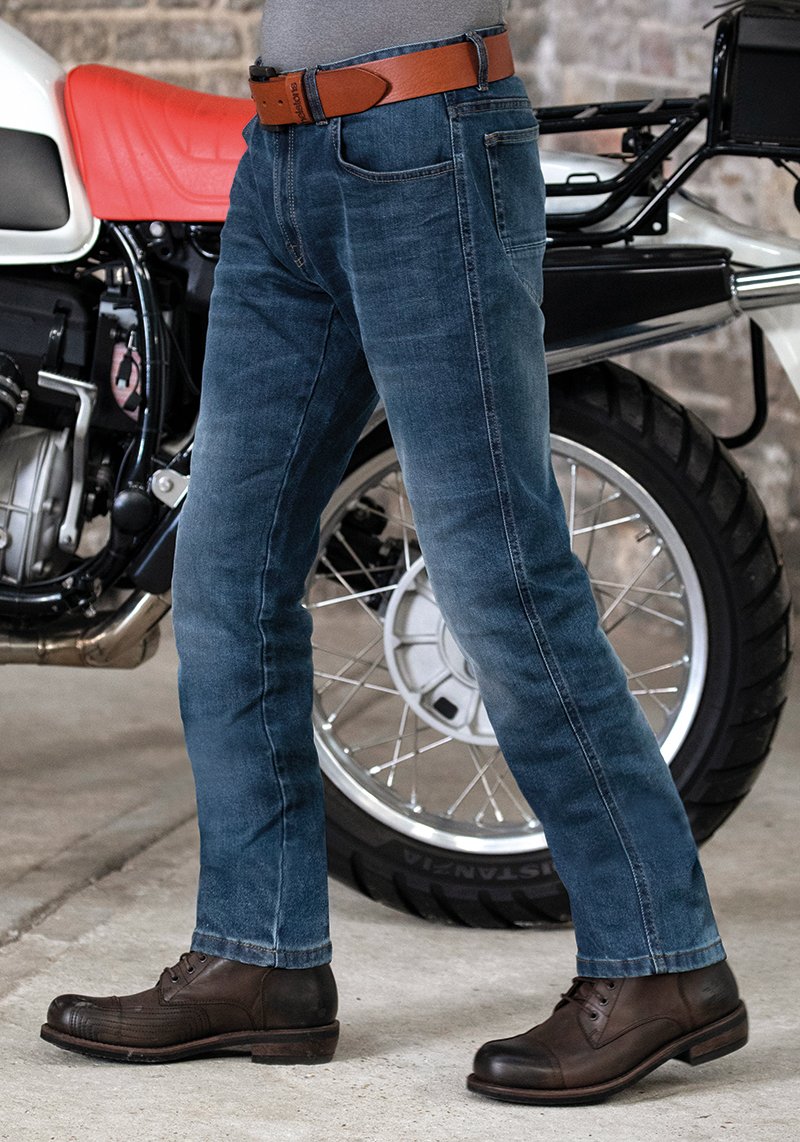 Rokker make the best motorcycle jeans; they're just not the cheapest.
The Rokker Tapered Slim
In recent years, our favourite Rokker jean has been what is known as the 'Tapered Slim'. It's a lightweight jean. It contains stretch. The fit down to the knee is slim but certainly not clingy. Below the knee, the leg tapers a little. On most people the jean is very flattering. It sits quite tight at the ankle, but with stretch woven into the material they are easily stretchy enough to go over a Daytona Roadstar. Lots of people don't initially believe this; but believe us, they do!
Bikers of a certain vintage sometimes feel a bit self- conscious when they first put on a pair of Tapered Slims. They are quite different to a pair of 501s! But after the initial shock, most people realise that they are rather flattering. And despite the slim nature of the fit, the stretch in the fabric means that they pretty much always comfortable both on and off the bike.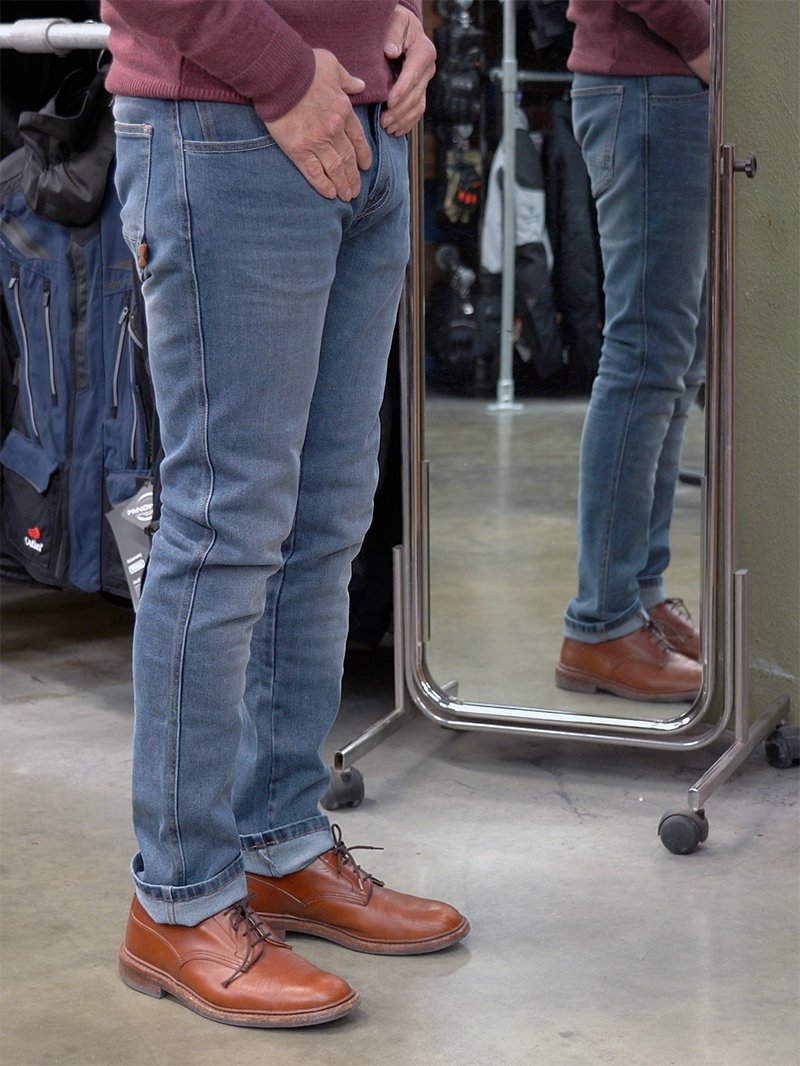 The Tapered Slims are always flattering, although some are unused to then fit.
The Tapered Slims have a zip fly, which everyone prefers. And they come with really clever, adjustable armour pockets that take Ghost armour.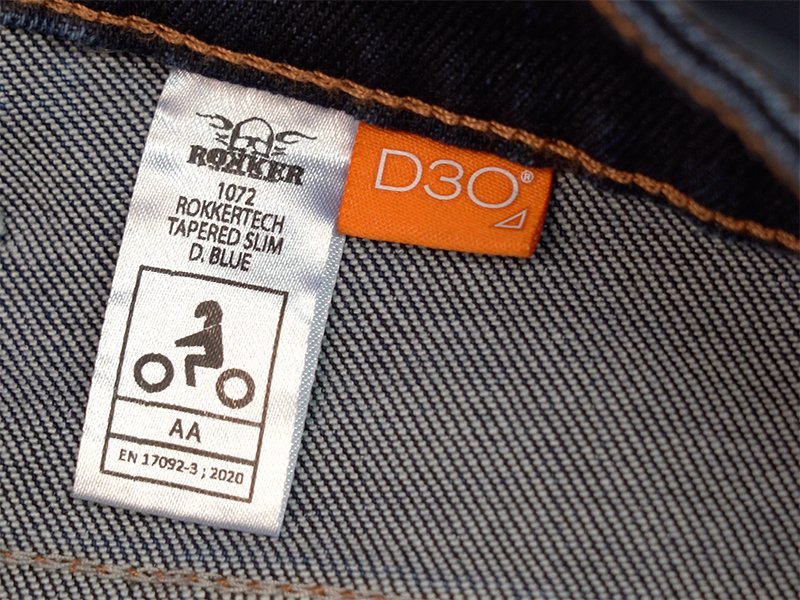 The Tapered Slim is classified AA, but they have a 6.96 slide time.
The jeans are rated AA under EN17092. To put that into context, that is the same level as even the very best Rukka, Halvarssons, Klim or Stadler pants on the market. Now, historically, it has been our tendency to have any AA-rated jean tested on a Cambridge machine to establish a 'slide time'. And we have done this because there has always been a huge discrepancy on slide times within the AA category. Some AA jeans record a slide time of just two seconds; some over seven. Well, when we had Rokker subject the Tapered Slim to a Cambridge test at the UK test house SATRA, it scored a time of just short of seven seconds. Given that it is accepted that leather comes in at around four seconds, we were always impressed with this result.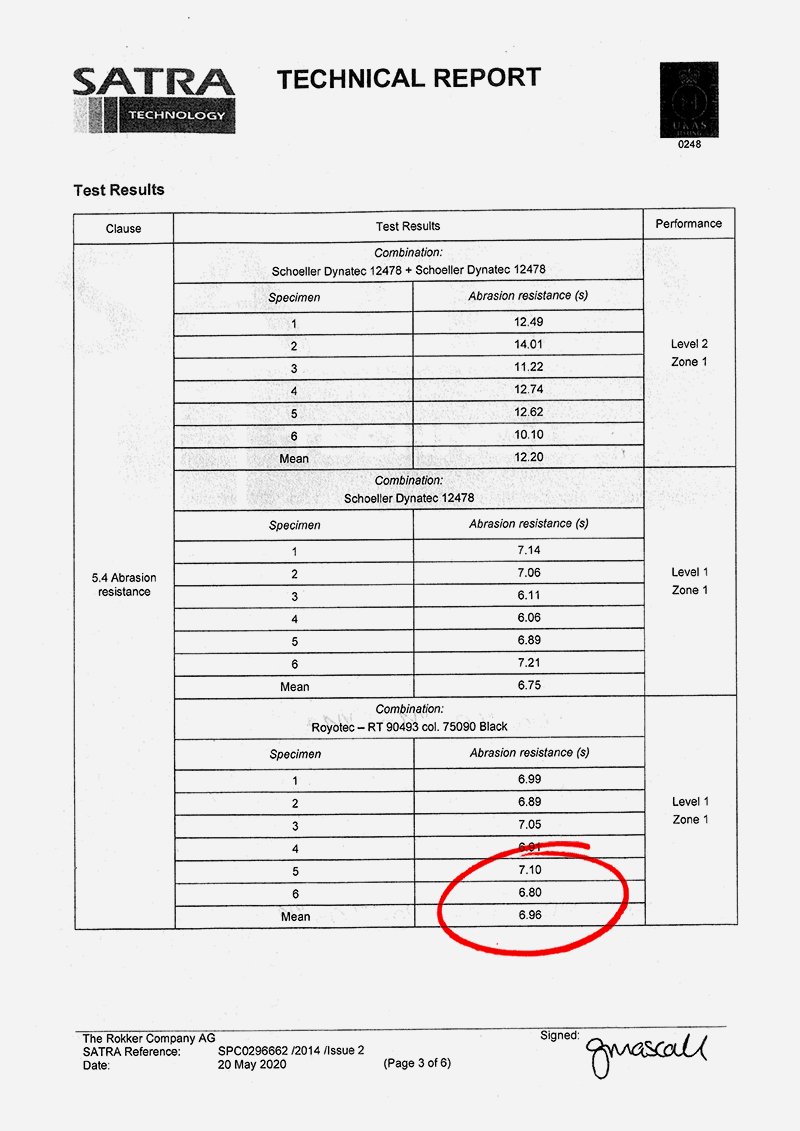 The slide time recorded by SATRA on the Tapered Slim was nearly seven seconds.
All of which might explain why we have always held the Rokker Tapered Slim in such high esteem. And it is not surprising to us that many people regard their Rokkers as simply their favourite jeans, motorcycle or not.
The new Rokker Legend jean
The Tapered Slim is a fabulous jean. We like it, as do the thousands of customers who have bought a pair from us.
We, though, had one issue with them. We like the tapered fit, but for anyone with slightly more developed calfs, they could be just a touch restrictive in the lower half of the leg. You would never feel this when walking around, but when you're on the bike, when your leg is bent and your calf muscles tense up, it can become more of an issue. Most people to whom this has applied have usually still taken the jean because it is still fantastic to wear.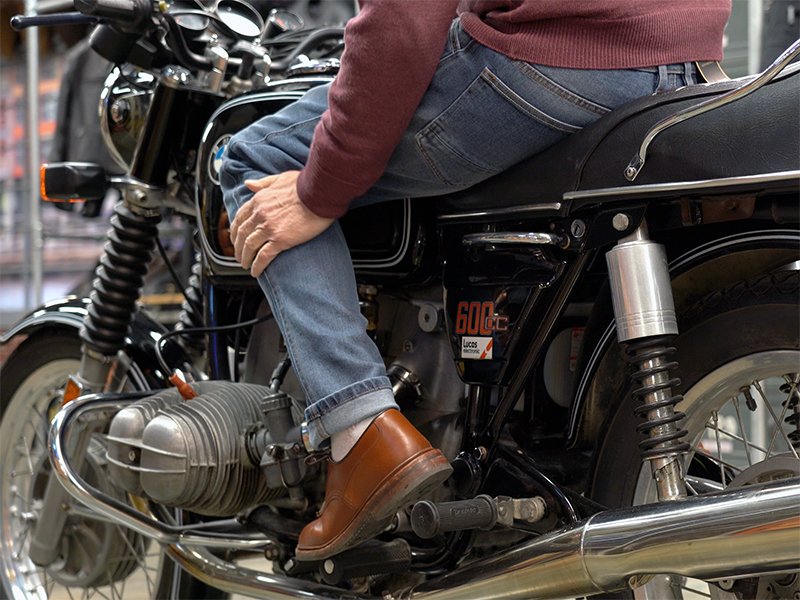 On some people the Tapered Slim is a little restrictive at the calf.
But we did think that a Tapered Slim that was still tapered, but not quite so slim, might suit even more people. And so we spoke with Rokker. Over the last six months or so we have sampled more than half a dozen prototypes until we found what we considered to be the 'perfect' fit.
And it was not easy to get the fit just right. Too much space in the calf, and you quickly get to a jean that, by modern standards, looks a bit 1950s. Too little and the change was so marginal as to make not enough difference. In truth, many people will not even notice the difference between the Rokker Legend and the old Tapered Slim. But there is a difference, albeit a small one. And for some our new jean will be just that little bit more comfortable on the bike. Without, we hope, making them look any less flattering. This is still a jean that will take ten yers off most of our customers!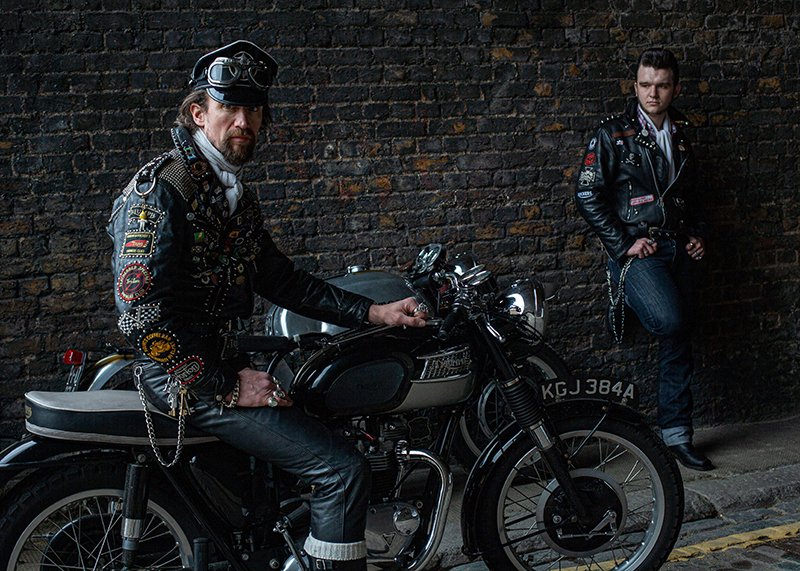 We wanted a slightly wider jean, but not an Ace Café jean.
Recently, Rokker put up the price of all its jeans to £349.00. And that includes our new Legend jean. Of course, you will always be able to find cheaper jeans; just not, as we have already suggested, nicer ones.
The Legend jean comes in the following waist sizes: 29", 30", 31", 32", 33", 34", 36", 38", 40", 42" and 44". And in leg lengths: 30", 32", 34", and 36". The right leg length, of course, is important in getting the armour to sit correctly.
They are on the shelf and in the shop right now. We reckon this might just be the perfect motorcycle jean. You should try a pair!
For more information and to buy online, click Rokker Legend single-layer jean.
---
Want some more? Please

click here

to return to our editorial menu.

Share this story