Rukka Explore-R jacket review
Published on: 09 August 2023
The Explore-R is a classic Rukka outfit.
Now Rukka is one of the most respected and prestigious clothing brands in motorcycling. Their gear is not inexpensive, but most people accept that nobody makes better quality, more reliable, more robust motorcycle wear.
Theirs is a reputation that has been built up over a period of nearly 40 years. Today Rukka, in modern parlance, owns the 'winter commuting' space. If somebody is facing a significant commute, 12 months of the year, and if money is no object, then Rukka is the brand to turn to.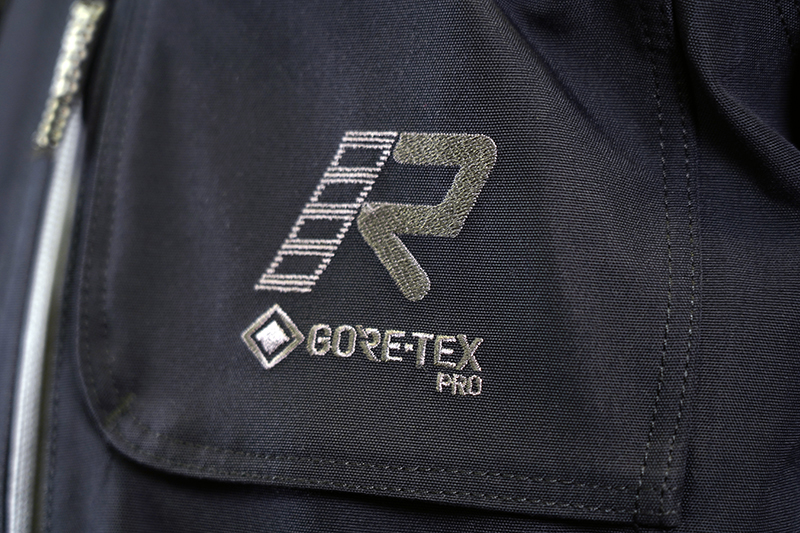 Backed by Gore's membranes, Rukka is the brand to rely on.
And that's partially down to the fact that Rukka is also the pre-eminent name in laminated clothing. This comes out of Rukka's long association with Gore. Between them, Rukka and Gore pretty much wrote the book on making motorcycle wear truly waterproof.
The most waterproof, most breathable and most robust laminated membrane is the three-layer construction known as Gore-Tex ProShell. And indeed, Rukka uses this system on all its higher-end suits. But waterproofing is only part of the story. Rukka's jackets are made using only the very best components: heavy-duty Cordura, Outlast, the best, waterproof YKK zips, huge, bespoke Level 2, D3O armour, and so on.
Rukka produce the most hard-wearing and reliable motorcycle clothing money can buy. If you're going to be riding 15,000, 20,000 miles a year, you need to be able to depend on your gear. Which is why Rukka is the first choice of high-mileage commuters and professional riders like the Police.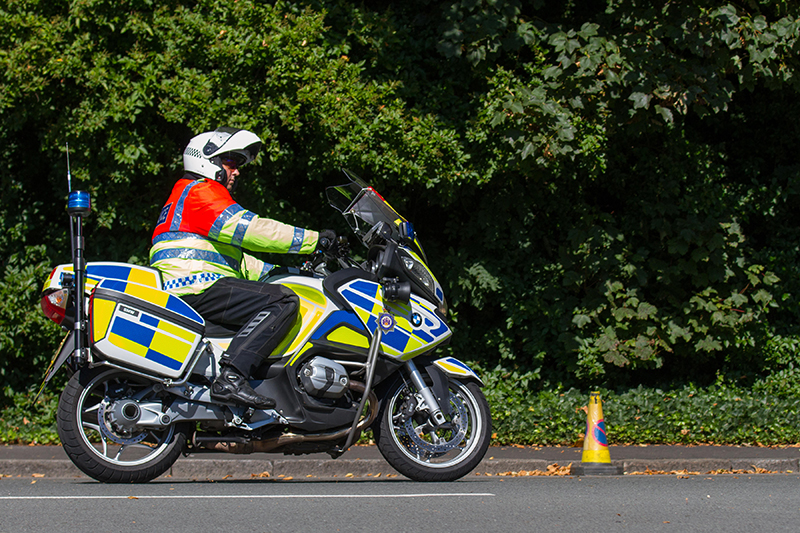 Given a free hand, most Police riders would choose Rukka over anything else.
And then there's the Rukka six-year warranty. Okay, this can cause confusion for those who fail to discern the distinction between wear and tear and faulty manufacture, because high mileage riding will take its toll on even the hardiest of garments. But when you invest in a Rukka garment you can be confident that for at least the next six years you are going to remain dry and well protected.
Over the years a lot of people have put their faith in Rukka. And their faith has been re-paid. Rukka did not build its brand on the back of heavy advertising or sponsorship. The brand was built by word of mouth; by motorcyclists who relied on their gear telling other motorcyclists just how good it was. Rukka has earned its reputation by simply producing better gear than the other brands.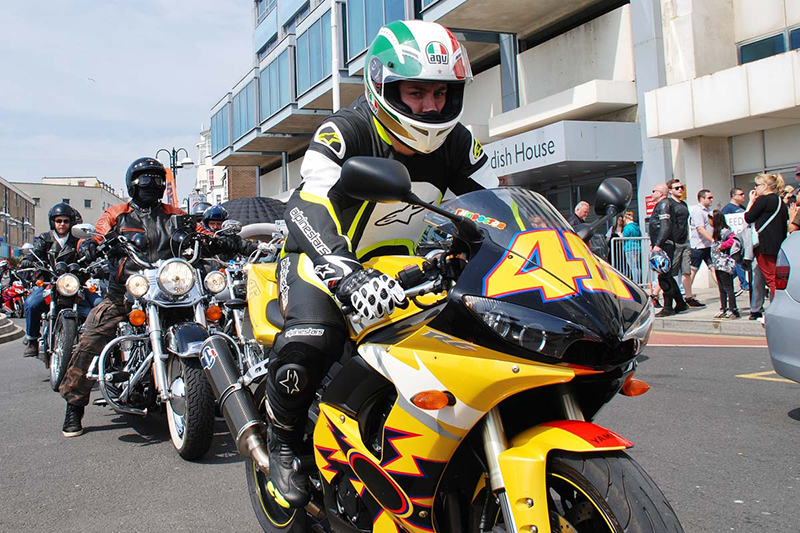 Rukka's name was not built on the back of high-profile sponsorship.
There are, it has to be said, people who feel that other brands out there do what Rukka does, but for much less money. But they are mistaken. Rukka simply does what it does better than anybody else. These guys don't do style like Dainese. They don't do sporty like Alpinestars. They don't do adventure like Klim. They don't do 'cool' like Belstaff. They don't do value for money like, for example, Halvarssons. But if you want to stay both physically protected, and protected from the worst of the elements can throw at you, and if you want this to be the case for years on end, then there really isn't a brand quite like Rukka.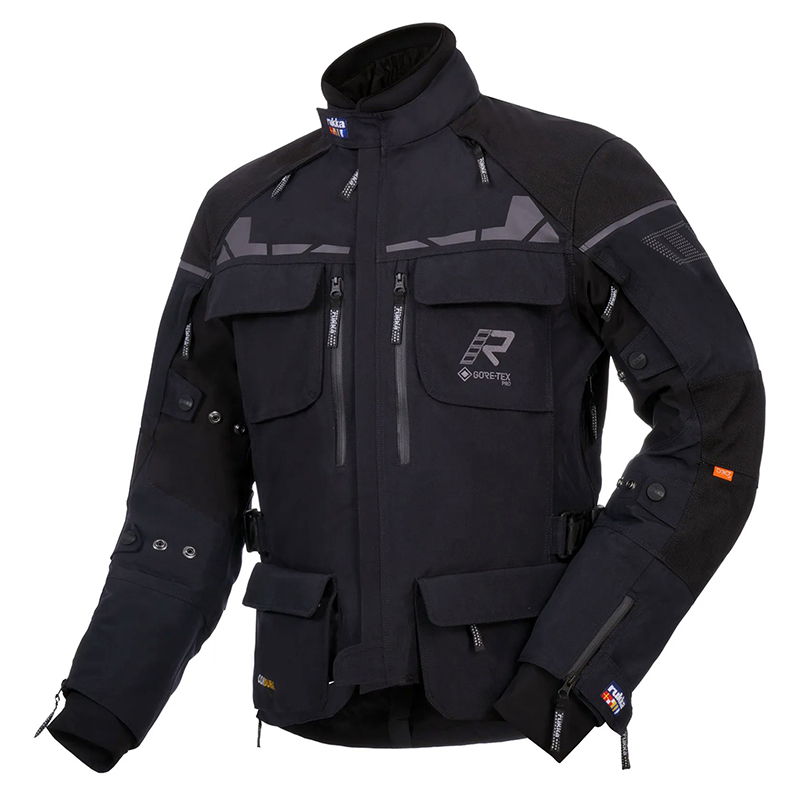 The Rukka Explore-R jacket
The Explore-R jacket, truth be told, has much in common with a number of other Rukka three-Layer, ProShell jackets. This jacket, however, is styled more in the mould of an adventure jacket, although our view is that you would never ride off-road in the Explore-R. Nor would you really want to ride anywhere particularly hot in it. It's a really heavy jacket. Yes, it's got lots of vents, but these can never really offset the negative impact of a membrane in really warm weather. We all feel the heat differently, but as the temperatures move towards the high twenties, a jacket like the Explore-R is going to start to become increasingly uncomfortable and unwearable.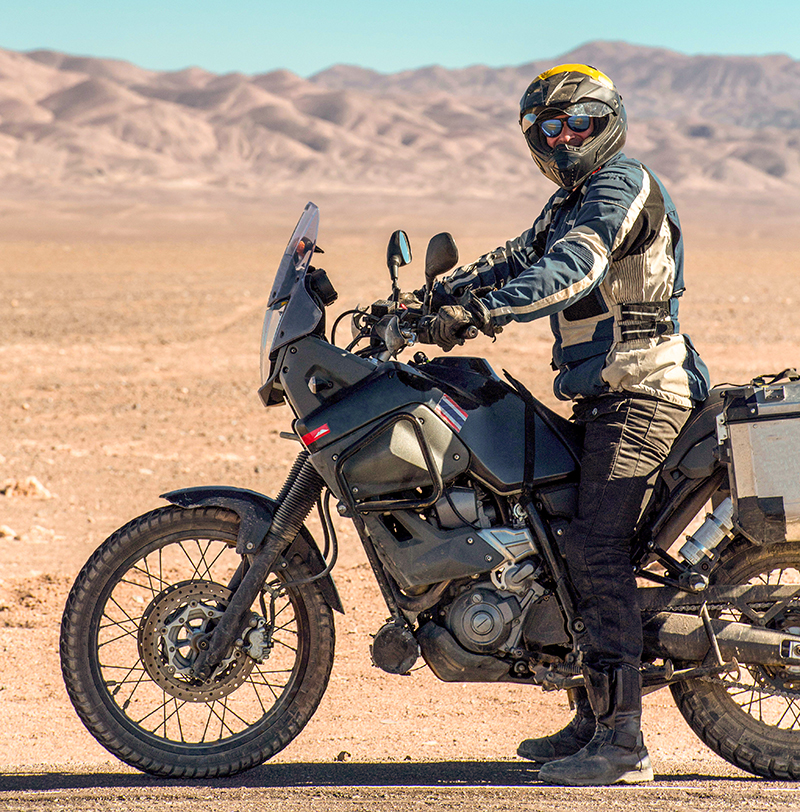 When it's hot, you don't want a membrane. And you won't want the Explore-R.
This is an adventure jacket only by dint of its styling. And those styling cues are the four external pockets and an adjustable, centre belt. Rukka offers the jacket in black, and in what might be termed a more 'adventure-riding' colourway. This suggests that Rukka believes some people will head off road in the Explore-R, but our view is that, over here, the Explore-R is very, rarely going to stray from the black top.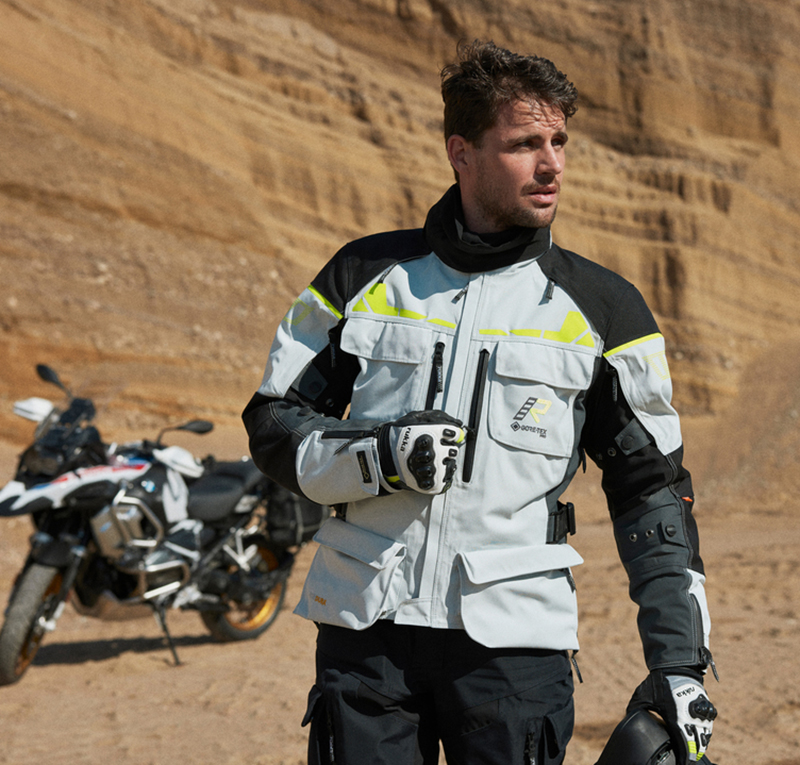 Rukka thinks you could ride off-road in the Explore-R. Us, not so much!
Now three-layer ProShell comes from Gore as a Cordura fabric to which the Gore-Tex membrane has already been laminated. To properly construct a jacket using this material is complex and time consuming. It's why ProShell jackets like the Explore-R are rarely inexpensive, but it's also why the membrane is guaranteed for life. One can never promise that you'll never get wet in this jacket, but one can be pretty sure that the Gore-Tex membrane will never leak.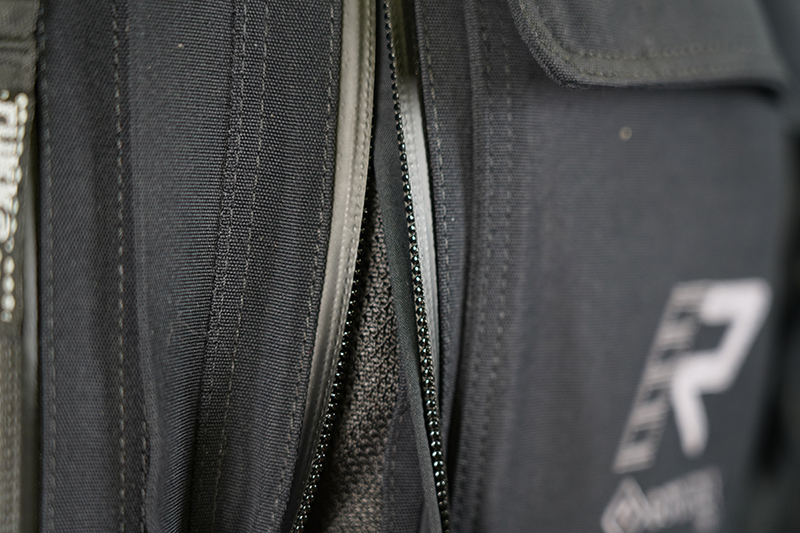 The most common cause of a leak in a Gore-Tex garment is a half-open zip.
All the water-resistant zips on the Explore-R are protected by storm flaps, either on the inside or on the outside, so it's most unlikely that the rain will find its way to the body through the zips. The truth is that 90% of claims regarding water ingress on waterproof jackets end up being attributable to partially undone zips. If the zips are properly fastened, the chances of getting wet in this, or indeed any, Rukka jacket are slight.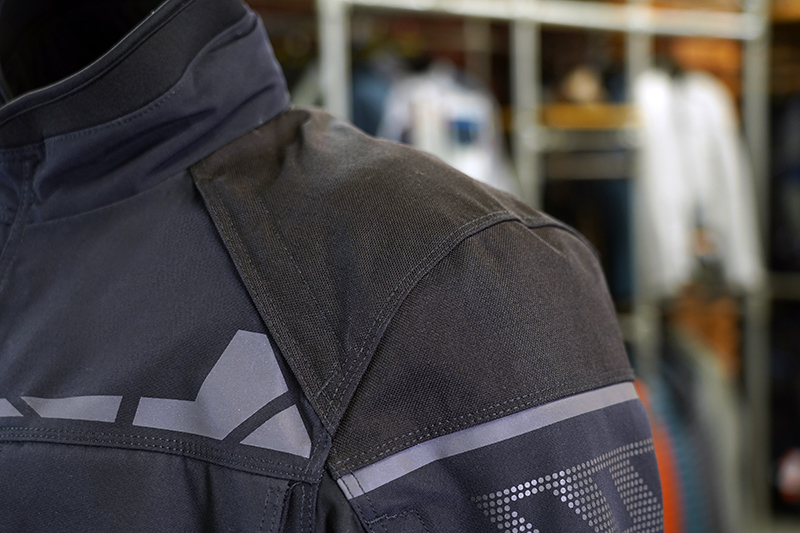 For extra abrasion resistance, the Explore-R features heavy-duty 1500d Cordura.
In terms of protection, you get overlays of 1500 denier Cordura on the shoulders and elbows; motorcycle fabrics don't get any more substantial than this. The armour in the Explore-R comes from D3O. It's Level 2 in the elbows, shoulders and back. It's Level 1 in the chest. But what sets a Rukka garment apart from most other brands is the size of armour the company uses. This is not off-the-shelf D3O. It is made specifically for Rukka, and it's huge. It's why one can confidently state that an AA-certified Rukka jacket, which is what the Explore-R is, will be much more protective in the real world than any AAA-rated technical jacket.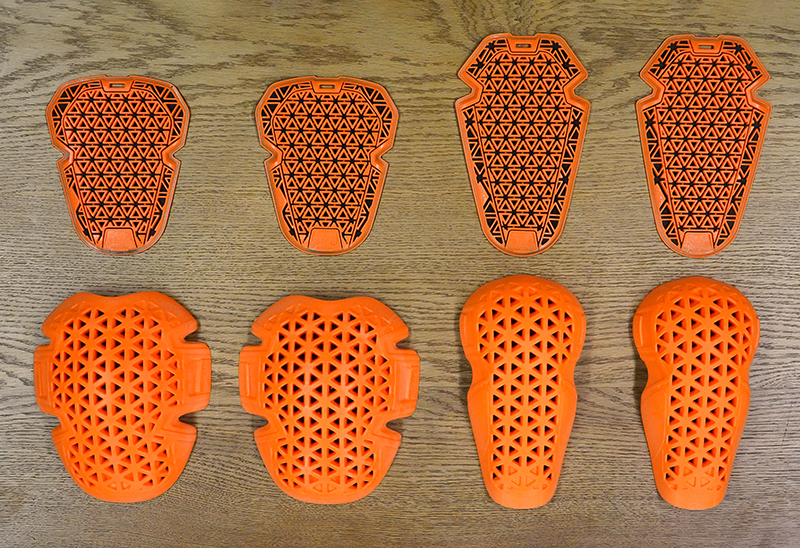 The armour used by Rukka is huge; and it makes a difference!
Larger armour, obviously, means greater protection when it comes to impacts, but what many people don't realise is that armour plays a hugely important part in abrasion resistance. And, unfortunately, EN17092 doesn't take this into consideration at all. Put it like this, only Stadler makes a waterproof jacket that is comparable from a safety perspective.
The Explore-R is as well vented as pretty much any Rukka jacket, although the vents are not as large as you might find on some Klim jackets. You get two vents on the chest, incoming and outgoing vents on the upper arms, full-length vent zips up the flanks, and two large exhaust vents on the back.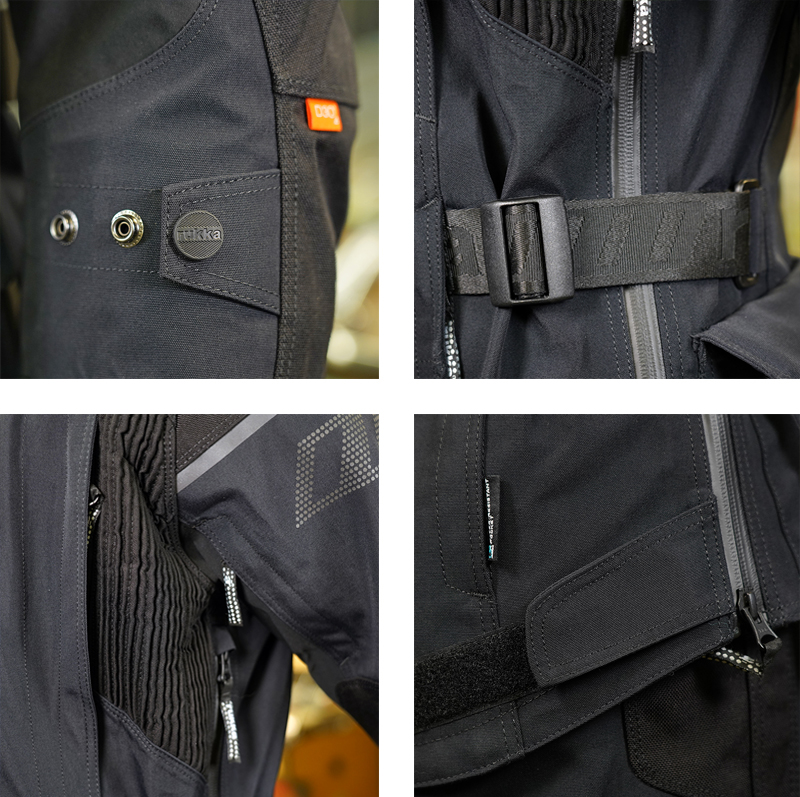 The Explore-R features lots of adjusters and aids to comfort.
There are lots of ways to adjust the fit on the Explore-R. Now we love a centre belt, because it allows a jacket to be cinched in or let out. And the Explore-R has a good one. There are Velcro-strap adjusters at the hem. You also get volume adjusters on the biceps and forearms. There are large, concertina stretch panels behind the shoulders, and elasticated inserts under the arms. Both of these being designed to aid comfort and freedom of movement on the bike.
Pockets are something that adventure-bike riders seem to get excited about. On the Explore-R, the top two pockets are not water resistant, the bottom two are. There are no pockets inside the jacket because of the chest protectors.
Most of the other stuff is detail. But there's a lot of it; and it goes to show how much effort Rukka has put in to ensuring Explore-R owners have everything they need.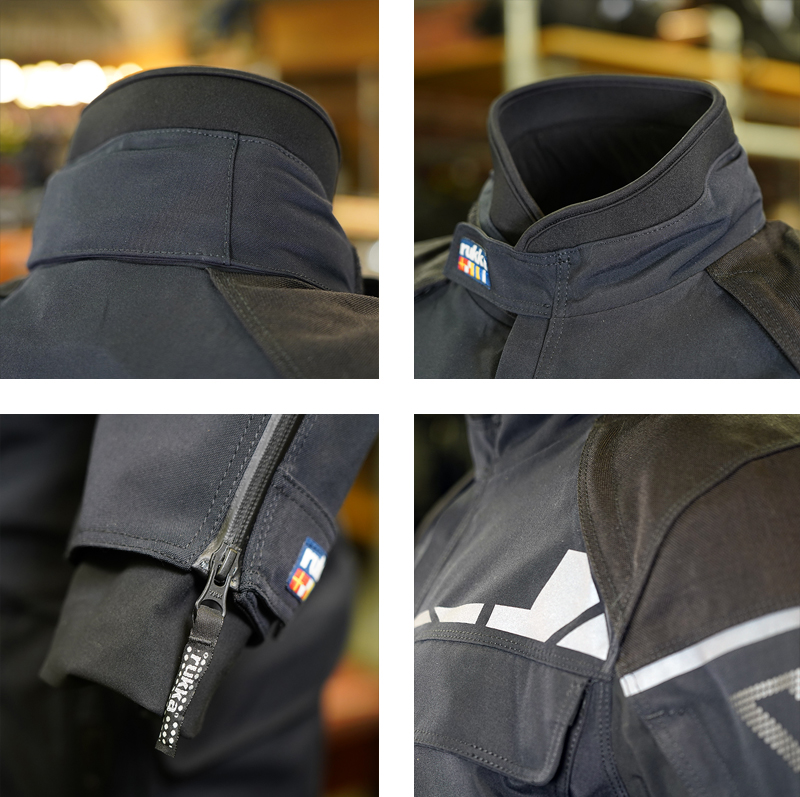 As you might expect, the Explore-R comes with all the bells and whistles.
Let's go through it, starting at the top. There's a storm collar that tucks into a zip compartment in the neck. The collar is lined with Neoprene, both for comfort, and to stop the rain getting in. There's a lot of reflective panelling back and front, so nighttime visibility is covered. You get GTX cuffs at the ends of the sleeves, along with zipped gussets and Velcro straps. Even though the Explore-R sits quite short at the front, it still has an extended tail, which we always like. Obviously, there's a zip to enable the rider to connect to a Rukka pant. And if you don't have a Rukka pant, there's a crotch strap to help keep things in place.
As far as sizing is concerned, the jacket goes from 46, which is pretty tiny, right up to 66, which is pretty huge.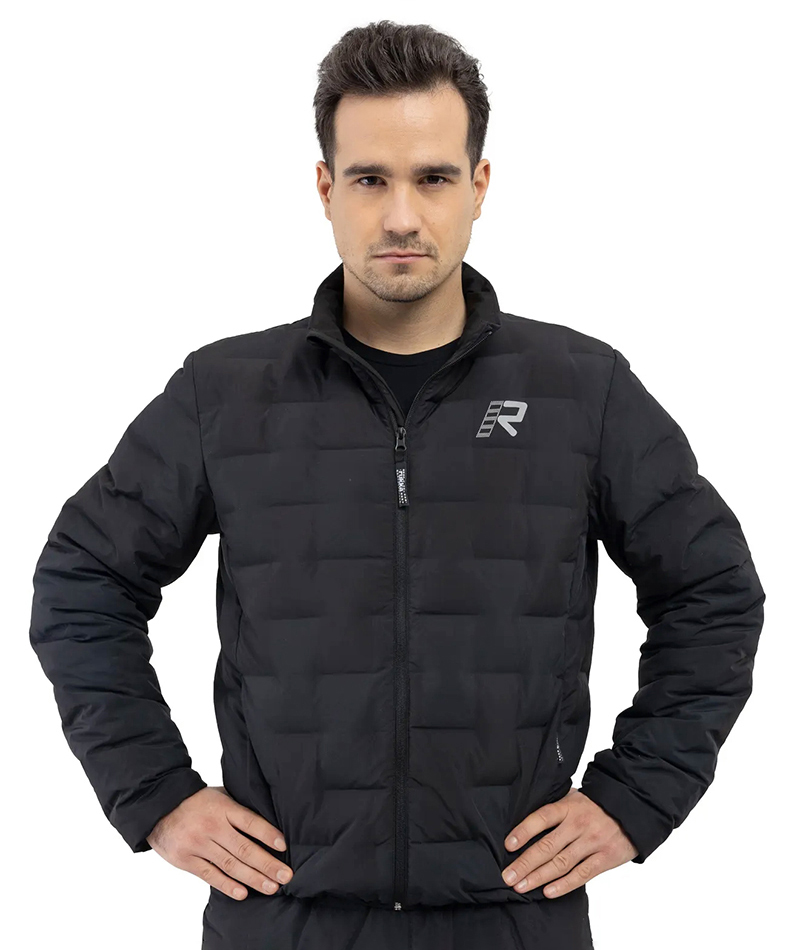 The Explore-R jacket doesn't come with a thermal liner.
There is one thing that the Explore-R doesn't have; and that's a thermal liner. And in most jackets that doesn't bother us, but at this end of the market, one might have expected a jacket to come with something. That would, of course, have put the price up further. What's for sure though is that, in the depths of winter, you will need something to insulate body heat.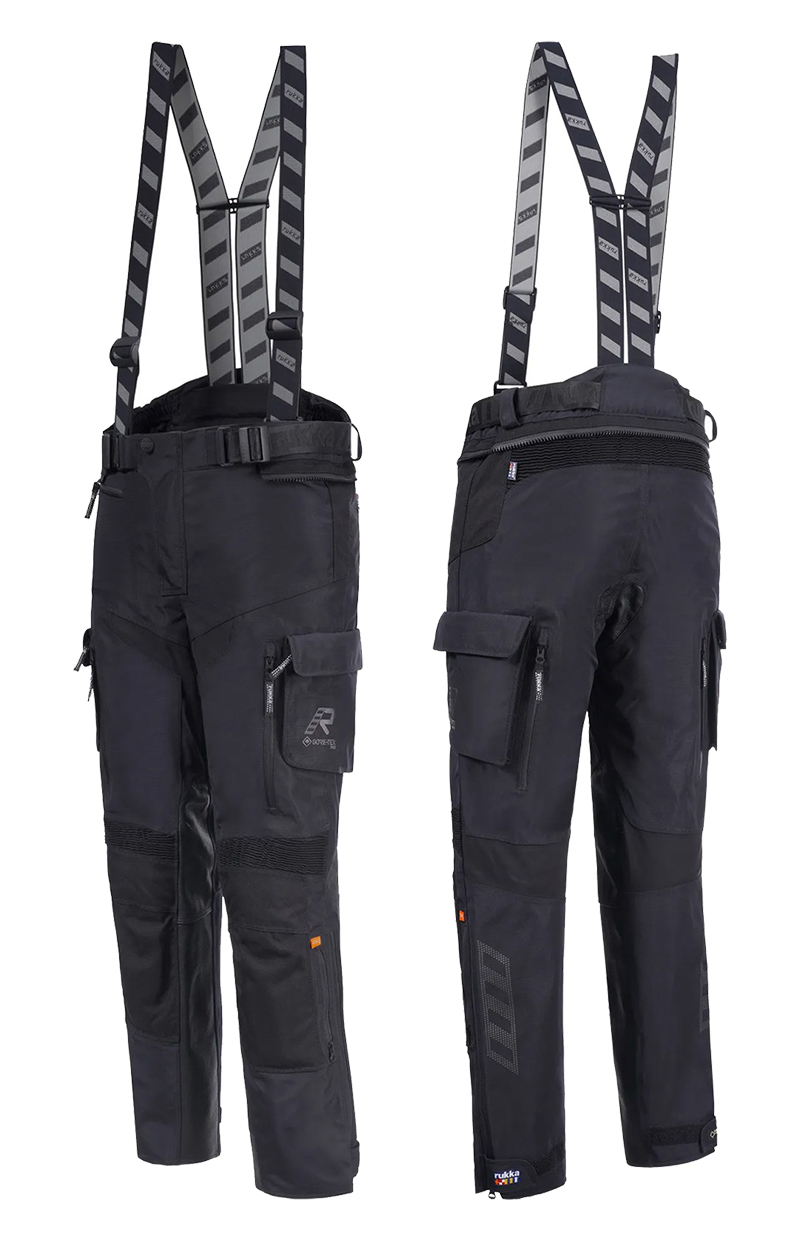 The Rukka Explore-R pant
As is nearly always the case, the lower half of a suit is going to match the jacket in terms of fabrics and construction. And that's true here.
The three-layer, laminated ProShell chassis, as with the jacket, is reinforced on the hips and knees with panels of 1500 denier Cordura. The armour in the hips and knees is by D3O, obviously. And again it's super-large.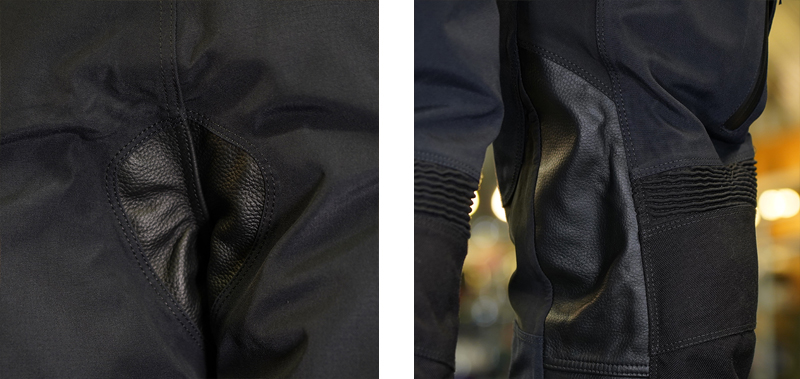 You get leather in the seat to stop sliding. And leather up the legs.
In the seat of the pant, you get what Rukka calls its AirCushion system. In essence, this puts a vented cushioning layer between the skin and the outer shell, and this serves to aid breathability, to allow the membrane to do its job more effectively. You also get a panel of leather in the seat to stop you sliding on the saddle. Leather also runs up the inside of the legs to give you better purchase on the tank if stood on the pegs. In the small area that is remaining in the seat, Rukka has placed some elasticated panels for comfort.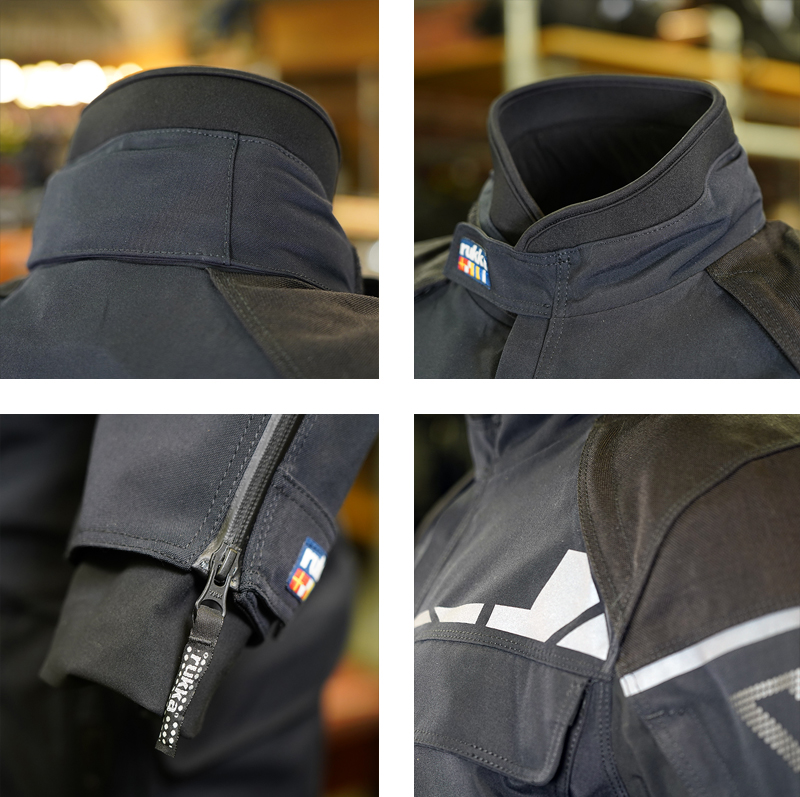 Vents, belts, stretch, pockets, zips, adjusters, concertina panels.
You get two, longish vents on the front of the thighs, and two more exhaust ones on the back. There are three pockets on the Explore-R pants, two of which are water-resistant.
For fit you get Rukka's very effective, and very robust, waist adjustment system. The Explore-R trousers also come with braces, which is the only way to wear a pant this heavy. Without these, they would simply fall to the floor when you unzip from the jacket. Above the knees you get some concertina banding, so as to put less pressure on the knee when you're on the bike.
Given that Rukka had adventure riding in mind when they designed this trouser, the legs are wide enough to accommodate most crossover adventure boots. But the legs are not baggy in the way that Klim's trousers, for example, tend to be. You get long zips at the hem, and Velcro straps to prevent the legs flapping around the ankles.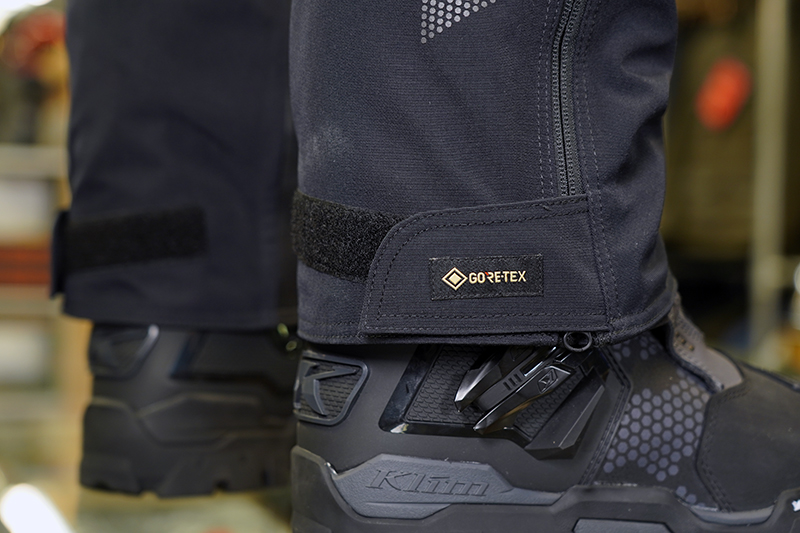 The Explore-R trousers will go over most adventure boots.
The trousers run from size 46 up to 66. The plants come in regular, short and long leg length.
There's not a lot more to say about the Explore-R pants. Given the jacket, they are what you would expect. And as with the jacket, you don't get any kind of thermal lining. You have to supply your own.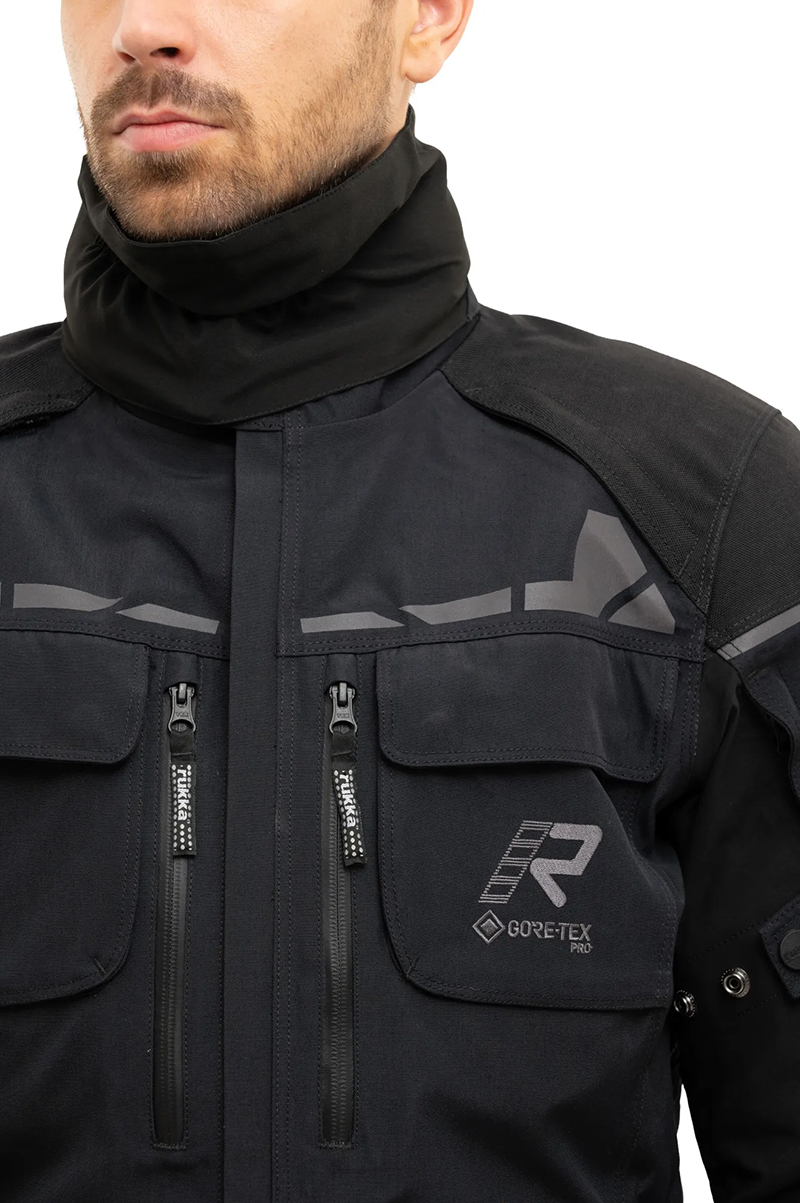 In conclusion
It was, I think, Klim who first promulgated the notion that an adventure suit should come equipped with a laminated membrane.
And it's an alluring proposition. A suit with a laminated membrane will never wet out, and so will always keep you dry. A suit with a laminated membrane will also vent better than one with a drop-liner membrane. And so it is true that a well-vented, laminated suit can be worn across a wider variety of climactic conditions.
I suppose it depends upon what kind of adventure riding you do. In America, for example, the adventure rider may ride a hundred miles or more to get to the trail head, and sometimes the trails will be fire roads, and so not always technically demanding. And for this kind of adventure riding a well-vented, laminated suit might be the perfect solution.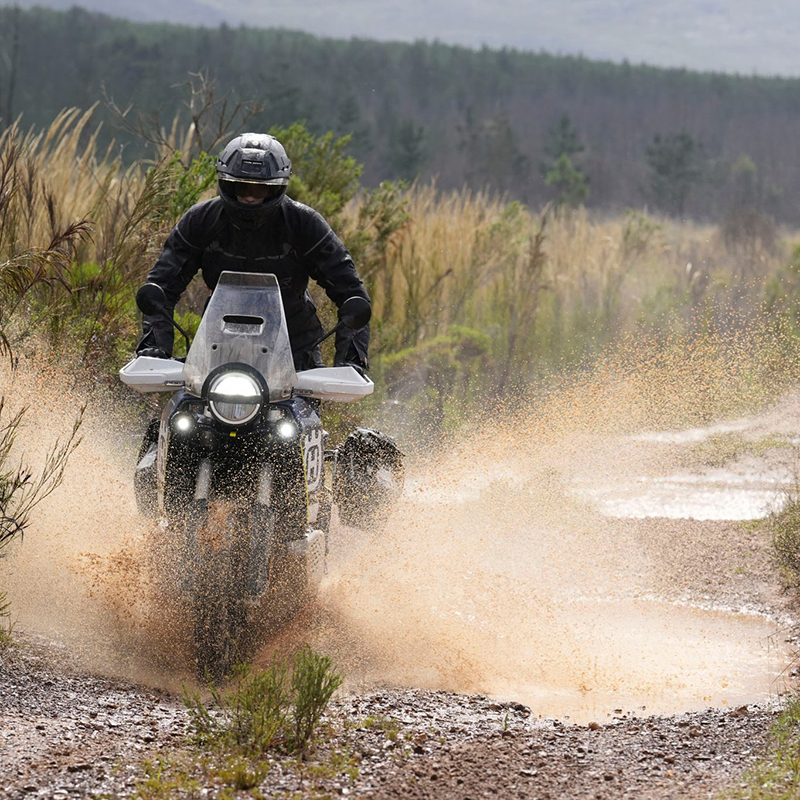 For some adventures, a laminated suit might be the best solution.
But if your definition of adventure riding entails crossing searing-hot deserts, or working your nuts off on tricky technical paths, then this not what you want. In fact, the more extreme your riding, the less you want a membrane anywhere near your body.
And that's why we wouldn't take the Explore-R seriously as a proper adventure riding suit. The Explore-R, it also has to be said, weighs a ton. It's just not the suit you want when you're working hard off road, and building up a sweat. If you really want a Rukka adventure suit, you could go for the still laminated, but much lighter, Rimo-R; or even better the Trek-R, with its totally removable waterproof membrane.
And so, we come back to our original assertion. The Explore-R is a fabulous suit; it is very impressive. But it's just not what we would term an adventure suit, even though we can see it being very popular with GS riders and the like.
For riders in the UK, the Explore-R would make for a fabulous commuting outfit. It is superbly made; and should be eating up the miles long after its six-year warranty has come to an end. It will be as waterproof as any suit that money can buy, especially as it is backed by Gore's lifetime 'Guaranteed to Keep you Dry' promise. With its huge Level 2 armour, it's about as protective as a waterproof suit can be. It comes with a plentiful supply of vents. And all the little detail touches that contribute towards making a suit easy to live with.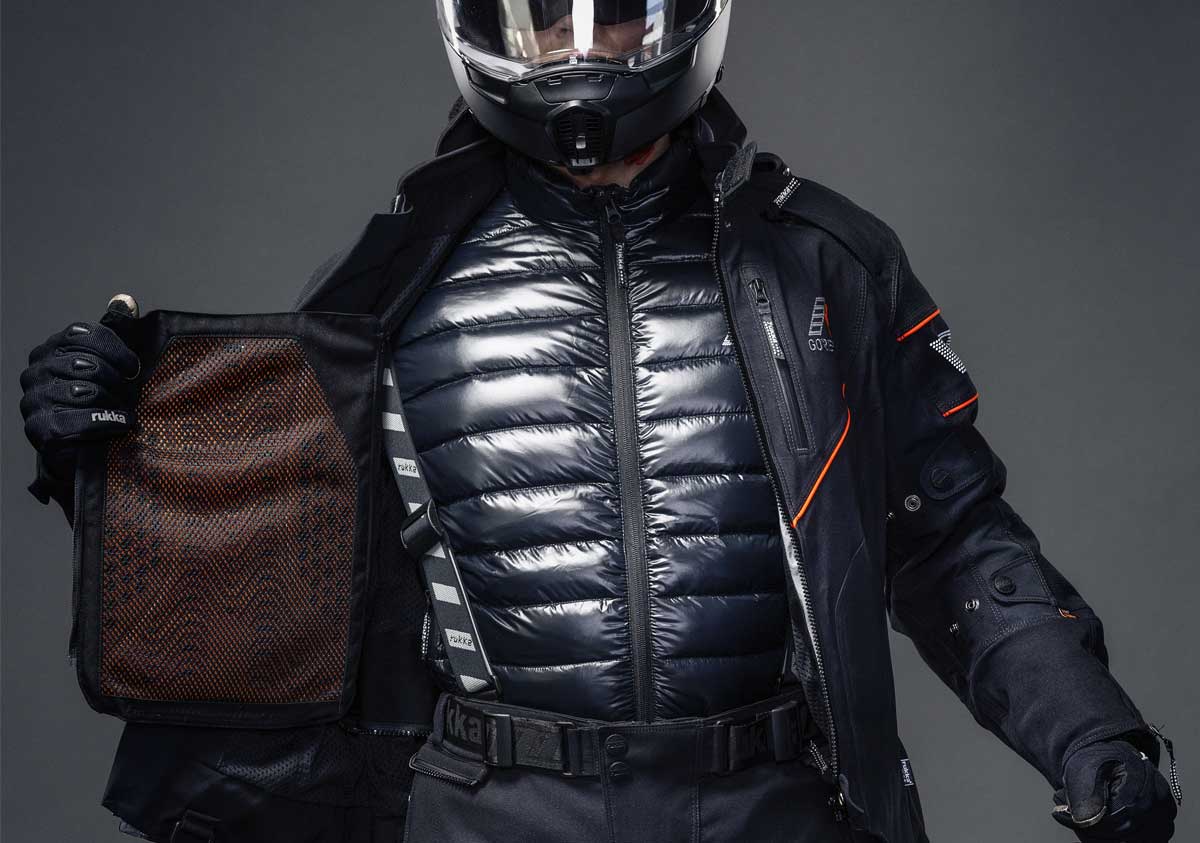 The Rukka Nivala will still be much more comfortable, and nicer to wear.
But it won't be anywhere near as comfortable as the super-stretchy Rukka Nivala. Two-layer suits like the Klim Latitude and the Rukka Kalix are also going to be somewhat easier to live with. So we take the view that the Explore-R is probably not the right suit for the occasional, weekend rider. If you do less than 5,000 miles a year, there are definitely better options. If you do between 5,000 and 10,000 miles a year, there probably are too.
The Explore-R suit is expensive, but it's a ProShell Rukka suit, so you wouldn't expect it to be anything else. As we've suggested already, the only missing elements are the thermal liners. Buy the Down-X jacket and pant, and you'd be in for another £360. That would bring the total outlay to a few pence over £2700. That's a lot of money but, then again, this is a lot of suit. Frankly, commuting suits don't get much better than the Explore-R. There aren't many riders who need a suit this good. And there are none who need anything better; even if such a suit existed!
For more information and to buy online, click Rukka Explore-R jacket.
---
Want some more? Please

click here

to return to our editorial menu.

Share this story