Spidi J&Dyneema Evo jean review
Published on: 04/03/2022 15:07
Spidi got into cool, riding jeans way before most other brands knew such a thing existed. They've been producing good-looking bike jeans for more than 20 years, using a variety of materials and fabrics. They have used an aramid fibre known as Keramide. They've used Dyneema and they've used Cordura. It wouldn't be untrue to suggest that they were the pioneers in the creation of bike jeans that didn't look like bike jeans.
At the entry level, we are still fans of their J-Tracker single-layer jean. It is not the most protective on the market, but woven with Cordura it is really nice and comfortable to wear, and upsettingly inexpensive. But we term it a 50/60 mph jean.
We really rate Spidi's J-Tracker jean; it's just not the most protective!
We have also offered their J & Dyneema jean. Like the J-Tracker, this also had a single-layer construction, but made with Dyneema it was much stronger, and had a four second slide time. But whilst it was, in its own way, impressive it didn't quite crack it. It had a full mesh lining around the backside that didn't make it feel like a proper jean, and the colour made it niether a black jean or a blue one. It was AA rated, but it just didn't quite hit the spot.
Well perhaps Spidi realised this because they have now introduced an updated and upgraded version. It's called the J & Dyneema Evo, and we like it a lot, although we think Spidi has made a bit of a mistake on the sizing. In fact, we simply can't understand why they have done what they have done.
Anyway let us talk about the jean itself in a bit more detail.
The new Spidi J&Dyneema Evo is a proper black, single-layer jean.
The J & Dyneema Evo
Dyneema, rather like Armalith, which is used by Rokker in all their jeans, is a UHMWPE. Now, technically, that's an Ultra High Molecular Weight Polyethelene. That means no more to me than it probably does to you. But what I do know is that UHMWPE fabrics are insanely strong. I think I read that they are 40 times stronger than carbon steel. Kevlar is not even in the same ball-park.
The problem, as we see it, is that the strength of modern, single-layer jeans, and thus their abrasion resistance, is dependent on the fabric mix. Not all Dyneema jeans are the same. Their strength will depend on how much of the strong material is incorporated.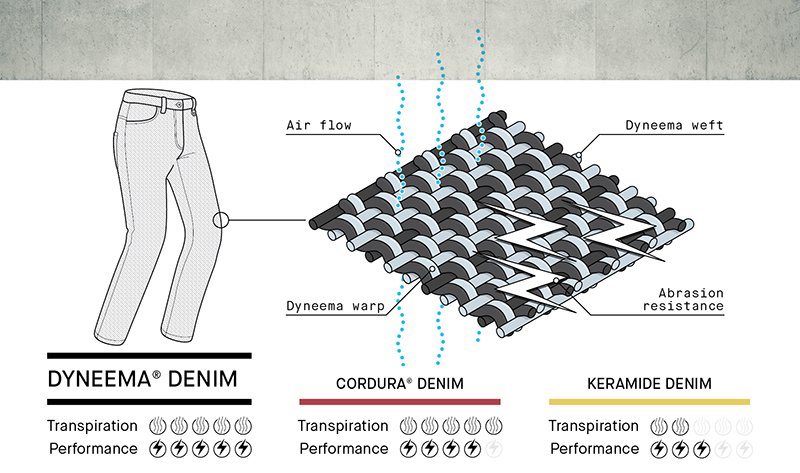 Dyneema woven with cotton delivers both strength and excellent breathability.
So there's a jean from the Australian company Saint that is also made with Dyneema. They call the fabric 'unbreakable denim', but actually their jean contains only 12% Dyneema, with a cotton content of just short of 70%. I have no idea what it is like to wear, but 'unbreakable' it certainly isn't!
The J & Dyneema Evo has a 60% Dyneema content, by contrast. That's five times more, obviously. The Spidi is a very strong jean, so it is perhaps not surprising that it is rated AAA under EN 17092. As you might expect, the jean also incorporates cotton; in this case the content is 38%. The remaining 2% is Elastane; and it is this that makes the jean so comfortable to wear; so comfortable to ride in; and so comfortable to walk around in.
The new jean is rated AAA under EN17092. That's the highest level.
The fit is flattering, but we wouldn't call it slim. It is much more generous in the calfs than, say, the Rokkertech Tapered Slim. And this is a good thing, as we see it. There are lots of slim riding jeans around, but if there's a bit more to you, so to speak, then the pickings are, well, a bit slim!
A gusset in the crotch actually helps put the armour in the right place.
The new jean has also borrowed a little detail from the J & Tracker; namely a gusset in the crotch. This gusset makes the jean nicer to wear on the bike. It also helps to ensure that the knee armour sits where it should on the knees. Unfortunately, many brands fail to get this important detail right. We also like the detailing on the new jean. It loses some of the fussiness around the pockets. The light-coloured, contrast stitching has also gone. It's a jean with a much more classic look.
The old jean had a mesh lining in the bum. The new Evo jean doesn't.
The lining on the old jean was not quite right. We don't expect a jean to be lined. The very essence of a jean is its absence of a lining; and so the J & Dyneema, with its front-and-back mesh lining, never felt quite right. The problem is that a motorcycle jean always has to have some kind of lining somewhere because it is the lining that holds the knee armour in place. Well the lining on the new J & Dyneema is only down the front of the legs, but what we like about it is that it is a made from a mesh, meaning that the airflow through the outer fabric is not affected. And that's important because, of course, one of the key benefits of a single-layer jeans is how nice they are to wear in hot weather.
We like Spidi's armour. It's large, flat, flexible and superbly comfortable.
The armour in the knees and hips is Spidi's own. We like it. It is large, flat and flexible, but quite thin, so like all the best armour you barely know you're wearing it.
Made from what is known as Black Dyneema, this is a proper black jean.
We also like the colour of these jeans. The old model was neither one thing nor t'other; it was a bit blue and a bit black. This new jean is unequivocally starless and bible-black.
We have not had a Cambridge slide test done on these new jeans. It is becoming ever more difficult to find a test house willing to do such a test. We actually take the view that we are always going to be satisfied by the abrasion, tear and puncture resistance of pant with an AAA rating. But we have tested this exact same fabric from another jean, and that delivered a slide time of 4.1 seconds. Bottom line? These jeans are as strong as a leather pant. They are more than up to the job.
What's not to like?
Normally, when people pose this question, it is meant to suggest that there is nothing not to like. Well, that's not why we posed the question. And in answer to this question, the answer is that there are a couple of things we are not mad about.
The first is tiny but infuriating, and oh-so-Italian! Inside the hem, there's some reflective banding; the idea being to make the wearer a little more visible at night to traffic approaching from behind. But here's the rub. The reflective band is only on the left leg; and that's fine if you ride on the right hand side of the road. But here in the UK we don't. One is left wondering who in the design department thought money could usefully be saved by using reflective tape in just the one leg? And why nobody told the designers that Spidi also sells in Australia, Japan and the UK!
Spidi has put a reflective band on the left leg. But not on the right!
The second issue is more fundamental.
Now, in the jeans market, the better brands will offer multiple leg lengths. Rokker, for example, do their Rokkertech jeans in 30", 32", 34" and 36". It's important that you get the right leg length. It needs to be on the ankle bone on the bike, which means there will be a little crumple when you're off it. The length of the leg is also important in getting the armour to sit in the right place. And that's because if the leg is too long, the armour will sit too low.
The problem with the J & Dyneema is that it comes in only one leg length; and that's a frankly quite long 35". Now, we can't understand why Spidi has done this. Even their entry-level J & Tracker jean comes in three leg lengths, so why would you offer only one length on your premium jean? Again, very Italian!
The good news is that the armour pocket offers a full 4" of adjustability, but most people are going to need these jeans to be shortened and hemmed. If you buy online, you can probably find someone to do this for you. But if you come and see us here in Guildford, we'll sit you on the shop bike, we'll work out what the right length is, and we will have the alterations done at our cost.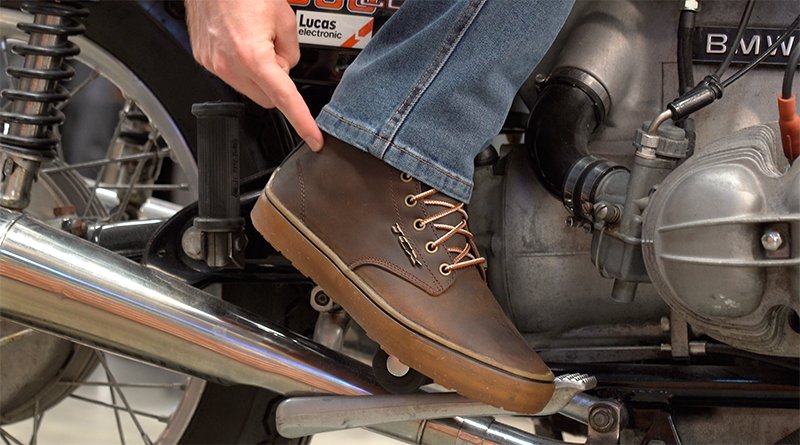 Getting the right leg length means the armour will be in the right place.
The jeans come in waist sizes: 28", 29", 31", 32", 33", 34", 36", 38" and 40".
The price is £319.99. The old jean, at £269.99, was £50 cheaper, but the J & Dyneema Evo is a much better and nicer jean. It is also AAA rated, where its predecessor was only AA. £320 is about right these days for a high-end single layer jean made with a UHMWPE. The Rokker Rokkertech is pretty much the same money: and that's only AA rated. The other thing is that if you want a proper black, single-layer jean, this is one of the very few out there.
Nobody has a better selection of single-layer jeans than we do, so if you want to get it right you know where we are!
For more information and to purchase online, click Spidi J&Dyneema Evo jean.
---
Want some more? Please

click here

to return to our editorial menu.

Share this story