Stadler 4All Pro pant review
Published on: 04/03/2022 11:23
Here at Motolegends we get to work with all the top apparel brands. It's kind of our thing. We seek the very best products out there, and more often than not they are produced by the most prestigious and respected brands. So we are talking about names like Rukka, Halvarssons, Klim, Rokker, Belstaff, Stadler and so on.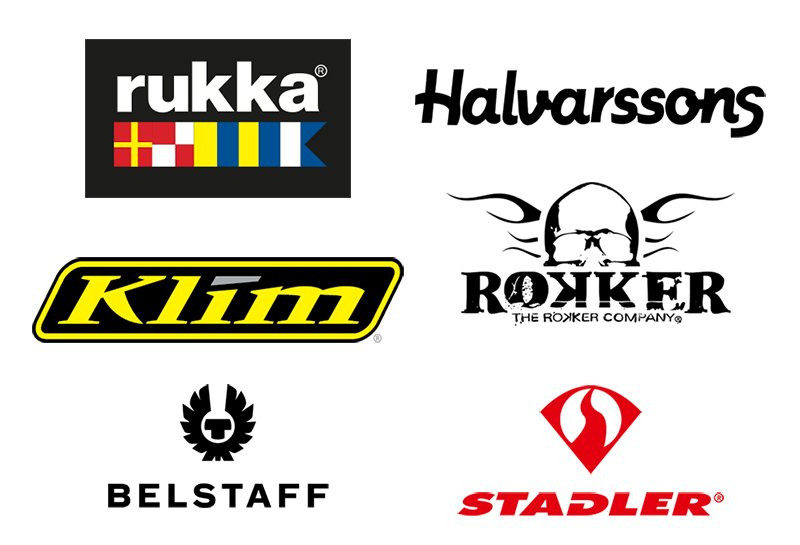 We reckon we get to work with the very best brands on the market.
All these brands have their own strengths. Rukka does the best wet and cold weather gear. Halvarssons produces exceptional technical gear at great prices. Klim is the big name in adventure riding. Rokker does single-layer, protective jeans and that casual look better than anybody. Whilst Belstaff is the king of style when it comes to wax cotton.
Which leaves Stadler. Stadler comes from Germany. They are like Rukka, but with an even more specific mission. Rukka does laminate. They do two-layer. They do three-layer. They do drop-liner. They do adventure. They do off-road. They do leather. They do retro. They have their fingers in a lot of pies.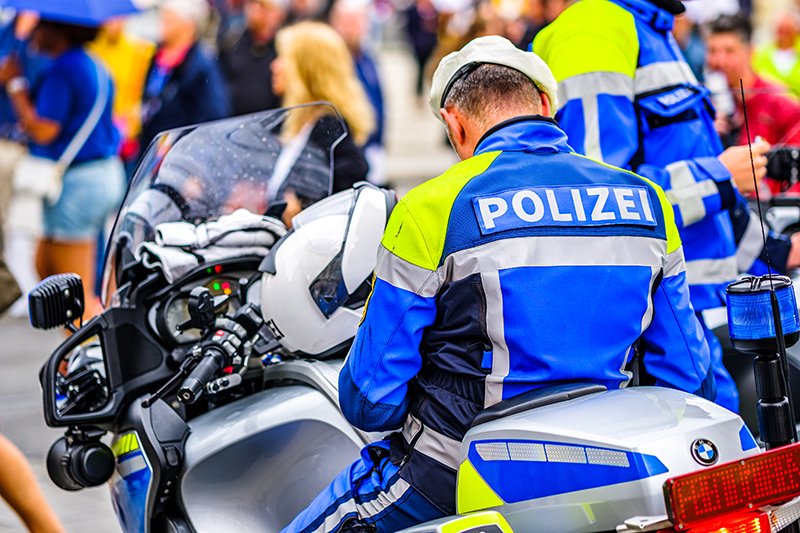 Stadler supplies riding kit to every single German police force.
Stadler is more focussed. They do a smaller number of suits, but Stadler is all about heavy-duty, high-mileage, road riding. They make hard-wearing, highly-reliable technical outfits for all-weather, all-year-round commuters, long-distance adventurers, and for professional riders like the Police. In fact, every single German Police federation puts its riders into Stadler outfits. As does the Garda in Ireland.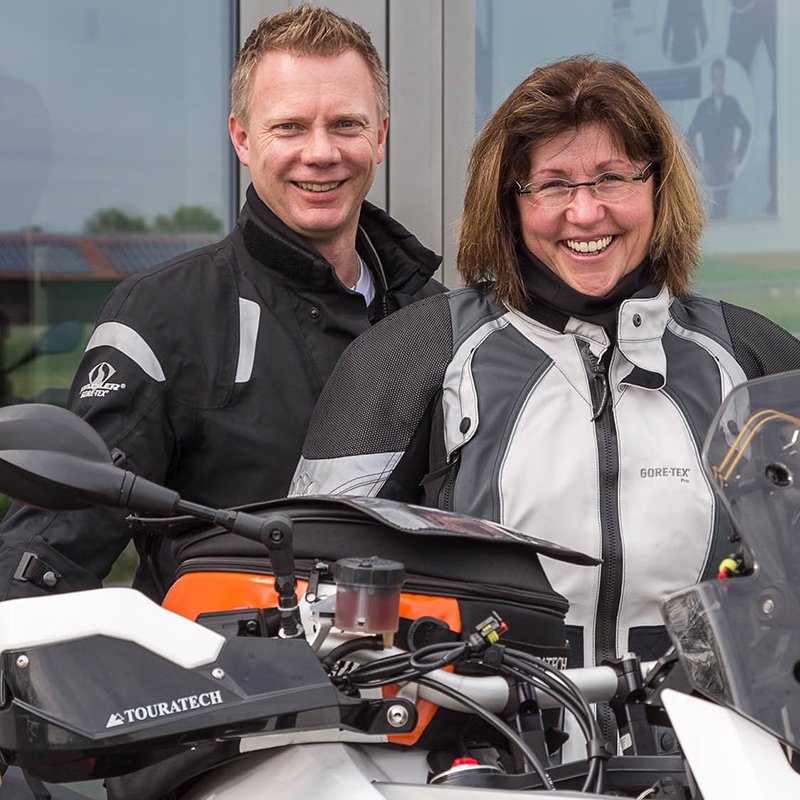 Stadler is a family-owned business committed to providing the best gear.
The Stadler philosophy
Stadler only ever use the best ingredients and components. Membranes by Gore-Tex. Zips by YKK. SuperFabric for added abrasion resistance. Armour from SAS-Tech that exceeds the Level 2 standard by up to 60% and so on. Such is their confidence in what they produce that Stadler backs its gear with a 10-year warranty, (five years on zips). The company can also, by the way, repair crash damaged garments at its factory in Germany.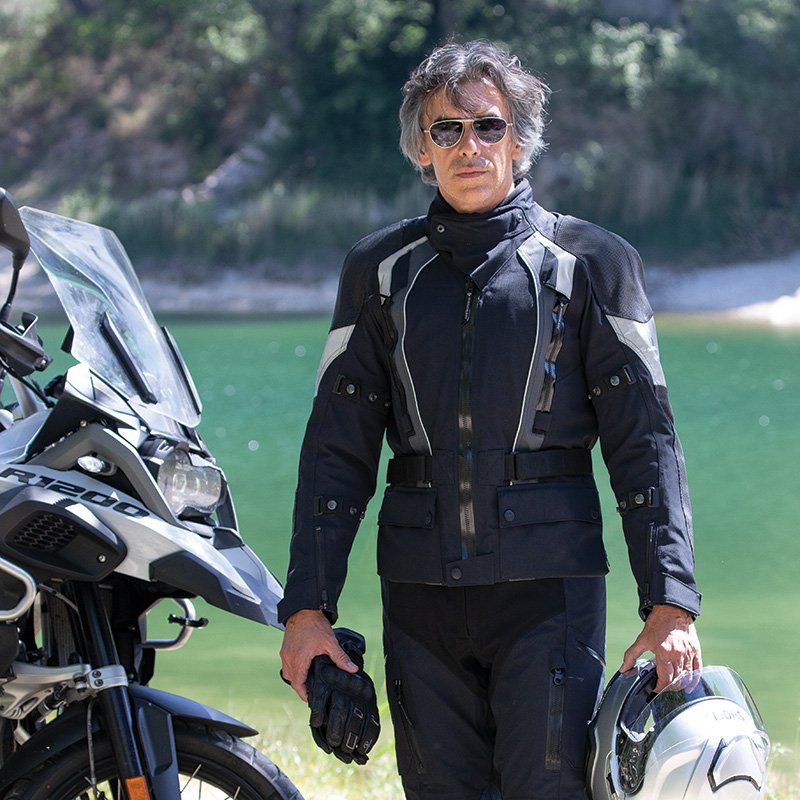 This is the Supervent jacket that sits at the heart of the the Stadler range.
Stadler designs its gear to endure the hardest of punishments. And the result, it has to be said, is not for everybody. We do a couple of Stadler's jackets, but the jacket that sits at the heart of their range is called the Supervent 3. It's a heck of a bit of kit. It's made from a three-layer Pro-Shell fabric. It has the most energy absorbing armour to be found in any suit. The back protector is large enough to surf on. It has huge vents, behind which you get uncrushable, 3D piping that forces air around the body to keep you cool.
Frankly, we think the Supervent is the best-made, toughest, most protective and versatile motorcycle jacket money can buy. But here's the rub. It's not, initially at least, the easiest or most comfortable motorcycle jacket to live with. Three-layer lamination never makes for the softest of fabrics. But there's then the huge armour, the SuperFabric and so on.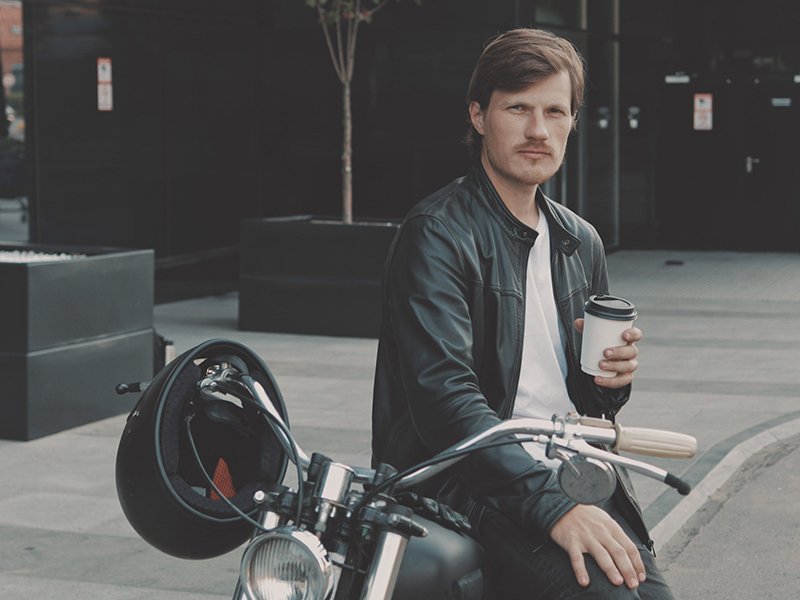 Mr. Stadler does not make outfits for drinking cappuccinos.
What we all know here is that after a few weeks the jacket eases up and starts to become more comfortable, without of course ever losing its reassuring feeling. The truth is that we often tell customers how uncomfortable the Supervent is, in order to manage expectations. We don't want to pretend that this is the suit for the 3,000 mile a year weekend rider. As Mr. Stadler once told us that this is not the jacket you buy for drinking cappuccinos. Of course, we knew exactly what he meant. It's an amazing jacket, but it's for the few; not for the many.
But here's the thing; it's a totally different story when it comes to Stadler's pants. Our favourite Stadler pant, the 4All Pro, is the nicest, most comfortable and easiest to live with motorcycle pant we have come across; indeed, because of this it is not unusual for us to match it with a Rukka, a Klim, or even a Halvarssons, jacket.
So let's talk about these pants in a bit more depth.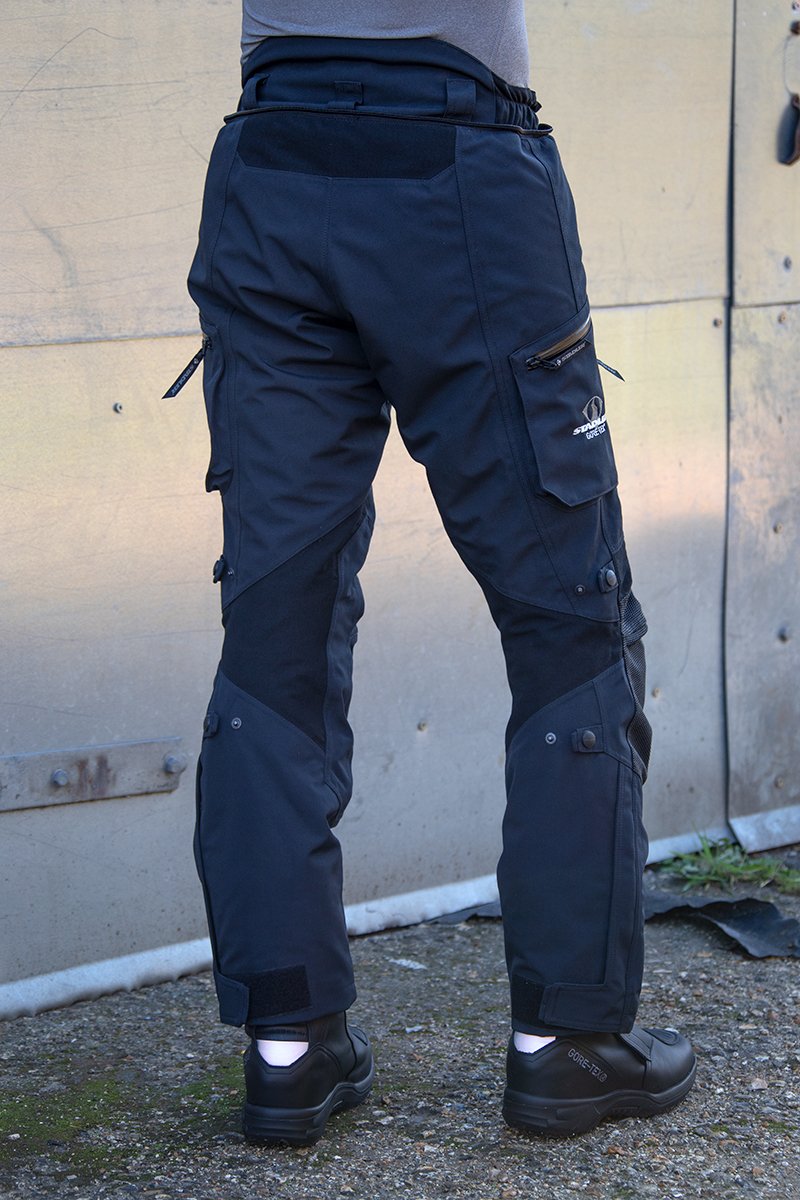 The 4All Pro pant is the nicest, best fitting textile pant out there.
The 4All Pro pant in detail
Like the Supervent jacket and the best tops and bottoms from the likes of Rukka and Klim, the 4All Pro pant is Gore-Tex Pro Shell constructed. This, obviously, is the gold standard as far as waterproofing and breathability are concerned. You're not going to get wet if you're riding in a pair of these trousers.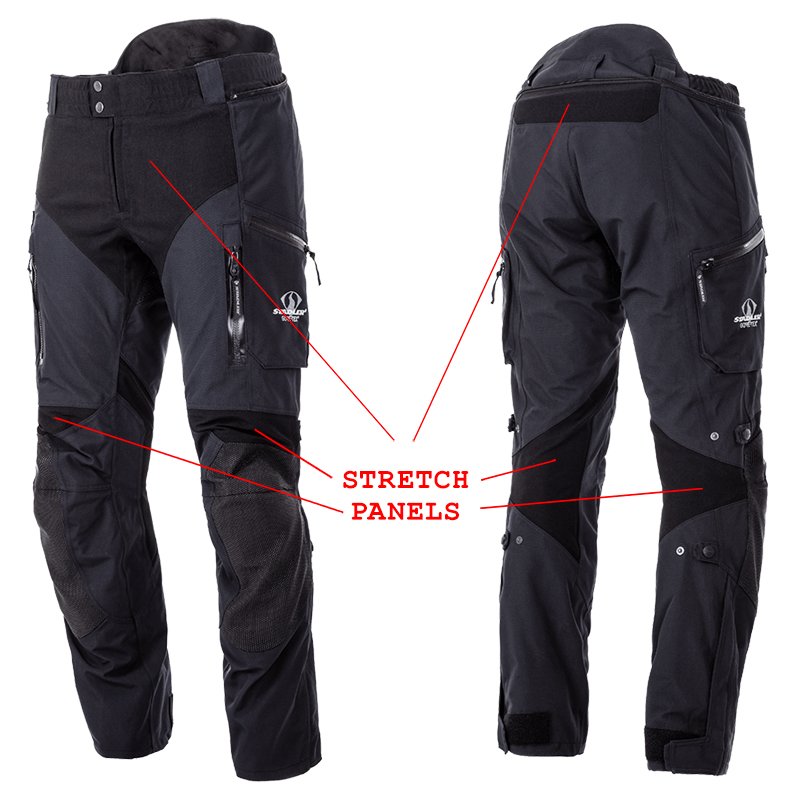 It's the built-in stretch panels that make the 4All Pro so comfortable.
The fit is also quite unlike any similar, technical pant. It is less baggy than most riding trousers. In fact, it wears more like a Police rider's motorcycle jodhpur, which I suppose is not far off what it is. But the tight fit doesn't make the pant uncomfortable to wear or ride in; in fact, quite the contrary. They are supremely comfortable. And that probably comes down to the stretch panels in the crotch, down the inside of the legs and behind the knees.
They also have a superbly elasticated waist that, once again, contributes to the pant's comfort. Braces don't come as standard, although we reckon they're pretty essential. They are available as an add-on.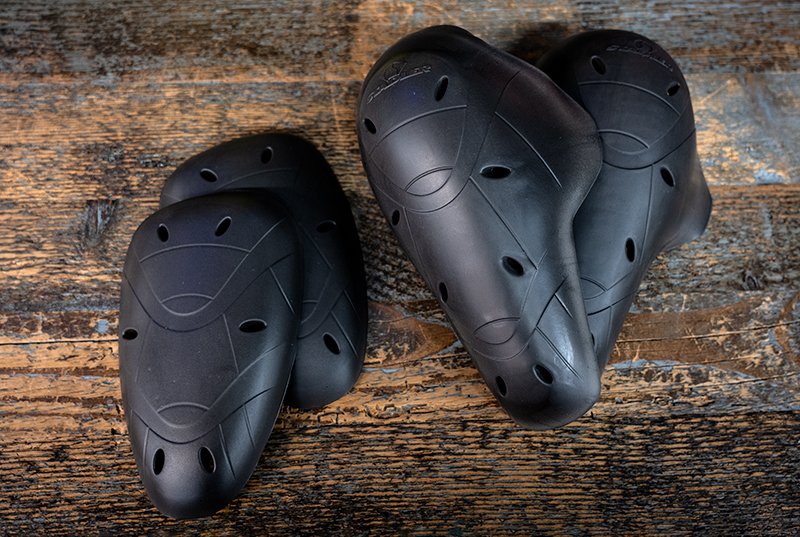 The armour is Level 2. The knees are shapes to protect the outside of the knee.
For protection, the 4All Pros come with Level 2 armour in the hips and knees. It is made for Stadler by SAS-Tec, and in the knees it is handed; that it is to say that, somewhat unusually, the knee armour is shaped to fit on the right knee or the left knee. In fact, it is particularly designed to give extra coverage to the outside of the knee. The knee and hip protectors both actually exceed the Level 2 standard by 60%.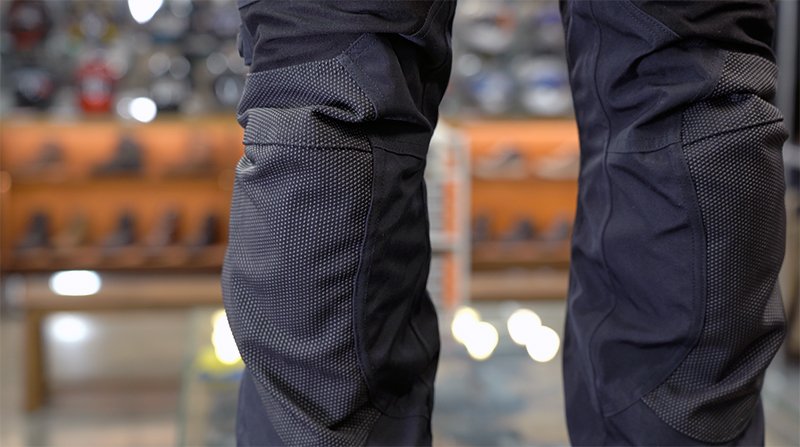 The knees are covered with highly abrasion-resistant SuperFabric.
For added abrasion resistance, the knees are covered with SuperFabric. This is the most abrasion-resistant material that can be used on a motorcycle garment. But, like the protectors themselves, the material sits on the outside of the knees. And this is important because SuperFabric has the ability to scratch a bike's paintwork. But, of course, that can't happen here.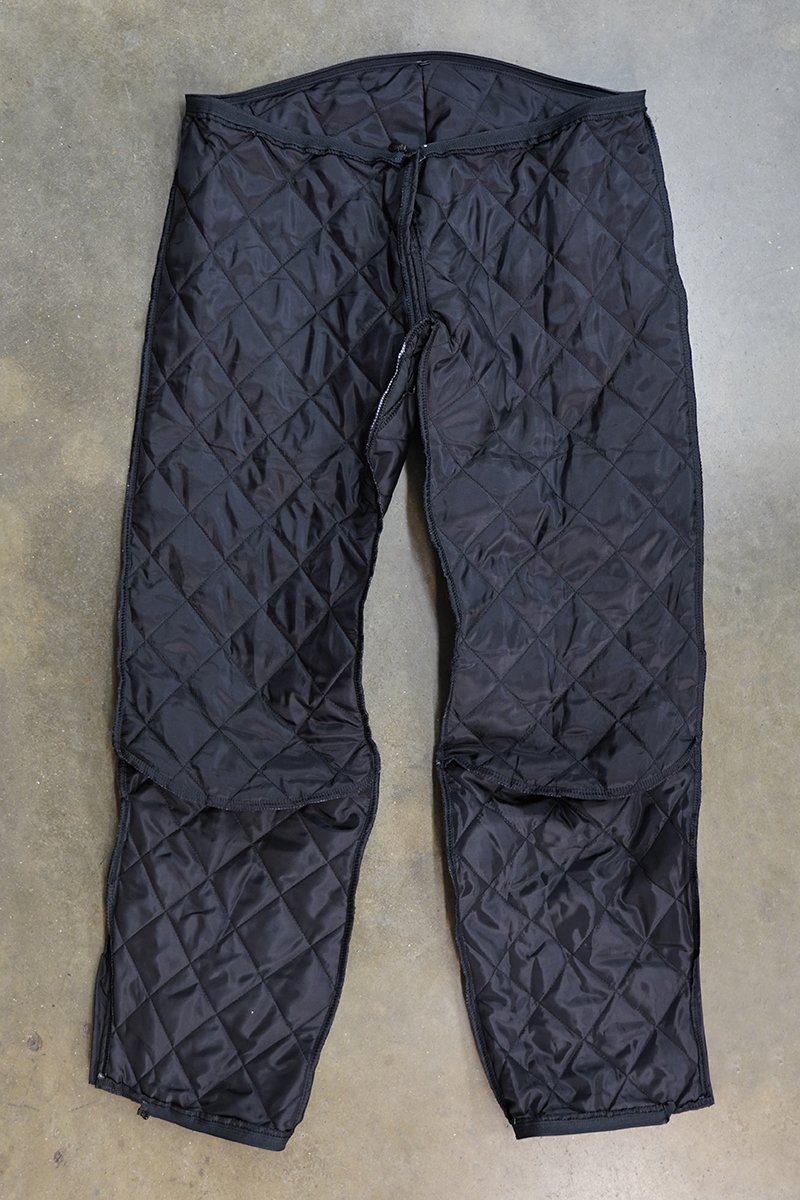 This is not the very best thermal lining, but for a pant it's good enough.
For colder weather, the pants come with a zip-out thermal liner, but here we have to be totally honest. We love these pants, but the thermal liner is little more than average. For the Supervent jacket, we think the identically constructed liner is simply not up to the job, but in the pant it sort of passes muster.
In warmer weather, you will want to use the vents that run up the thighs. These vents are covered by waterproof zips.
On the sides are two waterproof pockets protected by water-resistant zips. At the back of the legs are adjusters that will allow you to adjust the volume of the leg.
At the bottom of the legs, there are long zips and Velcro flaps that will allow you to wear them over just about any boot; well with the exception, perhaps, of a full-on, off-road boot.
Our conclusion
The 4All Pro is everything you could ever want from a motorcycle pant. It is waterproof at the highest level. It is well vented. It has reasonable thermal properties. And it is probably the most protective, textile pant you'll ever find. But what makes it stand out is its comfort. Unfortunately, the only way to check that out is to try a pair on.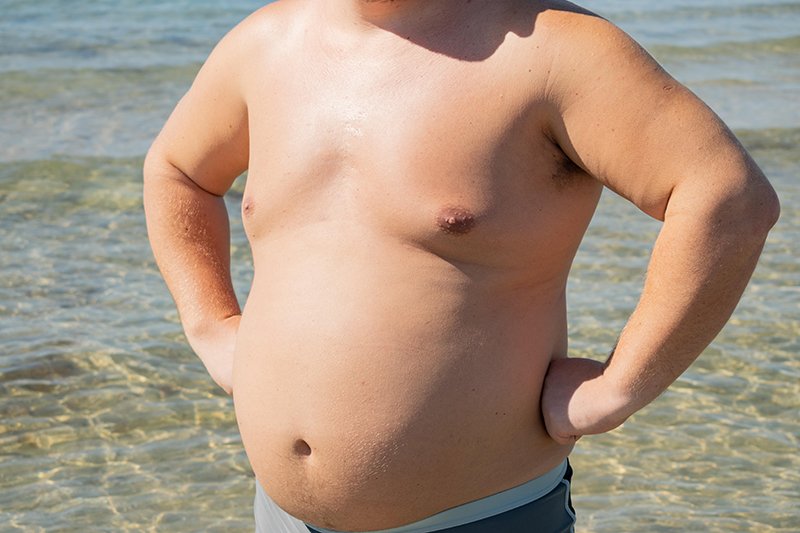 The Extra short size will work for those whose tummies have grown, but whose legs haven't.
But there is another reason we get so excited about these pants. They come in a simply huge array of sizes. From a waist of 30" right up to 48". They come in short, regular and long leg lengths. But there is also what Stadler term an 'extra short' leg version. Simply put, this is for those with a larger waist. The problem is that, unfortunately, as waists grow leg lengths don't tend increase in proportion. So, if you have a tummy, and don't want your motorcycle trousers dragging along the ground, this might be the size for you. But Stadler has another trick up its sleeve. If you can't make one of the 40 standard sizes work for you, they can do bespoke sizes. So if you have a 38" inside leg, for example, the Stadler pant is probably going to be the only one that will work for you.
We think, as we have suggested, that this is the best pant out there. But it's not the most expensive. At £749.00, it's not exactly cheap. But the Nivala 2 pant comes in at £900; the Rukka Kingsley pant is £1050. The Klim Kodiak pant also comes in at £749.99, but has a lower spec. The Stadler is more than a match for any of these trousers; and if a £750 motorcycle pant could ever be considered good value, then this might just be it.
When you're next in the market for a pair of riding strides, you should look at them. And it doesn't matter what jacket you want to match them with, we can create a connector that will allow you to zip the trousers into just about any brand of jacket.
We really do think these pants are the business.
For more information and to purchase online, click Stadler 4All Pro pant.
---
Want some more? Please

click here

to return to our editorial menu.

Share this story