The Motolegends Honda CRF300 Rally adventure bikes
Published on: 30/03/2022 16:51
It was the early part of lockdown 2021. I think it was a Sunday. We were working away in the Airstream. Sara was supposed to be doing something important on the website, but was in reality researching potential holiday opportunities. I was writing an email bulletin. Suddenly Sara popped her head above a screen: "We should get ourselves a couple of off-road bikes so we can do a bit more green laning. One day we might even be able to do parts of the TET".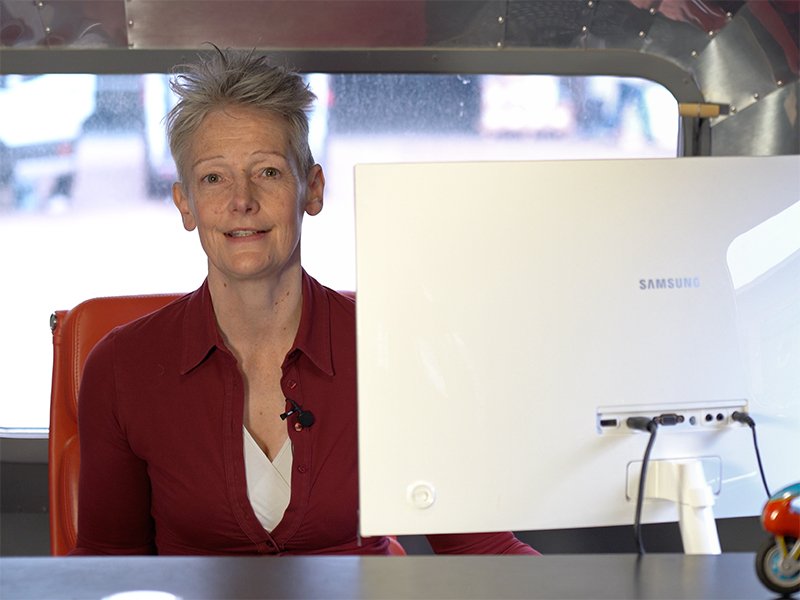 It was Sara's idea that we should get a couple of off-road bikes.
This seemed like a good idea, so that evening I started doing some research. We didn't want anything too extreme or trick; the next morning I was on the phone to order two of the recently-announced 300 CRF Rally bikes. Of course, I got it wrong; I ordered the L model by mistake. By the time I realised the error, it was too late. We got bumped down the list, but still got our bikes in May. Even now, I gather, the bikes are hard to get hold of; so we were still lucky.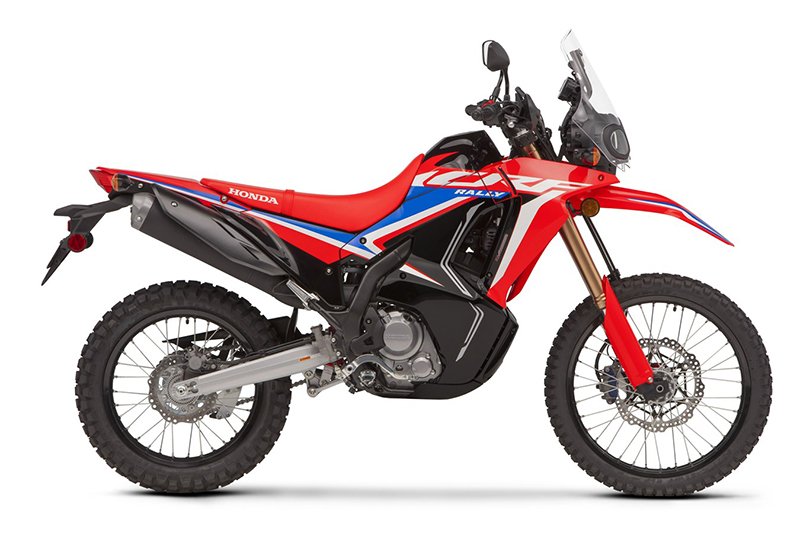 We got our order for the CRF in early, but stupidly we ordered the wrong model.
Our first ride on them when we picked them up from the dealer was a bit uninspiring. I hadn't ridden a bike this size for many, many years. It was super light and easy to manoeuvre. But it sounded like a lawnmower, and was probably less powerful than the one my dad used to have. His lawnmower might also have been faster!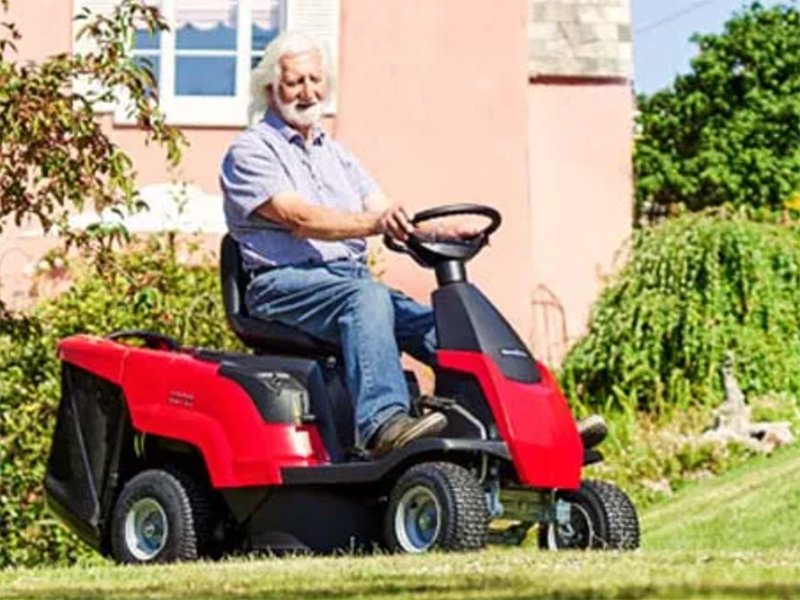 My first impressions of the CRF were not great. A bit underwhelming even!
But we made a habit of going out on them as often as we could. And they always put a smile on our faces. We did so some green laning with Fred and his crew when things opened up a little. And Sara and I spent a week touring around France on them in October. What a blast! We wanted to cover lesser distances more slowly so that we could watch the world go by. And we did just that. We found the tiniest and quietest roads we could. We chose our route every day based largely on the weather. At times we rode hard, but the joy was that, even when we did, we were rarely travelling at more than 60 mph. We went all week without encountering any of those bum-clenching moments that tell you that you've over cooked it.
This snap was taken just before we set off for France.
Since we've come back, we have realised that the world seems to have gone a bit 300 Rally mad. I actually wrote a Facebook post a few weeks ago postulating that slow might just be the new fast. And a lot of people agreed; bikes like this are clearly part of the zeitgeist! In my post I suggested that modern bikes have become too big and too powerful for most of us to exploit. We are marching to the beat of the manufacturers' drums. BMW announces a new 1300 GS, and suddenly everybody convinces themselves that the 1250 just wasn't powerful enough or fast enough! But amazing as these technological marvels are, smaller bikes can be just as much, if not more, fun. I'm not saying that MCN fully embraces this phenomenon, but recently journalist Simon Relph, coming to a similar conclusion about the lardiness of the GS, asked whether the CRF was actually the best all-rounder adventure bike money could buy. Anyway, I'm just saying.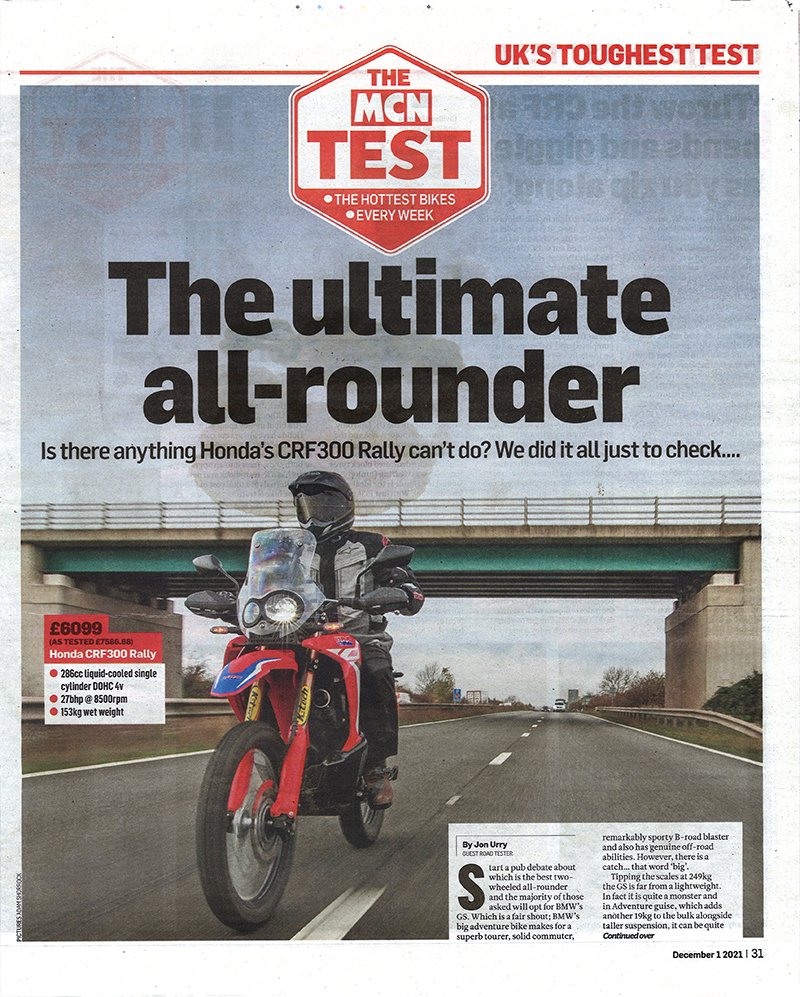 Even the press's speed and power junkies seem to have a soft spot for the CRF.
For our part, these bikes are keepers, but inveterately incapable of leaving things well alone, I determined right at the start to upgrade the bikes, to make them more fun and better to ride, and to equip them so that we could go touring and adventuring on them as and when we wanted.
The problem was that, as new bikes, there wasn't much available for them in the beginning. But that's starting to change. We haven't yet got to bikes to where we want them to be. But by the time we've finished, they should be able to do everything we could possibly want them to do. And the way I'm going about it, all for less than the price of a 1250 GS!
In preparation for our France trip, and with more demanding adventures in mind, we went to Outback Motortek, the Canadian company, for our pannier racks. We also got their crash bars, skid plate and rear luggage rack. We also got tool boxes that fit inside the left hand pannier to replace the original toolbox. I can keep the small Honda tool roll in there, but more usefully, there's also room for a couple of caps!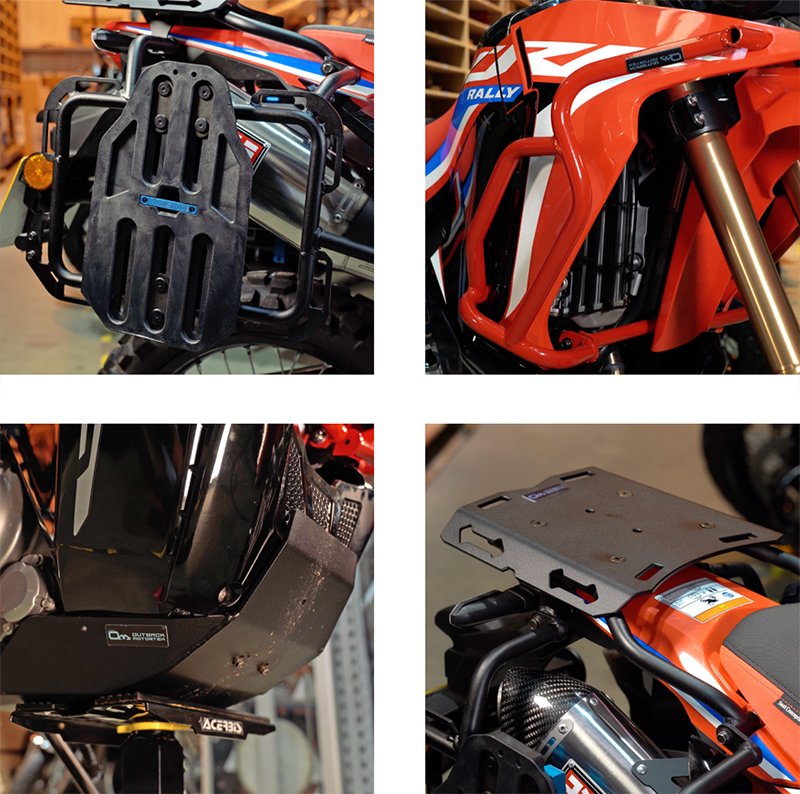 Outback Motortek supplied panniers, racks, guards and bash plates.
In terms of panniers, we didn't go down the more obvious Kriega route. We have some customers who swear by their Mosko Moto bags. And so that's the brand we went for. They served us well in France. They are incredibly solid and incredibly large. If one day, we do get to clear off and travel the world, the only thing that is a given is that we won't need new panniers!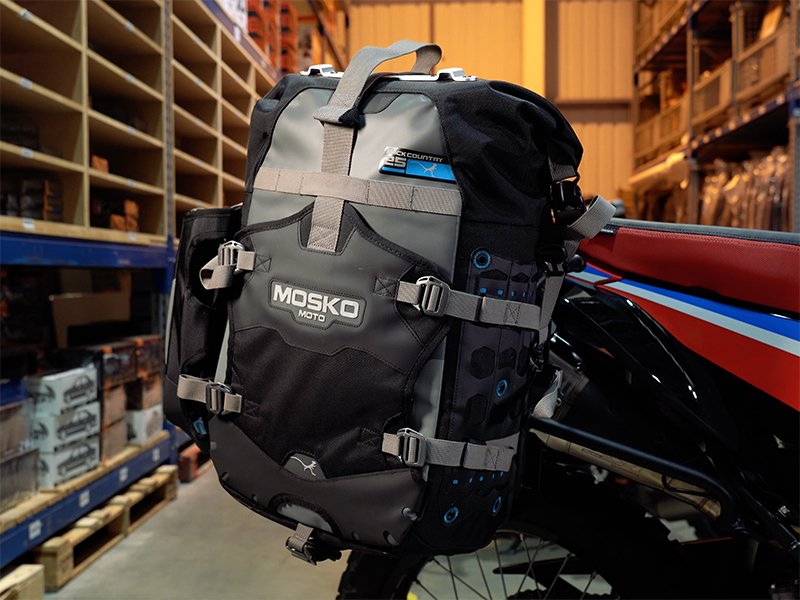 Everyone told us that Mosko Moto does the best panniers. We do not disagree.
On my first ride in the lanes in the Surrey Hills I dropped my bike more than once. Within an hour I had broken the brake lever. And so one of the accessories I really wanted was a set of more robust lever guards. These ones I got for the bikes were from Zeta Racing in Japan; and they look the business. But I also fitted the much easier-to-use two-finger brake and clutch levers. Because it would have been rude not to, I also got larger, matching foot pegs. Don't really know why, but again they look great.

Getting hold of Zeta stuff is not easy. It's lovely but not very accessible.
After that first off-road ride, I also had new higher rise, Renthal bars fitted. I had not felt totally relaxed on the bike. I'm not particularly tall, but even I felt I was leant too far forward. The new bars are wider and a bit taller. I prefer them. I had wanted an even higher rise on the bars, but the standard cabling on the bike is such that fitting longer cables became a nightmare, so I took what was manageable, not necessarily what was perfect.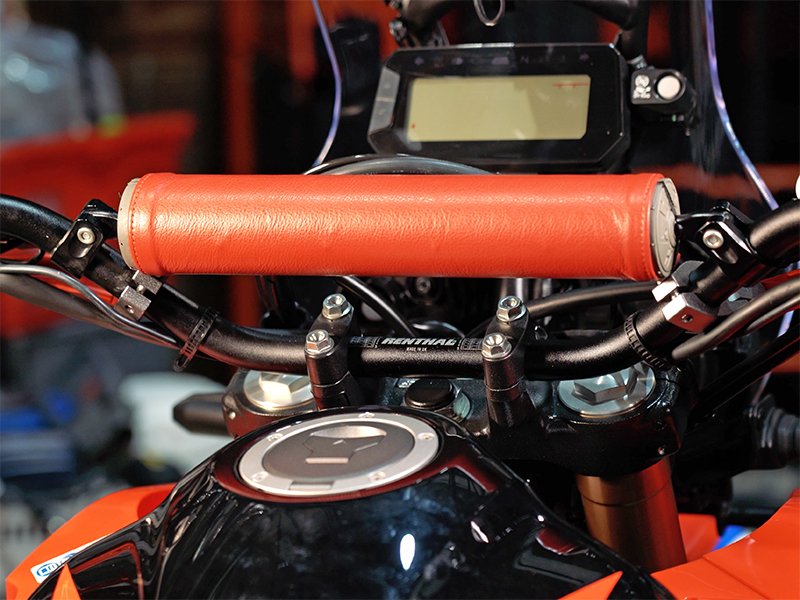 The Renthal bars are a bit higher than the standard ones.
Up front behind the screen we've fitted Interphone's wireless cradles. I originally fitted them so that we could use the phones as satnavs. But I also wanted to use the phone to control the heating on our Macna heated jackets. And on that point, I would add that on a bike this size the draw on a Warm & Safe jacket would have been too great; so if you want heated gear on a bike of this capacity the Macna is definitely the way to go.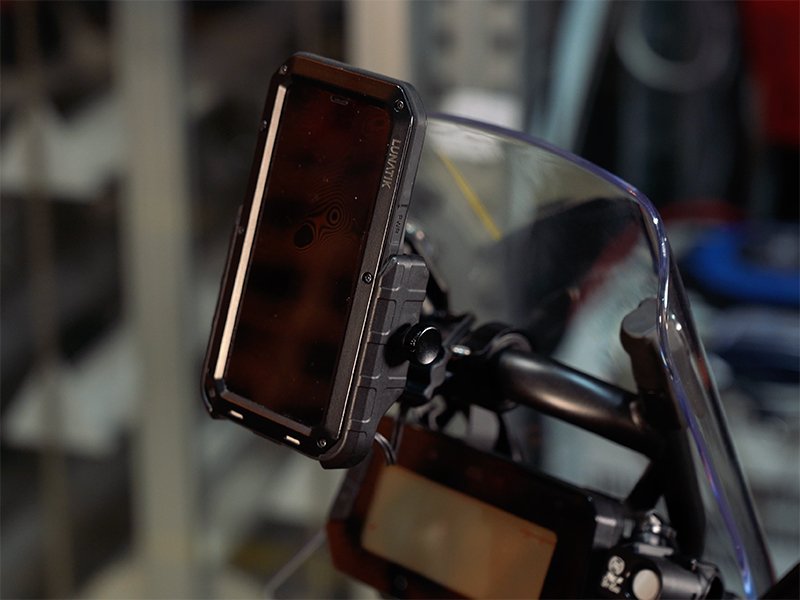 The Interphone wireless cradle keeps the phone fully charged all day.
As soon as I put down the deposits on the bikes I ordered 'comfort' seats from Seat Concepts in the US. And that was because I fully anticipated that these bikes would be a pain in the arse. But we rode over a thousand miles in France, and the truth is that I never once thought the seat was anything less than comfortable. That having been said, the Seat Concepts seat is even more comfortable. Was it a necessary upgrade? Heavens no! But is a nice addition? Absolutely yes!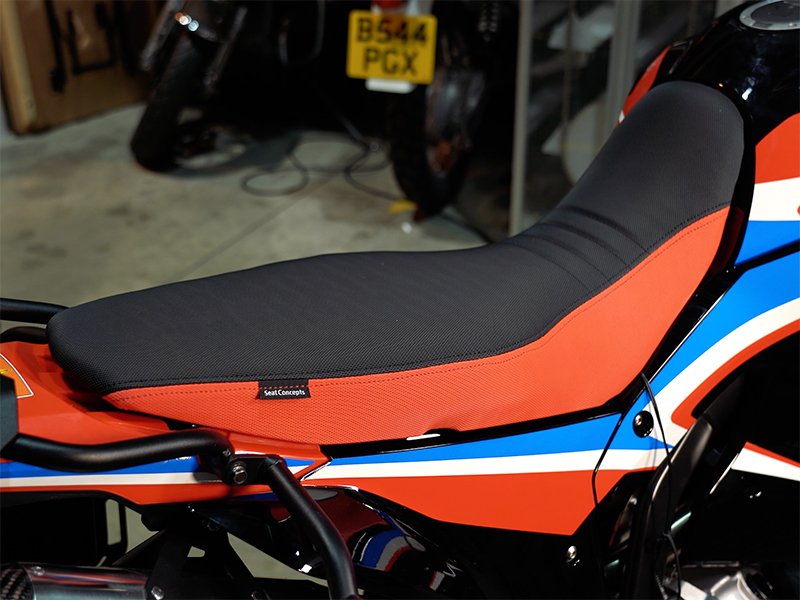 The Seat Cocepts seat is somewhat more comfortable, but it's not necessary.
Soon after we got the bikes I rode down to Guildford Tyres to look at replacing the tyres, presuming the OEM tyres to be budget jobs that wouldn't be up to much. The South African guy there weighed me up pretty swiftly. The look in his eyes said: 'Don't be a tosser, mate'. He gave me a flea in my ear, and sent me on my way, telling me that I should just go and ride the bloody bike. But whether I need them or not, I've ordered a set of Michelin Anakee Wilds. I'm sure that, at my skill level, I would be just as well off with the standard Honda rubber. But it's my bike, and I just have more confidence in Michelin as a brand. Nonetheless, I greatly admire and appreciate the integrity of the guy at Guildford Tyres. I'm sure he will still be prepared to fit them for me, whatever his real thoughts are!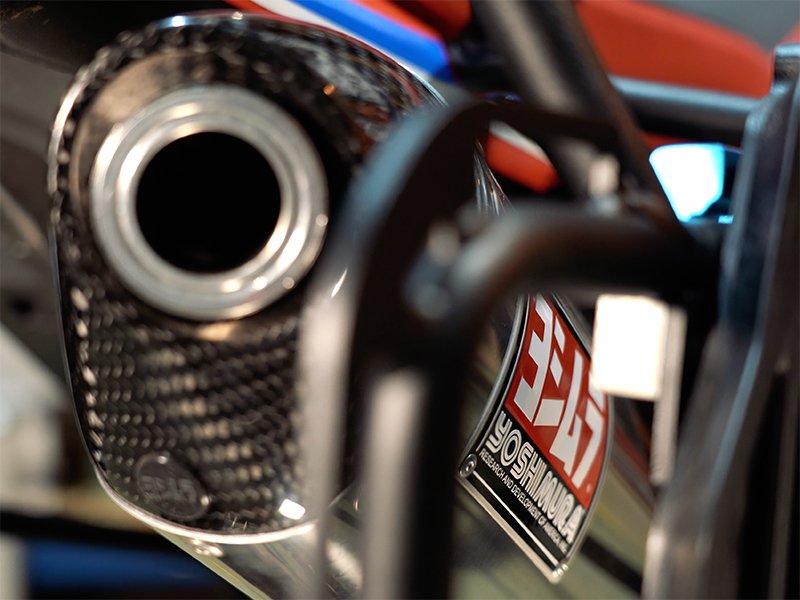 The Yoshimura exhaust has transformed the riding experience.
The final part of the jigsaw to date, and the most exciting in some ways, has been the Yoshimura exhaust. I was so excited about the prospect of fitting it to the bike. I don't like bikes that are offensively noisy, but I do like an exhaust that can be heard; a system that makes riding the bike more fun. And the Yoshimura race system is fantastic. It looks right on the bike; it looks like the exhaust the bike should always have had. That is to say that it doesn't look like an ugly add on. It also sounds terrific. Now, I've never been to bothered about the reduced weights and the increased power that aftermarket exhausts potentially deliver. On most bikes, these improvements are going to make little difference. And in this case the weight saving of nearly 1.5kg is not going to go very far in offsetting the huge amounts of weight that I have added to the bike. And whilst on most bikes the less than 2 horsepower increase that the Yoshimura delivers would mean little, on the CRF that represent an increase in power of some 6%. That's pretty huge, and surprisingly I find myself having to admit that the exhaust has transformed the bike. It seems much to pull much better low down, but it's the sound that makes the bike so much more fun to ride. Maybe it's all in my head.
Looking forward to next year, there's not a whole heap more that I feel impelled to do. I would like to lower the seat height a little, but without making the bike less rideable off road. And this is going to mean attention to the forks and a new suspension set up. Customers seem to talk highly of the K-tech set up. But I also want to look at the Ohlins system. We'll see.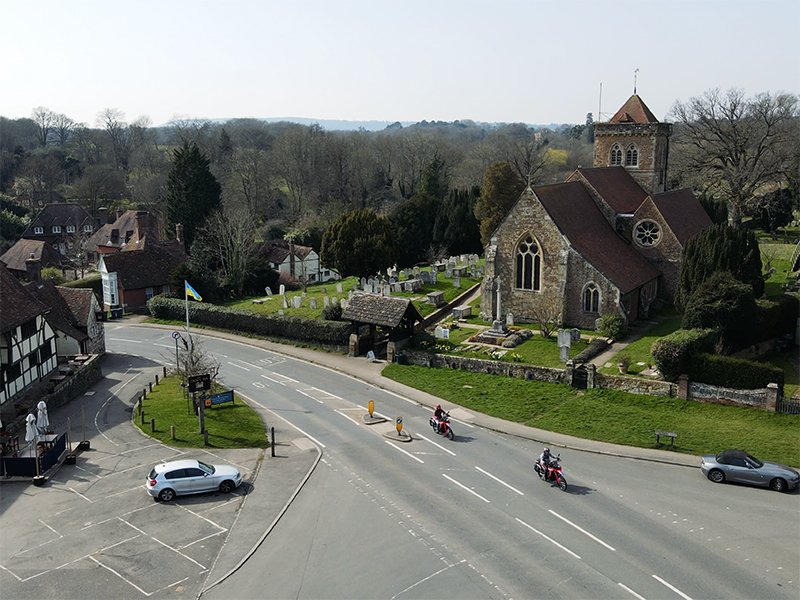 Sara and I love these little bikes. They have become our favoured go-to option.
But all I can say is that this cracking little bike never fails to put a smile on my face. Of course, I accept that if you want an adventure bike as a long-distance, daily commuter or as a more stylish alternative to a touring bike, you're going to be far better off with a big BM, a Triumph, a KTM or a Yamaha. But if you occasionally want to leave the black stuff and do something truly adventurous, the CRF is a bike you should look at.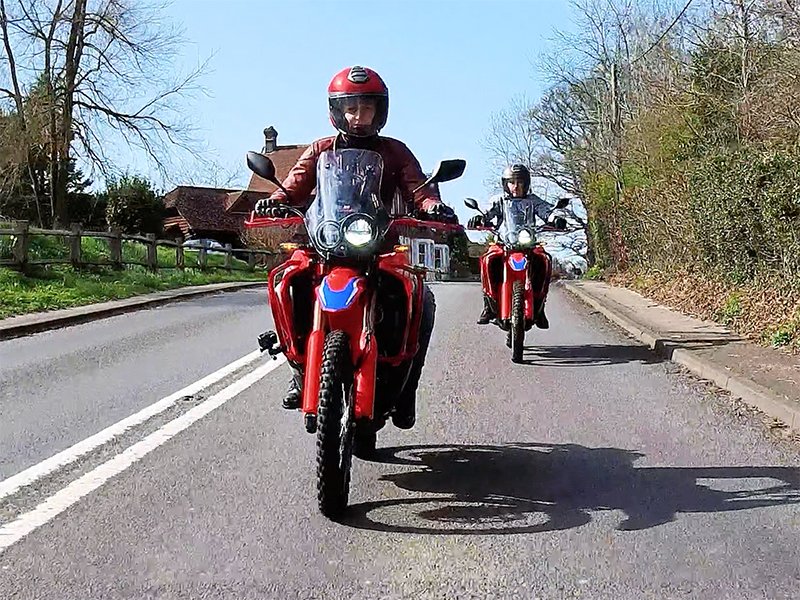 Look at the world in a different way. Bigger and faster is not always better!
Of course, a lot of people simply can't get past the power deficit. A GS delivers five times more horsepower than the Honda, albeit at a weight penalty that tips the scales at 75% more than the diminutive Japanese tiddler. But exhilarating as it is to have huge amounts of power ready to be unleashed at the slightest twist of the grip, the CRF more than keeps up with the traffic. On roads as crowded as ours, and showing some regard to the speed limits, I do wonder how much sooner you'd arrive anywhere on a GS than you would on the CRF. And anyway, it's not a race. If it really is more about the journey than the destination, then I reckon the CRF is right up there.
---
Want some more? Please

click here

to return to our editorial menu.

Share this story