Storm Ultimate Wash and Proof Kit
Storm Ultimate Wash and Proof Kit
x
We will beat any UK retailer's discounted price by a full 10%
If any UK retailer is selling anything at a price that is lower than ours, we will beat that price by a full 10%.For terms and conditions, click here.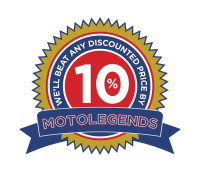 Storm Ultimate Wash and Proof Kit Product Information
The Storm Ultimate Wash and Proof Kit is patented for restoring the performance of outdoor clothing. This product can be used on all fabrics, including those breathable plus it will produce a repellent finish that protects from the elements and is also quick drying. The Storm Ultimate Wash and Proof Kit is a great product for all of your riding gear and has been fully approved by Rukka. This specifically formulated cleaner for technical outerwear and equipment is pH Neutral, and will restore the original finish to waterproof garments and equipment leaving a patented abrasion resistant Eco-friendly finish. The product comes in two bottles.
Specification
Includes 2 x 225ml bottles
Easy to apply, full instructions included
Quick drying
For use on all fabrics, including breathable garments
Produces a water, oil and stain repellent finish
Non-staining
Fully endorsed by Rukka
Product Reviews
Reviews
Ian Harrop: Storm Ultimate Wash and Proof Kit
I think this product is excellent. Have just cleaned my 9 year old Klim Latitude jacket and trousers and they look brand new. Before washing them though please watch Chriss video of how to do it.
Neil: Cleaning Task
Excellent service from Motolegends, delivery the next day. Bought this product to clean my Rukka trousers, result clean trousers ready for my next ride.
Simon H: Simple and effective
I have been holding off washing my Rukka gear for far too long as the thought of ruining it was uppermost. But when a short but biblically wet trip to have the bike serviced resulted in instant wet out of jacket and trousers and a certain uncomfortable dampness in the nether regions it was time to bite the bullet. Watched the videos, and it was a pretty simple 1 step process. The decision of how to dry the gear was the hardest part airing cupboard in the end. Gear looks like new, so a great result and something I should have done a while back. Motolegends service was spot on as always.
john: Good bit of kit
Brilliant product for cleaning and re-proofing kit. Does what it says on the can!!
John Rudland: Rukka storm wash and re-proofer
Followed the instructions to the letter Brilliant results, product performs well Riding country roads for about an hour stayed dry and comfortable. Top product
Paul: Brings clothing up like new
Having watched the how to video I purchased the storm clear and carried out a wash on my Richa jacket. I was really pleased with the results and will definitely use this product going forward. Good value for money too
Lawrence: Great product
After watching your instructional video on how to use,the process was simple . I now have new life in old gear . Many thanks Motolegends .
ythanboy: Super service
Used this product previously, works well. Speedy efficient service from Motolegends.
Bryn: Lockdown cleaning project!
The informative video helped me to decide that this product was what I wanted to clean my Rukka Goretex gear. Prompt delivery as always! Thanks Team ML.
Richard: Seems Great Stuff
The step by step video convinced me to try Storm and even though it is a bit of a mare getting the WM ready and clean it is so worth it, gave me confidence in the process
Leave us your review