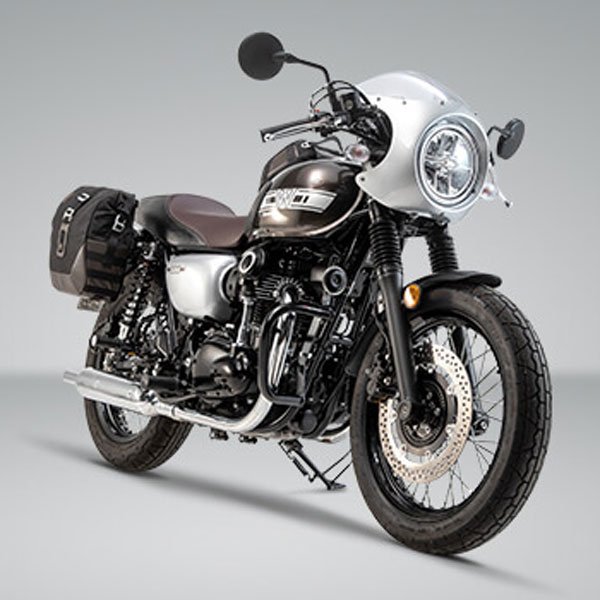 Kawasaki W800 Street / Cafe 2018 onwards
The SW Motech Legends SLC soft luggage system is unique and rather special. It's been designed to work on the kinds of bikes that don't look right with modern, hard-plastic luggage. Bikes like the Kawasaki W800 Street / Cafe 2018 onwards. The pannier bags come T13 black with black trim or in black with brown trim. And they come in two sizes; 9.8 litres or 13.5 litres. The bags fix to the bike by means of a frame that is bolted to the bike. Theses frames are easily attached to the machine. No technical skills are required; they simply bolt onto the bike's existing fittings. Because of the exhaust arrangement on some bikes, you cannot always fit the bags you would prefer on both the left and right sides. Sometimes, you can fit the large bags on both sides, but sometimes you may have to fit a large bag on one side, and a smaller one on the other. Sometimes, you will only be able to fit a bag on one side of the bike. We are, we have to admit, not great fans of most soft luggage. It might look really cool, but we never fully trust the straps and bungees that are meant to keep it in place. But the Legends SLC system gives you the best of both worlds. You get the aesthetics, light weight and portability of soft, panniers, but with the solidity, stability and security of a traditional hard-luggage system.
Loading more products ...