Rokker Rokkertech Raw Straight jeans in blue (ROK041)

Product Information
Please note: These jeans are a generous fit. We recommend that you order a size smaller than you would normally take.

These Rokkertech jeans are not your standard pair of riding jeans. These are brand new jeans that really does seem to have hit the ground running, especially with it's high specifications, abrasion strength and incrediably comfortable to wear. First off, it's a single-layer jean. That means that its strength and abrasion resistance is built into the outer denim. There's no Kevlar lining; in fact there's no lining at all, and heres why these jeans are arguably one of the best in the range. The fabric used by Rokker in this jean is called Armalith. It's incredibly strong; pretty much the strongest wearable fabric on the market. In fact, on YouTube there's a video of a Hummer 4x4 being hoisted by a pair of Armalith jeans. Its abrasion resistance is more than up to what one would call regular riding. But because there's no lining, the Rokkertechs are incredibly light and easy to wear. We had 20 sample pairs in a few weeks ago, just before we had that mini-heatwave. They all disappeared swiftly to riders desperate to keep cool in the baking conditions. The other advantage is that the jeans wear and feel just like a regular shop jean. They're much lighter and easier to wear than any lined jean. And whilst we love our lightweight, waterproof Revolution jeans, the Rokkertechs are somewhat softer. Bottom line; if you didn't know these were protective jeans you would simply think they were a regular, high-quality denim pant. Obviously, like the Revolutions, these Rokkertechs take D3O armour in the hips and knees. These Rokkertech Raw Jeans come in different leg lengths (short, regular, long and extra Long)
Official CE test slide time of 6.39 seconds
Specification
Official CE test slide time of 6.39 seconds
50% cotton, 43 % polyethylene, 6% elastomultiester, 1% elastane - Contains non-textile parts of animal origin
Highly abrasion resistant single layer motorcycle jeans with five-pocket style
Regular Fit with straight leg
finest 14 oz Raw Denim with high abrasion resistand UHMWPE fibres
Protector pockets on knee and hips for maximum safety
Without rivets which could scratch the bike
Easy care (washing increases water repellency)
Delivered in a Rokker canvas bag with an exclusive Rokker t-shirt
Please note these jeans should be washed with a cleaner without detergent (we recommend Nikwax) as the detergent will attack the adhesive in the tape that attaches the armour pockets.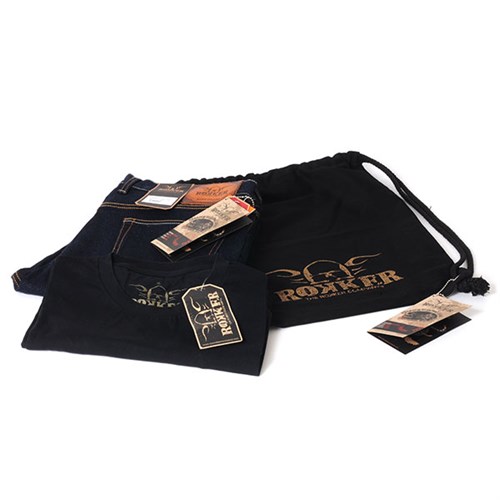 click image to view full size