Tyre Air Gauge
x
We will beat any UK retailer's discounted price by a full 10%
If any UK retailer is selling anything at a price that is lower than ours, we will beat that price by a full 10%.For terms and conditions, click here.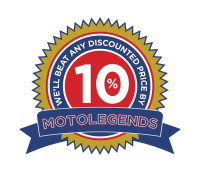 Tyre Air Gauge Product Information
The Tyre air gauge is the ideal companion for any motorcyclist. Easy to use alongside the portable motorcycle tyre inflator (GPL738), this tyre air gauge clips onto any tyre valve stem and gives instant and accurate pressure readings up to 100 PSI.
Specification
Ideal for use with the Portable motorcycle tyre inflator
Clips onto any tyre valve stem
Self-locking brass air chuck
Accurate readings up to 100 PSI
Dial display measures 1.5 inches
Product Reviews
Reviews
Dr K: Robust and Useful
The gauge looks very sturdy and should last. Readings in PSI are ok, but the gauge could have more or clearer markings. This is best used together with the tyre inflator also on offer from Motolegends as you can check the tyre pressure and immediately inflate a low tyre in one go without having to faff around with different kit. I would recommend getting the 90 degree valve with this, too, as the long and heavily-built chuck doesnt always easily fit through the spokes to get to the valves.
Steve Pauline: Mr
Bought this to go with the tyre inflator from the same company. They work great together and both are strongly made from robust materials so would expect them to last. Having a gauge 'in-line' with the air pump means less faffing about undoing and re-making connections. Simple and effective.
Leave us your review