Bagster Replacement Metal Bridge
Bagster Replacement Metal Bridge
x
We will beat any UK retailer's discounted price by a full 10%
If any UK retailer is selling anything at a price that is lower than ours, we will beat that price by a full 10%.For terms and conditions, click here.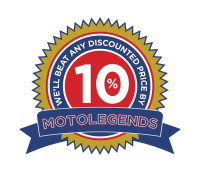 Bagster Replacement Metal Bridge Product Information
Genuine Bagster replacement metal bridge.
Product Reviews
Reviews
L James: No more sliding Tank Bag when going round bends.
Could have still used the original from my clasp, but it was heavily corroded. As my bag is over 25 years old. The Z spring in the push clasp had broken and caused my tank bag to slide around, when going round bends. Glad that Motolegends is a UK distributor. Easy to replace with a screw driver and pliers.
Leave us your review