D3O level 2 back protector for this jacket
D3O level 2 back protector for this jacket
x
We will beat any UK retailer's discounted price by a full 10%
If any UK retailer is selling anything at a price that is lower than ours, we will beat that price by a full 10%.For terms and conditions, click here.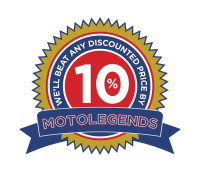 D3O level 2 back protector for this jacket Product Information
The D3O L2 back protector is perfect for upgrading your current kit or adding extra protection to your current jacket. The back protector is CE approved Level 2 and uses D3O technology for optimum performance in terms of comfort, shock absorption and impact protection. The D3O L2 back protector is lightweight, breathable and flexible making it comfortable to wear and unobtrusive. In the event of an accident this unique material will instantly harden to absorb the force and disperse it across the surface. Thickness: 2cm (3/4 inch).

Sizes measure:
| | |
| --- | --- |
| Small | 36.5cm (H) x 24.1cm (W) |
| Medium | 40.5cm (H) x 26.8cm (W) |
| Large | 45.8cm (H) x 29.9cm (W) |
| X-Large | 47.7cm (H) x 31.6cm (W) |
Specification
CE approved level 2
Hardens on impact
Low profile
Lightweight and flexible
Thickness: 2cm (3/4 inch)
Product Reviews
Reviews
Danny: Does what it says on the tin
A comfortable level 2 back protector, it replaced my level 1 back protector in a Marrakesh jacket Only downside to this is that you end up sweating more on very hot days, but its a trade off between safety and comfort. The ideal solution would be a ghost armor level 2 back protector.
Rob: Back Protector
This fits my wifes Belstaff jacket perfectly we hope never to have to test it out
Melvin W: D3O level 2 back protector
Top product. Will buy again. Great fit with my Helstons Ace Legende jacket in black XL. Highly recommend.
Leave us your review