Falco Marshall boots in brown
Falco Marshall boots in brown
x
We will beat any UK retailer's discounted price by a full 10%
If any UK retailer is selling anything at a price that is lower than ours, we will beat that price by a full 10%.For terms and conditions, click here.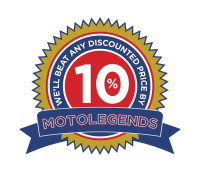 Falco Marshall boots in brown Product Information
The Falco Marshall is, in essence, a short version of Falco's full-length adventure boot called the Mixto 4. It is a boot that is going to give the rider a reassuring level of protection, and what cannot be denied is that it is going to deliver a higher level of protection than you will get in most ankle boots. Yet it is going to be hugely more comfortable that a full-height adventure boot. The Marshall is a boot that you will be able to walk around in all day long.
The chassis of the boot is made from an oiled, full grain leather. For protection you get a super-hard toe box, D3O pucks in the ankle and a re-inforced counter in the heel. There's a gearchange pad across the toe. You also get a pad for the lower part of the shin. The boot is waterproof by means of a High-tex membrane. At the top of the shaft on the inner side of the boot there's a heat-resistant pad. The Marshall fastens by means of an adjustable, aluminium buckle and a Velcro flap.
For comfort, there are concertina-stretch panels in the heel and on the forefoot. The top of the shaft is padded, again for added comfort. The sole, in truth, is more a road sole than an off-road one, but is quite chunky so would certainly be able to handle the odd gentle trail or track.
Specification
Made in Italy
CE Approved
Full-grain oil-treated leather upper
High-Tex waterproof & breathable membrane
Malleolus reinforcements
P.U. buckle closure system
Gear change panel
High-grip rubber sole
Product Reviews