Helstons Old leather belt in dark brown
Helstons Old leather belt in dark brown
x
We will beat any UK retailer's discounted price by a full 10%
If any UK retailer is selling anything at a price that is lower than ours, we will beat that price by a full 10%.For terms and conditions, click here.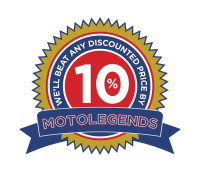 Helstons Old leather belt in dark brown Product Information
This is a proper, old-school belt that comes with very little by way of fancy trimmings. If you had been a cowboy back in the day, and had wanted a sturdy belt from which to hang you six shooters, this is the kind of belt you would have wanted. It's made from a full-grain cowhide that, by our calculation, measures some 3 mm in thickness. Height-wise, it comes in at about 4.5 cm. it also has a pretty chunky buckle that looks as though it's been hammered out by a blacksmith over an anvil. Are we painting a picture here? It is available in five lengths: 85cm, 90cm, 95cm, 100cm and 105cm. Now the length is the circumference of the belt when it is secured in the middle of its five holes, meaning that this belt is still going to work if your girth increases or shrinks by 5cm, (that's about 2").
Product Reviews