Klim ladies Marrakesh jacket in cool grey
Klim ladies Marrakesh jacket in cool grey
x
We will beat any UK retailer's discounted price by a full 10%
If any UK retailer is selling anything at a price that is lower than ours, we will beat that price by a full 10%.For terms and conditions, click here.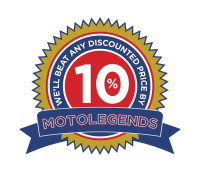 Klim ladies Marrakesh jacket in cool grey Product Information
The ladies' version of the Marrakesh has been out for a couple of seasons, and has proved to be an extremely popular option for ladies who need appropriate hot weather riding kit. The ladies Marrakesh, as you might expect, is shaped for women. Having said that the sizing is generous (please see our sizing dropdown). It's shaped around the bust, pulled in at the waist, and also comes with gusseted zips that will allow the hem to splay when you're on the bike. The Marrakesh might just be the ultimate, lightweight, summer jacket. The outer fabric of the Marrakesh is a 1000 denier woven Cordura. The fact that it does not have a waterproof membrane means that it will flow large volumes of air. This jacket is made of really strong material, and so will be very abrasion resistant and, with its four-way stretch, super comfortable to wear too. The Marrakesh does have a get-you-home, waterproof coating but it is only going to protect you in the lightest of showers.
Armour is by D3O Ghost Level 1 (could be upgraded to Level 2 Ghost) and comes fitted in the elbows and shoulders. In the back you get a Level 1 D3O back protector which again could be upgraded to Level 2).
All the rest is really detail. We're talking about two zipped hip pockets, zip closures at the wrist, one internal zip pocket, reflective panels, comfort linings, and so on. Obviously, if it rains, you'll need a waterproof, but on a hot day this jacket is going to take some beating.
For many women, finding bike gear to fit can be hard work. This jacket is the ultimate in comfort. The stretch has to be felt to be believed. Honestly, if you didn't know it was a protective bike jacket (and has a AA rating to boot) you would not believe it. The stretch allows this jacket to accommodate any lumps and bumps required! However, it does have long sleeves. Klim clearing think that as ladies get larger they also get taller which isn't always the case!
Specification
Made from 1000 denier Cordura with Karbonite stretch woven in
All panels flow air
DWR coating on fabric
Shaped for women
D3O Ghost armour in elbows and shoulders
D3O Level 1 in back
Gussets up flanks to help jacket splay on bike
Super comfortable to wear
Product Reviews
Reviews
Patricia: Marrakesh
THE most comfortable motorbiking jacket Ive used thus far. Superbly well made, incredibly comfortable, and thanks to the advice from Motolegends Ive coupled this jacket with the Zephyr Wind Jacket and a the Rukka down layer to cover all weather variables when touring through Europe.
Leave us your review
Finance Options