Lee Parks ISDT gloves in black / yellow
Lee Parks ISDT gloves in black / yellow
x
We will beat any UK retailer's discounted price by a full 10%
If any UK retailer is selling anything at a price that is lower than ours, we will beat that price by a full 10%.For terms and conditions, click here.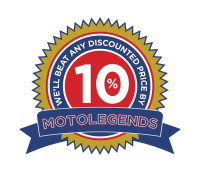 Lee Parks ISDT gloves in black / yellow Product Information
We were the first people to import Lee's gloves into the UK. We met Lee at a trade show in the US, and were so impressed by what he told us about his gloves that we placed an order there and then. Lee is well known in the US as a bit of a road riding guru. These gloves are his other claim to fame; truth be told, he's a bit obsessive about them. At their core, they're a cowboys' roper glove. But Lee has turned his into a pretty special motorbike glove.

The chassis is a 27.5 ounce deerskin. What makes deerskin so special is that it's four times stronger than cowhide, yet has a super-soft, almost buttery texture and feel. On his glove he puts an extra panel of deerskin on the knuckles and another on the palm. Because seams are the weak point in any glove, Lee has designed them so that there are only four seams in the entire glove. And he runs two threads through every stitch hole for extra strength. The seams in the glove are internal, but to make the gloves more comfortable, the seams are shaved. Lee's gloves might look like they're the kind of gloves you'd wear for walking the dog, and of course you could use them for this, but actually they are probably the strongest gloves we sell. However, they are not CE approved, so we are not even allowed to suggest that they are, in any way, protective! Heaven forfend!

Now the glove we have here is a version that Lee has made specifically for us. It is a replica of the glove that Mr. Steve McQueen wore when he was competing for the American Vase team in the 1964 ISDT event in East Germany. Technically, it's no different to Lee's standard glove; it's just a bit cooler.

Finally, a word on sizing. Go a size down on your normal size. These gloves should be as tight as possible on the first wearing. They will relax, and eventually become the most comfortable gloves you have ever owned. But give them time to to stretch and mould to your hand. If you're unsure on size, buy two pairs, and send one back. It's perfectly safe; we're not going anywhere!
If you click on the size chart link you will see Lee Parks' size chart PDF that you can print off and check your size.
Specification
Made from 27.5 ounce deerskin
Extra layers of deerskin on knuckle and palm
Only four seams in entire glove
Twin threads in every stitch hole
Shaved internal seams for extra comfort
Designed strictly for warm weather riding
Pretty useless in the cold
Even more useless in the rain
The strongest glove we sell. Not CE approved
ISDT design exclusive to Motolegends
Size Chart
Click the following image to download a tool to measure your hand to ensure you get the best possible fit.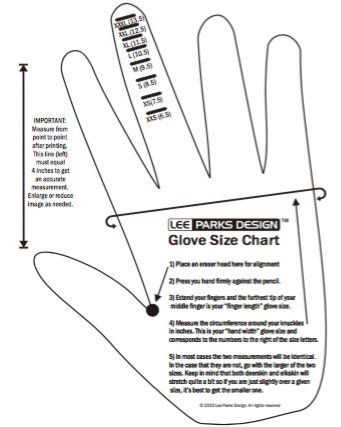 Product Reviews
Reviews
Alex: Great gloves
Its very hard to find unlined leather gloves without a hard knuckle guard. Thats what I like and these gloves are totally super. Really comfortable and good to ride in. Highly recommend them
Ian b: Most comfortable gloves ever
I bought these on the back of Motolegends review couple years ago, theyre all one colour which I much prefer, no idea why theyve gone two tone Bought tight as per the recommendation. Perfect, they stretch to fit beautifully. I hate bulky gloves that limit feel. These are the most comfortable Ive ever worn , with the best feel. I dont care that they dont have armour and an AA rating, I love them. Through autumn, spring summer theyre great, no good when its cold but thats ok, thats why you buy winter gloves too.
Richard C: Lee Parks ISDT Gloves
Super soft leather but really strong gloves. Buy them 1 size smaller, they do grow once you have worn them in. Really good functional glove and a joy to ride with. Great product from the guys at Motolegends.
Jerry Rose: Fantastically comfortable.
I bought a pair of these gloves 18 months and they are the most comfortable motorcycle gloves Ive ever worn. Its worth following the Motolegends advice to buy them tight. I went down a size and initially struggled to get them on, but after wearing them a few times they have stretched to a perfect fit.
ANTHONY: Just about perfect..
Ive never really liked thick gloves. I have tried all sorts over the years from frighteningly expensive to a fwe pounds but never really go on with any of them - apart from some deerskin gloves I had about thirty years ago. Who knows where they are now but these ISDT gloves are similar in many respects to my memory of those gloves - but actually much better. They are beautifully put together, look stunning, fit perfectly and are as soft as fresh Egyptian cotton sheets. I am very happy with them indeed. Another winner from Motolegends.
Ian: Wonderful gloves.
I bought these on the back of the Motolegends review. My riding has changed and my gear has become more relaxed quality driven. So to the gloves. Firstly they don't feel protective because they are so comfortable but once you get over that hurdle they are amazing for riding. The fit was tricky as my normal size is a large. The mediums would not even go over my palm. The large were a struggle to get over my palm but fit perfectly once they got over that. As I have worn them they are better. Not easy to get on but enough to make them feel like they fit properly. They look stylish but a word of warning. The yellow palm has worn into my grips. This does not bother me but if you want your bike to be pristine then I suggest wearing the gloves off the bike to let that initial colour rub off. Otherwise well worth the money.
Patrick: Fantastic product ... one small reservation
What a great pair of gloves.... buy them skin tight to enjoy them, they are the most comfortable gloves Ive ever worn on two wheels. Only really for the warm and dry days - this is a small piece of unashamed luxury glove technology for when the weather permits. They can never probably be your only pair of gloves - but they will probably be your best! The small niggle - I miss not having a pad on the index finger so I can operate a phone touch screen. If you are unsure about the colour combination - buy them in black all the above comments will still apply. Great products - and the usual great service from Motolegends,
Edward Hutchinson: Great gloves
Had a number of the oldking of cool gloves.... these are better!.... deerskin is the business! These are so comfy....my everyday gloves
Rick Scholey: Soft, yet strong....
I had a pair of elkskin roper gloves which I bought in Texas a few years ago, which got nicked by the wife for her gardening.....so,when I saw these.... They are pretty much as they are described. Feel really strong yet supremely soft. No bells and whistles, just good motorcycling gloves. If you are tougher than me, you could wear them in the spring and autumn, but they are not lined, I being the wimp I am, require it to be a bit warmer for regular use. They do come up snug but are loosening up nicely. Now it may be I have strange hands, but the little fingers seem very long . Would recommend, but it may be worth a try on first. And they look cool as.......
Matt: Soft as a babys ....
I already owned a pair of Lee parks lined version of these gloves so I knew the quality would be good. I wear them most of the year but found them a little too warm in the height of summer. These are the answer. Same great quality, same Lovley deerskin leather but ideal for the summer. I bought these small as the leather stretches with wear and the leather molds to your hands and becomes beautifully soft. If I had a criticism I suppose I would say that the lighter yellow of the palms is likely to get stained with use, but I love the look.
Harry: ISDT Gloves
After a couple of weeks of wearing these I thought Id leave a review. Good gloves are quite probably the hardest item of motorcycle clothing to find, so when I saw the review of the Lee Parks ISDT I thought Id give them a try. I generally agree with the Motolegends review, they do feel beautifully soft and theyre nice summer gloves if you like your gloves without any armour or fancy titanium inserts. Use the size fitting guide, although quite honestly when they first arrive you might wonder if it was a mistake to go a size down, but give them time and they do give a lot when you wear them in a bit. I'd liken them to wearing beautifully soft leather Marigolds those things your mum wore when she did the dishes. However, the tight fit did present an issue and its the only negative thing I have to say about them - the seams inside the glove werent trimmed well and in some places where they met they were quite hard. The gloves are tight fitting, so after half an hour the seams were irritating to the point of pain and they left marks in my fingers. I thought it might ease after a few days, but it didnt, so in the end I turned them inside out and very carefully trimmed all the seams, especially the little finger ones. The different was night and day, theyre now incredibly comfortable and its like having a second skin of lovely soft deer hide. I can quite easy type in them, theyre that close fitting, but once they wear in theyre not too small and not terribly difficult to get on or off, in fact Id go as far as to say theyre just right. If you prefer a more baggy glove then you could order your normal size and once theyve worn in theyll be more loose fitting - although that might result in them being too baggy and at risk of falling off in a slide down the road. On that note, I have idea how they will fare in a slide down the road, I hope I dont find out, they do seem very soft and very thin, but at the same time they dont seem flimsy, so fingers crossed. Im quite glad I bought them, theyre very light and thin, nice to wear and will hopefully last years - the lack of substance makes them seem a tad expensive at £100 when other gloves have all kinds of metal inserts and suchlike, but I think thats more of a mindset on my part than a criticism of the glove, you dont get much for £100 these days.
Leave us your review