Micro-Start XP-10 jump starter
Micro-Start XP-10 jump starter
x
We will beat any UK retailer's discounted price by a full 10%
If any UK retailer is selling anything at a price that is lower than ours, we will beat that price by a full 10%.For terms and conditions, click here.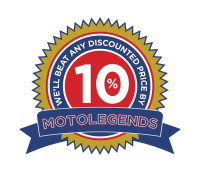 Micro-Start XP-10 jump starter Product Information
The NEW Micro-Start XP-10 is the latest and MOST POWERFUL micro Jump Starter and Personal Power Supply yet. At only 9" x 3.2" x 1.2" it is still small enough to fit in your POCKET yet so powerful it can start Diesel vehicles as well as any car, truck, motorcycle, and other power sports vehicles !!! Amazingly it also powers or charges Laptops (not 16v Apple Laptops), any USB Powered device like mobile phones, iPhones, iPads, tablets, GoPro cameras, bluetooth devices and more. This model also offers 2 USB charging ports in addition to a 19v and 12v charging ports. It has a very high capacity 18,000 milliamps and up to 600 Peak Amps for massive starting capabilities! Nothing on the Market compares.
Just charge it once and take back-up power where ever you go, no need to electrical outlets, or finding a charging station.... it's your own power supply to take anywhere you go....Whether you are riding, driving, camping, travelling or boating you can remain confident that you will be able to start your vehicle, make that important call, or get that last bit of work done. It even has a extremely powerful built in flashlight with S.O.S patterns built in! Its the Swiss army knife for electronics...
Specification
Jump-Start DIESEL vehicles up to 7.3L
Sim-Leather Carry Case
Micro-Start XP-10 Unit
Detachable SMART Mini Jumper Clamps with built in over charge, reverse polarity protections
1 Black Universal Cable with 8-different detachable tips to fit all the different brands of Laptop charging ports
1 black Universal Cable for all 12v Accessories such as Mobile DVD players, or other 12v Accessories
1 White Universal USB Cable with 4 into 1 USB Cable to fit most popular 5v USB chargeable electronics
1 Home Charger (3 pin 240 volt UK)
1 Mobile Charger for plugging into cigarette lighter socket
300 Amp- 600 Peak Amp Jump Starting ability
18 ounces
9" long x 3.2" wide x 1.2" tall
Product Reviews