Bell Eliminator helmet review
Published on: 13/12/2018 11:39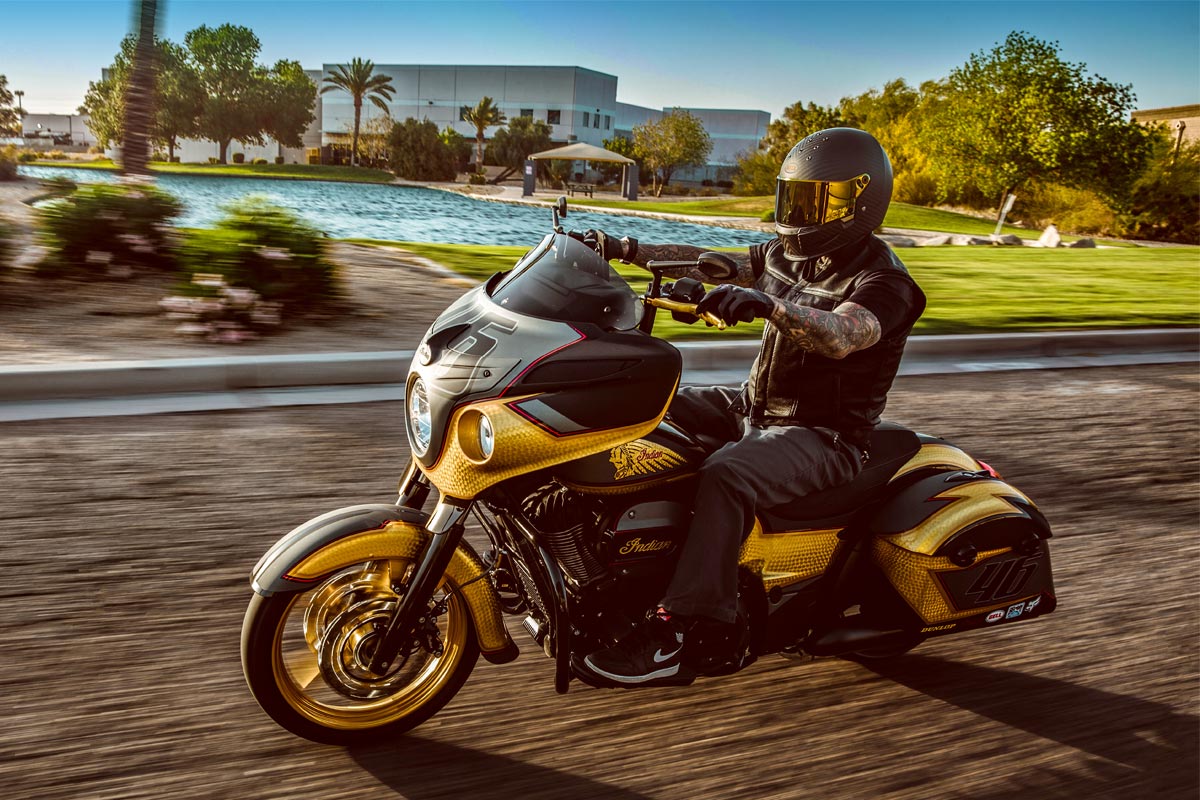 BELL ELIMINATOR HELMET REVIEW
BELL'S LATEST OFFERING FOR THE CUSTOM/RETRO MARKET
The Bell Bullitt has been out for a few years now. It's still one of the coolest-looking helmets on the planet, but it's not without its critics, and so Bell has been working on a new helmet that, if not quite a replacement, sets out to remedy some of the attributes of the Bullitt that don't meet with universal acclaim.
The new Eliminator actually takes its styling cues from one of Bell's car racing helmets; a helmet called the KC7. There's a carbon version of the Eliminator, but the standard helmets feature a fibreglass composite shell. It comes in at around 1500 grammes, so whilst it's not super-lightweight it's pretty much what one might expect of a fibreglass lid.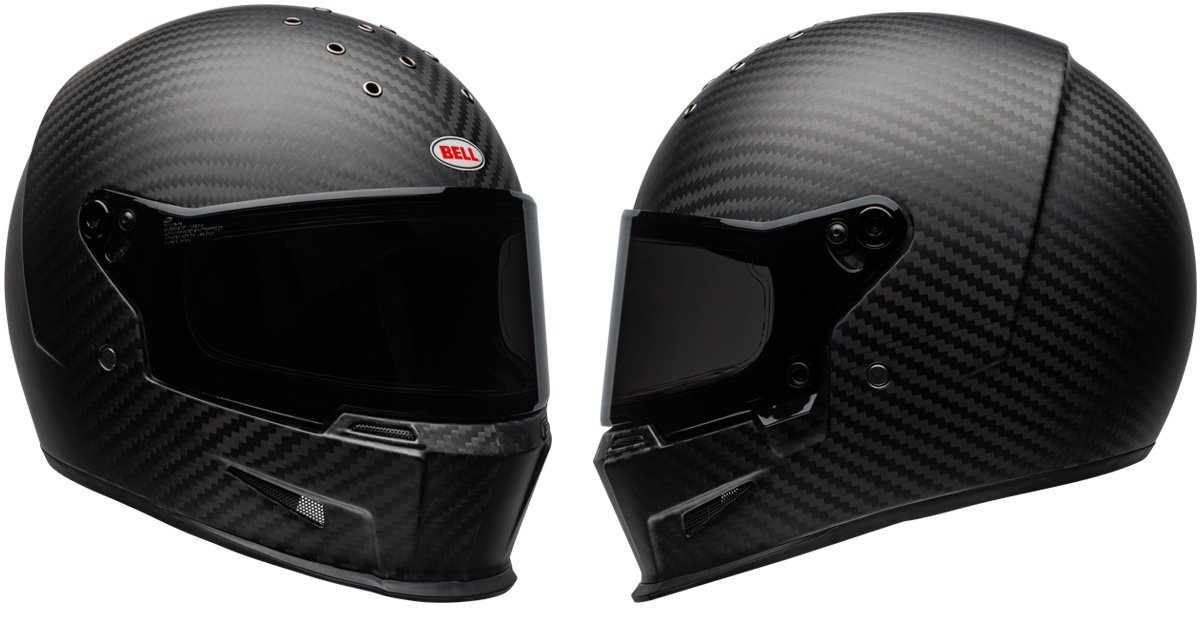 The fit of Bell's helmets on European heads has never been great. When the Custom 500 was made in Europe by Bieffe, it fitted like a dream. The current 500 doesn't. Many people put up with it because they want the Bell logo, but we reckon that, here in the shop, we are only satisfied that the fit is safe and comfortable on about 50% of the people who try it on. And, of course, with the Bell, unlike the Shoei, we can't change the cheek pads to improve the fit.
The Bullitt has its own challenges in terms of fit, which is what one might expect when the starting point for the design is a piece of headgear worn by an astronaut! It's a wide helmet; it's without doubt a beautiful piece of design, but it doesn't fit everybody. If it's nice on the forehead, it can be too tight on the cheeks. If it's nice on the cheeks, it can be loose on the forehead. You can pay for different cheek pads to improve the situation. Bell won't exchange them, so it's not a free service. In truth, it's a bit of a hit and miss affair. As with the Custom 500, it fits or it doesn't; it's that simple. But because this is a helmet that, for many, is more about the aesthetics than the riding experience, many people are prepared to wear it even when it doesn't fit particularly well. Noise and comfort be damned!
Which is why we have our fingers crossed that with the Eliminator, Bell has sorted out the fit issues. We tried a couple on at the EICMA and Intermot shows, and we've had some samples here in Guildford. Our first impressions are pretty positive. We'll have to see how customers get on with it, but we are hopeful. Fingers crossed!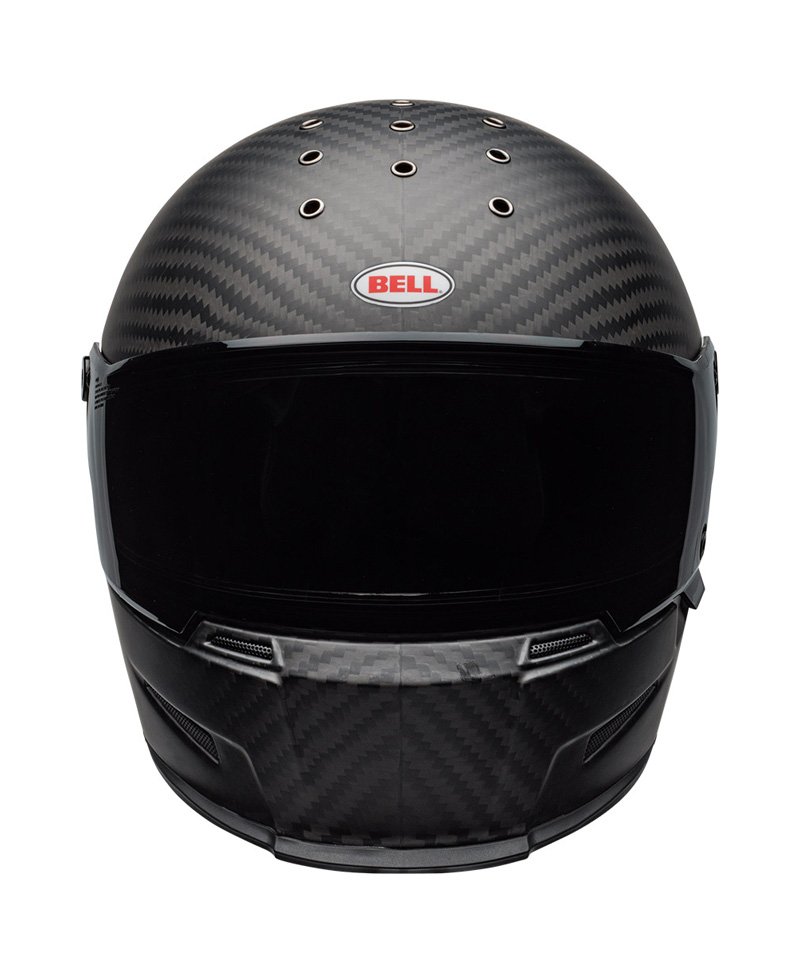 There are three shell sizes for the Eliminator, which is the same as the Bullitt, but three is still better than some well-known European brands, so shell size will not be the determining factor on fit. In fact, there are five different thicknesses of eps liner for the Eliminator, so this again augers well for a good fit, but it's really all about the comfort liners and cheek pads, and what we don't know is whether, with the Eliminator, there have been any concessions as far as European head shapes are concerned. There really should be; all the major helmet brands have different fits for Europe, Asia and America. Bell hasn't historically, so only time will tell whether we here in Europe will just have to make do.
The shape of the helmet is, we admit, very funky. Its not as dramatic as the ultra hipster-like Bullitt, but it's a helmet that's going to look good on any retro, classic, custom or sit-up bike. It's got quite an aggressive look, and it certainly comes across as more purposeful than the look-at-me Bullitt. Some of the colourways are right on the button too, as you would expect of Bell.
The Eliminator has some neat features and some clever bells and whistles but, for the UK market, there are some elements of the package that are going to be less than optimum. There is an option to fit a racing car type peak. Think Steve McQueen in Le Mans. When the optional peak is fitted, however, the visor has to be removed, meaning that you would need to wear goggles. Nothing wrong with that, though. The Eliminator also comes with a neat magnetic fastener to stop the chin strap from flapping around in the wind.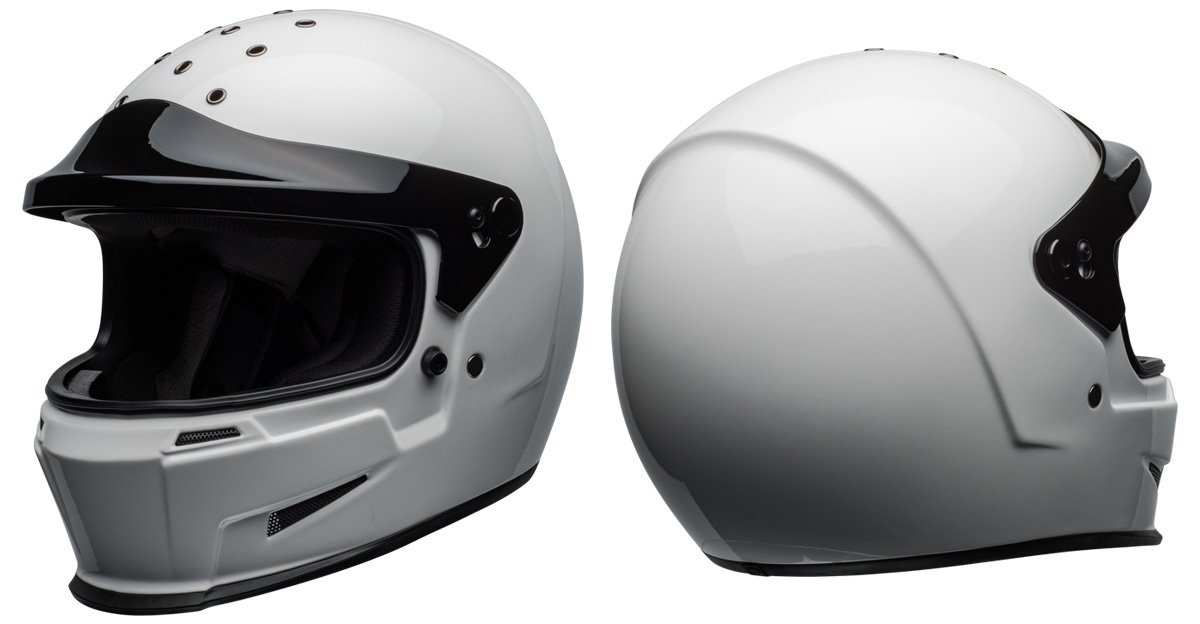 The new ProVision anti-fog visor sounds interesting, although we have not tried it in anger yet. Basically, the Grade 1 optical quality visor has its own double glazing built into it. You cannot fit a Pinlock, nor can you remove the inner visor. It sounds clever, and it will provide the double glazing effect that protects the warmer inner surface of the visor from the colder outer surface. But we doubt that the inner layer is hydrophilic in the way a Pinlock is. If it were, it would have to be changeable and, as far as we know, it's not.
But fogging up may not be quite such an issue on the Eliminator, because the new Bell is particularly well vented. That's good news and that's bad news. It's good news because this is a helmet that will keep you cool in the summer, and it's good news because the airflow will help prevent condensation.
But it's bad news because you cannot control the air flow; that is to say you can't stop it, block it or slow it down. And this has implications. It will make for a helmet that will be cold to wear in the winter. Even on the Bullitt, the chin vent is closable, so we think the permanently open vents on the Eliminator are a mistake. The open vents will also ensure that the helmet isn't quiet, and again that's a shame. Noise in a helmet is largely about moving air. And air will come into the Eliminator, like it or not.
This problem is exaggerated by the fact that in the roof of the helmet are nine pencil-sized holes that run through the outer shell and the eps. Again, fantastic for cooling down; not so good for maintaining your ability to hear when you get older. There is, though, another problem. We call it rain. If you're moving slowly, and it rains, you're going to get wet. And in England, Scotland, Ireland and Wales, it rains. A lot.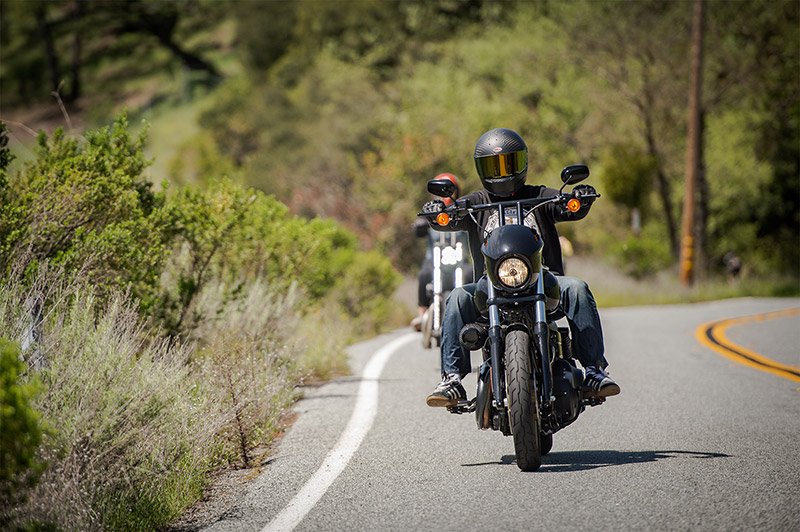 We spoke to an American gentleman from Bell about this at the EICMA show in Italy. He seemed confused, as though he had been asked a particularly stupid question. 'Well', he told us, 'Bell has used a variant of this helmet for many years in auto racing, and nobody has ever had an issue.'
Not to be too easily swatted aside, we pointed out that most racing cars have roofs, and that in America, most open-wheeler races on oval circuits don't run in the rain. He told us that he couldn't see that it would be an issue. But a colleague of his ran into an office and came out with a plastic bung contraption that can fit into the holes to prevent rain from entering the helmet. He seemed very pleased with himself.
We have since learned from the UK importer that, whilst the bung fitting will eventually be made available as optional extras, there will be a charge. We have also been told that they might not be available until the middle of 2019.
We are, we have to admit, not particularly impressed with the level of thought that has gone into this particular issue, and it reinforces our view that the Eliminator is, like the Bullitt, a bit of an exercise in form over function. We think it has been produced with a Californian, Roland Sands type of vibe in mind. Great for cruising up the Pacific Highway in the summer. Less good for traversing the Pennine Way in the winter.
But everything is a compromise, and nothing is perfect.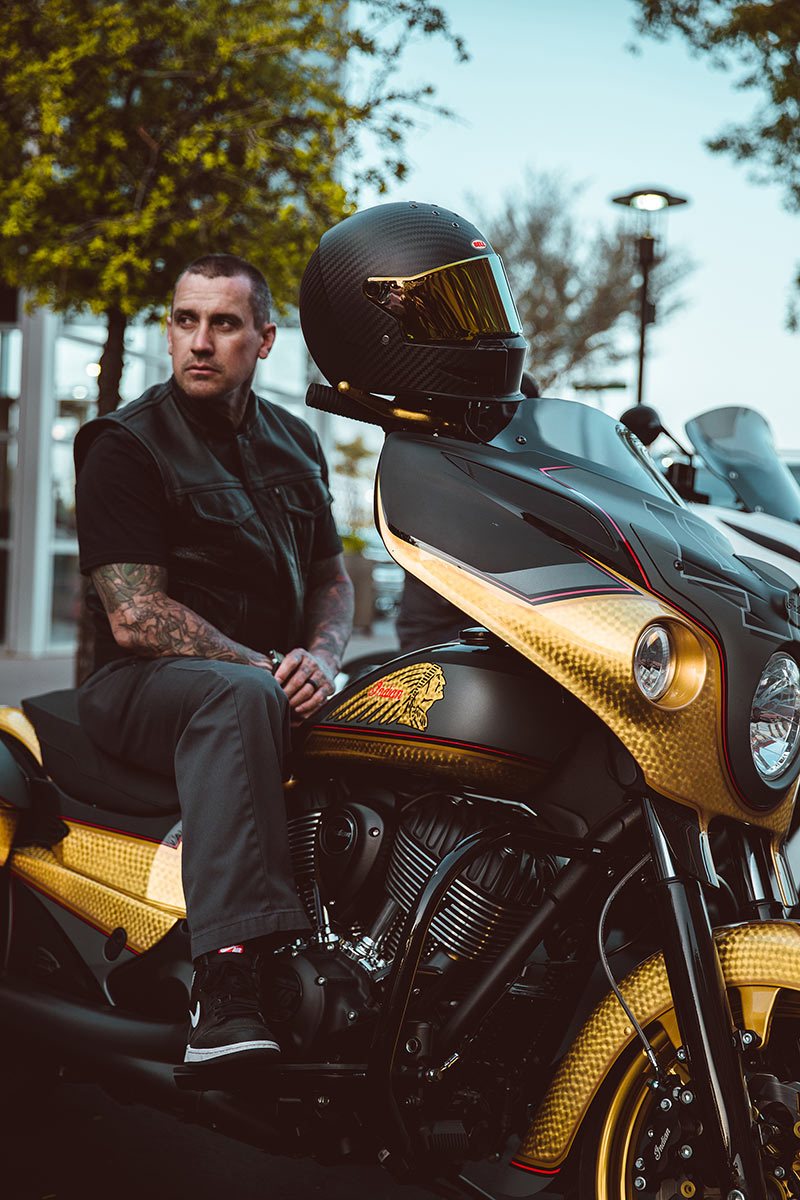 The Eliminator is still a great looking helmet. We think, and hope, that it will fit better than the Bullitt. Sixty miles an hour in a Bullitt is somewhat of a trial. The Eliminator should be better to ride in, but unless you only ride from Chelsea to Shoreditch you will need to avail yourself of earplugs. And with its free-flow venting, you might want to take the view that this is a helmet you'll only wear on warm, dry days. Nothing wrong with this, per se; that's how many people ride these days.
Here's a helmet that is going to look the business on a wide range of café racer, scrambler and custom bikes. We also think it will work on any classic from the seventies and eighties. From a visual design perspective, Bell has once again nailed it.
You just need to know what you're buying into. If you're looking for one helmet to cover all, or most, eventualities, the Eliminator isn't it. You wouldn't commute long distances in it, and it's not going to be anybody's first choice for touring. But if most of your riding is around town, and if you want to look sharp, and cut a dash at the shed then the Eliminator may well be the helmet for you.
A couple of points we will finish off with.
First, even if they turn up six months down the road, we're going to supply a free 'bung kit' with every Eliminator we sell. Second, we reckon this is a helmet you need to try before you buy, because The Bell fit is not going to work on everybody. Come and see us in Guildford. and we'll fit it professionally. We will tell you if it works on you, or if it doesn't. Then you can decide.
Prices, by the way, are currently £349.99 for all the glass fibre helmets. £524.99 for the carbon version.
As ever, we'll beat any discounted price from a UK seller by 10%. We'll match any price from a European stockist. (Click here to see the terms and conditions of our Price Best guarantee).
Click Bell Eliminator helmet to shop the Bell Eliminator helmet.
Want some more? Please

click here

to return to our editorial menu.
Share this page