Best motorcycle riding jeans
Published on: 21/08/2018 17:19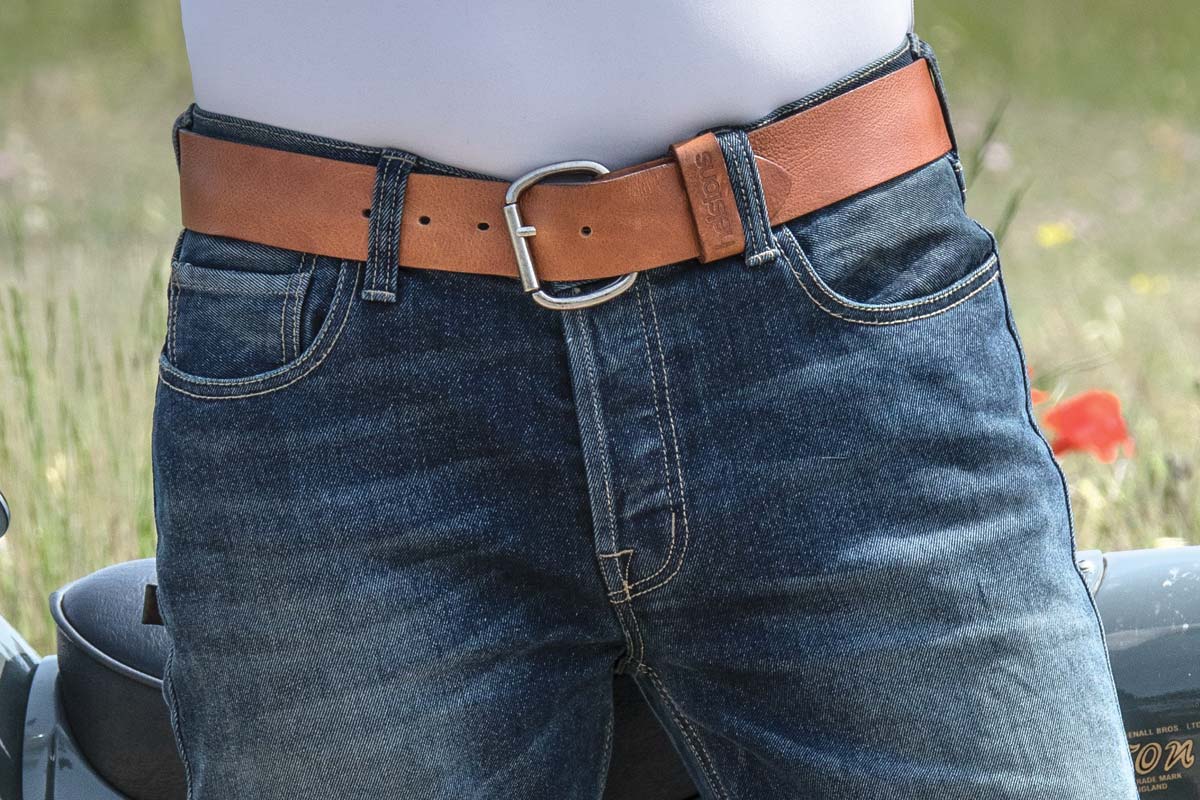 OUR TOP 10 PICK OF MOTORCYCLE RIDING JEANS FOR THIS SUMMER

Here at Motolegends, jeans are kind of our thing. There's a time and place for proper waterproof and thermal biking gear but, most of the time, and especially when the conditions are warm and dry, we prefer riding in jeans. We commute in jeans, we ride for fun in jeans, we ride across Europe in jeans, we have even ridden through Africa and India in jeans. And if we are popping up to Newlands Corner for a bacon butty on a Sunday morning before opening the shop, we wouldn't dare wear anything else. But there's a huge range of jean styles out there, and the performance levels differ markedly. The other thing, of course, is fit; in fact, it's one of the most important considerations because, if the jeans don't fit properly, you won't enjoy riding in them. Really, you need to go somewhere where you can try a number of pairs on; frankly we don't think anywhere has a better choice of jeans (for both men and women) than we do here in Guildford. And certainly nobody goes to as much trouble as we do to get them to fit properly. We'll make sure the armour sits in the correct position before you leave the shop and, if it doesn't, we'll even move the armour pockets to make sure it does. And we'll do this at our cost. The same goes for getting the leg length correct. We'll sit you on the shop bike and check it out. If the jeans need to be altered, we'll again do it at our cost. We like to think of ourselves as the riding jean experts, but really, there's no rocket science involved. We just work harder at it than most shops.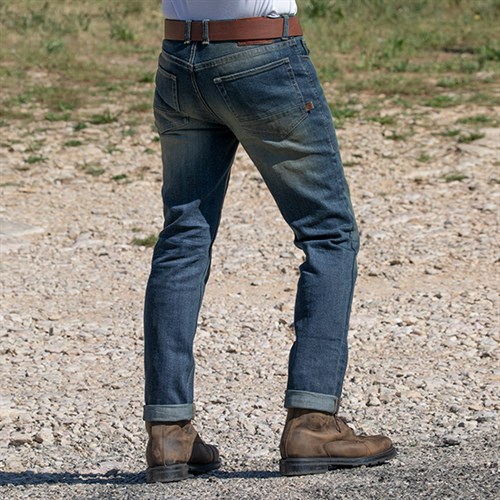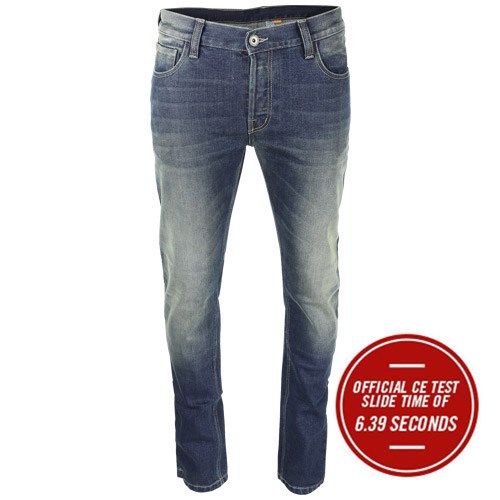 ROKKER ROKKERTECH SINGLE-LAYER JEANS
Rokker didn't invent the single-layer jean, but they are the people who elevated the genre from a lightweight pant for wearing around town to something you can wear on a proper bike at proper speeds. In fact, with a 'slide' time of over six seconds, they're about 50% stronger than leather pants. The styling is spot on. They wear beautifully, and are as comfortable as a shop jean. And they look just like a stylish shop jean. Because they're single-layer, they flow the air beautifully, meaning they're perfect for summer and hot weather riding. If we were riding through Death Valley, or across India, these are what we'd go for. There are two fits; a slim cut in a washed denim, and a raw version in a straighter fit. But with the Rokkertechs the armour pocket is fixed, and so you really need to come in and try them on to make sure the armour works. As the position of the armour is dictated by the length of the leg, you may need to try on a couple of pairs to get the armour in the correct position. If the armour still doesn't work, we'll move the armour pocket at our cost to make sure it does. We'll also hem the pants at our cost if the length needs adjusting. Armour is technically not included, but if you visit us in, we'll throw it in.
£349.00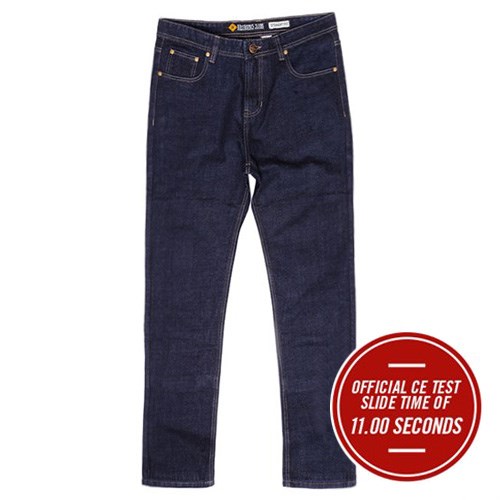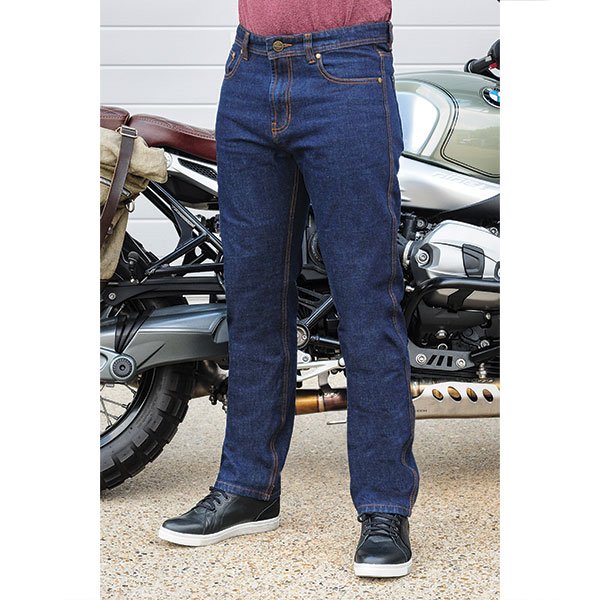 RESURGENCE NEW WAVE SINGLE-LAYER JEANS
This is Resurgence's first single-layer jean. We worked closely with the company for some 18 months to help them get it right, and the end result is pretty impressive. What is truly outstanding is their 'slide' time of 11 seconds. To put that into context, these jeans are between two and three times more abrasion resistant than leather pants. Right now, the only finish is a raw indigo. The fit was meant to be a straight leg, but they've come through just a tad narrower than we had expected. The plan was to have them wide enough to go over a tall boot. In truth, in some cases they do; in some they don't. But they look great, and certainly don't shout motorcycling. In usual Resurgence style, the sizing is not standard, and on this first batch you would need to go one waist size larger and one leg length longer than you would normally go for. As the longest leg is marked as a 34", it means that there's currently nothing longer than an actual 32" length. The jeans come with D3O for the knees and hips but, because of the confusion on the sizing, it might be worth a visit to make sure you get them right. The armour adjusts on Velcro, so getting the position correct is not normally a problem.
£295.00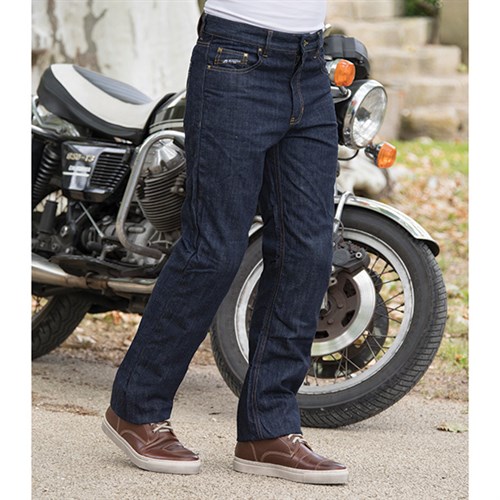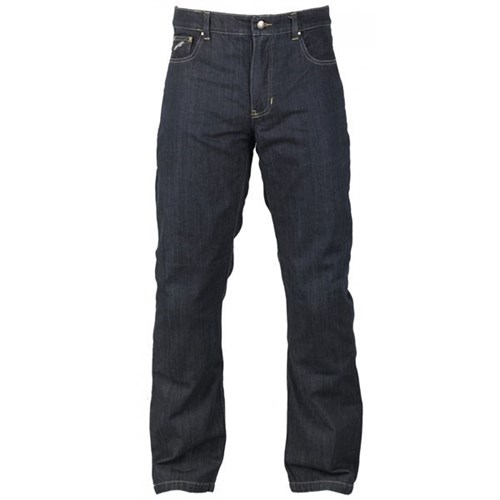 FURYGAN 01 JEANS
Not everybody is up for £200, £300 or more for a pair of motorcycle jeans; that we understand. If you don't do much riding, it doesn't make sense to spend a fortune on your gear. And there's nothing wrong with Kevlar jeans. They do a job, and they do it well. Some look better than others (actually, some look disgusting, but that's another story). Some offer very respectable levels of abrasion resistance, and some come with the very best armour. If you're looking to spend less than £150, Halvarssons does a couple of models, but probably our favourite jean at this price point is Furygan's Jean 01. They look more than okay, are about 60% lined, and come with D3O knee protectors. And at £130, we don't think you can go wrong.
£129.99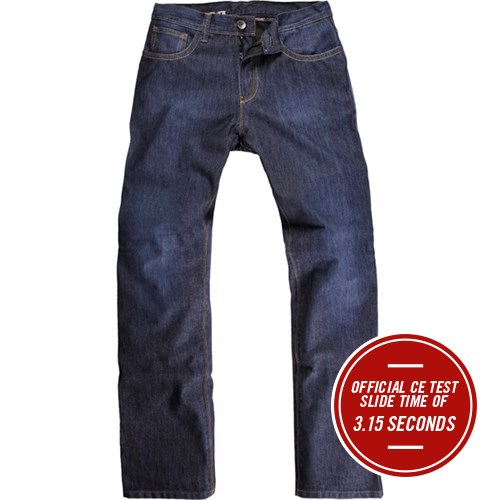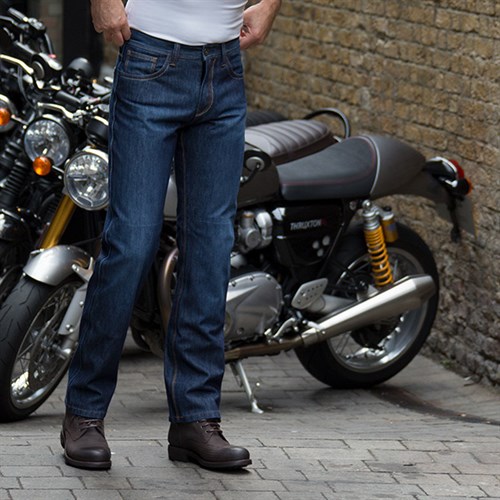 ROKKER REVOLUTION JEANS
The Rokker Revolution jeans are totally unique and, to be frank, pretty darned amazing. The outer fabric is a blend of denim and Dynatec. Dynatec is a UHMWPE, which a lot of single-layer jeans are made from. But as the Revolutions are quite light, you only get a slide time of a little over three seconds. We say 'only', but that's not much short of leather, and they're still way stronger than jeans woven with Cordura. In fact, Rokker still offers a 'crash' guarantee, meaning that if you wear through them in a Slide, they'll give you a new pair. They only offer this because they're confident it won't happen! But, anyway, what makes the Revolutions so unique is that they have a waterproof membrane laminated to the denim. You've never had a more waterproof trouser. You can ride for five, six hours in the rain, and you won't get wet. The downside? In extreme heat, 30 degrees plus, they can get a little sweaty. That's it really. They'll go over a Daytona boot easily, so you can commute or tour in them without a problem. Same issue on the knee pockets as all Rokkers. We need to get the right leg length to get the armour in the right place, and as we're the only place to do all four leg lengths, a visit to Guildford might make sense. We're also the only people who can shorten them properly. They come with D30 armour for the hips and knees, by the way.
£349.00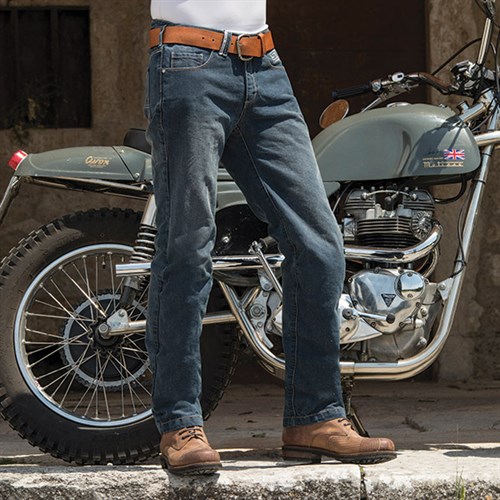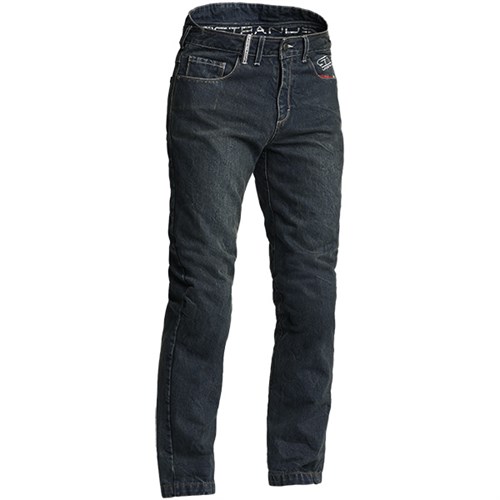 HALVARSSONS MACAN JEANS
When we're talking jeans, Halvarssons is not always the first name that comes to mind. Halvarssons is a very technical company, but jeans haven't always been their forté. They have always done jeans but, in recent years, they've started to look a bit 'old school', so we were delighted when, earlier this year, they launched their first single-layer jean. Now, they're not skinny like Rokker's or Resurgence's offerings, and they're not quite as lightweight either, but they are way nicer to wear than any lined jean. The washed finish is attractive; they look faded, but not in an aggressive, 'dirty' way. They're a bit more generous in the leg than some jeans; we'd probably term them 'dad' jeans; they're certainly not baggy, though. They come with Level 2 armour in the knees and hips and, as always with Halvarssons, they're very well priced, at just £199. We estimate that they have a 'slide' time of around four seconds, which puts them at around the same level as leather in terms of abrasion resistance.
£199.00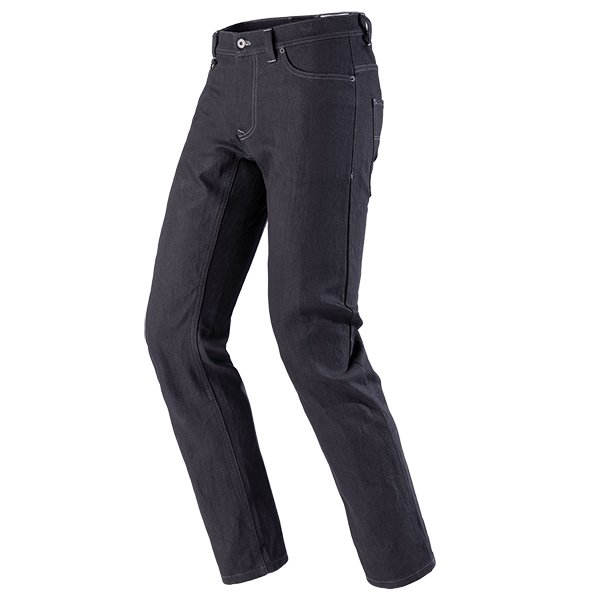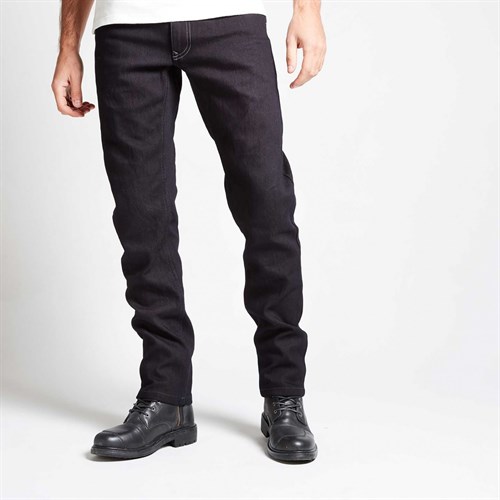 SPIDI J&DYNEEMA JEANS
We're going to tell you about these jeans because we really, really like them, but the problem is that you can't actually buy a pair because Spidi sold out months ago. It's a shame, although we are told we'll get them again in November! They are beautifully styled. The colour is black although, in truth, they are a very, very, very dark blue. The armour is not D30, but it is as comfortable as the orange stuff, perhaps even more so, and it's simplicity itself to adjust. In terms of abrasion resistance, they have an official CE 'slide' time of just over four seconds, which puts them in the same category as leather. Frankly, you don't need anything stronger. If you're sliding on one area of material for more than four seconds, your jeans are the least of your worries. The material itself is Dyneema, a UHMWPE; a fabric that is stronger than carbon steel. We like these jeans a lot. It seems daft telling everybody about them when we cannot supply, but they're so good that we didn't want to leave them off our list. They only come in a 32" leg length, which is not perfect, but they're priced reasonably, at just £280. That's not cheap, but we see Kevlar jeans at this price, and even some bike jeans that have no abrasion resistance at all. If you want a pair, you'll have to be a bit patient. Sorry!
£279.99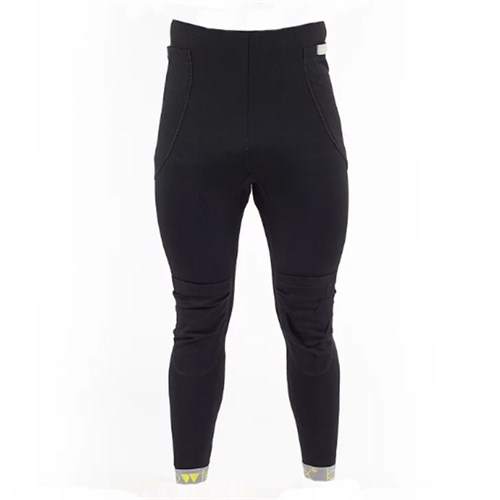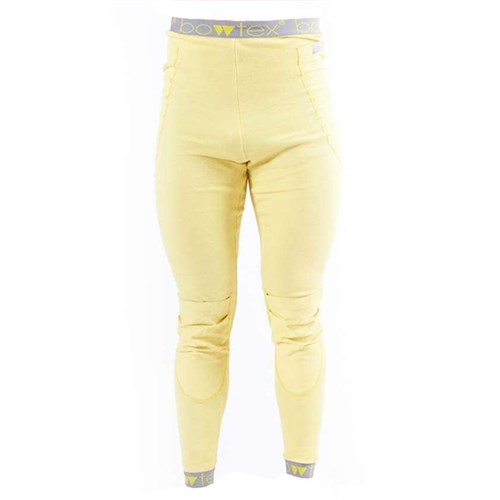 LEVIS WITH A BOWTEX BASE LAYER
An option to a proper motorcycle jean is to go with a pair of Bowtex Kevlar leggings underneath your ordinary street jeans. It gives you the option of wearing whatever jeans you want on the bike. They come with armour, so there's no need to compromise as far as protection is concerned. The downside, if there is one, is that the leggings can be very warm. We wouldn't recommend them for summer riding but, in the winter, the extra insulation comes in handy.
Prices range from £119.00 to £249.00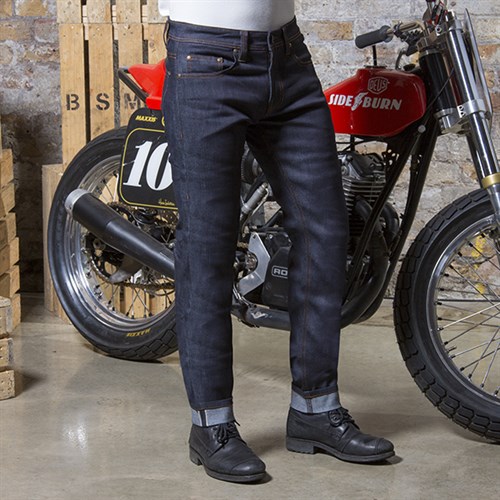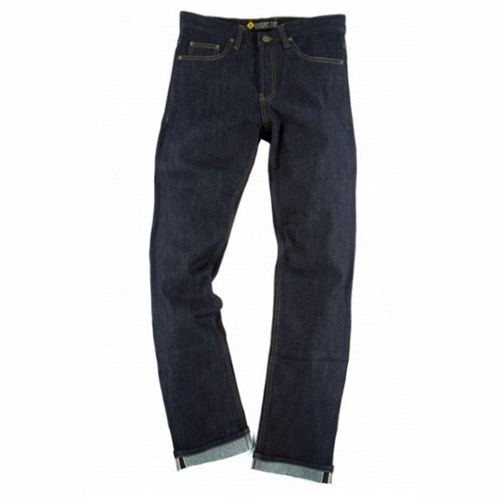 RESURGENCE CAFÉ RACER SLIM JEANS
This is the jean the Bike Shed hipsters all go for. And that's partly because they're one of the few bike jeans made from proper "Japanese" selvedge denim. The fit is slim, but not boy band. They've got a bit of stretch woven in, so are always comfortable to wear. The lining is Resurgence's Pekev aramid weave; probably the strongest weave on the market. The jeans are 60% lined, so where the lining sits you get levels of protection that easily exceed that of leather. They come with D3O armour for the hips and knees. We love these jeans, but sizing can be erratic, and the armour pockets are often not where they should be. If you want them to work on the bike, it's probably best to come and see us. As ever, we'll undertake any alterations at our cost, to make sure they work.
£219.00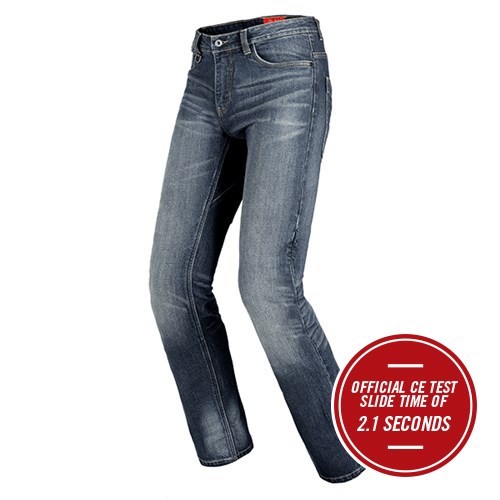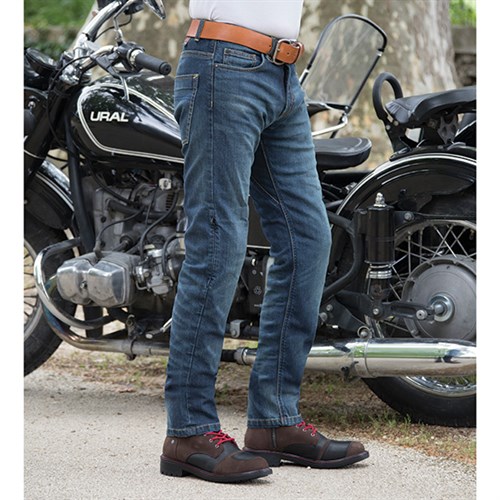 SPIDI J TRACKER JEANS
The Spidi J Tracker is the second Spidi jean to feature in our Top 10 list of favourite motorcycle jeans. It is also the second jean on the list that we cannot actually supply because it has sold out. The other jean is the Spidi J&Dyneema and, like that jean, we felt we needed to include it in our Top 10 because it really is quite special. Spidi has been making jeans for longer than anybody in Europe. They know how to style a great looking denim trews. But we do admit that the company does sometimes frustrate us with its sporadic supply. As with the J&Dyneema jeans, we're told we won't see more stock until November. So what is the J Tracker, and why does it merit a place in our Top 10? Well, it's a single-layer jean, although it sits in the lower end of the spectrum in terms of abrasion resistance. And that's because, the single layer is a weave of denim and Cordura. The result is a jean that has a slide time that's little over two seconds. Now that's way better than a street jean, which, typically, will record a time somewhat less than half a second. But we would suggest that the J Tracker is more about urban riding or Sunday morning bimbling. If there was a chance of coming off at 70mph, there are stronger jeans out there. But, by contrast, this is a jean that is incredibly light to wear. No bike jean is more comfortable. They have a terrific wash, and look great on.They come with a really flexible armour in the knees. We rate these jeans but, like you, we will have to wait until November to see them again.
£149.99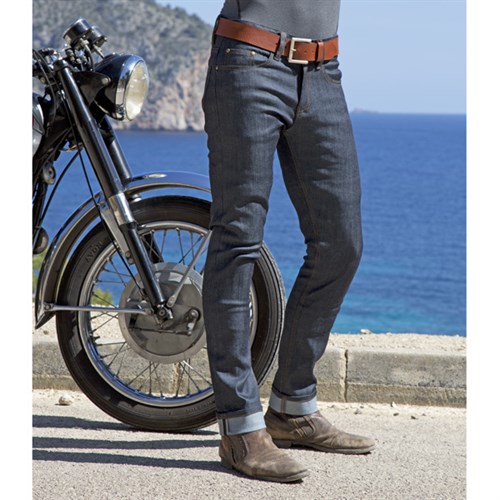 RESURGENCE ULTRALIGHT JEANS
The Resurgence Ultralight is just about the thinnest, lightest, lined jean on the market. It's lined with a slightly lighter weight of Pekev than, say, the Café Racers, but they're still going to deliver abrasion levels beyond leather in the areas where they are lined. And that's about 60% of the jean. The fit is slim, and on some people they look simply too tight. But if you want a modern-style, ankle-gripper jean, then it doesn't get better than the Ultralights; designed very much as a summer jean, the fabric contains a pretty decent amount of stretch. They're priced very reasonably, although the D3O is extra (£40).
£139.00


Want some more? Please

click here

to return to our editorial menu.
Share this story