Brand focus: Klim
Published on: 09/08/2019 11:38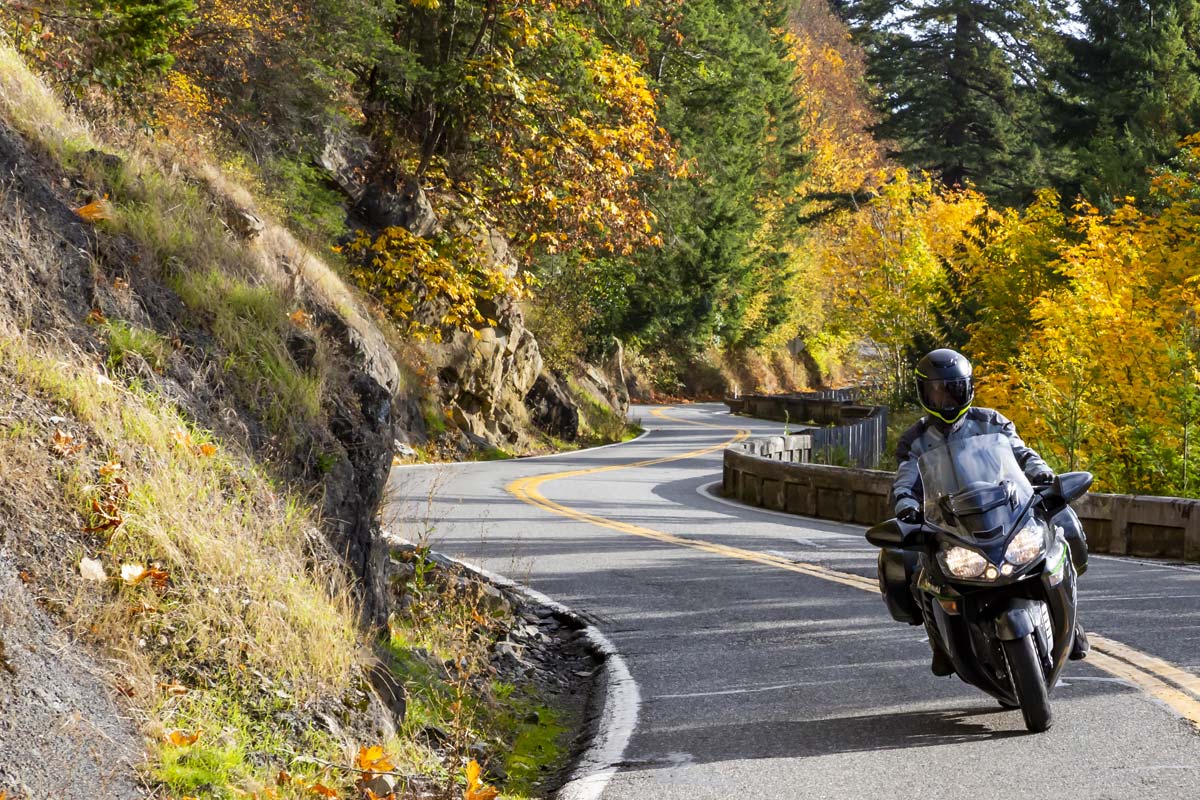 We did dally with Klim in our very early days before we really knew much about what kind of motorcycle clothing company we wanted to be. It turns out that we didn't want to be an off-road company, so whilst we loved the quality of what Klim produced we parted company.
But Klim today is a slightly different animal. Of course, proper adventure riding is still a large part of their proposition, but it's clear that Klim is increasingly wanting to appeal to the road rider as well.
For now we've selected a pretty limited range from them, but the items we've chosen we like a lot. In many cases, they offer something nobody else does; in others, what they produce is simply better than what is offered elsewhere.
Below we show most of the range we have selected. We recently visited Klim in Austria to view their new 2020 collection, so we'll be adding to the items you see here later in the year. Klim really is an exciting company, and some of their gear truly is exceptional. We're looking forward to a strong partnership in the coming months and years.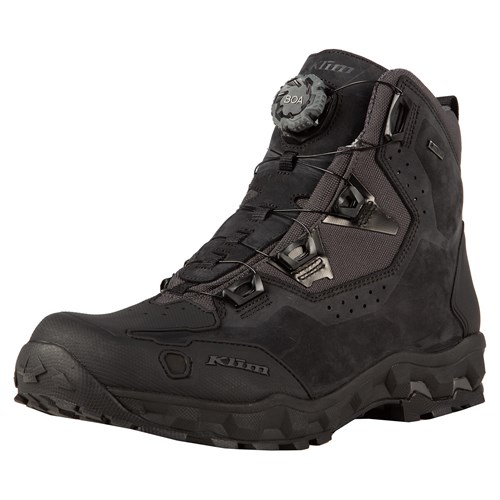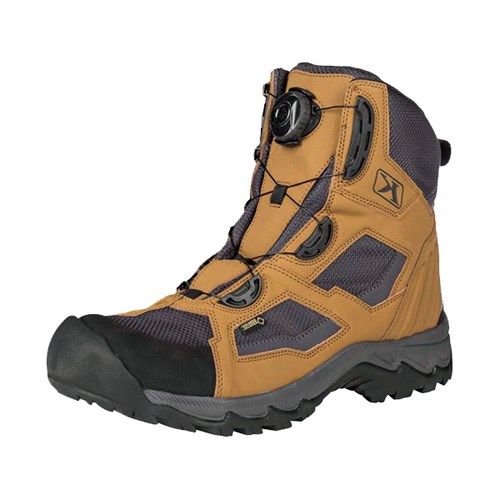 THE OUTLANDER GTX BOOT
The Outlander is a short, adventure boot that is going to be just as at home riding the Trans-European Trail as it will be walking up Kilimanjaro. It's as tough and rugged as a boot can get. It's also super protective with D30 inserts in the ankles and tongue. For waterproofing, it comes with a full Gore-Tex liner, but the 'pièce de resistance' is the BOA lacing system. With one twist of the dial, you can fasten or undo the boots. And the system allows the boot to be opened completely, so getting in or out could not be easier. This is an amazing boot, but it's simply too much of a boot for most UK-based motorcycle clothing retailers, so it's a total Motolegends exclusive. We've not been able to secure a large number, so you might need to get a move on!.
£295.00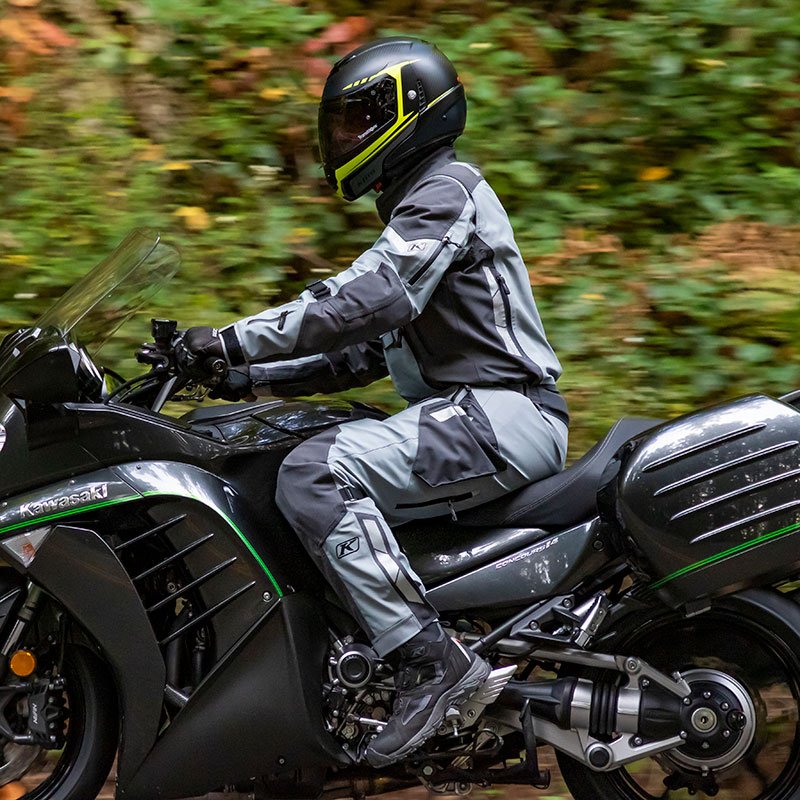 With its GORE-TEX® 3-layer, Pro-shell outer fabric, the Klim Hardanger suit takes the one-piece concept to a new level. Designed to be worn over your casual or business clothing, it takes just seconds to get in to and out of the suit, using a full-length zip that runs down from the neck to the left foot. Because you will nearly always be wearing clothing underneath, a suit like this needs to be well vented. And with no less than 14 separate vents it is. It is almost as well endowed with pockets. For anti-abrasion protection, the Hardanger is made from heavy-duty, 750 dernier, full-fat Cordura. For impact protection you get the latest, vented, D30 armour in the shoulders, elbows, hips, knees and back. Adjusters abound on the Hardanger; there's almost no area that cannot be adjusted. What the Hardanger will not do is keep you warm. It is very much a shell garment. If you want to raise the temperature in the Hardanger, you will need to layer up and, of course, there are many ways to do this. For many years, we at Motolegends have sought a modern, more technical version of the Aerostich suit. Others have tried and failed, but to us it is clear that Klim has cracked it. It's a brilliant suit; a future classic. Available in grey or black.
£1365.00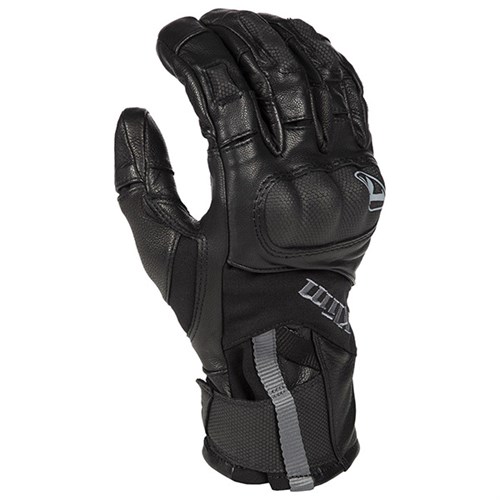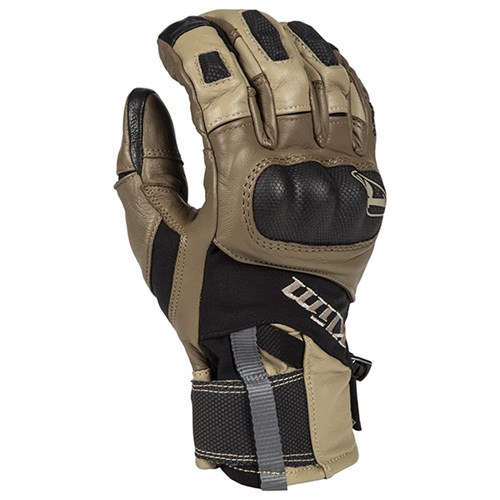 THE ADVENTURE GTX GLOVE
The Klim short-wrist Adventure GTX glove is one of those gloves that is more than the sum of its parts. The spec. is impressive, but this is one of those gloves that just kind of works. The fit is gorgeous; it feels like a glove you could wear all day long. It's made from a goatskin, although you also get stretch panels for a snugger fit. It's a waterproof glove, the membrane coming courtesy of Gore-Tex. and, what's more, the membrane is laminated to the leather outer. On the main knuckle there's a carbon protector that sits on top of shock-absorbing Poron. You also get a Poron panel in the palm. The other knuckle joints are also protected with 3D pads. On the palm, there's a printed finish for extra grip. The index finger and thumb are touchscreen sensitive, and you get a visor wipe to boot. There's a very robust wrist strap that means that this is a glove that will always stay in place. The Adventure GTX is a rare commodity. It's a waterproof, shortie, leather, summer glove. That's not what everybody wants, but if this what you're after, then you won't find anything better..
£185.00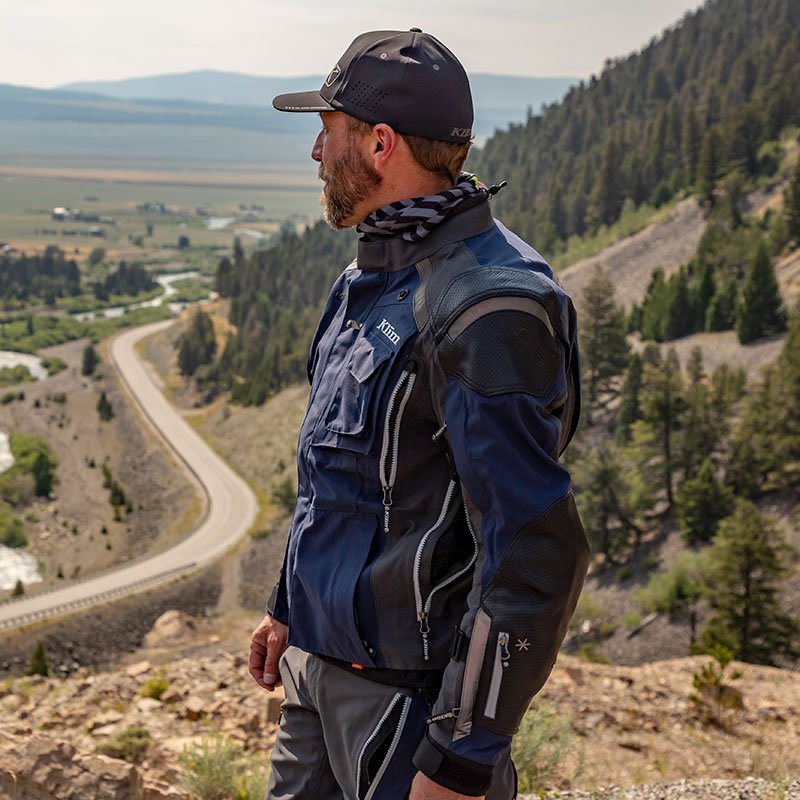 Klim is fundamentally an off-road brand. The Klim Kodiak, which has a much more fitted profile than most Klim jackets, represents the brand's move into a more road-oriented arena. We would suggest that it is aimed fairly and squarely at the adventure rider who spends more time on the black stuff than he does off it. Although, of course, it would still be a perfect choice for high mileage touring and commuting. The outer is a laminated, 3-layer, Gore-Tex Pro Shell. This means the jacket will never wet out, and when it does get wet it will dry out quickly. For added abrasion resistance, the jacket has perforated leather overlays on the shoulders and elbows. For impact protection, the Kodiak has Level 2, D30 armour in the elbows, shoulders and back. Pockets are in abundance, with four outside and four on the inside. Vents are even more prolific. There are 10 of them in total. Interestingly, and quite uniquely, the Kodiak comes with an internal kidney belt. For a more comfortable fit, the jacket has what is called an action back; in essence gussets that allow the shoulders to move more freely. To reduce flapping, there are adjusters on the arms. Obviously, the Kodiak has little by way of thermal properties, but that's an easy matter to address.
£1055.00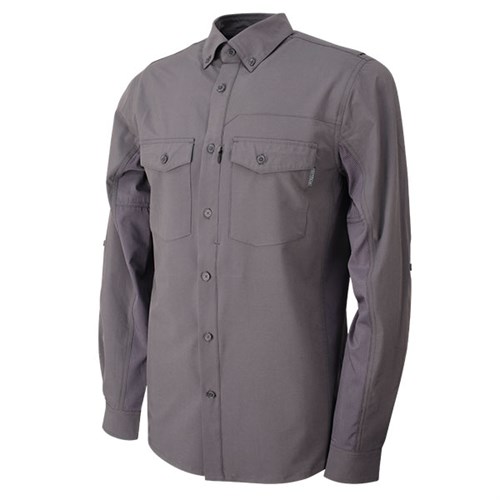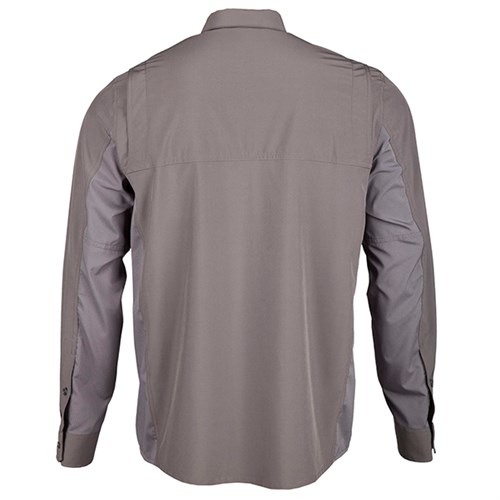 THE BASECAMP SHIRT
Here at Motolegends we are forever banging on about how you should never wear cotton garments on the bike, and how you should instead have either synthetic or merino wool-based layers. On a long journey, even when it's not massively hot, the right layers can make a huge difference to your comfort level. The problem is that if you're the kind of person who prefers to wear a collared shirt, perhaps for work, the options are limited. If you find yourself in this position, the Klim Basecamp shirt is exactly what you're looking for. The main body of the shirt is made from an amazing fabric called Klimatek that really does help you to stay cool. For comfort, there are stretch panels under the arms. You also get concealed zip vents for even better air flow. The collar is button-down in classic Brooks Brothers fashion but, unlike a traditional Brooks Brother shirt, the Basecamp shirt incorporates an anti-bacterial and anti-odour treatment, so even after a full day on the bike you'll still be welcome in polite company..
£65.00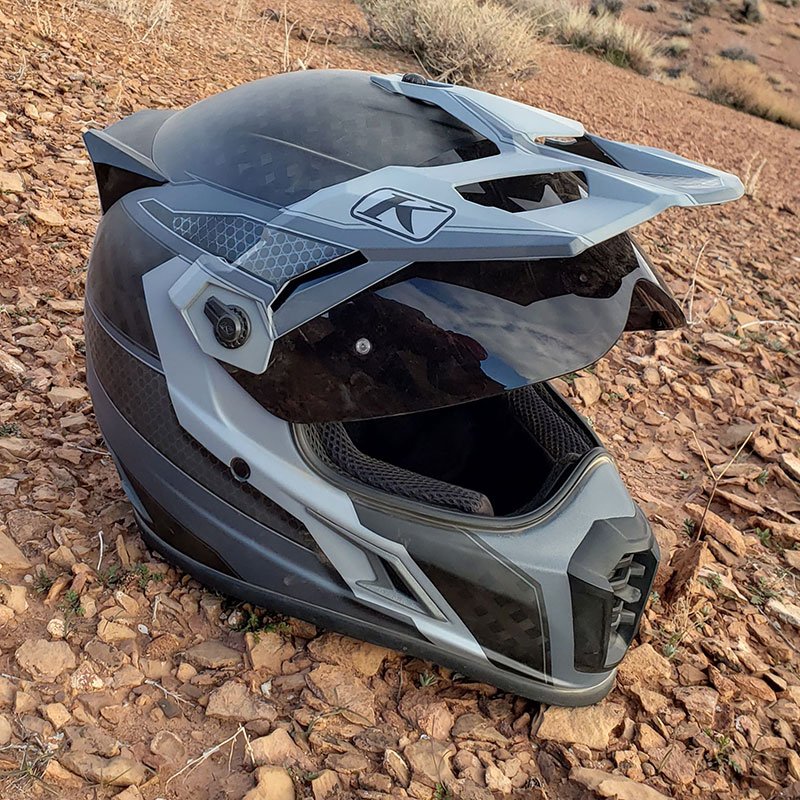 The Krios Pro helmet is a dual-sport helmet that is equally applicable for off-road as well as on-road riding. But in its construction it is a bit of a game changer. And that is because it does not have a traditional eps liner, but rather a revolutionary liner made from a material called Koroyd. This is a honeycomb material made from crushable, hollow tubes. It was originally developed for the aviation world, but it brings a number of benefits to motorcycle helmets. Consisting of 95% air, it is incredibly light. But it also absorbs up to 35% more energy than a traditional eps liner. And that's a huge advantage. The tubing in the Koroyd also makes for better venting. The outer shell of the Krios Pro is carbon fibre. When combined with Koroyd lining, the result is a helmet that is incredibly light. For ventilation, the Krios has a three-position chin vent and an on/off brow vent. As a Klim helmet, the Krios will be perfectly at home off road, especially given its weight. But remove the peak, and you get a helmet that is equally at home on the road. Remove the visor, and it can also be worn with goggles. The other detailing on the Krios Pro is as impressive as the rest of its spec.. The main visor is a Transitions visor, meaning that a drop-down visor is not necessary. The visor is non-scratch, and comes Pinlock prepared. The chin strap on the Krios is also pretty trick. The helmet uses a magnetic system called Fid-lock. You can operate it with gloved hands. If you want to use comms. the Krios is also compatible with Sena's SC10U. The interior of the helmet can, as you might expect, be removed for washing, and we swap the internal fittings to improve the fit. Make no mistake; the Krios Pro is an amazing bit of kit. There's no other helmet quite like it.
£525.00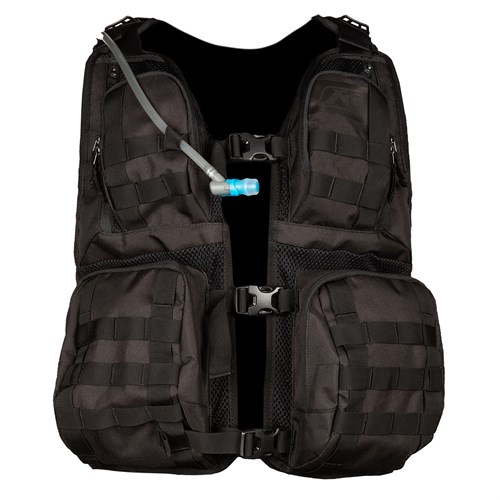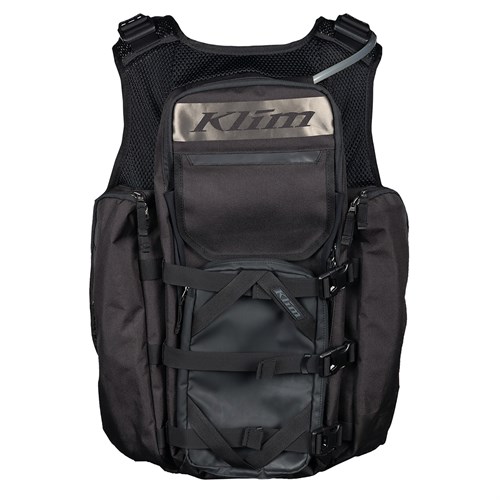 THE ARSENAL VEST
The Klim Arsenal vest reminds us of a vest that we used to offer from Ogio, so it did not surprise us to learn that its designer used to work there. But the Klim version is better designed and better made. You get no less than nine different pockets and compartments. The main front pocket is soft-foam lined for comfort and to protect its contents. The vest is adjustable just about every which way for fit, and it comes with a compartment at the back that takes a three litre hydration bladder. In fact, the detail is mind boggling: molle-spec straps, a perforated foam back pad to wick moisture and sweat, a tool roll, expansion panels and so on. It's got everything a SEAL team, top-tier operator could ever ask for.
£199.00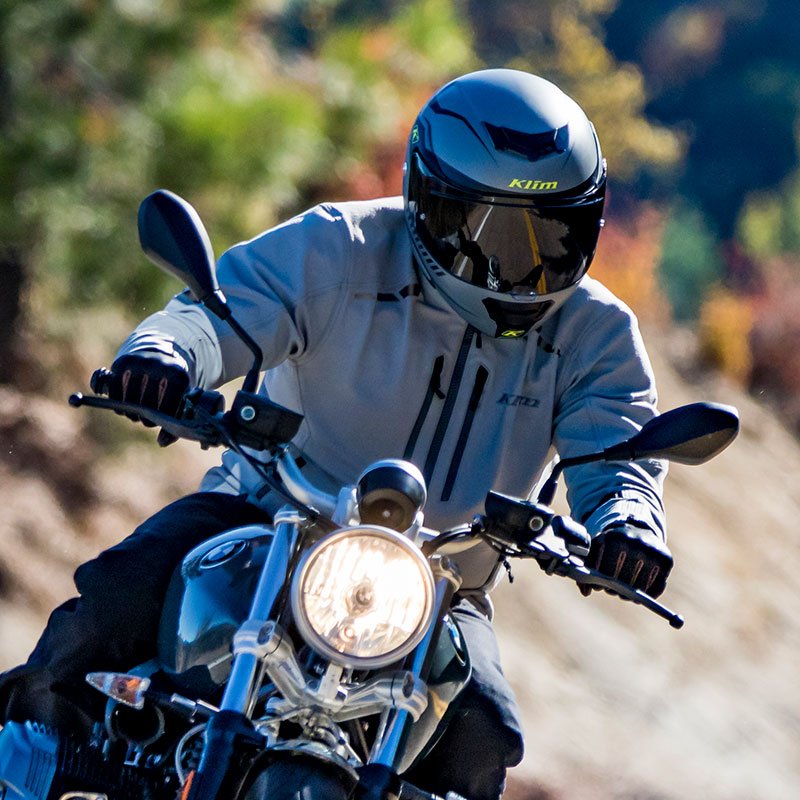 This might just be the ultimate, lightweight, summer jacket. In concept, it is similar to the Rukka Forsair, but it betters it in a number of areas. The outer fabric of the Marrakesh is a 1000 denier woven Cordura. The fact that it does not have a waterproof membrane means that it will flow large volumes of air although, in the margin, we would have to suggest that the knitted Cordura of the Forsair will flow more. But made of stronger material, we would expect the Klim jacket to be more abrasion resistant and, with its four-way stretch, probably more comfortable to wear too. Unlike the Forsair, the Marrakesh does have a get-you-home, waterproof coating. Armour is by D3O and comes fitted in the elbows, shoulders and back. All the rest is really detail. We're talking about pockets, reflective panels, comfort linings, and so on. Obviously, if it rains, you'll need a waterproof, but on a hot day this jacket is going to take some beating.
£359.00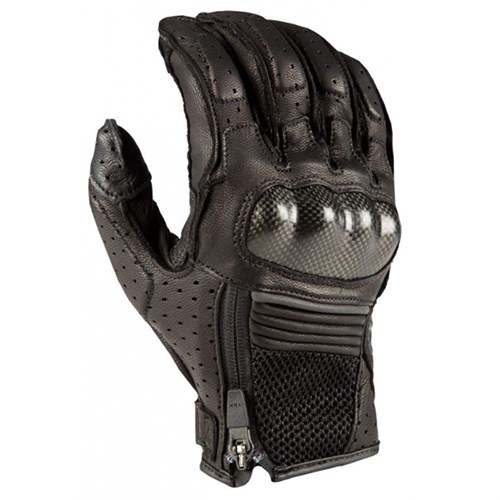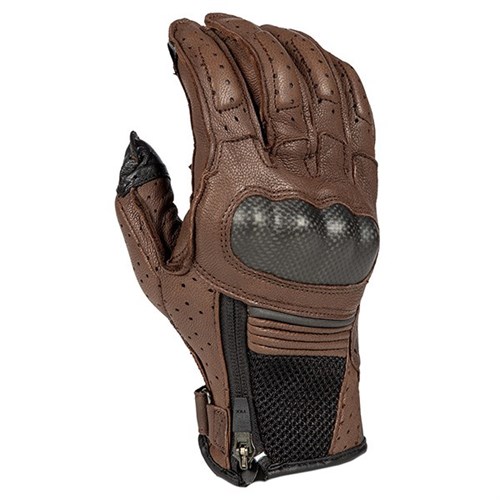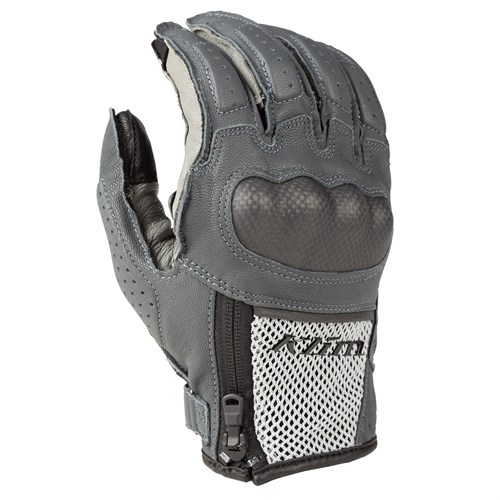 THE INDUCTION GLOVE
The Klim Induction is an incredibly comfortable, yet highly protective, summer glove. It is made from goat's leather that is extensively perforated to improve airflow. A mesh panel on the wrist adds further ventilation, whilst an accordion stretch panel helps with wrist articulation. On the main knuckle you get a hard carbon protector. And on the fingers and palm you get Poron panels that serve to absorb impacts. What makes the Induction glove particularly comfortable to wear is that the finger seams are externally sewn. The index finger is touchscreen sensitive. It also incorporates a small visor wipe. The gloves fasten by means of a YKK zip and a Velcro strap. These gloves are not inexpensive, but everyone who tries them on loves them. They just seem to work.
£139.00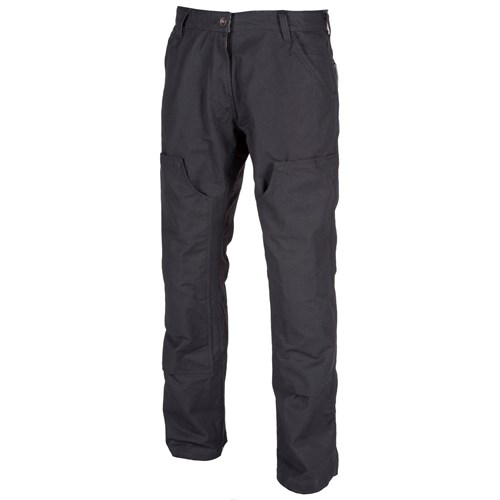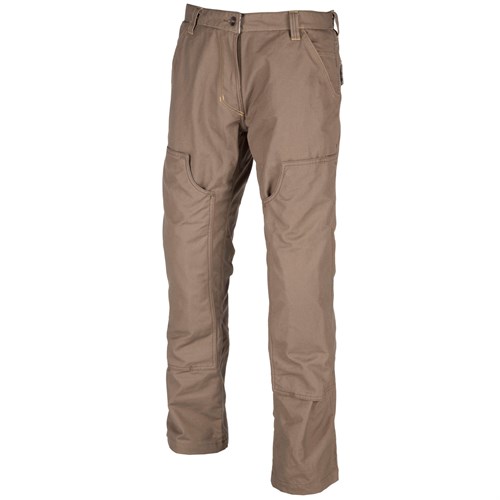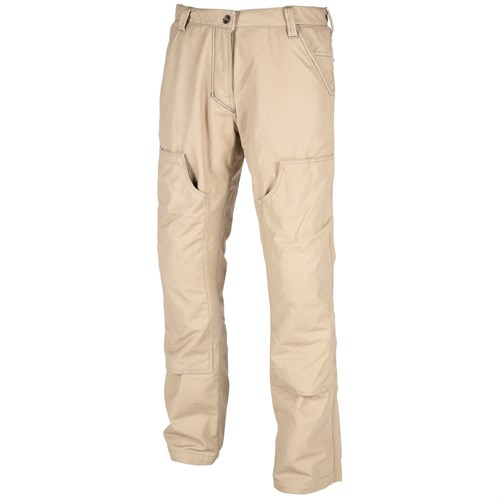 THE OUTRIDER PANT
The Klim Outrider pant is very much based on the iconic, duck-canvas Carhartt pant; an American workwear staple. The Klim version is a single-layer pant. Now, despite the fact that the material is a basic cotton/canvas construction, it meets the latest CE regulations at the AA level. And that's impressive, because that's as good as any textile pant on the market; including the finest from Rukka! For abrasion resistance, you get Level 1, D30 armour in the knees and hips. The knee armour is adjustable, but the most interesting feature is that it fits externally, from an open, top-loading pocket. The fit is slimmer than your average Carhartt; slimmer also than a cargo pant, but it's not as fitted as a 501 jean. You get two front and two back pockets, plus two utility pockets on the sides. We like these pants. They fill a hole. They sit somewhere between a chino and a full-on, baggy, cargo pant. Okay, they have a relatively low slide time, but they're not expensive, and they're easy to wear. As a lightweight, summer riding pant, they take a lot of beating. The Outriders come in three colours: khaki, brown and black.
£179.00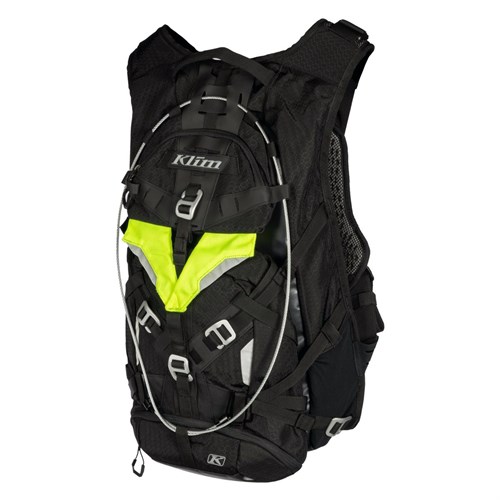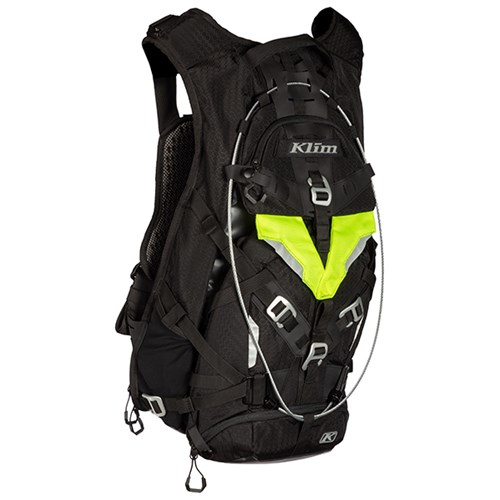 THE TEK PAK RUCKSACK
The Klim Tek Pak is an all-singing, all-dancing backpack that, in our view, is more than a match for anything from Kreiga. It has a water resistant rather than a truly waterproof outer fabric. The straps are all adjustable for fit, but they fasten at the chest meaning that you don't need a waist belt. The front straps contain D30 for impact protection whilst, in the bag itself, there's a compartment that will also take a D30 protector or, if you prefer, a laptop. Compression straps allow you to keep the bag compact. You get a pocket for a water bottle both inside and outside the bag, and of course the Kilm Tek Pack is also compatible with a hydration bladder, (in this case of up to three litres). Hi-vis reflectors abound, but one of the features we like most is a 'cable lock' that runs around the bag to enable you to lock the bag to a helmet or jacket. It's all very Mission Impossible. We like it.
£210.00