Halvarssons Wien and Wish best motorcycle suit
Published on: 09 October 2019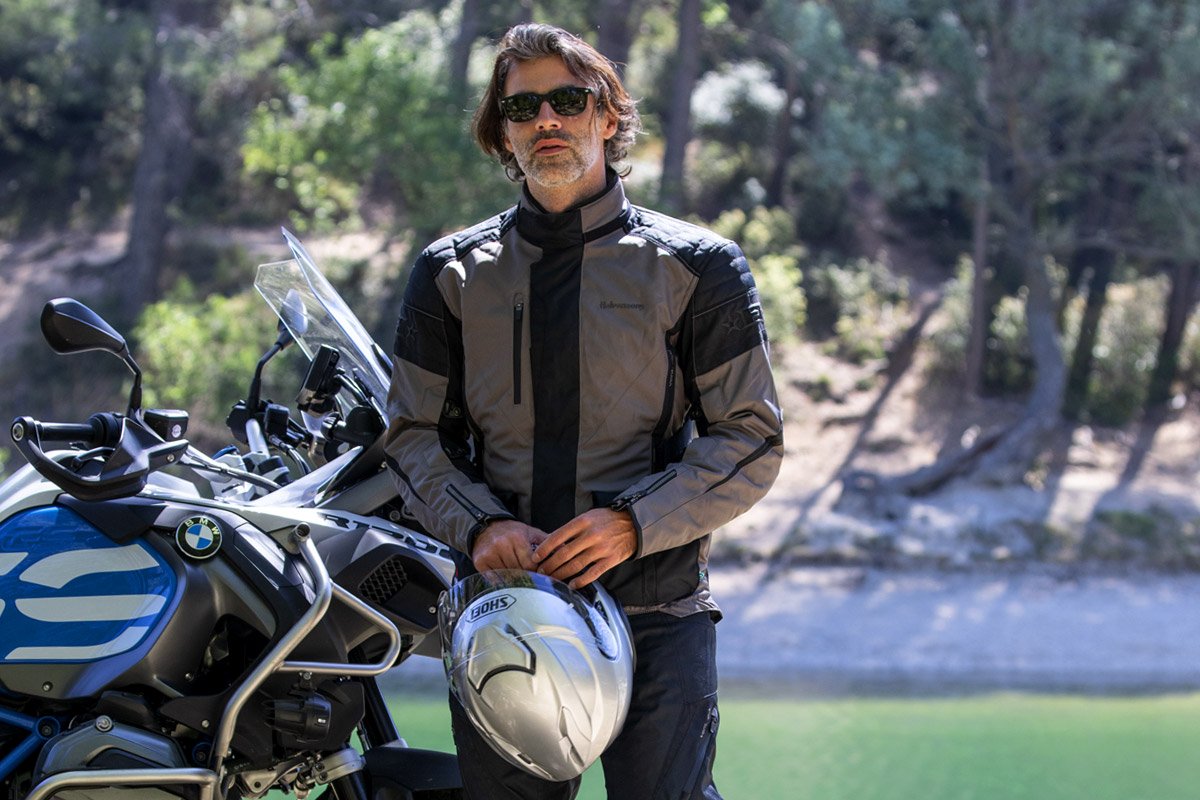 This is a well-trodden path; the search for the suit that copes with every circumstance, be it the freezing cold, the burning hot or the drowning wet. What we always say is that the suit that does everything perfectly does not exist.
A laminate suit, where the waterproof membrane is bonded to the inner surface of the outer fabric, will be great in the rain because the membrane will prevent any rain from entering the outer fabric.
The venting works better on a laminated outfit. A laminated garment will also dry out more quickly. But a laminated suit is not intrinsically warm; and that's because the laminated construction takes away the insulating air gaps or pockets. Because they are constructed from multiple layers that are stuck together, laminated outfits are usually not very comfortable, and those that properly do what they're meant to do, are invariably expensive.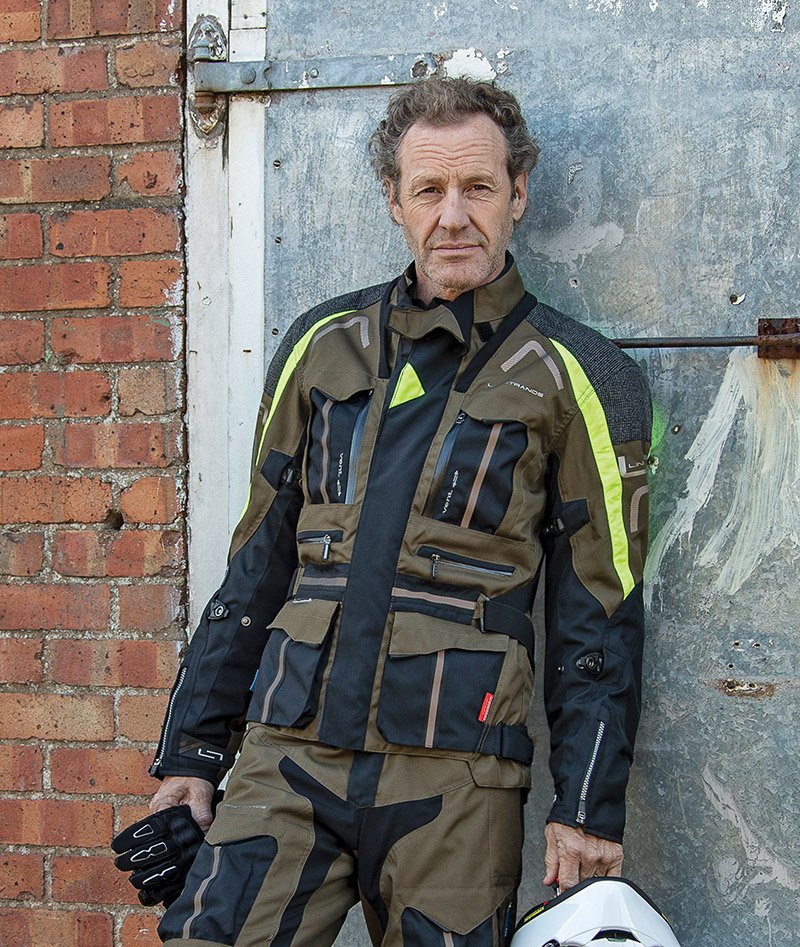 The Oman two-piece adventure-riding suit from Halvarssons has removable thermal and waterproof inner jackets.
Because a laminated outfit will never wet out, it's often the preferred solution of the heavy-duty commuter, and of those who ride 15,000, 20,000 miles or more a year. But most of us don't do this kind of mileage. We're therefore going to find ourselves enjoying the benefit of a laminated outfit perhaps only once every two to three years.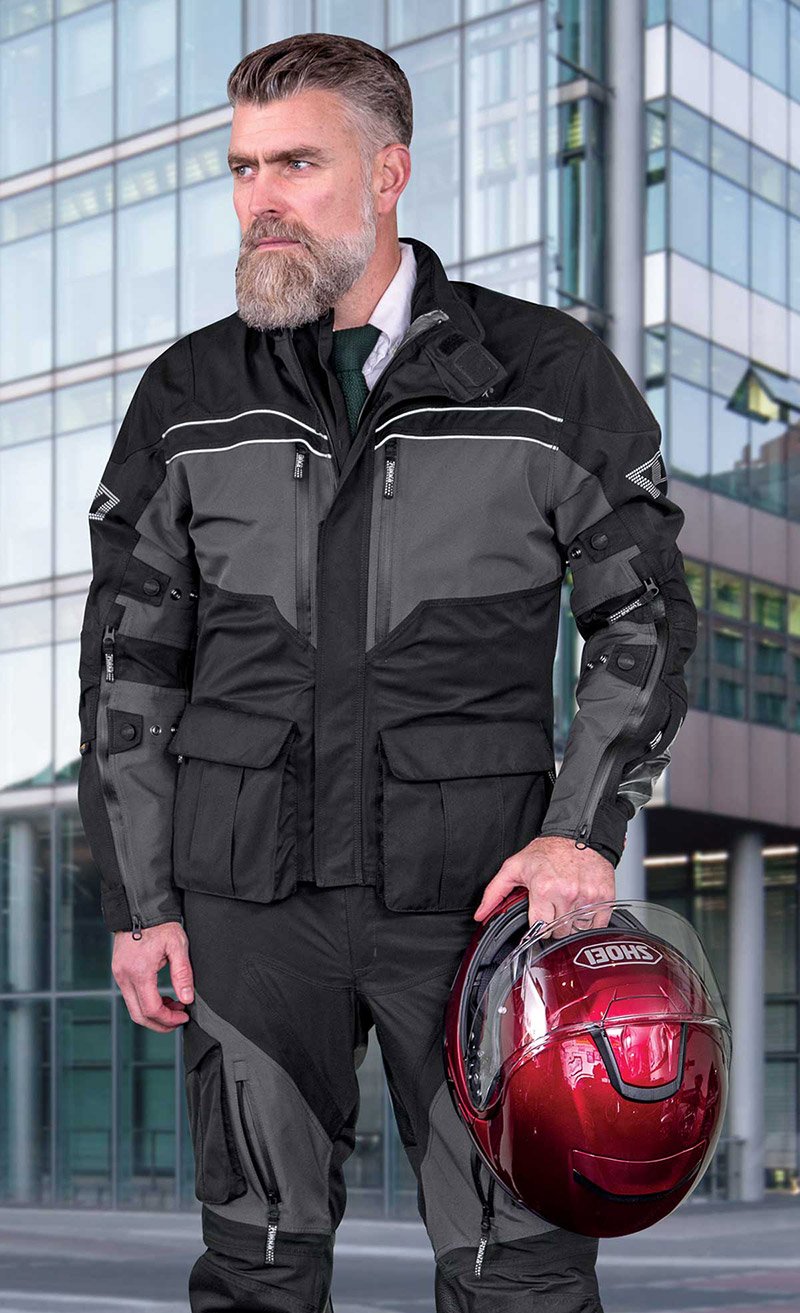 If you're commuting big miles all year round, you're probably going to benefit from a laminate suit.
At the other end of the spectrum are what we call three-layer suits with separate and removable thermal and waterproof liners. These garments are popular in Southern Europe, and are often aimed at adventure-bike riders. But whilst they can be brilliant in hot weather because the waterproof/windproof layer can be removed; they are fussy, can be bulky, and they don't work particularly well in the rain, because water can pass through the zips.
The fact is that, for most of us, a traditional drop-liner motorcycle suit is still the best option. But let us explain what a drop-liner jacket (or pant) is. A drop-liner jacket has a waterproof membrane that sits (or hangs) inside the outer protective chassis of the garment. This waterproof membrane cannot be removed. It is sewn into the garment, and is then taped at the seams to stop the rain getting in. 99% of waterproof motorcycle garments are made in this way.
"In theory, a laminate outfit is more capable but, for most of us, a drop-liner suit will be more than up to the job."
In a decent, drop-liner jacket you will not get wet. A membrane consists of millions of tiny holes. The moisture that results from the evaporation of your sweat can escape through these tiny holes. This stops you getting wet from the inside, but the colder, larger rain particles cannot enter the membrane. So, in two, three or even four hours of rain you won't get wet. And, let's face it, most of us don't often ride in more than four hours of rain.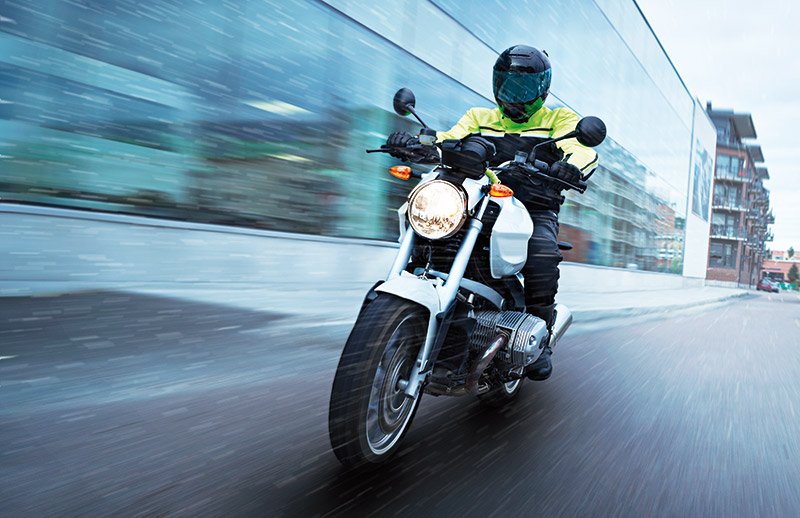 A drop-liner garment will eventually 'wet out'. If you want to avoid this, carry a waterproof.
Yet it is true that after three or four hours or more, a drop-liner jacket (and pants) can start to become saturated and heavy with the rain that has soaked into and through the outer fabric. This isn't nice. As you ride along at 70mph, the wind-chill factor can make you feel cold, because the wind will be coming into contact with this sodden, wet garment. This is the downside of a drop-liner construction, although you can mitigate this by carrying waterproofs with you.
What we've noticed recently is that lots of bikers coming into our shop have convinced themselves that they really do need a laminate suit. Well, some perhaps do. But I'm imagining that, for most of us, we're talking about one in, say, 100 days of riding where a laminate garment is going to be preferable. For the other 99 days, a drop-liner suit will be more comfortable and warmer. And on all 100 days it will be more affordable!
"There are poor quality, drop-liner suits, average ones, and brilliant ones. In our view, the Wien and Wish constitute the best drop-liner suit money can buy."
But, as ever, not all drop-liner suits are equal. There are good ones, and not so good ones. Some have top-quality membranes and thermal liners; some have cheap ones. Some are more protective, and some have lots of bells and whistles that make life on the bike nicer.
We don't like the statement that 'you get what you pay for' because it leads some people to think that the answer is to pay more. And that's the opposite of what we're saying here. What we're saying is that, for most people, an expensive, laminated suit is not the best solution. It's probably going to be relatively uncomfortable, not very warm, and a waste of money.
Having said that you don't always need to pay more to get something better, if you are looking to spend under £500 for a textile outfit to wear in all weathers you are, in our view, going to be cutting too many corners. To hit this price point, it may be that the manufacturers will save money by using a less strong fabric, or a lower quality membrane; a cheaper thermal solution perhaps. And they'll probably skimp on adjusters, they'll downgrade the zips, remove the storm collar, delete braces and so on. Such a suit will purport to do the job, but it won't do it very well.
If you can only stretch to £500 for a suit, we understand. But spend £800 or £900, and you'll get something much, much better. And here's the way we view it. You buy a suit perhaps every five years. Spend £500, and that's £100 a year. £100 a year really isn't a lot of money given that we're talking about something that is going to keep you warm, dry, cool and safe in a environment that is intrinsically uncomfortable and dangerous. £900 is just £180 a year. Again, not a lot in our book. That extra £80 a year is less than 15 gallons of gas.
Anyway, the reason that we're trying to convince you that you should spend £800 to £900 on a suit is that this is what will buy you what we consider to be the world's best drop-liner suit.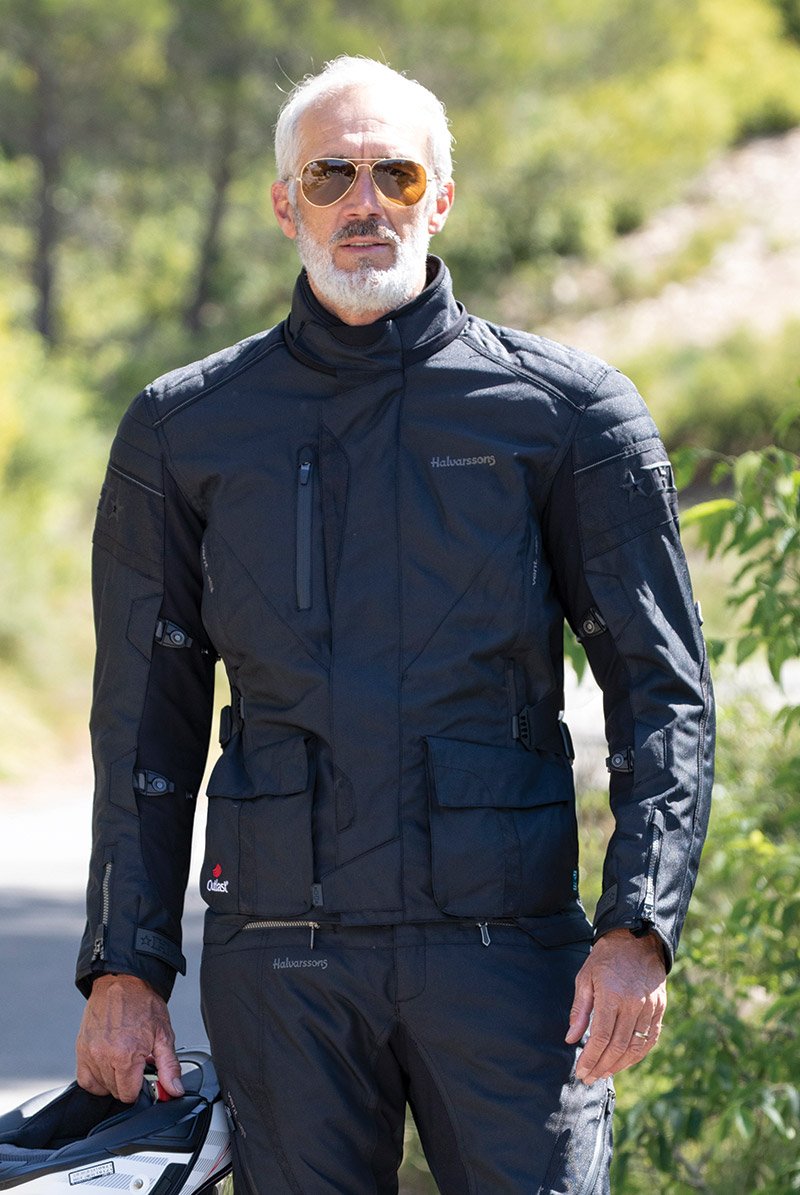 Okay, the suit may not be sexy, but it is lovely to wear. It's smart and it ticks all the important boxes.
THE HALVARSSONS WIEN JACKET AND WISH PANT
Halvarssons is a Swedish enterprise. Frankly, they're a pretty boring company. They are, so to speak, the Volvo of the bike clothing world. And so you could think of this suit as the Volvo XC90 of motorcycle suits, and you wouldn't be far off.
Like the Volvo XC90, the Halvarssons suit is well-engineered, solidly put together, supremely comfortable, safe and reliable. But, like the Volvo, the Halvarssons suit doesn't exactly exude sex appeal. If sex appeal is what you're after, there's probably something Italian out there that will better fit the bill.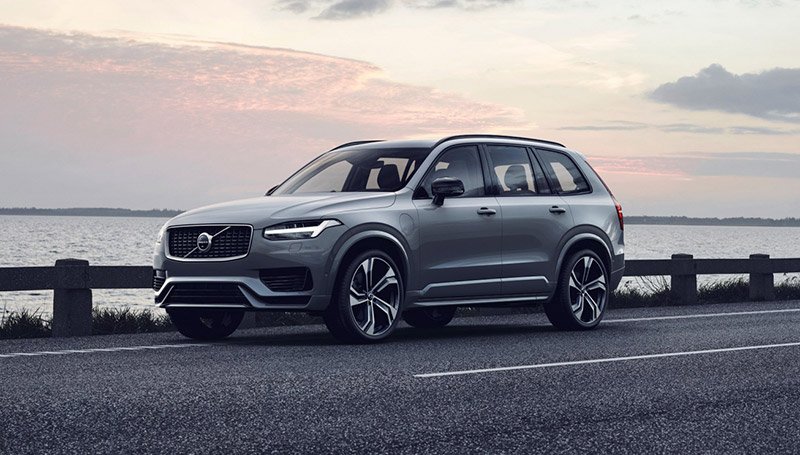 You buy a Volvo with your head. You know it's going to work. Same goes for a Halvarssons riding suit.
The outfit we're going to recommend, somewhat bizarrely given our comments about drop-liner garments, comprises a drop-liner jacket and a laminate trouser. Let's kick off with the jacket. We'll then explain why we prefer to match it to Halvarssons' laminated pant.
The Wien is the most recent incarnation of a jacket that's been in the Halvarssons range for well over 10 years. Its predecessor was known as the Prime. And the only reason the company changed the jacket was the requirement for all motorcycle gear to be CE approved. Let's talk through the jacket's spec.
The jacket is what we'd term 'mid-length'. It's longer and less sporty than a blouson-style jacket, yet it's still a tad shorter than a classic, adventure jacket. For touring and commuting, we think it's the perfect length. It will go well past the trouser belt line at the back and, in fact, in most cases it will easily touch the seat behind the rider. But it's not so long that it will push the collar into your neck when you sit on the bike.
It's made from an abrasion-resistant outer fabric that Halvarssons calls Taslan. Now there are tougher, stronger and more robust fabrics out there, but for Halvarssons comfort is all important. And so they use a lighter weight material, and then face it in all the most vulnerable areas with a lining called Hi-Art. And that lining increases the strength of the textile outer by 500%.
"Technically, the Halvarssons suit lacks for nothing. Hi-Art for added abrasion resistance, a great waterproof membrane, and a brilliant removable, Outlast thermal inner jacket."
Now what this enables Halvarssons to do is create a jacket that is strong where you need strength, but light where you don't. So, for example, there's no Hi-Art down the flanks or on the inside of the arms, because these aren't high-risk zones in an accident situation. It's partly this intelligent use of protective fabrics that makes the Wien so nice and easy to wear.
The membrane used by Halvarssons is one that they have developed with specialists in the snowboarding world in Scandinavia. It is known as Dryway Plus and, according to Halvarssons, it is better than Gore-Tex in certain conditions. Certainly, in nearly 10 years with Halvarssons, we have had very few waterproofing issues. And when we have had them, the problem has usually not been the membrane itself.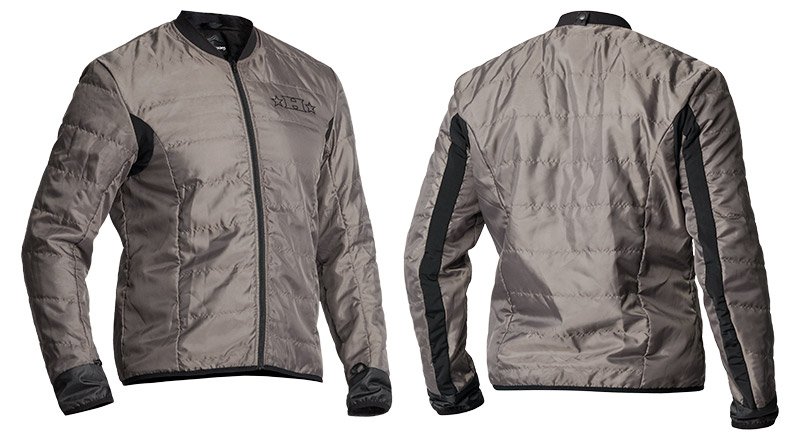 We recommend that you don't zip in Halvarssons' Outlast thermal jacket. It just makes life easier in every way.
One of the most special, technical features of the Wien is its high-tech, thermal inner jacket. For the Wien, the thermal jacket can be worn separately, rather like the Rukka Nivala's X-Down jacket. And, like the X-Down, we recommend that you do not zip it into the outer jacket. You wear it as a stand-alone jacket when it's colder, and keep it in a pannier when it's not. But unlike the X-Down, which is filled with duck down, the Wien's inner jacket is made using Outlast. Outlast is amazing. It was developed for the NASA space programme and, essentially, the membrane stores heat in paraffin molecules. When you're warm the heat from your body is absorbed into the membrane. When you get cold, it passes that heat back to the body.
You do, though, need to get heat into the Outlast to enable it to work. You can't leave your jacket in a cold garage overnight, and then expect it to keep you warm on a cold morning commute into the office. To enable it to work you need to wear the jacket for five or ten minutes before you set off. Or you need to leave it on a radiator. But it works. In fact, it works incredibly well. To see how well it works, wear the Outlast jacket for 10 minutes; then take it off and you will be able feel the warmth being held in it.
On the bike, though, it's not just a one-hit wonder, because your body will always be generating heat, normally under your armpits for example, and this heat will be absorbed by the membrane and will spread around the jacket. Outlast has one other trick up its sleeve. If you are hot on a hot day, when you put on the Outlast jacket, it will cool you down. It's probably best to describe Outlast as a temperature regulator. You'll never get too hot or too cold. It'll help you maintain an even body temperature.
Finally, the inner jacket also contains an insulating material called Innoborne, which is like Thinsulate. The bottom line is that the Wien's inner jacket is really warm. Whether Rukka's X-Down is better we couldn't say. We haven't tested the two back to back, but the Halvarssons Wien jacket is certainly clever, and it will help you maintain a perfect body temperature. The Rukka X-Down inner may be great when it's really, really cold, but in milder conditions it could well be too warm.
We reckon the Wien is the perfect jacket for 95% of riders, and 95% of riders don't go out when the gauge falls to one or two degrees. At these temperatures you would still find the Wien up to the job, we reckon, but you'd want a good base layer and something like Halvarssons' merino Polo Wind as a mid-layer. If you're somebody who really feels the cold, of course, you could always wear a Warm & Safe electrically-heated base layer or lightweight jacket. Wear one of these, and you'll never feel cold again.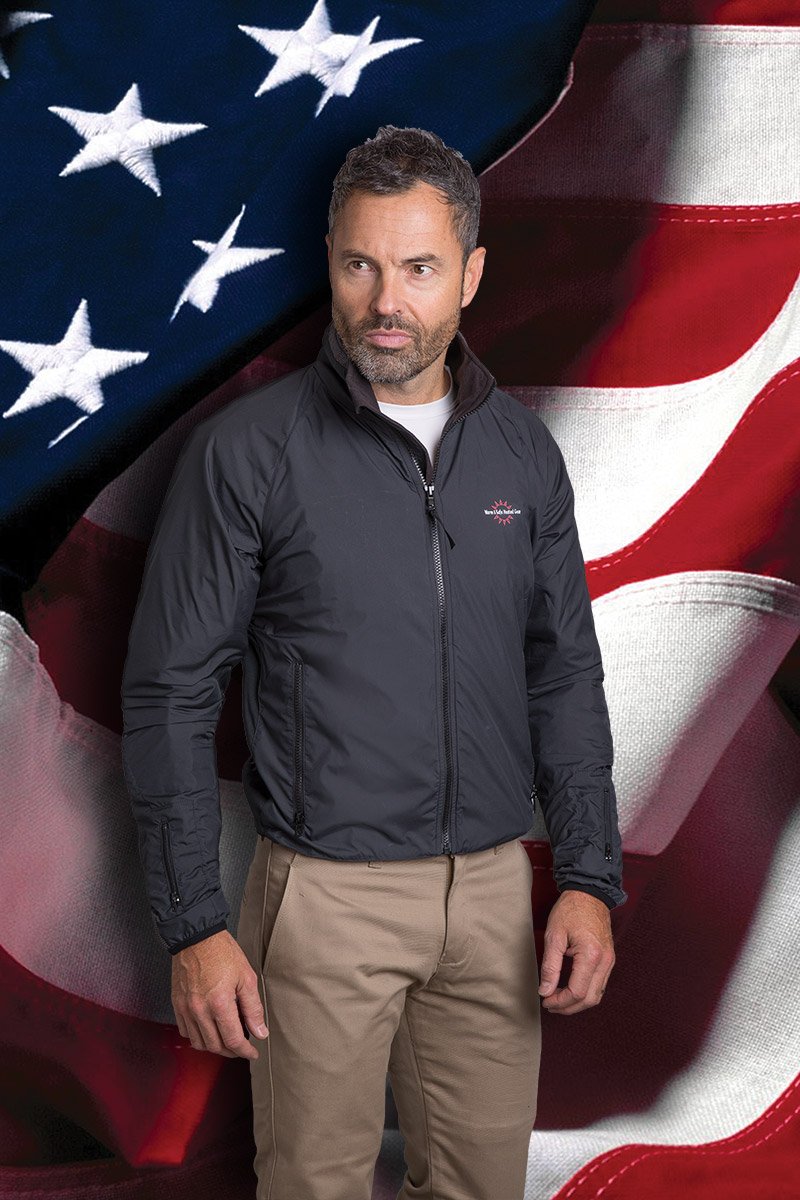 The Outlast inner jacket in the Wien is very warm. If it's not enough you wear a duck-down mid-layer, or go electric.
We've already spoken about the comfort of the Wien jacket, and we've alluded to the fact that Halvarssons' selective use of a protective lining makes a contribution. But another important factor is the elasticated adjusters at the waist of the jacket; the waist and not the hem. Now waist adjusters are not exactly new when it come to biking jackets, but on no jacket that we have seen does the system work as well as it does on the Wien. The elasticated straps allow the jacket to be loosened to enable you to wear extra layers. But, for us, the benefit of the elasticated straps is that you can tighten the fit to create a snugger fit that means that the jacket won't flap and make a noise as you ride along at speed. Wear it snug, however, and when you bend the jacket will move with you. It won't feel tight.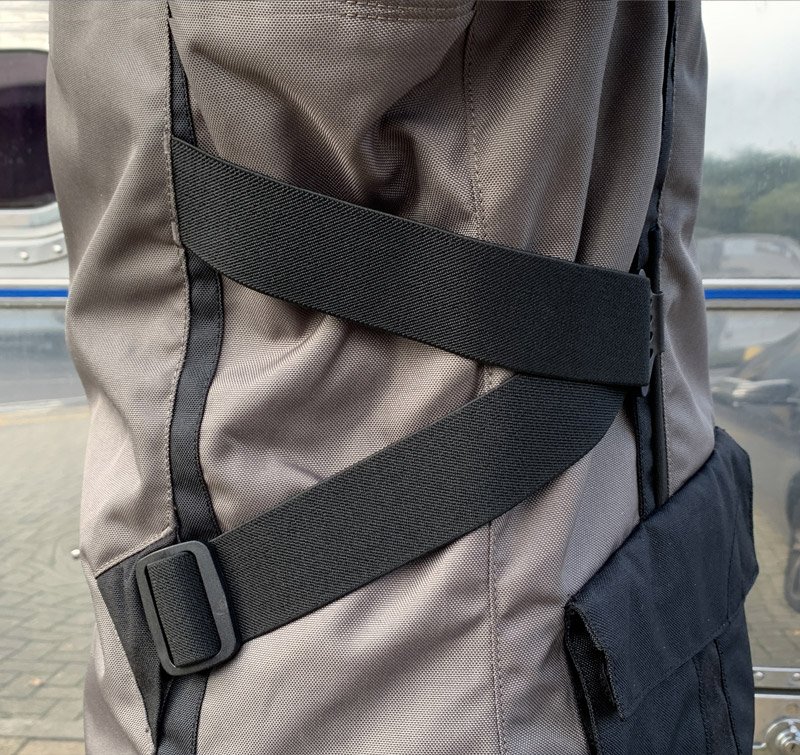 The Wien is very comfortable, but the fit is improved considerably by using its elasticated side straps.
But the devil, as they say, is in the detail and, on the Wien, there's a lot of detail. There's a removable wind collar that protects the neck, and that stops rain running down the helmet into the jacket. There's the zipped vents under the arms, and an exhaust vent on the back. There's a storm placket that attaches with Velcro and magnets, an internal waterproof pocket, adjusters on the hem and on the sleeves, reflectors and sleeve adjusters.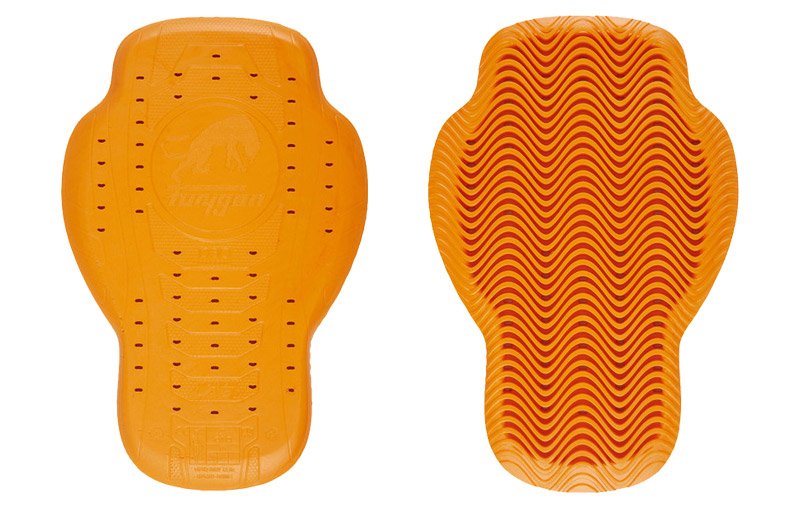 D30's T8 protector fits perfectly in the Wien, and is so much nicer than the monstrosity the Swedes recommend.
Obviously, the Wien comes equipped with CE armour. And, as you would hope, it's Level 2 armour; that's the highest level. The jacket and pants, by the way, are both rated AA under the latest EN17092 regulations. And that's as good as it currently gets in the world of textile garments.
There's a pocket in the back of the jacket that takes a back protector. But here we have to make an admission. We don't like Halvarssons' back protector. In fact, it's awful. It's like riding with a surf board stuffed up your jumper. And so we've adapted a D30 T8 protector for the job; and it works perfectly.
So that's the jacket; but here's the next problem. We actually prefer to match Halvarssons' laminated Wish pant to the Wien jacket rather than the company's recommended W pant. There's nothing wrong with the W pant; nothing at all. We just happen to prefer the Wish pant.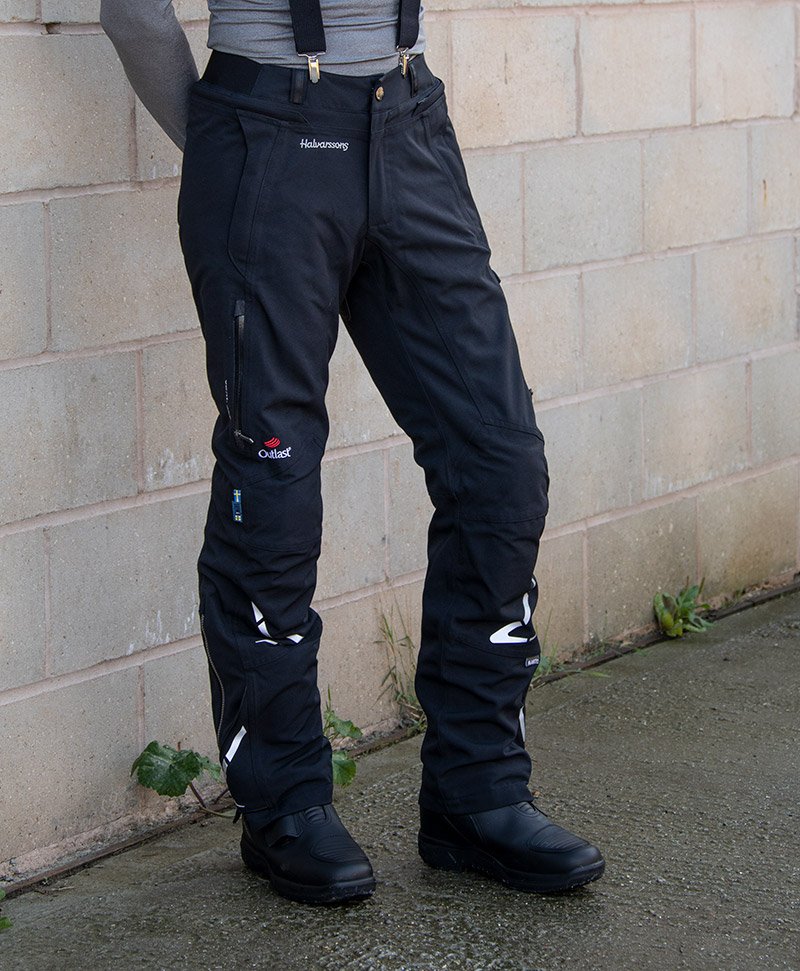 Ironically, we prefer to match the Wien jacket to Halvarssons' amazing laminated Wish pant.
Now this might seem a little strange given the play we've made for a drop-liner jacket, but the Wish pant is, in our view, an amazing trouser. Yes, it's laminated, but it's way more comfortable than a laminated pant has a right to be. It fits nicely, has a narrow-legged, slim profile; and it's only a few quid more than Halvarssons' drop-liner pant.
"Having made it clear that we think the Wien drop-liner jacket is perfect for most riders, it might seem bizarre that we recommend matching it to a laminated pant!"
In terms of features, the Wish pants are more than a match for the Wien jacket. You get Hi-Art for added abrasion resistance, Level 2 armour in the hips and knees, a removable, Outlast liner, a laminated membrane, zipped vents, braces and so on. The Wish pants can be zipped to the Wien jacket, as you might expect, and there's an elastic expander if you're long in the upper body and need more height.
Put all this together, and we reckon you've got a suit for all seasons and for all riders. The suit looks good and most importantly, it works well. Over the years, we've sold thousands of Halvarssons' drop-liner suits to our customers. It's why we feel that we can say, with a degree of confidence, that for 95% of motorcyclists this is the best suit money can buy.
This suit is the most comfortable riding suit you'll ever own. You can buy flashier. You can buy trendier. And there are sportier outfits out there. But, for Halvarssons, motorcycle wear is all about comfort. If you're comfortable on the bike, you're thinking about the road, and not how cold, hot, sweaty or wet you are. You can concentrate on the important stuff. The stuff that wants to ruin your day.
Can you buy a better suit? Well, pay twice as much, and technically you will get something with a better technical spec.. You will get a suit that won't wet out. You might get better venting. But we doubt that you'll ever find a suit that's more dependable and easier to live with. And all this for less than a thousand pounds.
We will close with a couple of points of detail. The Wien outfit also comes in ladies' sizes. The jacket comes in two different colours. The range of sizes, by the way, is huge. Very rare are the occasions where we cannot get this outfit to work on somebody. And what helps is that the pants come in short, regular and long leg lengths.
Finally, we are the experts when it comes to making this suit work. We know who it will work on, and how it should fit. Here in Guildford, we try to hold pretty much all the sizes in stock all the time. You won't find anybody else, even in Sweden, who holds as much on their shelves as we do. You can order on line, or come and see us in Guildford. If you visit us, we'll get you in a suit, and have you sit on our shop bike to make sure it all works. We'll adjust the armour to get it in exactly the right place, and we'll explain to you how to get the best out of the suit. If you want to get it right first time, come and see us.
---
Want some more? Please click here to return to our editorial menu.

Share this story