Making the case for the Rukka Nivala
Published on: 09 October 2019
If you're a high-mileage rider, somebody who commutes, say, 100 miles a day, or an instructor, a Blood Runner or a professional rider of some description, then Rukka has to be high up on your list when it comes to choosing what you want to ride in. And rightly so.
Now Rukka makes a number of suits; some laminated, some of a drop-liner construction. But as far as we're concerned, the Nivala sits head and shoulders above any other commuting suit in their range. One suit down from the Nivala is the Arma-T. The Arma-T jacket costs £250 less than the Nivala jacket. The Arma-T trouser costs £80 less than the Nivala pant.
But, in our view, the premium on the Nivala is well worth paying. On the jacket, you get an incomparably more comfortable fit that can be put down to its stretch Cordura outer. You also get a vastly superior thermal inner called the Down-X that, in its own right, sells for £190. You also get a D3O chest protector. All this has got to be worth an extra £250, in our book. It's an even more straightforward consideration when it comes to the pants. £80 extra for the stretch-fit comfort and a 90% duck-down inner pant is a bit of a no brainer, in our view.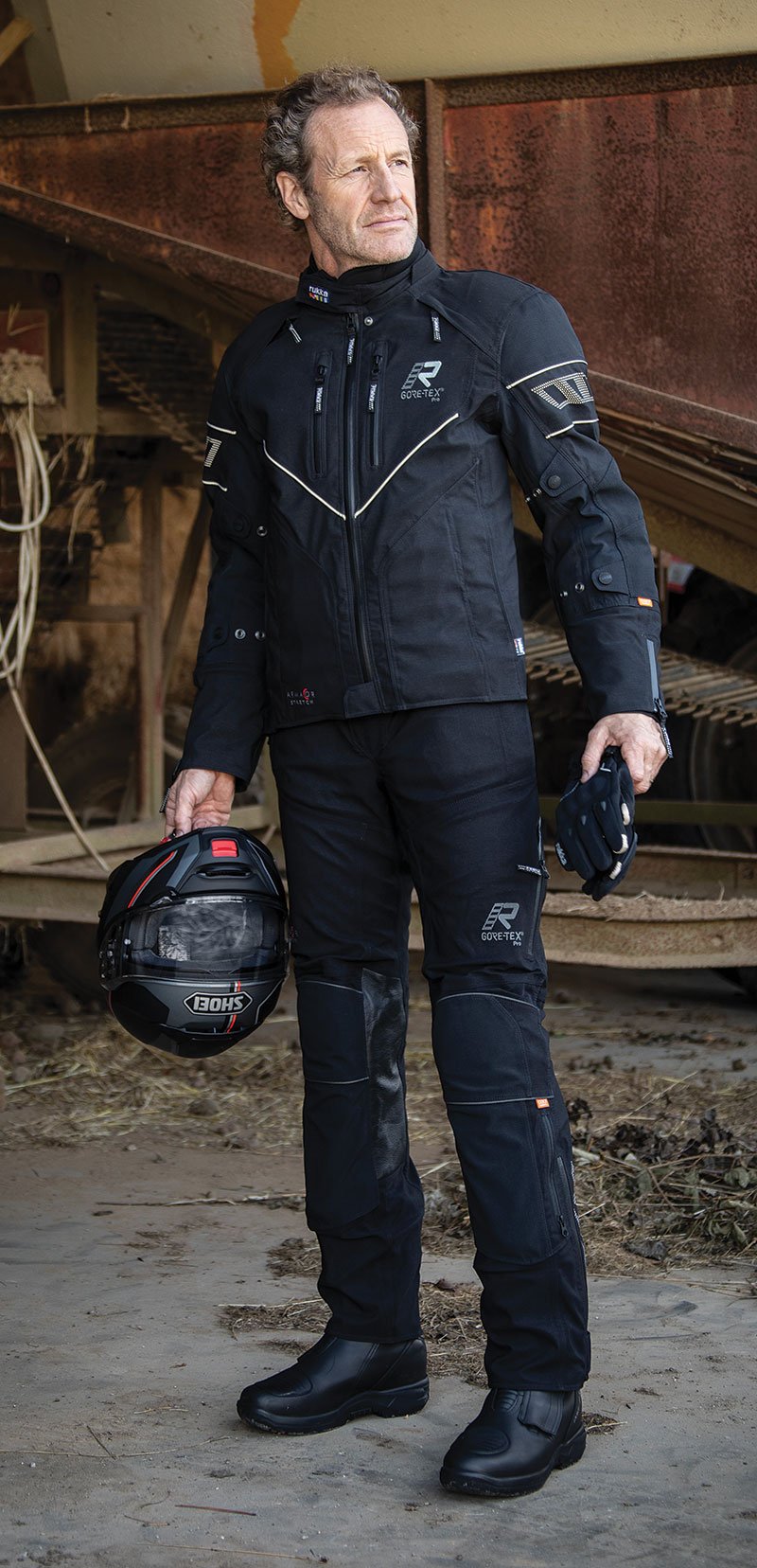 The Nivala isn't Rukka's only laminated suit. There are other models; they're a bit cheaper than the Nivala, but when when you compare them from a technical perspective, the Nivala is in a league of its own, and well worth the premium. And that's before you realise the difference in wearability.
A Rukka suit is guaranteed for six years. The difference in cost between the Nivala suit and the Arma-T is £330. Over six years, the difference in cost is a mere £55 a year. Frankly, we cannot see any basis on which one would choose the Arma-T over the Nivala. If the cost difference is, for you, a significant factor, take out our 24 month, interest-free finance. The difference is then just £3 a week for 104 weeks. And, really, £3 just isn't significant when making a decision about suits at this end of the market.
The wider question, however, is how does the Nivala compare with other laminated suits on the market; suits from other brands? Well, we don't offer all the laminated suits on the market. In addition to the brands we do sell, people like Alpinestars, Dainese, Dane, Held and others all offer laminated suits although, for the kind of heavy-duty usage to which most people are subjecting their Nivalas, we think the choice would come down to Klim, Stadler or Rukka. If we really thought that there was another suit that could be considered as being up to the job, quite simply we'd offer it.
The Rukka Nivala, the Stadler Supervent and the Klim Kodiak are the best made, most robust and most uncompromising laminated suits on the market in our view. But each suit has its own strengths and weaknesses.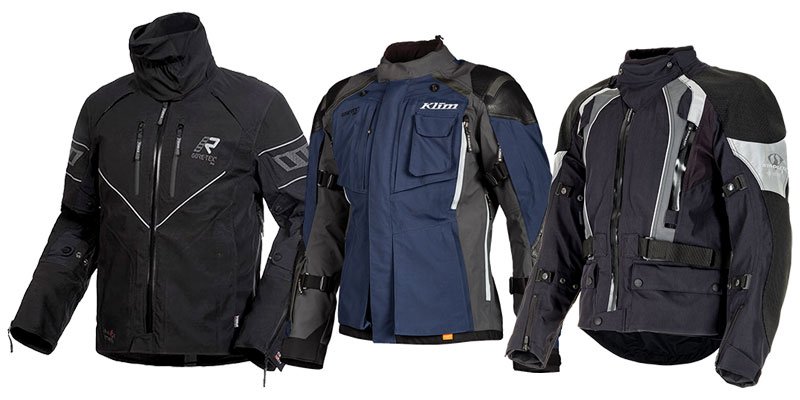 Shown above: The Rukka Nivala, The Klim Kodiak, and the Stadler Supervent. We are convinced that these are the best, most hard wearing, most reliable laminated suits on the market.
The top Klim road suit is the Kodiak. It is typically a shell-only construction, so delivers little by way of thermal protection. It's a very safe suit, though, with leather panels in the key safety areas. It is also incredibly well vented. The top Stadler suit is the Supervent 3. It is not the most comfortable laminated suit, by a long way, but with SuperFabric panelling and armour that exceeds Level 2 by 60%, it is probably the safest. It's also very well vented, although it's perhaps not quite as good as the Klim in this regard.
The rationale for the Nivala is its comfort and wearability. Of course, it ticks all the important boxes. A three-layer Pro Shell chassis means that it's a suit you'll never get wet in. With its duck-down liner it's incredibly warm. It's got reasonable, but not great, venting. The armour throughout is D3O, although disappointingly the back protector is only Level 1. You get a storm collar, GTX cuffs, Anti-Glide and Keprotec systems in the seat of the pants, and so on. In every way, the Nivala is a great suit. It comes in a huge array of sizes. It has a six year warranty, and has all the bells and whistles one could ever need.
But of one thing there can be no doubt. The stretch fabric on the Nivala makes it the most comfortable laminated suit you will ever wear, now or in the future,. And we can be reasonably confident of this because Gore has announced that it will no longer supply a stretch laminate fabric. Normally, laminated suits are not particularly comfortable, but the Nivala is every bit as comfortable as even the most cosseting of drop-liner suits.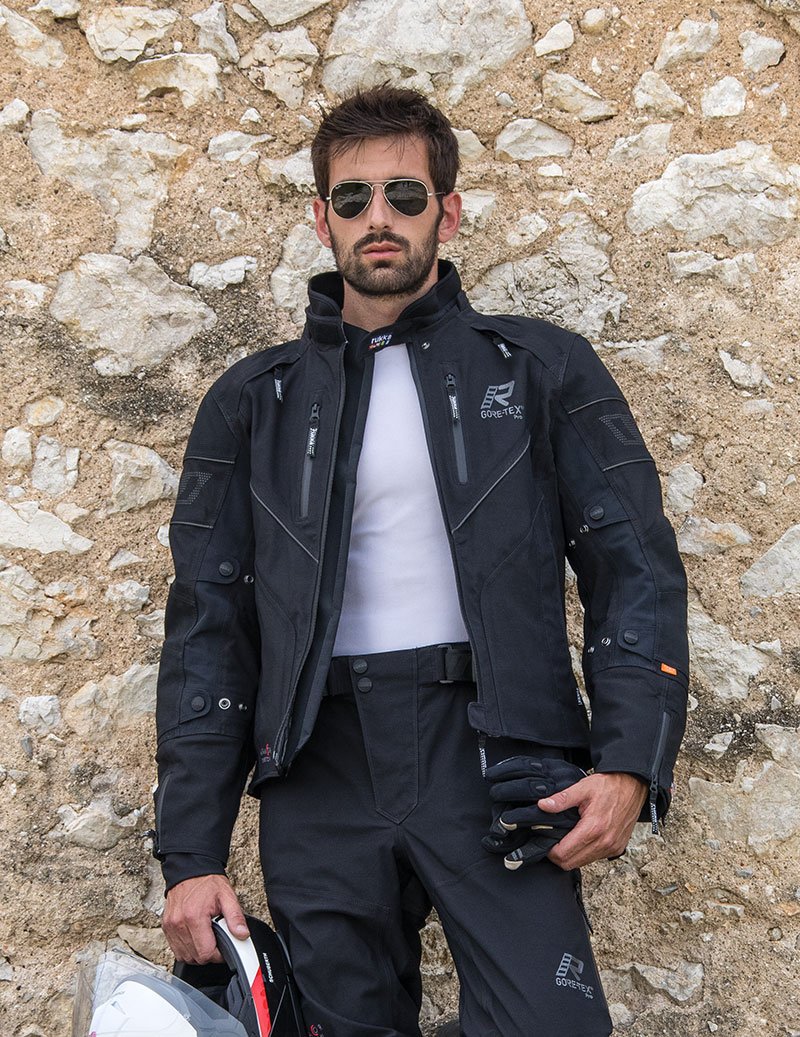 Bonding a membrane to a layer of something very strong like Cordura can make for an uncomfortable suit, and indeed most laminate suits are a bit stiff and crunchy. But uniquely, with its stretch Cordura, the Nivala is supremely comfortable. But, be warned. Gore-tex tell us that they are not going to make a stretch laminate fabric again. The Nivala's comfort may never again be found in a laminated garment.
At this end of the market, where performance and functionality sometimes appear to be the only considerations, comfort might appear to be an ephemeral consideration. But we disagree. The primary aim of a motorcycle suit is to keep the rider warm and dry and, when necessary, cool and refreshed.
And this is important, arguably just as important, as good armour and strong, anti-abrasion fabrics. If, when you are riding, you are comfortable on the bike; if you're not shivering from the cold, not feeling miserable from the wet, nor dehydrated from the heat, you can put all your powers of concentration and energy into staying safe, and staying alive. Better, in our view perhaps, to put yourself in a position where an accident is less likely to happen than to have to rely on a suit whose only virtue is its protective qualities when it all goes wrong. And there's no suit that's going to make you feel more comfortable and in control than the Nivala. There's no laminated suit quite like it.
But the £2000+ cost of the Nivala is still, for most of us, quite chewy. It's something you've got to think about. Which is where interest-free finance can, for some, make a difference. It still doesn't make the suit less expensive; although it doesn't make it dearer either. This is how the math works out. A deposit of £212; followed by 24 payments of £79.50. There are no extra charges. You'll end up paying just £2119. 98, which is the standard retail price of the suit. At the end of the two years the suit will be paid for, and you will still have remaining four years of warrantied service. Put another way, and this has nothing to do with the finance, divide the cost of £2119.98 by the six years of guaranteed service, and the cost of the Nivala suit is just £353.33 a year. Given how this suit is going to protect you from both the elements and other more dangerous forces, you have to ask yourself if the cost is as high as it might initially appear to be.

At this end of the market, zero finance can make a huge difference. It may be that you simply cannot afford the capital outlay that is required to by a high-end suit. The £2,000 cost of the Nivala suit is a lot of money in anybody's book, but over two years with interest-free credit that's less than £80 a month.
The answer may depend on how many miles a year you ride. If you ride less than 5,000 miles a year, a Nivala is an indulgence; a luxury that, in all probability, you almost certainly don't need. At 10,000 miles a year, the decision becomes a little more nuanced. But if you ride more than 15,000 miles a year, then we could and would make a strong case for finding a way to afford a suit like the Rukka Nivala, the Stadler or the Klim.
In closing, I wanted to make one final observation about price. Some websites offer discounted prices, but with our 10% Price Beat guarantee, our price will always be the cheapest. If the retailer is in the UK, our price will be 10% less than anyone else's discounted price. If the retailer is in Europe, we will match their price. Quite literally, we will always be the cheapest seller of the Nivala.

The Nivala is not cheap. Occasionally, you may find it being offered at a discount to the recommended price. But, fear not; if anybody in the UK is discounting the Nivala, or indeed anything else we sell, we'll beat their discounted price by a full 10%. If the seller is in Europe, we'll match their price.
But if you're going to invest in a Nivala, you're going to want to make sure that it fits you properly. It's important because, if it doesn't fit properly, it won't work properly. The very best way to make sure you get the sizing right is to come and visit us here in Guildford, because we have more experience when it come to fitting the Nivala than anybody else. We know, for example, that for most people you need to go down a size on your usual size. The pants come in short, regular and long leg lengths, and we'll get you to sit on our shop bike to make sure the pants are neither too long or too short. We'll only be able to get this right if you're wearing the kind of boots you normally wear. But don't worry; if you forget to bring your boots along with you, we have a few thousand pairs here, so we can normally find a pair you can use for the exercise. The bottom line is this. We love this suit. We've been selling it for longer than anybody, and we've certainly sold more than anybody. We are the Nivala ninjas.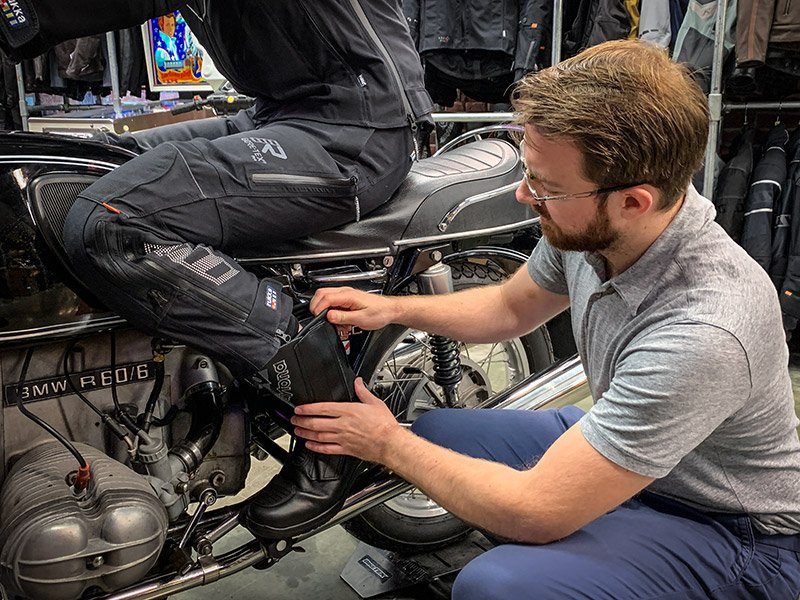 There's no point spending two grand on a suit if it doesn't fit properly. We'll get you to sit on our shop bike to make sure the jacket is long enough at the back, that the collar doesn't push up into the neck at the front, that the sleeves are not too long, nor the leg length too short. We won't be happy until it's right.
Finally, don't forget: if you like the suit in the most popular, black and silver colourway, it's only available from Motolegends. I know I've already said 'finally', but I wanted to make one last point; if you do decide to come and see us, you can always phone ahead, and we'll put a suit in your size to one side for you. After all, we'd hate you to have a wasted journey. Most people who do visit us to buy a Nivala do tell us it was worth making the effort. At the end of the day, for all concerned, we just want to get it right. It's important if it's to work.