Rukka Nivala jacket in black (RUK1075)

Product Information
The Nivala is Rukka's new top-of-the-range suit that effectively replaces the Armas. Like the Armas, it is the most expensive outfit in their textile line up.
The new suit used all the same technology that you find in all the company's other laminate suits, but there's a much greater emphasis on comfort and livability. The outer shell, as you would expect, is a three-layer Gore-Tex Pro, so you're not going to get wet, and the suit will dry out rapidly. But on the Nivala the outer shell contains some stretch so it's a lot easier to wear than Rukka's other laminated products.
The outer shell of the Rukka Nivala jacket is a three- layer Gore-Tex Pro lining which will protect you from rain and the suit will also dry out quickly.
The thermal insulation of the suit comes in the form of a separate inner down jacket and trousers which do not attach to the outer garments of the jacket. They are carried in small pouches that come with the jacket and can be worn during incredibly cold winter days.
Abrasion resistance comes in the form of armacor panels that, the entire armour is also CE approved. The main zip for this motorcycle jacket is a YKK zip with rain cover, additional features come in the form of GTX cuffs, volume adjusters which are located on the sleeves, waterproof pockets and neoprene in the collar.
Obviously the trousers can be attached to the jacket by zipping them together.
Overall, we have to say that we are both impressed and delighted. Impressed because it is also that Rukka has been listening to its critics. Without any compromise as far as protection is concerned, the company has developed a new pairing that is going to be much nicer to wear than anything that has gone before.
This black and silver version of the Nivala jacket is exclusive to Motolegends.
Come and see it for yourself. We think you'll be rather impressed.
Rated as one of our
top 10 motorcycle touring suits.
To find out which Rukka suit is right for you, please click here to read our editorial piece
.
Know your capabilities. Understand Rukka.
Specification
A separate extra warm down jacket with 100g filling (90/10 down/feather). Jacket can also be used as a vest.
Jacket has a connecting zipper to trousers
Water resistant pockets marked with a "water resistant pocket" label
YKK zip with rain cover
Soft neoprene in collar
Detachable collar of elastic Gore-Tex Stretch material
Sleeves with zippers and waterproof GTX cuffs
Ventilation openings on shoulders and long 2-way zipper on the sides
Width adjustment on upper and lower arm
Four waterproof pockets; two outside and two inside including a mobile phone pocket. Two pockets in detachable down jacket
Materials
Gore-Tex Pro 3-layer stretch laminate
Armacor strengthenings on elbows and shoulders, combination of high-tech fibres Aramid and Cordura
Protectors
Rukka D3O Air limb protectors meet the requirements of CE Norm EN 1621-1 2012 and the All Back protector the requirements of EN 1621-2 2014
Pocket for Full Back
Rukka D3O Air chest protector included, PPE directive (89/686/EEC)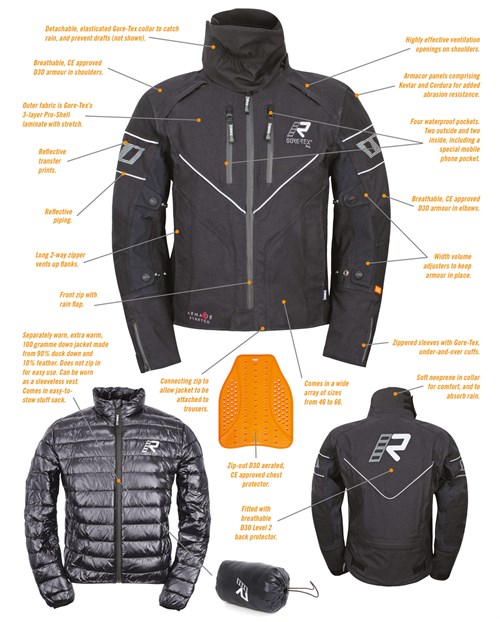 click image to view full size