I'm new to biking. Are you able to help?
Published on: 09/10/2019 09:03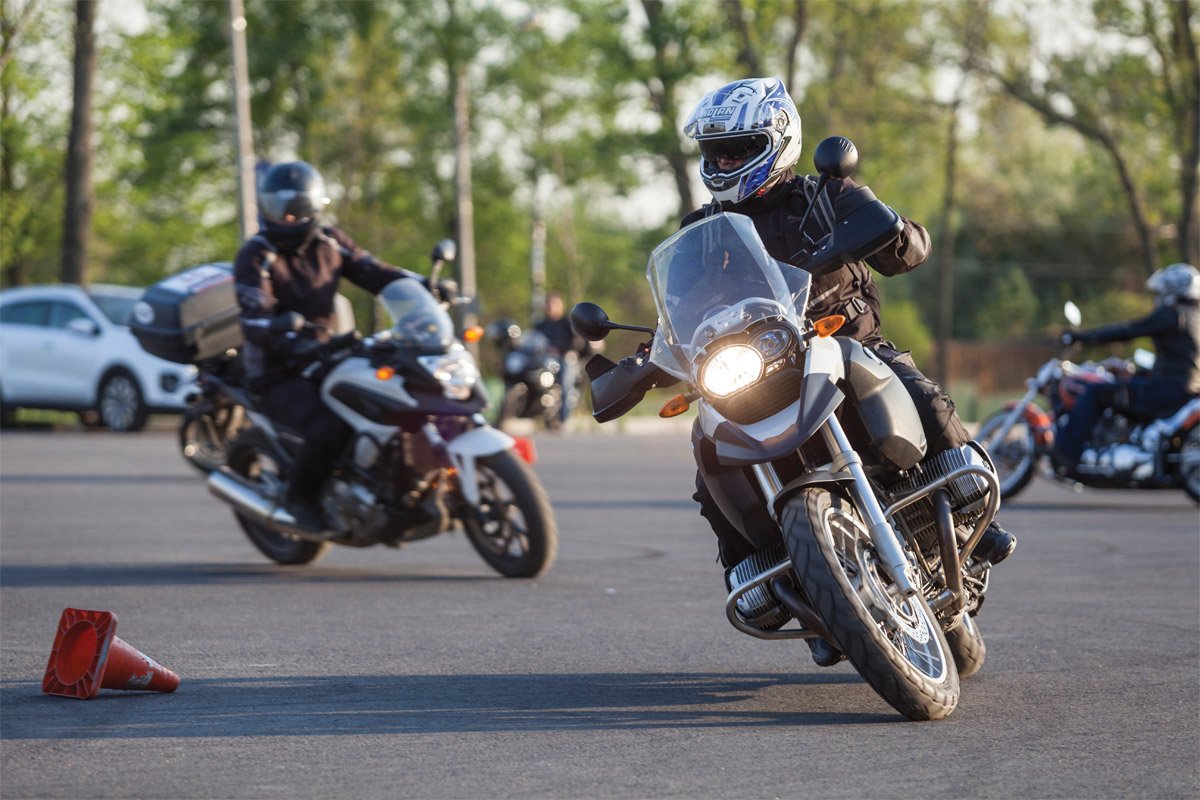 Yes, of course we can. And there must be shops out there who love the idea of being able to talk the unwary and unknowledgeable beginner into buying whatever it is they've been unable to unload on to their more experienced customers.
Well, here at Motolegends, we see things a little differently. We take our responsibility to those who are new to biking pretty seriously. We want to make sure that these guys (and girls) are comfortable and well protected. We want them to enjoy their new undertaking, to be comfortable on the bike, and to stay safe if they make a mistake. And I suppose we take the view that if we do the right thing by these new riders, they'll perhaps come back again when they're ready to up the ante.
As ever, we will want a conversation. It's particularly important with somebody who has no experience. Often, new bikers will have seen pictures in magazines or on the web. They'll have an idea in their heads about how they want to look. But, by contrast, they'll often have absolutely no idea about how gear works and what they need, as opposed to what they think they want.
We've lost count of the number of times someone has come into the shop, not having yet passed their theory test, but convinced that they need a super-cool, Bell Bullit helmet, a pair of off-road boots perhaps, and a Belstaff leather jacket. And that their chosen pieces will be perfect for their daily commute.
"And for the new rider we like to keep the budget down to a sensible level. Now it may sound implausible that a retailer is going to encourage a potential customer to spend less than they might be prepared to spend, but we would derive little satisfaction from getting a new rider to pay more than is required"
We're not here to burst anybody's balloon; and we're not in a position to tell people what they can and cannot buy, but we prefer to take a more pragmatic and measured approach, recommending gear that is appropriate for the kind of riding that the new rider plans on doing.
And for the new rider we like to keep the budget down to a sensible level. Now it may sound implausible that a retailer is going to encourage a potential customer to spend less than they might be prepared to spend, but we would derive little satisfaction from getting a new rider to pay more than is required. It somehow seems immoral. We wouldn't feel right about it, and of course we're always mindful that a new rider might not enjoy biking. Lumbering them with expensive gear would be unfair. And anyway, in our view, any retailer who does over-sell gear to a beginner is foolish. Bikers talk, and eventually that customer is going to realise that he's been taken advantage of.
So, our starting point is always a conversation. Are you getting into bikes because you see it as a cool thing to do, and just want to have a bit of fun on a Sunday morning? Have you decided to learn how to ride because you want to commute into work? Or are you harbouring romantic notions of criss-crossing the globe à la Charley and Ewan?
If our newcomer is a would-be hipster who's going to avoid the rain and the cold like it's the plague, we're probably going to recommend jeans. And unless his or her first bike is a Ducati Diavel, we're going to suggest that something like Spidi's J-Tracker jeans, at £150, are going to be up to the job.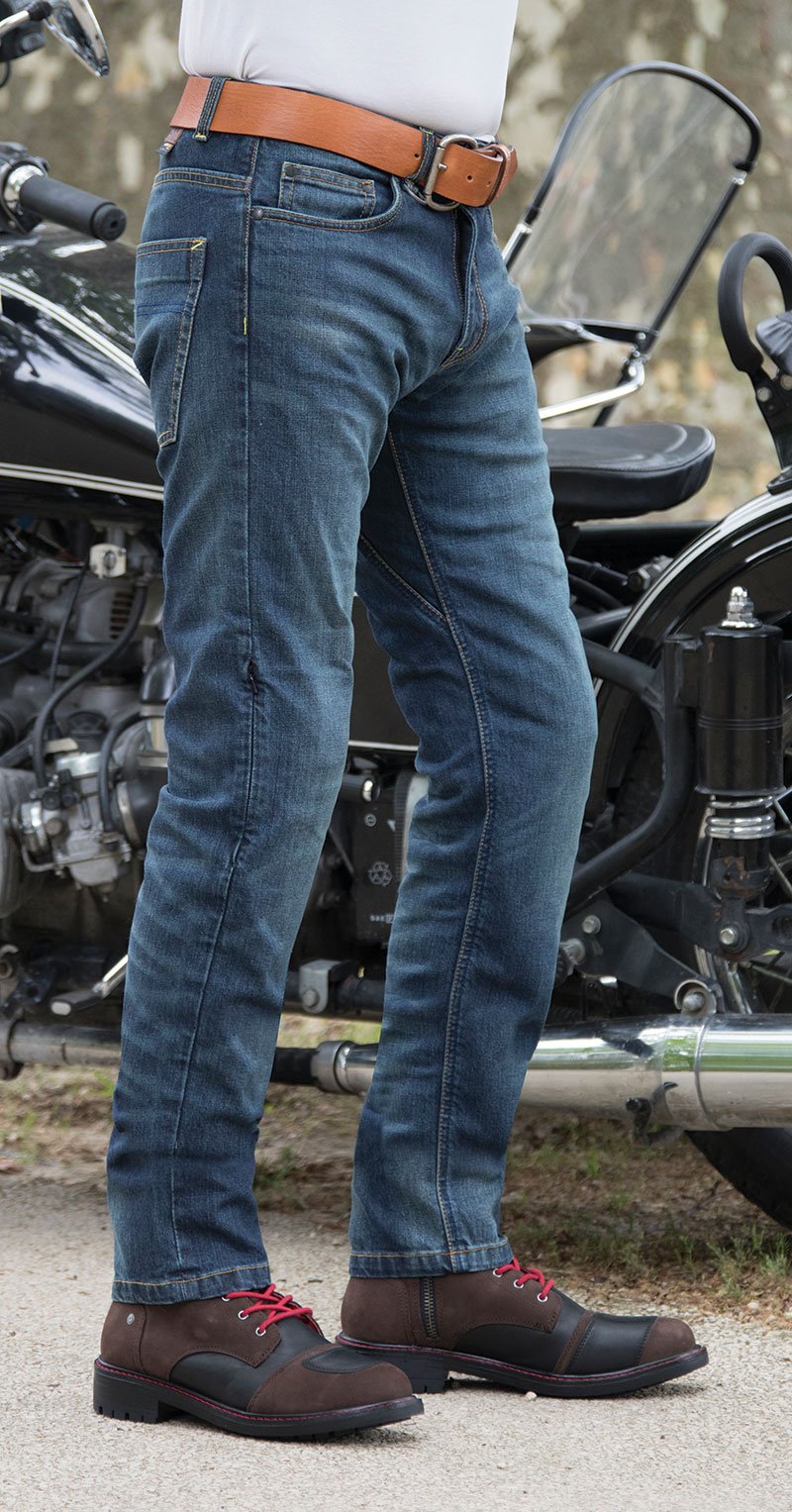 The Spidi J-Tracker jean.
If you're thinking leather, then a Richa jacket or, even a Halvarssons one, would be perfect. At this stage, a £400 plus jacket seems excessive. We'd be thinking a pair of short boots at around £150, and a pair of gloves for around £75.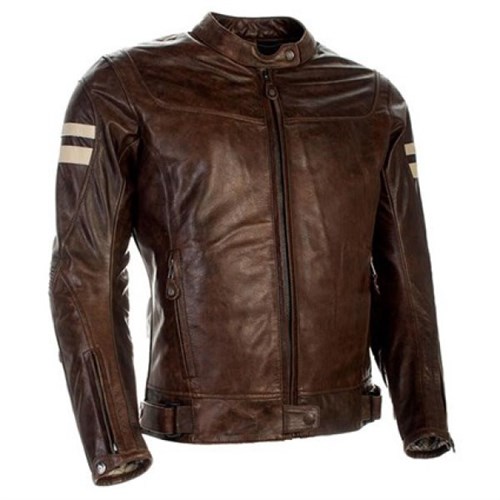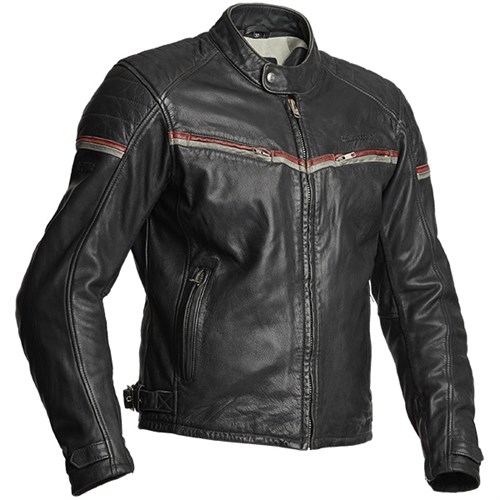 We have several leather jackets under £400 for the beginner motorcyclist. Our favourites would be the Richa Hawker, and the Halvarssons Eagle.
We tend to take a different view when it comes to helmets. We're willing to suggest a less expensive, less feature-laden leather jacket in order to hit a budget, but we'll never recommend a cheap helmet. Probably our favourite helmet for those starting out is the Shoei RYD. It's a cracking lid with all the quality credentials of a much more expensive helmet, including the option to fit different thicknesses of cheek pad and head liner to get the fit just right. The helmet is lightweight; it's as safe as any helmet out there, is well vented, quiet, and comes with a top-of-the-range Pinlock. At £300, it's an out-and-out bargain. Of course, it's not super cool like a Bell, a Nexx, a Biltwell, a retro AGV or a Hedon. But, we'll press our view. At this stage, put function ahead of form. If, later on, you want to wear something noisy, poorly made, ill fitting, and over priced, so be it. But when you're learning the basics, you don't want your attention being distracted by an impractical helmet, however cool it is.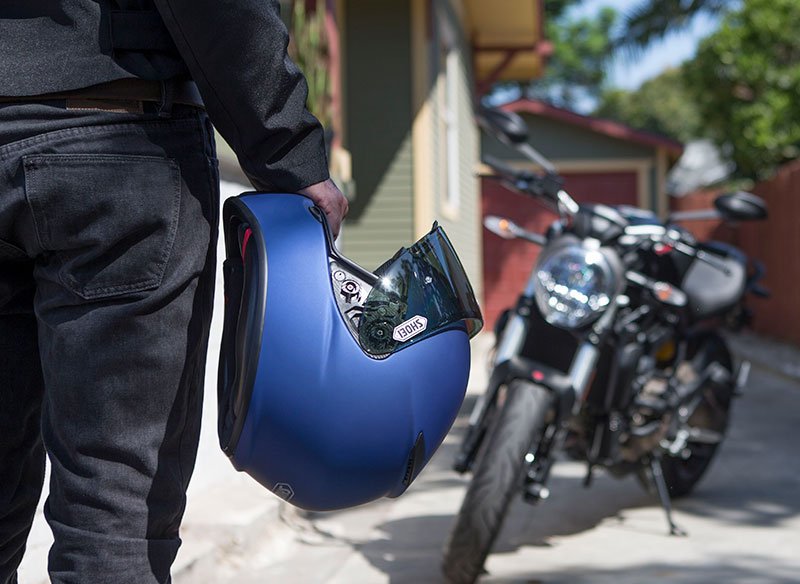 The Shoei RYD helmet.
If commuting or touring constitutes the future after passing the test, we'll look at a totally different range of gear, obviously. And even though we can always make a case for Halvarssons' Wien and Wish combination, we'll normally recommend something more affordable at the beginning.
Currently, we'd be pointing people to the Traveller 2 suit from Spidi. It ticks all the boxes and, at £490 for the suit, it offers great value. If that's still beyond your budget, then we may recommend looking at brands we don't offer. The truth is that we're not particularly active at the cheaper end of the market. We're not elitist, and it's not that the money involved is too small for us. It's more to do with the fact that we are only really prepared to recommend gear that we ourselves would ride in. And I'm not sure we'd ride in a £300 to £400 suit. Frankly, such an outfit might look the part, but it won't keep you warm and it won't keep you dry. And it won't deliver the levels of protection that we feel you need on today's roads. If you cannot afford to pay more for better gear we'll understand, but we will explain how cold and how wet you can get on a bike, and we'll explain how miserable life can be on a bike, even at 50mph. We'll also bang on about protection and about how, if you skimp too much, you'll be compromising on safety too.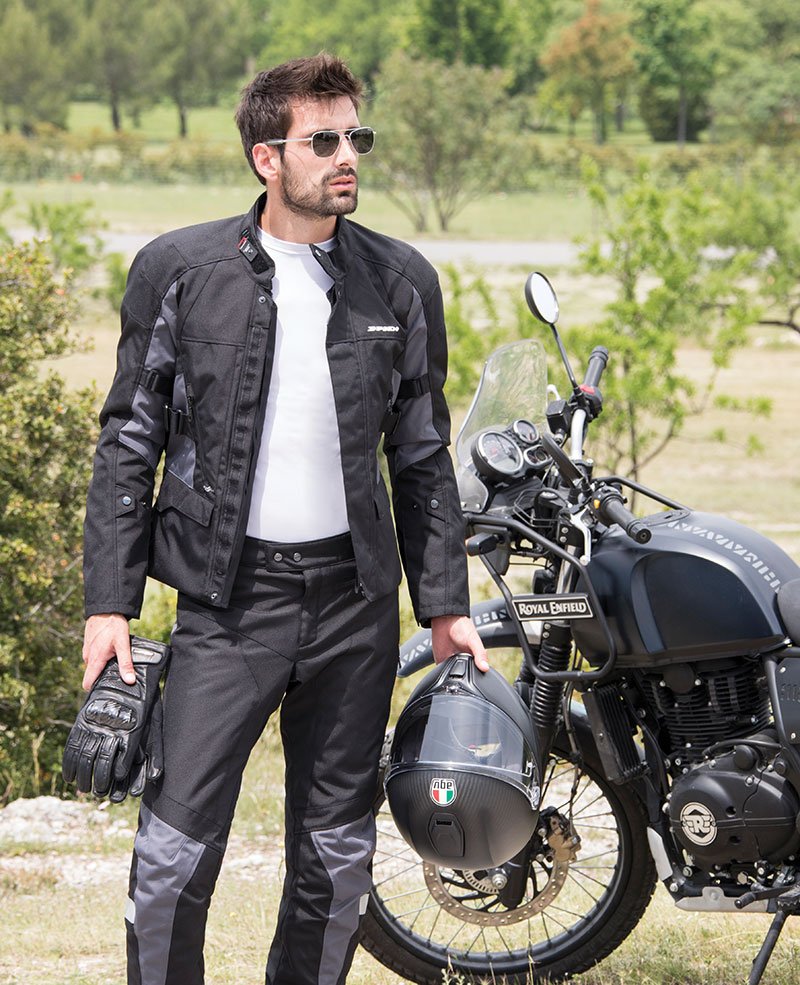 The Spidi Traveller 2, two-piece suit.
As far as footwear is concerned, we'd be talking about a taller boot with a waterproof membrane. TCX, Forma and Stylmartin all have boots that will fit the bill. Budget £150 to £200, in our view.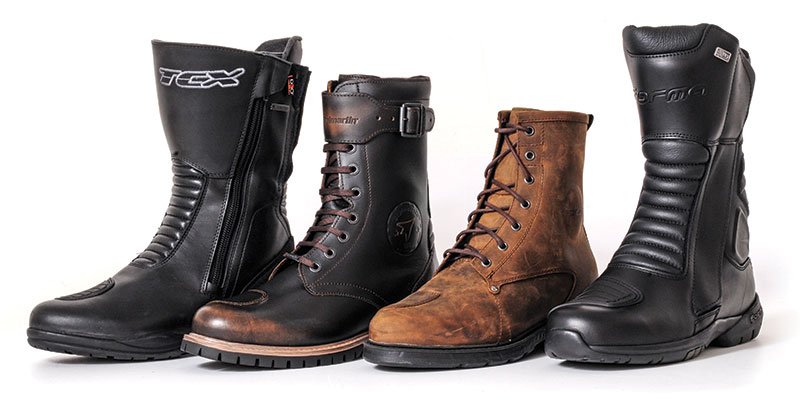 RA selection of entry-level motorcycle boots: The TCX X-Tour Evo, The Stylmartin Rocket, The TCX X-Blend, and the Forma Cortina Outdry boot.
In terms of gloves, the reality is that, to an extent, you get what you pay for. You can get a textile glove for £50. But pay £100 and you'll have something you can rely on. It'll be stronger, warmer and dryer. The Halvarssons Beast is probably the best all-round glove you can buy. It comes in at just under £100.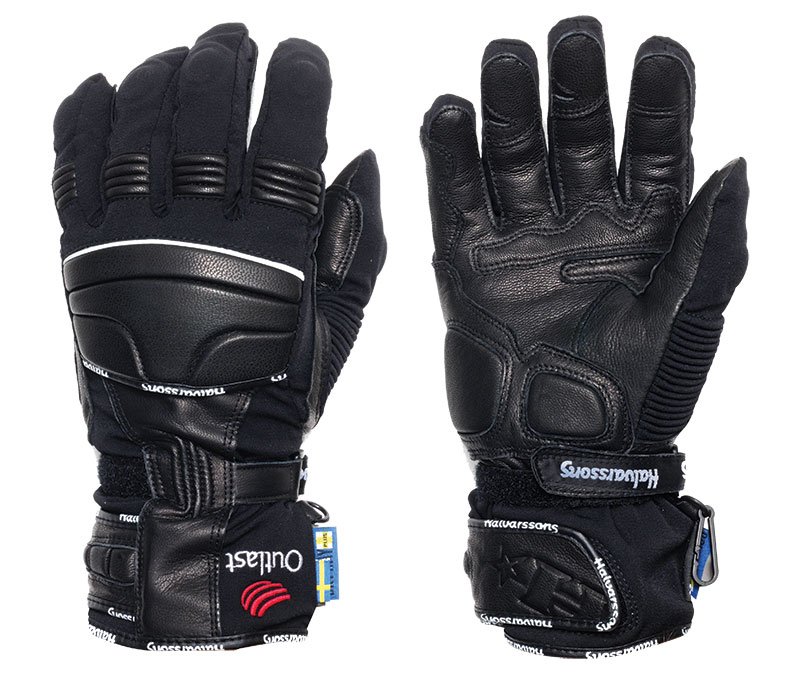 The Halvarssons Beast glove.
Anyway, this is our approach. We see a lot of new bikers here in the shop in Guildford. For some, money is not an issue; for others it is. We'll always try and do the right thing. If we've got the right gear for you, we'll tell you. But if we don't have what you're looking for, we'll tell you that too. And we'll be happy to tell you the places to go to get the stuff you need.
What you have to understand is that Motolegends is not a supermarket. We're probably not even much like other bike shops. We don't sit at a till waiting to take your money. We don't exist merely to sell stuff. We know bike gear and we're all experienced riders. We see it as our job to help all bikers find the very best gear they can afford.
And even though you might conceivably spend a bit more by visiting Motolegends than you would if you went to another bike shop, we really do reckon that by getting the gear right, and by making sure that it fits properly, we'll save you all kinds of problems and, in the long term, money too.
Anyway, there's no harm to be had from paying us a visit. Who knows? You might even come to the conclusion that we know what we're on about.
---
Want some more? Please click here to return to our editorial menu.

Share this story