Rukka Forsair jacket review
Published on: 28/07/2018 09:32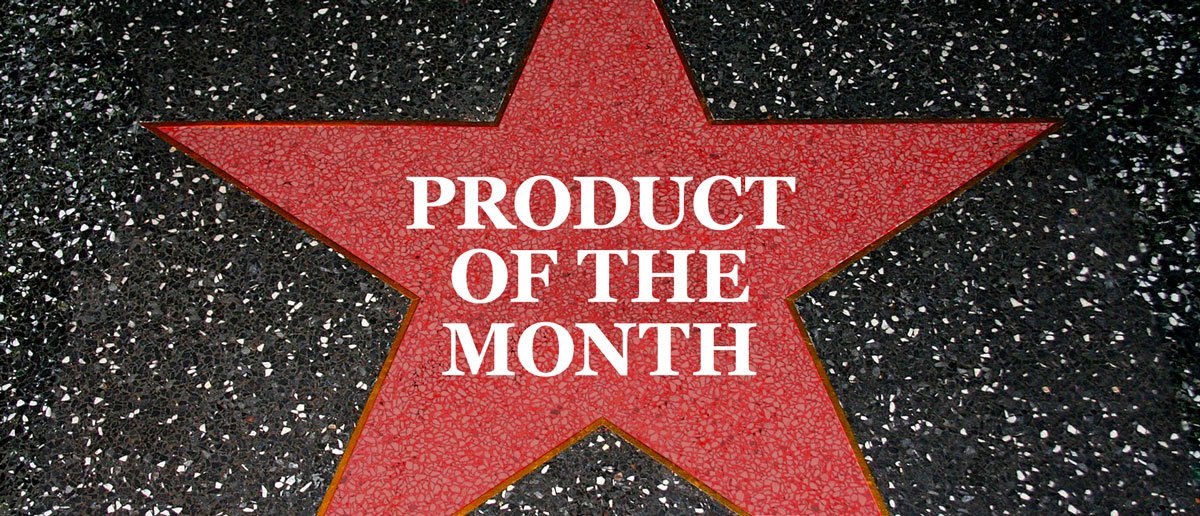 JULY
RUKKA FORSAIR JACKET REVIEW
As I write this, in early July, we're experiencing here in the UK a rather extraordinary period of warm weather. The last time I remember weather like this was the summer of 1976. It's my excuse for a rather mediocre set of 'A' Level results. Somehow the meadows always seemed more enticing than the library.
Anyway, at this time of year we get a lot of people in the shop asking for highly breathable, mesh jackets. And it's pretty obvious why. But we have to admit to having certain misgivings about your average £100/150 mesh jacket. And that's because most of them are not very strong and, by and large, they're simply not up to the job if, for some reason, you end up making contact with the road.
Your average mesh jacket comes with armour in the elbows and shoulders. The chassis of the jacket will be a polyester or nylon of some description, but most manufacturers will not go to any great lengths to beef up the jacket's abrasion resistance, because it would be pointless. And that, in turn, is because the weak point of mesh jackets is the mesh itself which, under any kind of significant pressure, will simply tear apart.
A mesh jacket serves a purpose. It will keep you cool on a hot day, but a mesh jacket is not designed for high-speed riding. It's for bimbling along the lanes or gentle cruising. Nobody says you can't blast down the motorway in one, but if you have a high-speed off, your average mesh jacket won't provide much in terms of protection. Yes, you've normally got impact protection, but if the jacket is torn apart, even the protectors cannot be relied upon to do their job.
The exception to the rule; that is, a mesh jacket that will provide high levels of abrasion resistance, is the Forsair jacket from Rukka.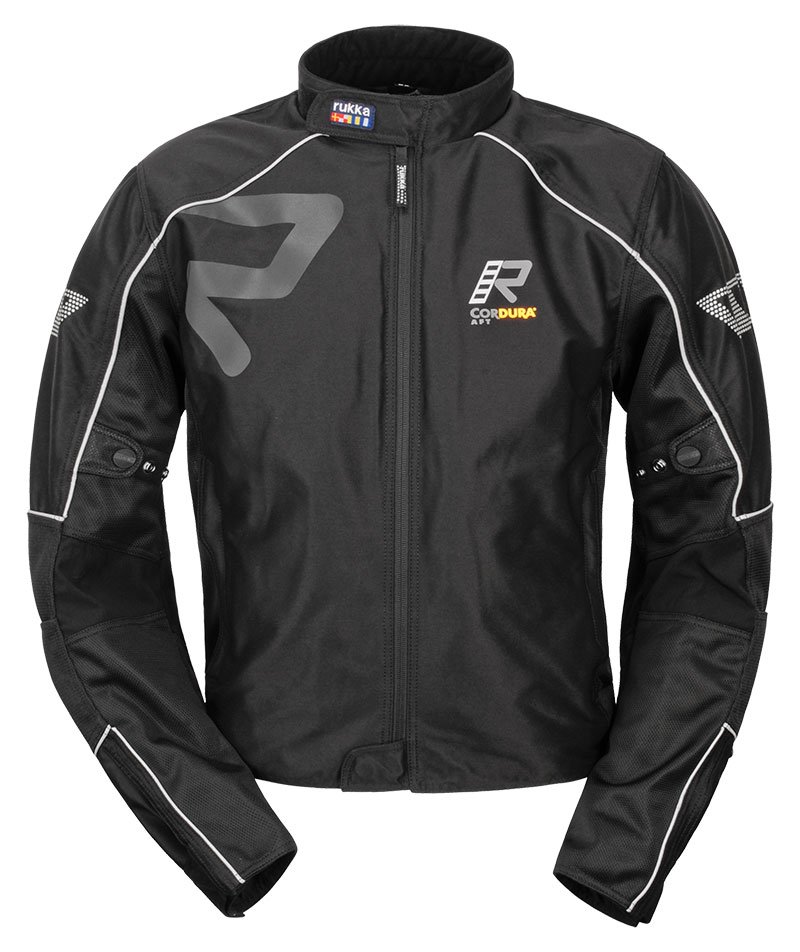 Now the difference between the Forsair and other mesh-style jackets is that it's made from a material called AFT Cordura. AFT Cordura has been around for a while, but it was originally developed by DuPont for Rukka.
The material has the characteristics of a mesh material, because it will allow high volumes of air to pass through it. But, in fact, the Forsair isn't a traditional mesh jacket at all.
The jacket is made from a Cordura that has been knitted rather than woven. This special knit allows the material to flow almost twice as much air as a normal Cordura. A traditional mesh panel might flow even more air, but with the Forsair the air can pass through the entire jacket, not just panels in the chest.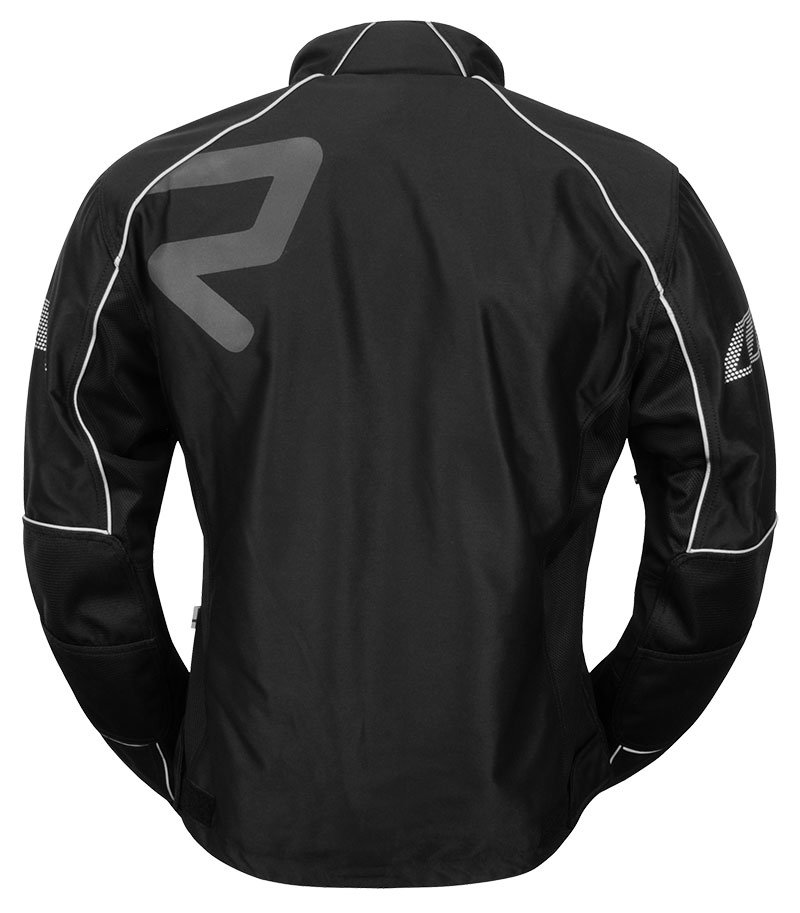 This means that the Forsair is actually far cooler to ride in than any mesh jacket you've ever come across. But crucially, whereas a normal mesh jacket will disintegrate in an accident situation, the Cordura in the Forsair won't.
Cordura is made from extremely strong polyamide fibres that deliver great resistance to wear, tear and abrasion. Despite the fact that the Cordura knit in the Forsair is highly breathable, it offers levels of protection that are comparable to standard Cordura. It's twice as strong as regular nylon, and four times as strong as a polyester fabric.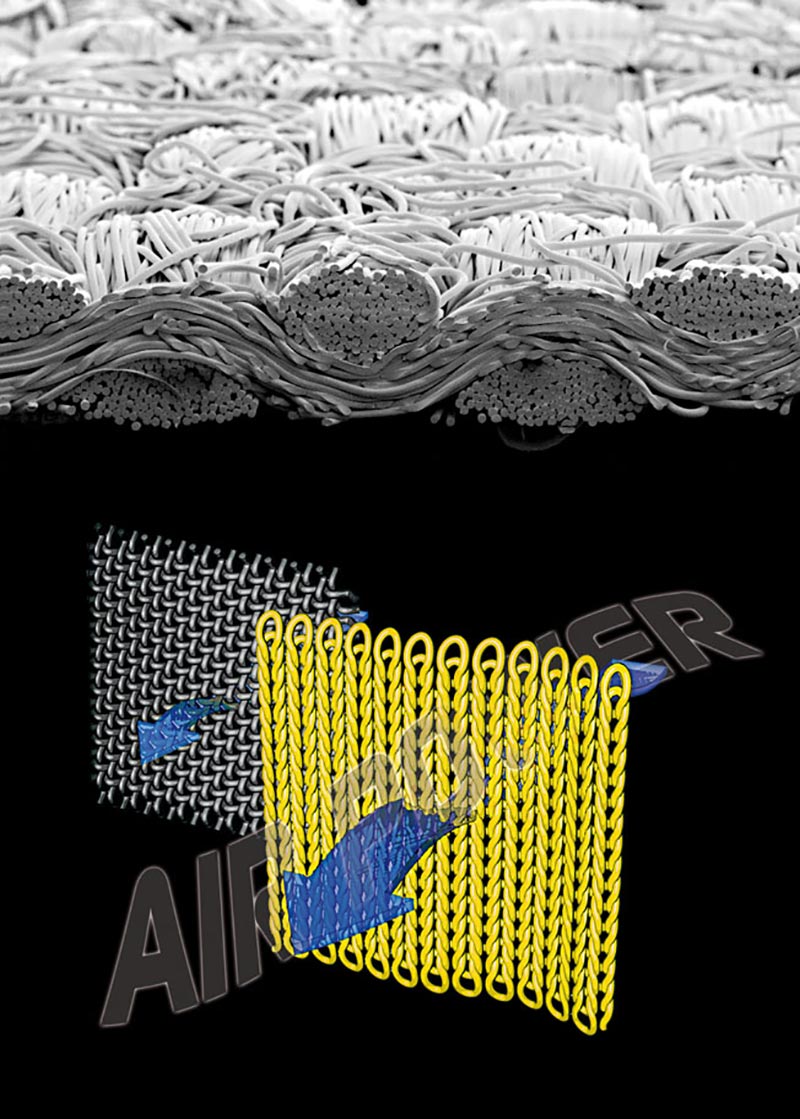 So that's the basic underpinning of the Rukka Forsair. A jacket that allows air to pass through it everywhere, but which delivers the abrasion and tear resistance of a standard, textile motorcycle jacket.
But let's talk you through the jacket in slightly more detail.
The cut is short and reasonably sporty. What some people don't like about it is that it has little structure. It does not hold its shape on its own, meaning that you could easily roll it up into a ball. This means it doesn't feel particularly substantial.
But it's that lack of structure that allows air to pass through it. If, though, you equate its lack of structure to a lack of strength, you'd simply be wrong. Appearances can be deceiving.
The jacket is on the shorter side, but it comes with a zip that allows it to be attached to any Rukka pant. Now luckily, because Rukka and Halvarssons share the same zip gauge, you can also attach the Forsair to any Halvarssons pant.
More interestingly, buying a £20 Halvarssons' 'Waist Zip' means that you can, in effect, zip the Forsair into any belted jean or trouser. It's a very clever little accessory that other manufacturers should copy. You'll find it on the website, or you can click here
Halvarssons Waist Zip
.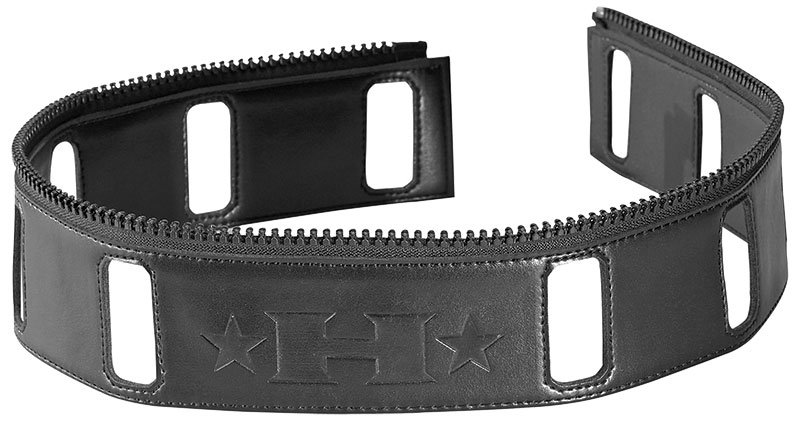 Most of the panels of the Forsair jacket are constructed from standard AFT Cordura. But under the arms and up the flanks, where you're unlikely to ever slide, Rukka uses an even more breathable, but slightly less strong, fabric known as AFT Plus. On the elbows you get a second layer of AFT Cordura for added strength.
Impact protection, obviously, is just as important as abrasion resistance so, as always, you get Rukka's huge, breathable D30 armour in the shoulders and elbows. Rukka's armour is so much bigger than the armour you get in most jackets. It means that, however you fall, the protectors should be able to do their job. This is particularly important with the Forsair, where the fit is somewhat more fluid.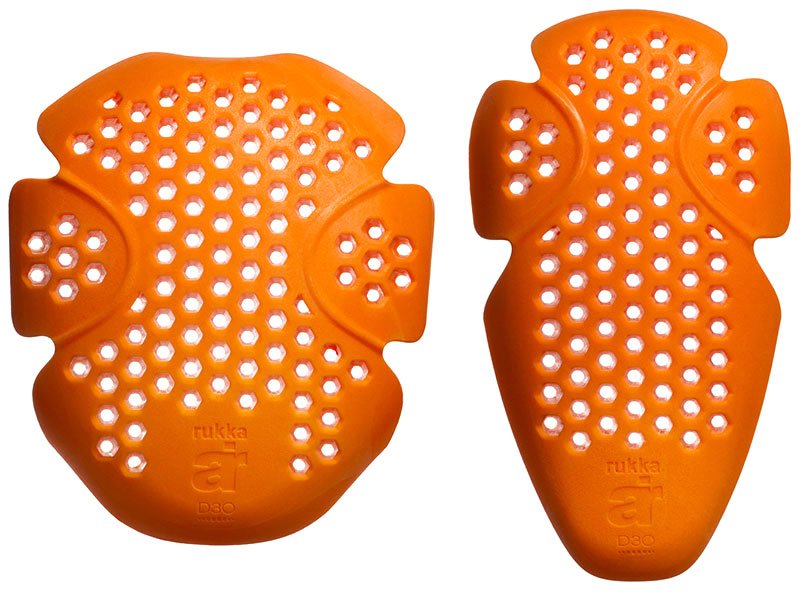 The jacket doesn't come, as standard, with a back protector, but you do have the option to fit Rukka's D30 All Back protector to either the Level 1 or Level 2 standard. Click
Rukka D30 armour
for information.
For visibility, the jacket comes with reflective piping and reflective Rukka logos. On the upper arms are adjusters to alter the volume of the sleeves to allow you to wear base or mid-layers as you see fit. And there's a point worth making here that pertains to sizing. In our view, you need to buy the jacket a little on the larger side. And this is for two reasons. First, if it's a cold day, you'll freeze in this jacket. So you need to allow room to wear something beneath it. But you also need to wear the jacket a little loose anyway to allow air to flow around the body. If the jacket fits you skin-tight, the air is going nowhere. You won't, therefore, get the full benefit of its capabilities.
On the outside of the jacket you get two zip pockets, and obviously there's a full zip up the front, albeit without a placket. All zips are by YKK. In the left pocket, there's an attached waterproof bag because, in the rain, the jacket, including its pockets, is next to useless.
On the subject of rain, Rukka does do a version with a removable Gore-Tex inner jacket, but we don't think this is the way to go. It may keep you dry, but when the rain stops you'll be left with a jacket that is soaking wet, and that will take a time to dry out. Better, in our view, to carry a small waterproof jacket like the Scott Ergo Pro, and put it over the Forsair when you need to. When the rain's gone, take it off; the jacket will be bone dry. For information on the Scott jacket, Click here
Scott Ergo Pro
.
There are a couple of other little features you should be aware of with the jacket. There are adjusters at the waist to tighten the fit. There's a cover over the zip to keep the zip pull away from your paintwork and, at the neck, the collar tab can be fastened to itself to stop the velcro from attaching to jumpers and liners. This is a feature on all Rukka jackets but, embarassingly, I knew nothing about it until recently.
Inside, the jacket is lined with a highly wickable mesh-like material that will help you stay dry in even the most humid of conditions. There are two Napoleon zip pockets for storage, although again they're not waterproof. The collar is lined with a very fine gauge Cordura for comfort.
Now Rukka gear is never cheap, and the truth is that the Forsair is at least twice the price of most mesh jackets, but if you have sufficient imagination to realise what might happen in an accident with a run-of-the-mill mesh jacket, you might think that the Rukka offers decent value.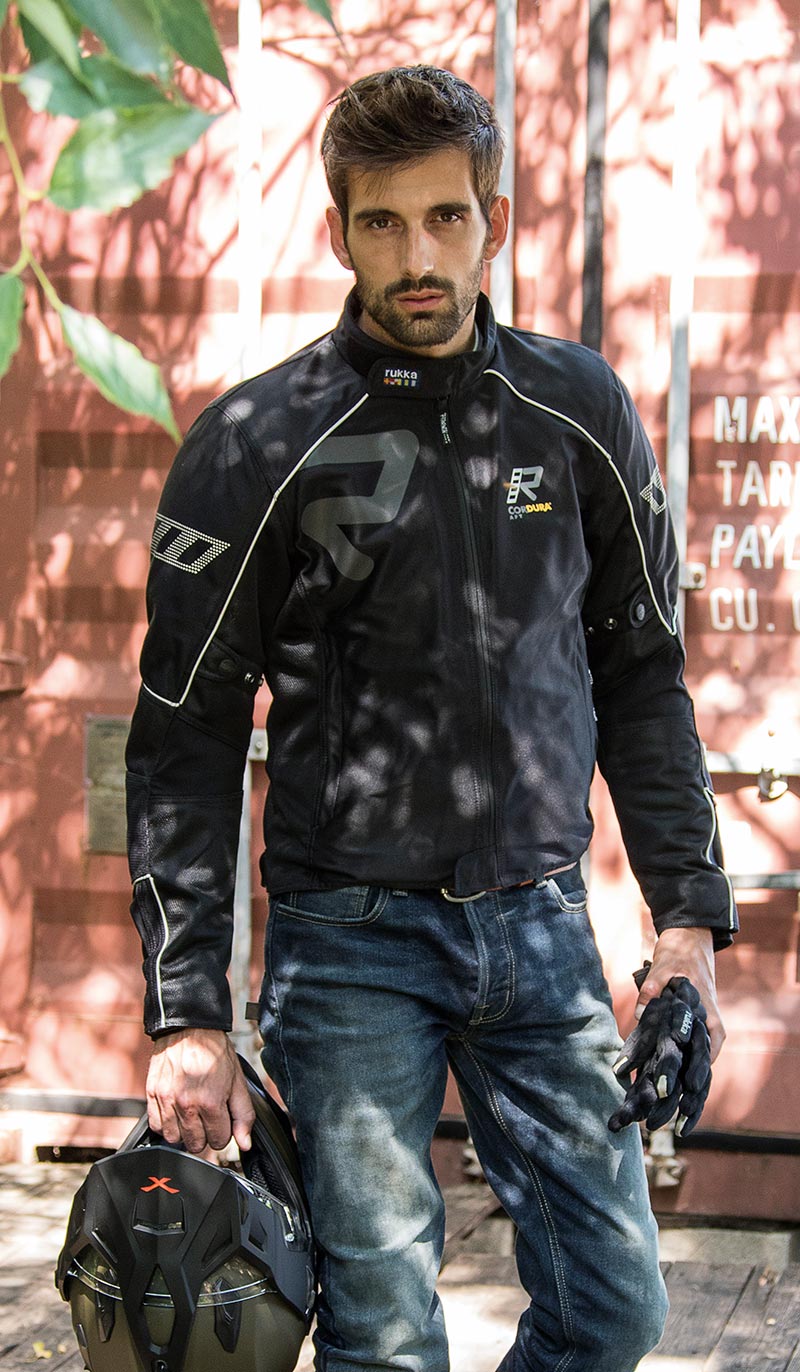 The final thing we want to talk about in relation to the Forsair is pants. There is a matching pant to go with the jacket. The UK importer doesn't bring it in, but even if they did, it wouldn't be our first choice.
When it's hot, it's normally the upper body that feels the impact of the heat. In our view, the legs are slightly less important. And, although we've banged on about the abrasion resistance of AFT Cordura, there are better ways to keep your bottom half cool and protected.
What we're thinking about, in particular, is a single-layer jean. And for a really hot journey, our preferred option would be to pair the Forsair jacket with a pair of Rokkertech jeans.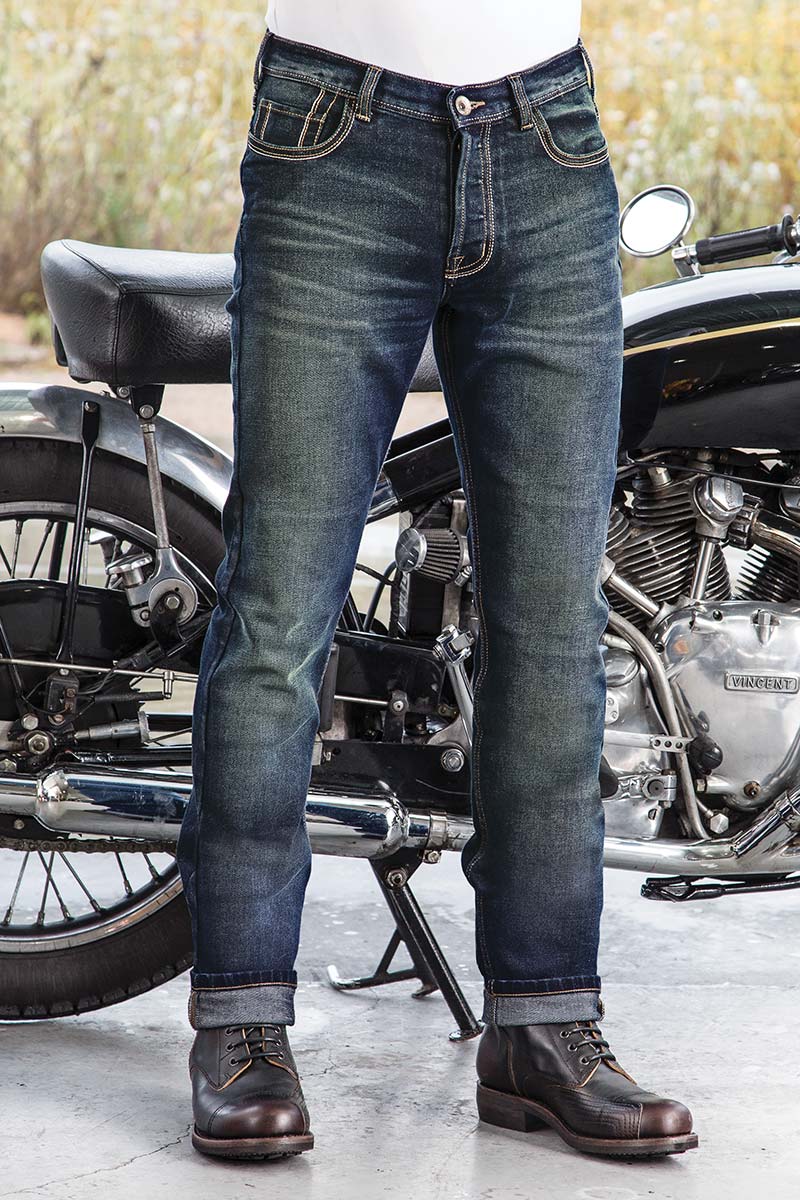 The jeans won't flow air like a Forsair pant, but they'll be far better than just about any other motorcycle pant or lined jean. And with a slide time of over six seconds, they're much, much more protective than a Forsair pant. Remember that you can zip the jacket to the jeans with a Halvarssons belt. We reckon this makes for the ultimate combination for cool riding.
Obviously, you can buy the jacket, or jacket/pant combination over the internet, but if you want to get the sizing bang on, pay us a visit. We try our level best to always keep the Forsair jacket in stock in all sizes. And nobody in the world has larger stocks of Rokker jeans than we do. Click
Rokkertech Jeans
to check them out.
Finally, finally, if you want a matching, cool, vented glove, the Forsair glove is in a class of its own. It's short, stretchy, supremely comfortable and very strong. And it flows the air better than any glove out there. Click
Rukka Forsiar Gloves
for more information.

PRODUCT OF THE MONTH ARCHIVE
Share this story