Rukka Suki Pro review
Published on: 04/02/2019 13:33
RUKKA SUKI PRO REVIEW
THE ULTIMATE LAMINATED RIDING SUIT FOR LADIES
Finding great biking gear if you're a female rider, or even a pillion, is not easy. It's not difficult to find girlie-looking gear; some of this looks good, but often it's been designed for the street, and it doesn't always work on the bike.
For most women who want an outfit for touring and commuting, we'll end up recommending something from Halvarssons, like the new Wien suit. It's warm, it's comfortable, you'll stay dry in it, and it's very protective.
It's our go-to suit for just about all but the most committed, high-mileage riders.
But if you're a really serious biker, if you commute or do high mileages, and if you want one suit to cover every possible scenario, you'll probably want to go laminate.
Issue is that not many people do laminate gear for women and, most of those who do, don't make suits that are comfortable to wear, or that look good on.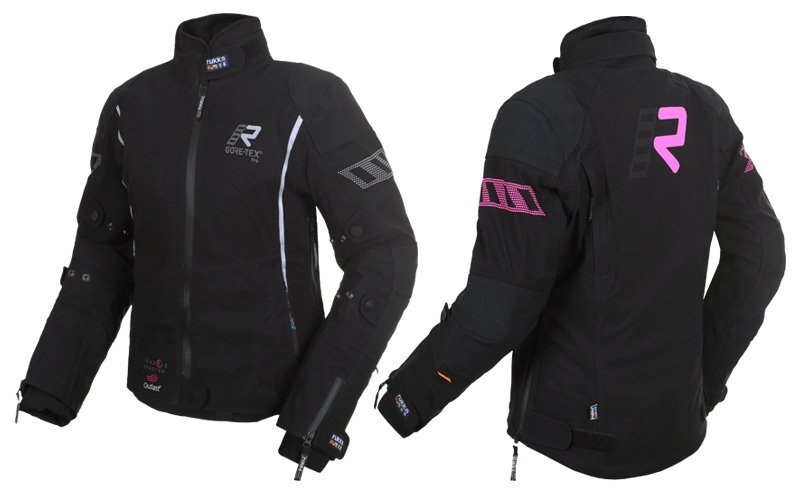 If you want the ultimate ladies's suit, the suit that does everything is the Rukka Suki Pro. It's not cheap; in fact, it's expensive; it's very expensive, but it is hands down the best fitting, most technical, ladies suit on the market.
Obviously, it's a laminated suit. A laminated garment has the waterproof membrane bonded to the inner side of the outer fabric. It means water cannot soak into the material. You'll stay drier for longer and, even after a prolonged downpour, the suit will dry out quickly.
The Suki uses Gore-Tex's 3-layer Pro Shell material, but what makes the Suki Pro so nice to wear and so well fitting is that the fabric also contains stretch.
None of this, of course, comes at the expense of protection and safety. The Cordura outer shell is reinforced in all the key vulnerable areas with extra-strong Armacor overlays, and then there's the D3O armour in the elbows, shoulders, back, hips and knees.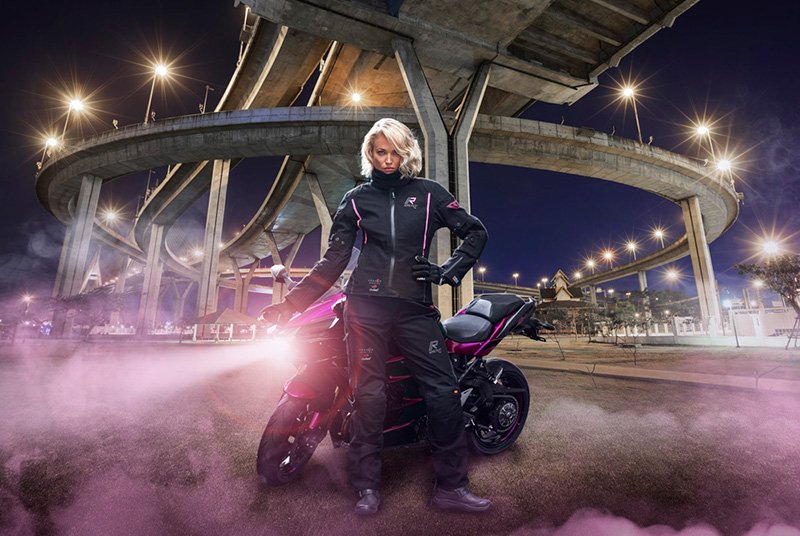 Venting works better on a laminated suit than it does on a more traditional 'drop-liner' garment because, when the vents are open, incoming air does not have to pass through a waterproof membrane. The new Suki Pro has vents up both flanks, and on the back.
The Suki Pro also does a great job of keeping the rider warm, because both halves come with a removable, 60 gramme liner that is infused with temperature regulating Outlast.
As you might expect, there's a huge amount of extra detailing with an outfit like this: GTX waterproof cuffs, integrated neck collar, waterproof pockets, multiple adjusters and so on. But there's just too much to cover here.
The bottom line is this. This is the best ladies suit ever made. It is the most expensive, but it's also one of the most protective. Yet, given all this, it is still amazing comfortable and good looking.
If you occasionally go out on the bike at weekends, forget it; this isn't the suit for you. But if you ride a lot and simply want the best of the best, then you need to try the new Suki Pro. There is nothing else quite like it.
Click Rukka Suki Pro to shop the Rukka Suki Pro.
Want some more? Please

click here

to return to our editorial menu.