Scott Ergo Pro DP review
Published on: 28/07/2018 12:15
You might think that a rain suit is a rain suit is a rain suit, and it's true that it's a relatively simple garment with a rather singular raison d'etre. But not all rain suits are made equal.
The purpose of a motorcycle rain suit, obviously, is to keep the rider dry, but to do this effectively a rain suit also has to be breathable. Cheap rain suits are not; they are merely plastic bags. They may be effective in keeping the rain out, but because they don't allow your perspiration to escape you can end up feeling wet from the inside, and therefore just as uncomfortable as you might be without a waterproof.
A good quality motorcycle rain suit is somewhat of a godsend. Whatever quality textile garments you wear, even a Rukka laminated outfit, you should still keep a rain suit on the bike.
Firstly, if it's cold, a rain suit provides an additional windproof barrier. Putting it on over the top of your riding gear, even if it's totally dry, will significantly increase your body temperature. If you've ridden a long way in extreme cold, you'll know that, after a while, it becomes difficult to concentrate. When this happens your rain suit can become a life safer.
There's a lot of talk these days about the benefits of expensive laminated suits. And it's true that they do keep you drier for longer, and that they do dry out faster after a heavy soaking. One of the main advantages of a laminated jacket or pant, however, is that, because it does not become waterlogged, you as the rider stay warmer. And that's because body heat is lost far faster through wet air than through dry air.
Frankly, if laminated riding gear was less expensive, we'd all wear it.
But the fact is that, if you wear a good quality motorcycle waterproof over your textile suit, you will enjoy a number of the same benefits you get with a laminated outfit. The jacket inside the waterproof layer will stay dry. And if that stays dry, you'll be much warmer. Also, of course, when you then get off the bike your main outfit will dry much faster because it hasn't become soaked by the rain.
The Scott Ergo Pro DP two-piece is, quite simply, the best motorcycle rain suit we've ever come across.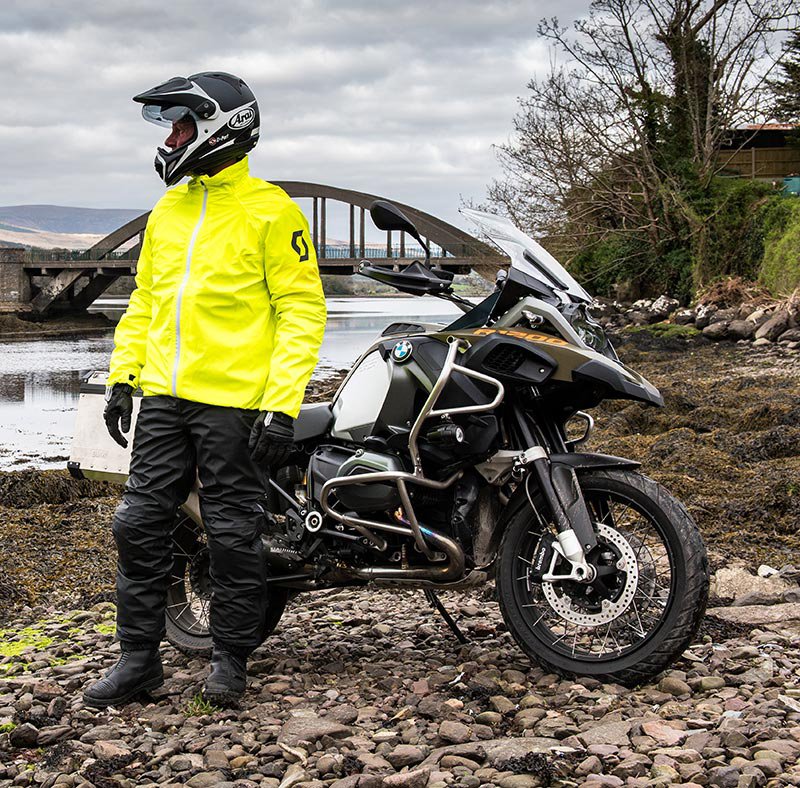 A two-piece, in our view, is much more useable than a one-piece, and much more effective.
It will nearly always fit better; one pieces have to accommodate all kinds of different shapes and sizes, so they tend to be baggy. This makes them flap noisily in the wind. With a two-piece you can order different sizes for the top and bottom halves, if required.
The other problem with a two-piece is that, if water gets in around the neck, it will inevitably run down to the crotch. That won't happen with a good two-piece suit.
The Scott Ergo Pro DP suit is made from a stretchy polyamide material with a waterproof membrane bonded to the inside. It's incredibly waterproof, but incredibly breathable too.
What we like most, however, is its super-stretchy fit. It's like wearing a thin rubber suit. It will go over anything, and is easy to put on, even in a panic.
Because of the stretch in the material, we recommend taking one size down from what you might normally expect to wear. This will keep it tight on the body and avoid all that horrid flapping that normally accompanies rain wear.
The zip on the suit, both down the centre of the jacket, and on at the ends of the sleeves and legs, are also waterproof and of a high quality. Once you're in the Scott, rain isn't going to get inside.
But there's another feature we particularly like about the pants. And that is that they come up really high. They're not sexy; they look rather like a set of fisherman's waders, but it means that rain can't get under the jacket and down the pants. A drawstring to tighten the pants also means that if rain were to enter the collar, it wouldn't get inside the pants. An under-crotch strap also serves to keep the jacket firmly in place.
The bottom line is this. The Scott Ergo Pro DP suit is the best motorcycle rain suit you'll ever buy. We've sold many hundreds of them, and everyone raves about them. Both halves roll up in to the small stuff-sack they come supplied in.
You will without doubt, find cheaper rainwear, but never has such a relatively small amount of money had the ability to make such a significant difference to your riding experience. The jacket comes in black or hi-vis yellow. The pants in black only.
Click Scott Ergo Pro DP rain wear to shop.
---
Want some more? Please click here to return to our editorial menu.

Share this story