Top 10 best laminated motorcycle jackets 2019
Published on: 14/07/2019 10:58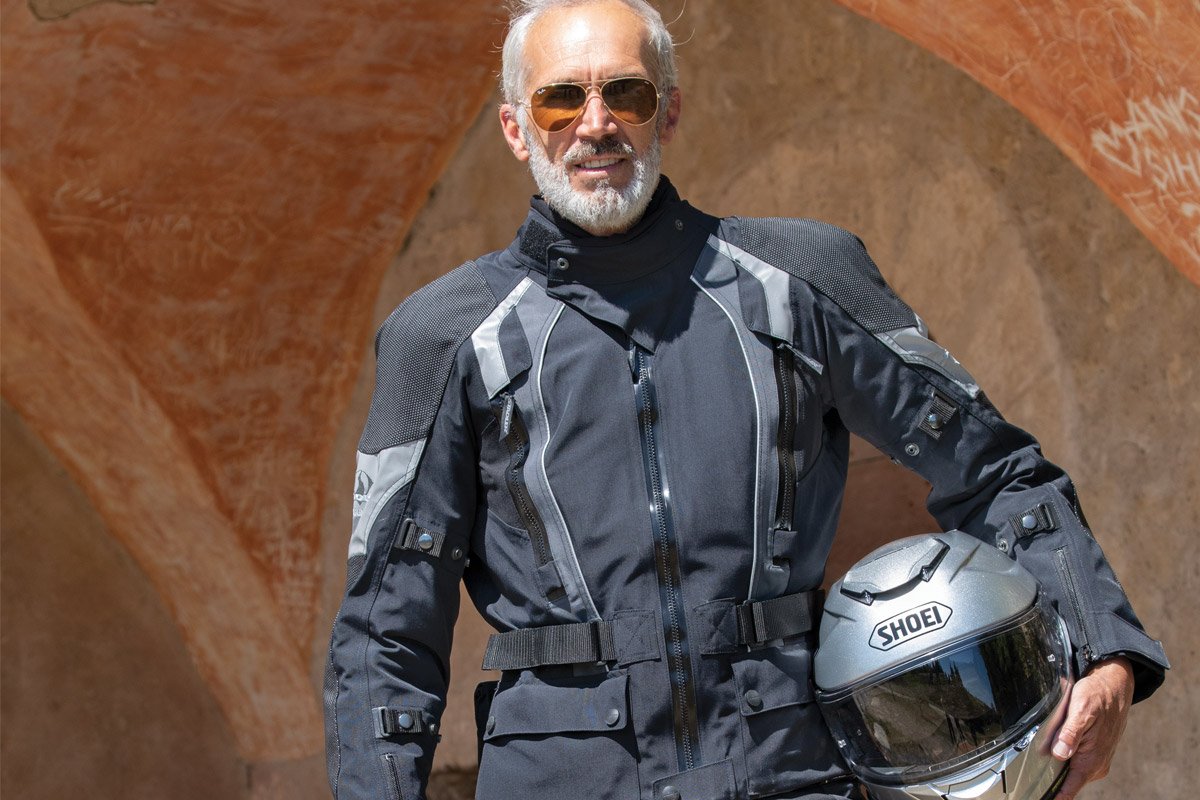 Is it immodest for us to suggest that we are the experts when it comes to laminated motorcycle wear? Probably it is, but that doesn't mean that it isn't true. In most, but certainly not all, motorcycle shops these days you'll find a laminated suit somewhere on the rails, but that doesn't mean that they'll understand much about how they work and what they do. I visited one Argos-style motorcycle superstore recently, and asked the assistant at the cash till if they had any laminate jackets I could look at. 'Yes mate, anything with a Gore-tex label is laminated'. He didn't have a clue! We do lots of laminated gear, and almost certainly sell more of it than anyone in the country. You can always buy online, but actually if you're making this kind of investment it might be worth visiting us. We'll tell you what styles are going to work for you. And even though we are great proponents of laminates, we'll equally be prepared to tell you if we don't think it's right for you. All we can say is that it's a confusing arena: huge discrepancies in pricing, big differences in comfort, two, five and even 10 year warranties. You can do some research on the internet, and take your chances, or you take a trip to Guildford. Up to you!
When it comes to laminates, Rukka are probably the masters. They were offering laminate outfits way before anybody really knew what a laminated membrane was. They have developed the technology in concert with Gore, and nobody has more expertise when it comes to getting a laminated jacket or pant to work. Their best suit is, predictably, their most expensive suit. It is the Nivala. With stretch woven into the Gore-tex Pro Shell outer, it is more comfortable than a laminated garment has a right to be. Its fantastic, genuine duck down inner jacket also makes it one of the warmest jackets on the market. Of course, all the other stuff is pure Rukka. It's superbly made, and is backed with the company's six-year warranty. The problem for Rukka, frankly, is that all their all their other suits feel a bit clunky in comparison. They may be a bit cheaper, but try on the Nivala and compare. You'll soon realise why it's worth the extra few quid. Okay, quite a few extra quid!
---
When Halvarssons introduced its Walkyr jacket and Wish pant combination a couple of years ago, it turned perceptions about laminated products on their head a little. Here was a combination that was as comfortable as a drop-liner suit, and it was being offered at the price of a drop-liner suit. Suddenly, laminate technology became accessible to the weekend, leisure rider. Coming from Halvarssons, and employing their Dryway Plus membrane, both the jacket and pants work. This is definitely an outfit you won't get wet in. And it comes with a removable Outlast liner, Hi-Art for added abrasion resistance, and so on. The jacket, it has to be said, won't fit everybody. It doesn't have a great deal of adjustability, and it might not work if you're too slim. But the pants are brilliant, and we recommend them to everybody, even if you're going for a drop-liner jacket. If you want the benefits of a laminate with the comfort factor, and the price, of a drop-liner garment then the Halvarssons combo is worth a look.
---
The Bering Balistik is pretty amazing. It is a three-layer, laminated jacket that is, in construction terms, very similar to the company's more expensive Yukon jacket. The difference is that the Yukon is made using a Gore-tex membrane, whereas the Balistik isn't. But, by contrast, where the Yukon uses a two-layer lamination, the Balistik is a three-layer jacket. It comes with a removable, 120g. thermal jacket, CE armour in the shoulders and elbows, zippable vents, and all the other bells and whistles that you could want. A matching pant is also available. The Balistik's outstanding feature, of course, is its price. There are cheaper laminated jackets out there, but none that we would want to put our name to. The Balistik is a jacket that delivers. It's waterproof, it will keep you warm, and it will keep you safe. And all at a price that is simply unbelievable.
---
The Richa Arc GTX is a high-end, laminated GORE-TEX® jacket with a specification to match the best that brands like Rukka, Klim and Stadler have to offer. The jacket is constructed from a 2-layer GORE-TEX® laminate for comfort. It has a slightly sporty cut, with pre-curved sleeves. The jacket sits short at the front and long at the back, as a motorcycle jacket should. And, as you would imagine, it comes with a 360º zip for attaching to any Richa pant. In the case of the Arc, that pant is the laminated Atlantic pant. Venting is plentiful, with vents up the sleeves, on the chest and on the back. For insulation, you get a removable, 3M™ Thinsulate™ thermal jacket. Protection comes in the form of D30 armour in the shoulders, elbows and back. The jacket is pre-prepared to take a chest protector. On the sleeves are panels of Superfabric for added abrasion resistance. 3M™ reflective panels help you stay visible in poor light. For comfort, there are concertina panels on the sleeves, above the elbows. The jacket is also equipped with a myriad of fit adjusters: at the waist, neck, sleeve ends and hem. The neck is Neoprene lined, for a soft finish and to keep rain out. The Arc comes with a two year warranty against faulty manufacture. There are longer warranties, but normally after two years any claim will be attributed to wear and tear. But, of course, the membrane itself is guaranteed for life.
---
We have not come across a jacket quite like the Spidi Gamma jacket before, which is why we have decided to add it to our range. It is very much an urban jacket, designed for the rider commuting in the city, for the scooterist perhaps, or for the rider who is riding a short distance from home to the station, for example. This is not the kind of jacket you buy for speeding down the motorway at 80 mph. There are quite a few jackets that are designed for urban commuting, but very few of them are laminated like the Gamma. A laminated garment is one where the membrane is bonded to the outer fabric. Water cannot pass through the fabric, meaning that the jacket, in this case, won't get wet and heavy. It won't 'wet out' as we call it. It means the wearer stays drier for longer. It also means that, because the jacket doesn't hold the water, the wearer will stay warmer. For some, the most important consideration is that, after a downpour, a laminated product will dry out inside an hour or so. Most urban, commuting jackets have what we call a 'drop liner' waterproof membrane that hangs independently inside the outer fabric. When it rains hard, such garments get soaking wet, making the rider feel cold. They also take ages to dry out. The Gamma's external fabric is a high-tenacity Poly-Nylon material that is sufficiently abrasion resistant for urban riding. The jacket comes with a removable, thermal liner, adjusters for fit, reflective panels, and armour in the shoulders and elbows. There's a pocket for a back protector. Now the Gamma is an outstanding bit of kit. It will do its job brilliantly. But it is not for everybody. It is a very superior waterproof top. It is not for long distance commuting or touring.
---
The Aerostich was, and is, a laminated suit. But with its GORE-TEX® 3-layer, Pro-shell outer fabric, the Klim Hardanger suit takes the one-piece concept to a new level. Designed to be worn over your casual or business clothing, it takes just seconds to get in to and out of the suit, using a full-length zip that runs down from the neck to the left foot. Because you will nearly always be wearing clothing underneath, a suit like this needs to be well vented. And with no less than 14 separate vents it is. It is almost as well endowed with pockets. For anti-abrasion protection, the Hardanger is made from heavy-duty, 750 dernier, full-fat Grey Cordura. For impact protection you get the latest, vented, D30 armour in the shoulders, elbows, hips, knees and back. Adjusters abound on the Hardanger; there's almost no area that cannot be adjusted. What the Hardanger will not do is keep you warm. It is very much a shell garment. If you want to raise the emperature in the Hardanger, you will need to layer up and, of course, there are many ways to do this. For many years, we at Motolegends have sought a modern, more technical version of the Aerostich suit. Others have tried and failed, but to us it is clear that Klim has cracked it. It's a brilliant suit; a future classic.
---
The Supervent 3 is an updated, CE approved version of the company's longstanding Supervent 2. The chassis of the jacket is made from three-layer, Gore-Tex Pro shell, so it's as waterproof as anything on the market. For comfort, the jacket has elasticated stretch panels throughout. In terms of safety, the Supervent comes with Stadler's Custom-made armour that exceeds the Level 2 standard by up to 60%. You also get Superfabric on the shoulders and elbows for added abrasion resistance. But this jacket is called the Supervent on account of its superior levels of ventilation. The vents are larger than those on the company's 4AllPro jacket but, in addition, the Supervent has a mesh inner placket that allows air to flow into the jacket when the main zip is undone. The jacket also has a zip-out thermal inner, although we would suggest that it does not provide a great degree of warmth.
---
Bering's Yukon is a two-layer, laminated jacket made using a Gore-tex Performance Shell material. When you buy a Gore-tex laminated jacket, you not only get the benefit of what is probably the best membrane on the market, you also get the benefit of Gore's expertise in the construction of laminated garments, because every garment that uses their membranes has to be inspected and approved by Gore. It is this level of scrutiny that allows Bering to give the Yukon a five-year warranty. The Yukon is a long jacket, it comes with CE armour in the elbows and shoulders, and is equipped with a removable, 90g. aluminium-coated thermal liner. Pockets abound, as do vents and volume adjusters. The Yukon is similar in design to Bering's Balistik jacket. It is more expensive, but this is only what you would expect of a Gore-tex laminated product. This having been said, we still think that given where it's membrane comes from, it represents outstanding value.
---
Klim is fundamentally an off-road brand. The Kodiak, which has a much more fitted profile than most Klim jackets, represents the brand's move into a more road-oriented arena. We would suggest that it is aimed fairly and squarely at the adventure rider who spends more time on the black stuff than he does off it. Although, of course, it would still be a perfect choice for high mileage touring and commuting. The outer is a laminated, 3-layer, Gore-Tex Pro Shell. This means the jacket will never wet out, and when it does get wet it will dry out quickly. For added abrasion resistance, the jacket has perforated leather overlays on the shoulders and elbows. For impact protection, the Kodiak has Level 2, D30 armour in the elbows, shoulders and back. Pockets are in abundance, with four outside and four on the inside. Vents are even more prolific. There are 10 of them in total. Interestingly, and quite uniquely, the Kodiak comes with an internal kidney belt. For a more comfortable fit, the jacket has what is called an action back; in essence gussets that allow the shoulders to move more freely. To reduce flapping, there are adjusters on the arms. Obviously, the Kodiak has little by way of thermal properties, but that's an easy matter to address.
---
The Halvarssons Luxor jacket is the top half of one of the Swedish brand's two laminated suits. The other suit is known as the Wolf/Wish combination. The difference between them is that the Luxor is more adventure-bike oriented. The Luxor features a 2-layer, laminated waterproof membrane. Being laminated, the Luxor will never 'wet out', and if the jacket does get wet, it will dry out quickly. Another benefit of a laminated motorcycle jacket like the Luxor is that it will vent better than a garment with a drop-liner membrane. And that's because, once the vent is open, air does not have to pass through a windproof membrane. And so the Luxor will be good to wear when it's hot. For warmth, the jacket has a removable, thermal, inner jacket that is made with both Outlast and Thinsulate. Sometimes protection, especially abrasion resistance, is not a chief consideration for makers of off-road clothing, but the Luxor is lined in the most vulnerable areas with Hi-Art, which increases the strength of the outer fabric by 500%. You also, of course, get adjustable, Level 2 armour in the elbows and shoulders. All the other stuff is pretty much as you would expect. You get loads of pockets, reflectors, a pocket for a back protector, and so on. But what makes the Luxor such a good fit on so many people are the side adjuster straps. They really work. We love the Halvarssons brand. High-end quality at mid-market prices means there's not a lot to dislike. Our overall take of the Luxor and its matching pant is that it's an adventure-style suit for people who spend most of their time on the road. It wouldn't be your best bet for crossing a desert, but it would be perfect for continental touring or even commuting.
---
The Coriace leather jacket is a modern interpretation of Rukka's famous Merlin jacket. Made with perforated, aniline leather, the Coriace is the top half of a two-piece laminated suit. For extra comfort, the jacket features stretch panels in the flanks, arms, and back. You get two pockets inside the jacket, and two on the outside. There's a fit adjuster at the hem, and a zip that allows the jacket to be attached to its matching pant. Up both flanks are full-length ventilation zips. D30 armour comes as standard in the shoulders, elbows and back. You also get a detachable, neck collar, a removable, thermal liner, a neoprene collar and fit adjusters at the sleeve ends. The Coriace is a technical, tour de force. If ever there was a totally waterproof leather jacket, this is it.