Top 10 summer motorcycle jackets
Published on: 10 June 2021
We had a little dance here yesterday because it seemed clear that summer had at last arrived. The air conditioning was turned up, and those not embarrassed to reveal bare flesh put on a pair of shorts. But we turned up at HQ this morning, and we had to go back to our big-boy trousers and jumpers.
Nevertheless, we think the timing is right to talk about summer jackets. After all, more sunny weather has to be just around the corner, surely? Now the problem with summer jackets is that they do not conform to a homogenised category. Everybody has their own definition. And that's fair enough. We all feel the cold and the heat differently. And we all ride in different conditions.
For this video review, therefore, we have somewhat arbitrarily decided to exclude mesh jackets. We'll do a mesh review shortly but the reality is that, here in the UK, a mesh jacket simply flows too much air for too many people too much of the time.
And so, for this review, we have concentrated on lightweight jackets that you can wear when it's really warm, but that you'd also be happy to ride in early in the morning or in the evening, when the sun is not at its full strength.
Some of these jackets have membranes. Some of these jackets have waterproof coatings or other treatments. Some make no pretence to be in the slightest bit waterproof. But in our view all these jackets have one factor in common. They are all light and easy to wear. None is intended to cope with a long distance touring or a heavy, daily commute, but if you want a jacket that you can keep in the hallway, and that you can throw on when you want to pop out for a bacon bap or to pick up something from the shops, then you could go for any one of these jackets.
We are always at pains to point out that no jacket does everything. And the jackets in this review don't purport to. Yet every biker needs a summer jacket in his wardrobe. Well you do if you want to enjoy riding in hot weather, and not get sticky and sweaty. But that's up to you!
Best Motorcycle Jackets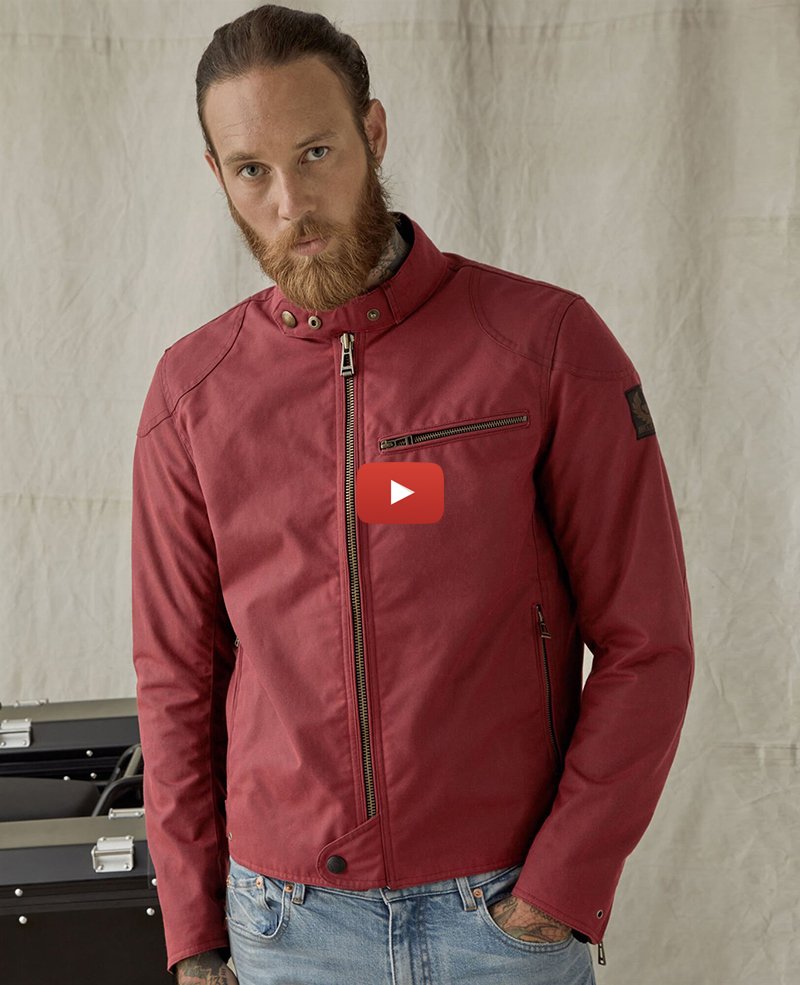 The Belstaff Ariel 2 Pro jacket
The Belstaff Ariel 2 Pro jacket is a reworking of the Ariel, which has formed part of the Belstaff Pure Motorcycle collection for many years. It was discontinued, but then re-introduced into the range in early 2021. It is about as basic and simple as a wax cotton jacket gets.
Now waxed cotton, in its own right, is reasonably waterproof, but the Ariel 2 Pro also has a waterproof membrane. The jacket has no thermal lining. It is lined in a traditional tartan material, and as with all Belstaffs the collar and cuffs are corduroy lined.
CE approved, D3O armour comes as standard in the elbows and shoulders. In terms of pockets, you get one horizontal, zip pocket on the left breast and two zipped, lower pockets. There's a Napoleon pocket inside the jacket. The rest really is just detail. Of course, it's a Belstaff, so clearly it's not going to be your cheapest option. The jacket also comes in black.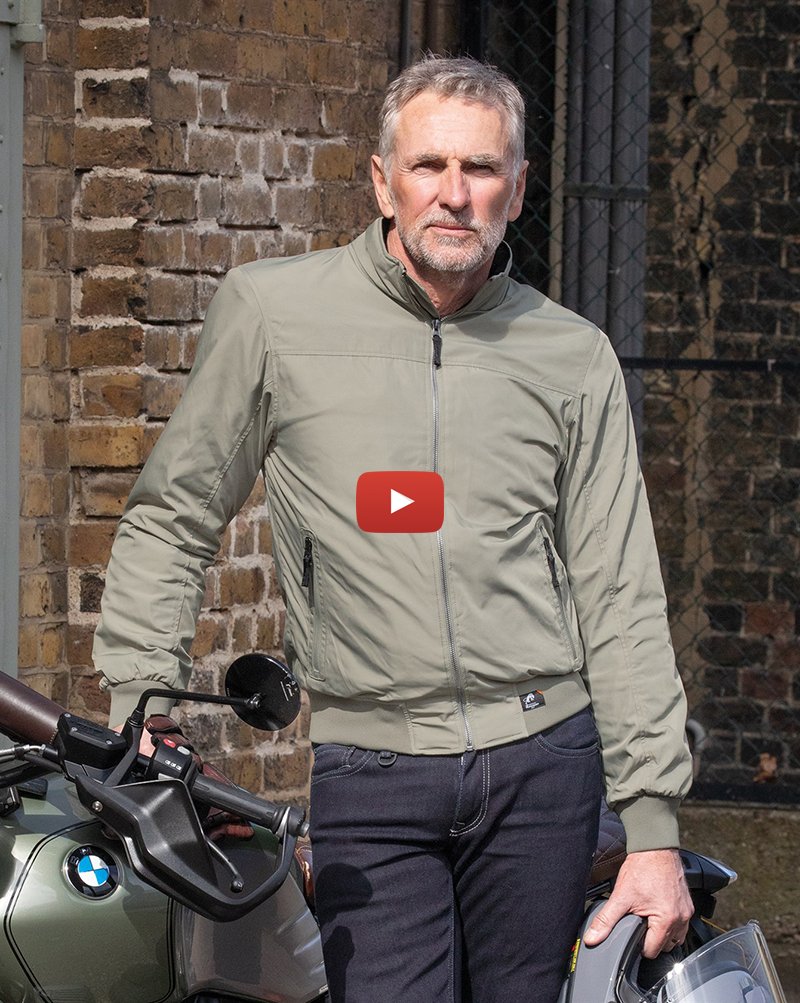 The Furygan Kenya Evo jacket falls into that category of motorcycle jackets that don't look at all like motorcycle jackets. Indeed, it is very much modelled on the Harrington jacket worn by Steve McQueen and most of the Hollywood set in the sixties. It has an elasticated, blouson hem and elasticated sleeve ends, but it is still constructed very much with motorcycling in mind. It has a durable, textile outer material, but there's no waterproof membrane, and no removable thermal liner. So it's going to be highly breathable. For protection, you get D30 armour in the elbows and shoulders.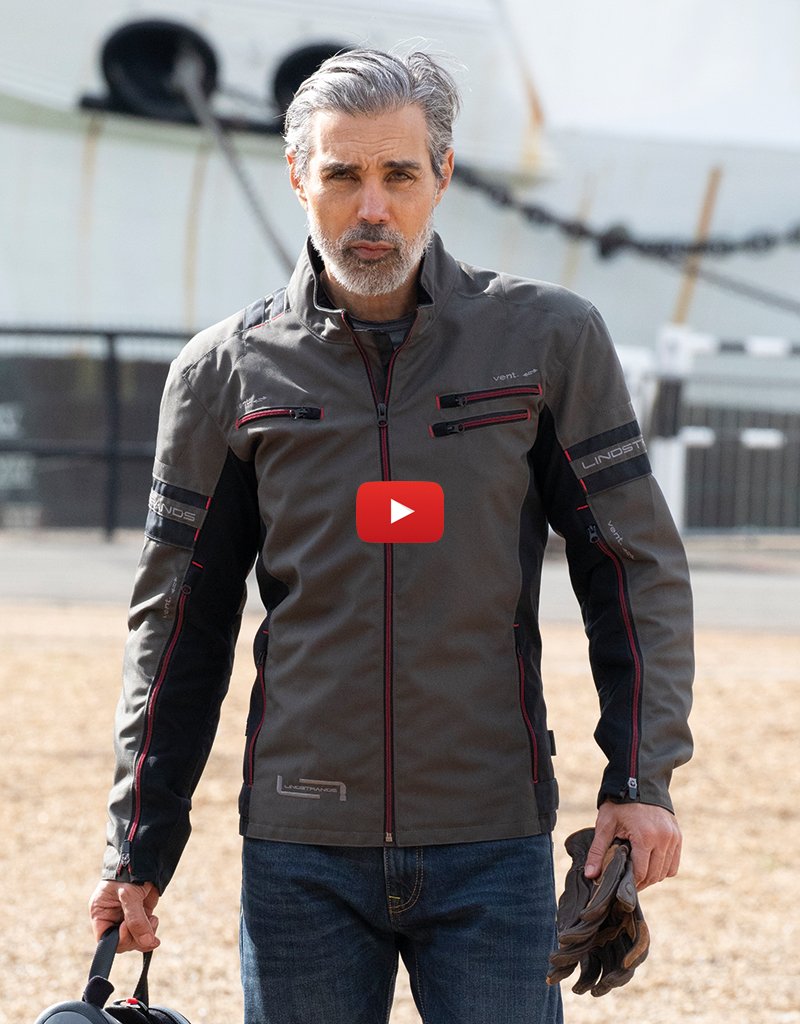 The Halvarssons Lysvik jacket
The Lysvik is a classic, throw-on, biking jacket. The jacket has a lovely, soft feel; and indeed it's comfortable enough to wear all day. Even though the jacket might be considered by some as a casual/urban style, it is approved at the AA level. Level 1 protectors come as standard in the elbows and shoulders. For waterproofing, the jacket is equipped with a waterproof membrane. What the jacket does not have is any thermal lining. Where the Lysvik scores particularly highly is in its venting. You get two, horizontal, zipped vents on the chest, and super-long vents up the sleeves. There are also two exhaust vents on the back. Frankly, it's ridiculously under-priced. Rarely have we seen a jacket that offers so much for so little. It also comes in black.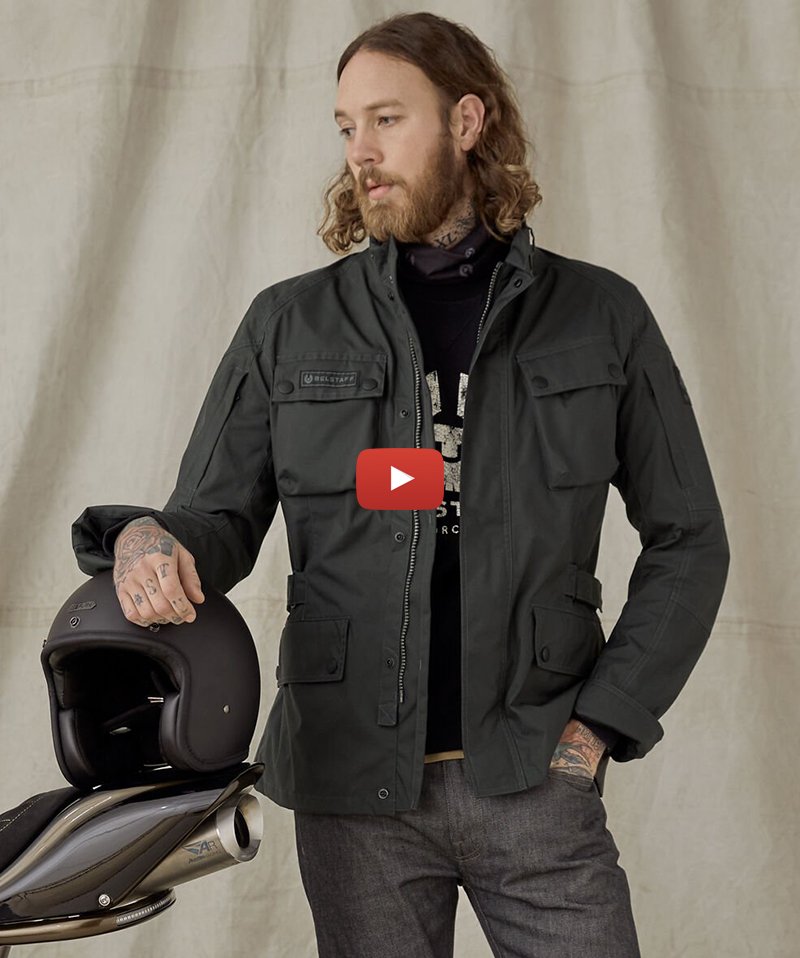 The Belstaff Macklin jacket
The Belstaff Macklin is, in essence, a light, summer-weight version of Belstaff's famed, four-pocket Crosby jacket. It is a longer jacket with a centre waist adjuster, although it's not a full-on belt. It's made from a material called Urban Tech. This is a material created by Belstaff to enable the jacket to be CE approved. The Macklin is A rated under EN17092, but that is all you would expect of a lightweight piece like this, but the rating does mean that it has been properly tested for abrasion, tear and puncture resistance. The jacket features many of the detail touches we have come to expect from Belstaff. We're talking about flap and jet pockets, Neoprene in the collar, rubber buttons, volume adjusters and so on. You also get extra vents on the sleeves and shoulders to improve the airflow in hot conditions.
Obviously, it comes fitted with CE armour in the elbows and shoulders. There's a pocket for a back protector. The jacket has a PU coating and sealed seams, but we would not want to make excessive claims about the jacket's waterproofing qualities. The PU coating is sprayed onto the surface of the jacket. This is much more effective than a traditional DWR (Durable Water Repellant), but you won't get the protection that you would get from a full membrane. You get what we would term 'get-you-home' levels of waterproofing; that is to say that you will stay dry for an hour or two, dependent upon the severity of the rain; but not much more. The sprayed-on PU coating does not, however, impair breathability to any great degree.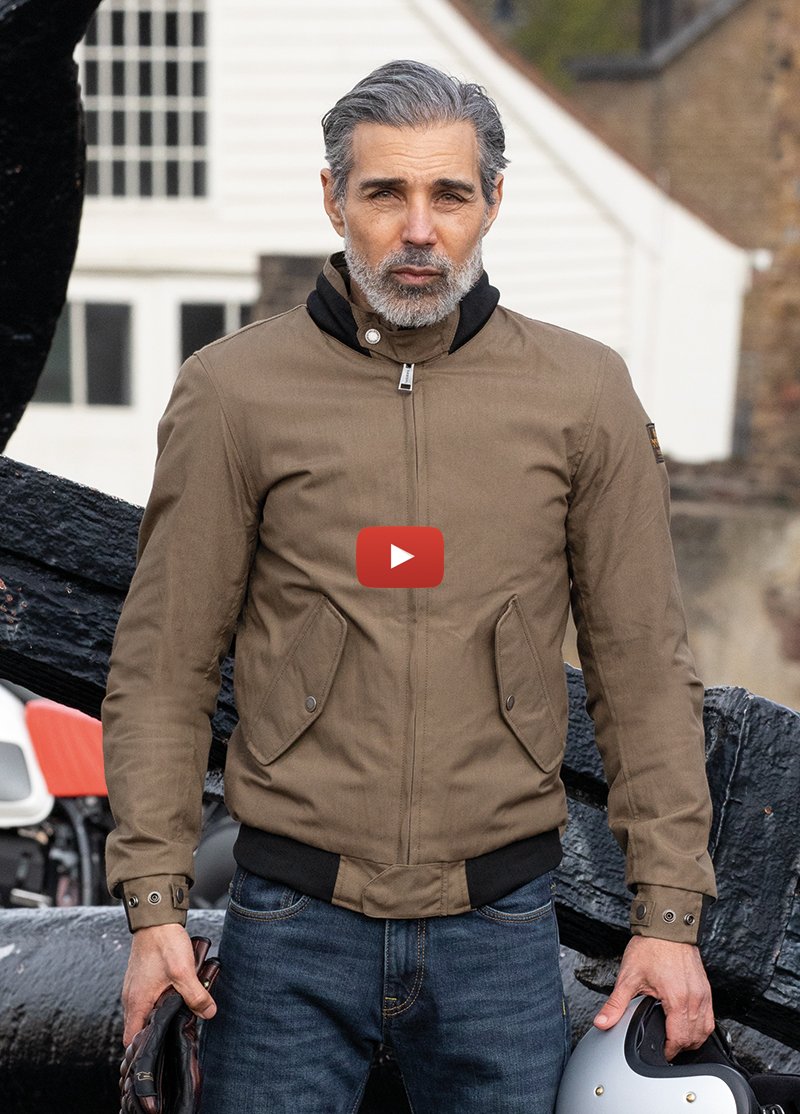 We love this jacket. Based, like the Furygan Kenya Evo, on a Steve McQueen, Harrington, the Helstons Nova jacket is one of those easy-to-wear jackets that you can just throw on if you're only popping out for a few hours, and you don't want to get togged up in all the gear. Yet it gives nothing away as a piece of motorcycle apparel. It's properly protective, and indeed comes fully fitted with armour, including a back protector. It's also got a waterproof membrane and a removable thermal inner.
Okay, so you might not want to go touring in it or commute in it, but it's still the kind of jacket that every biker needs in his wardrobe. The Helstons Nova is totally exclusive to Motolegends in the UK, but the best news, perhaps, is the price. It's just £199.99, which makes it a heck of a lot of a jacket for the money. As well as a darn cool one.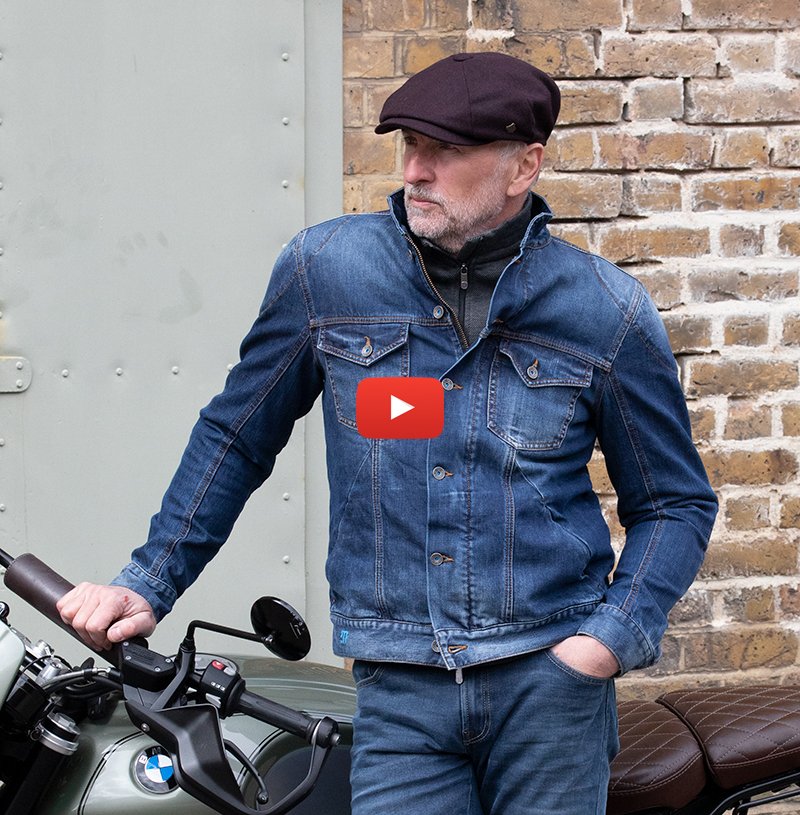 For 2021, PMJ has launched a single-layer, protective, denim jacket. It looks, feels and wears just like a regular denim jacket. We like it a lot. Styling-wise, it is virtually indistinguishable from a Wrangler, Diesel or Levi's jacket. Obviously, the West jacket comes with armour in the elbows and shoulders. There's also a pocket for a back protector. The West is AAA rated under EN17092; now very, very few textile, motorcycle jackets are accredited higher than AA. In fact, we know of only one. And that one is priced at over a thousand pounds. Style is obviously a very personal thing, but this jacket looks nearly identical to the kind of jacket that many people wear when going down to the pub, or out for a meal. If you like the double-denim look, this is the one for you.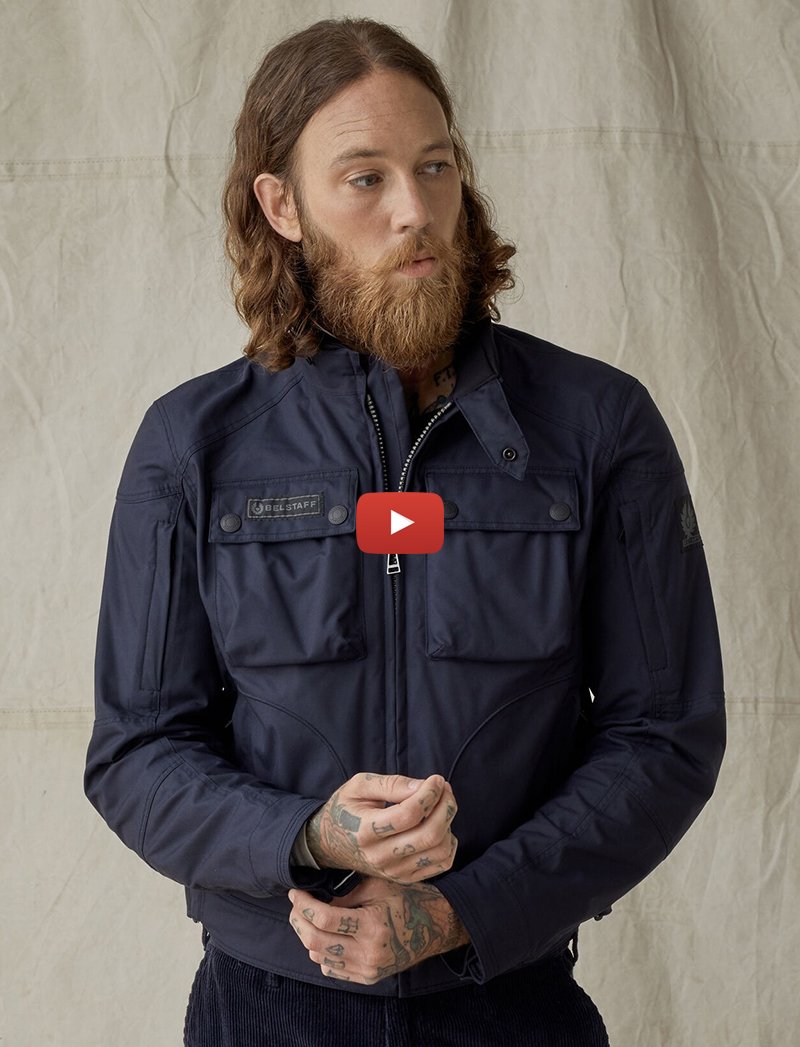 The Belstaff Greenstreet jacket
The Belstaff Greenstreet jacket is a lightweight, summer version of Belstaff's shorter, wax cotton Mojave/Roberts jacket. For its range of summer-weight jackets, Belstaff developed a totally new stronger fabric called Urban Tech. As part of the CE safety standard, all garments have to be tested for abrasion, puncture and tear resistance. The Belstaff Greenstreet jacket passes the test at the A standard which, in truth, is all one would expect of a lightweight, highly breathable garment like this. Many of the other features on this jacket are pure Belstaff. We're talking about the flap pockets on the chest, lower jet pockets, Neoprene in the collar, volume adjusters and so on. You also get vents on the sleeves. The jacket is light and easy to wear.
It does not come with a waterproof membrane, per se, but the Greenstreet is nonetheless reasonably waterproof. The waterproofing comes courtesy of a PU coating that is sprayed on to the outer fabric. This delivers a much higher level of waterproofing than a traditional DWR (Durable Water Repellant), although it has to be acknowledged that it is not going to be as effective as a proper membrane. The coating only marginally affects breathability. Think of the waterproofing as 'get-you-home' waterproofing. You will stay dry for an hour or two dependent upon the severity of the rain, but not much more. Obviously, the Greenstreet comes with CE armour in the shoulders and elbows. There's a pocket for a back protector.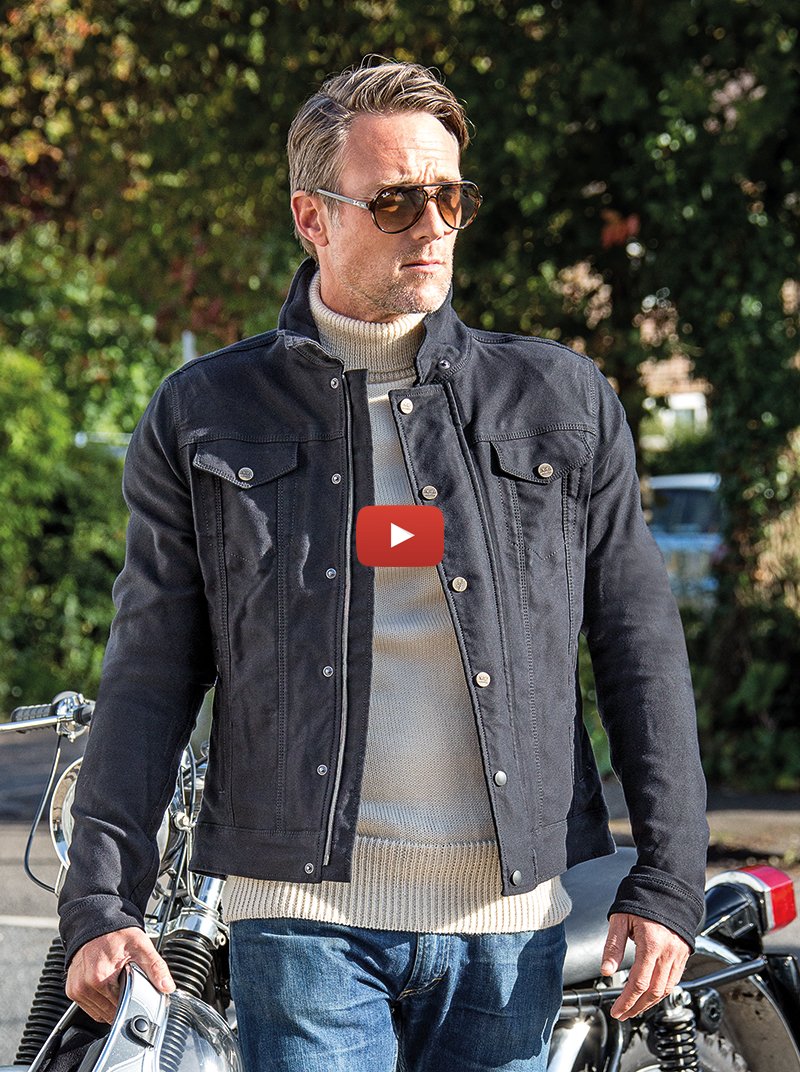 The Rokker Black Jacket is a high-tech motorcycle jacket with a classic cut. The outer material is made from 100% Schoeller-Dynatec which is wind resistant, water repellent and highly abrasive resistant. Coldblack-finishing technology reflects heat and UV rays away from the body, keeping you comfortable on warmer days. Also integrated into this jacket is NanoSphere-finishing technology which makes the jacket far more than water resistant than a jacket of this ilk has a right to be. Included in this jacket are removable D3O protectors for the shoulders, elbows and back. The zip is also waterproof and protected by a buttoned flap.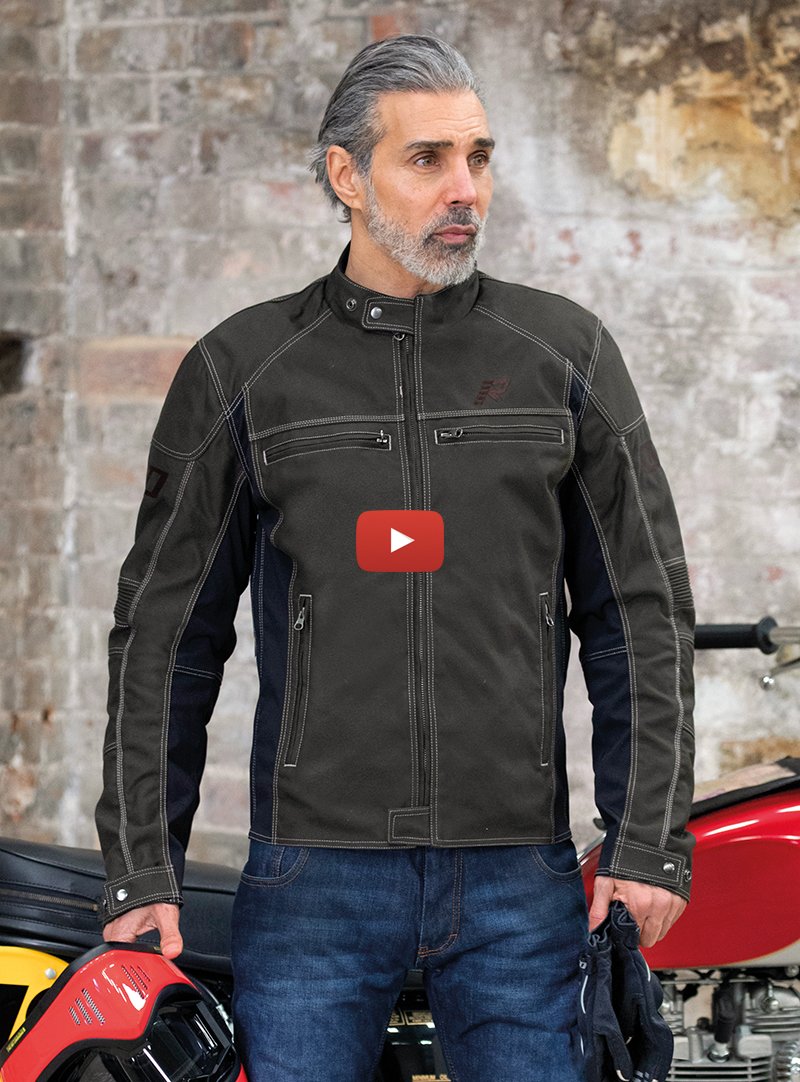 The Rukka Raymond is a summer jacket that reflects a new aesthetic from our Finnish friends. It won't be as breathable as their Forsair jacket. But as it has no waterproof or thermal lining, it will be really nice to wear in hot weather. The Raymond jacket also has full-length ventilation zips running up the flanks on both sides. Of course, the Raymond has much more of a street look than Rukka's Forsair, so it's going to work much better than the Forsair with a pair of jeans. For more comfort and a better fit, you get stretch panels on the sides, up the sleeves and in the back. There are also accordion stretch panels above the elbows. D30 armour comes as standard in the elbows and shoulders.
For more information and to order any of these jackets online, click top 10 summer motorcycle jackets.

Want some more? Please

click here

to return to our editorial menu.
Share this page