Halvarssons Rogen single-layer jean review
Published on: 09 August 2023
For many years, Halvarssons has been one of our favourite brands here at Motolegends. Long have we banged on about the notion that the brand offers, say 80% of the functionality of Rukka, but at 50% of Rukka's prices. And we still don't think we are far wrong on this. But, like Rukka, Halvarssons' forté is technical gear for commuting and touring, with maybe a bit of adventure riding thrown in for good measure.
The typical Halvarssons customer is probably older than the average Rukka customer. He is is more interested in functionality than aesthetics, and he wants value for money. Simply put, he seeks gear that does what it says on the tin.
You very rarely see Halvarssons' gear being heavily discounted. You will never see it being sold at shows, but it doesn't need to be, as most people accept that you get a lot of bang for your buck.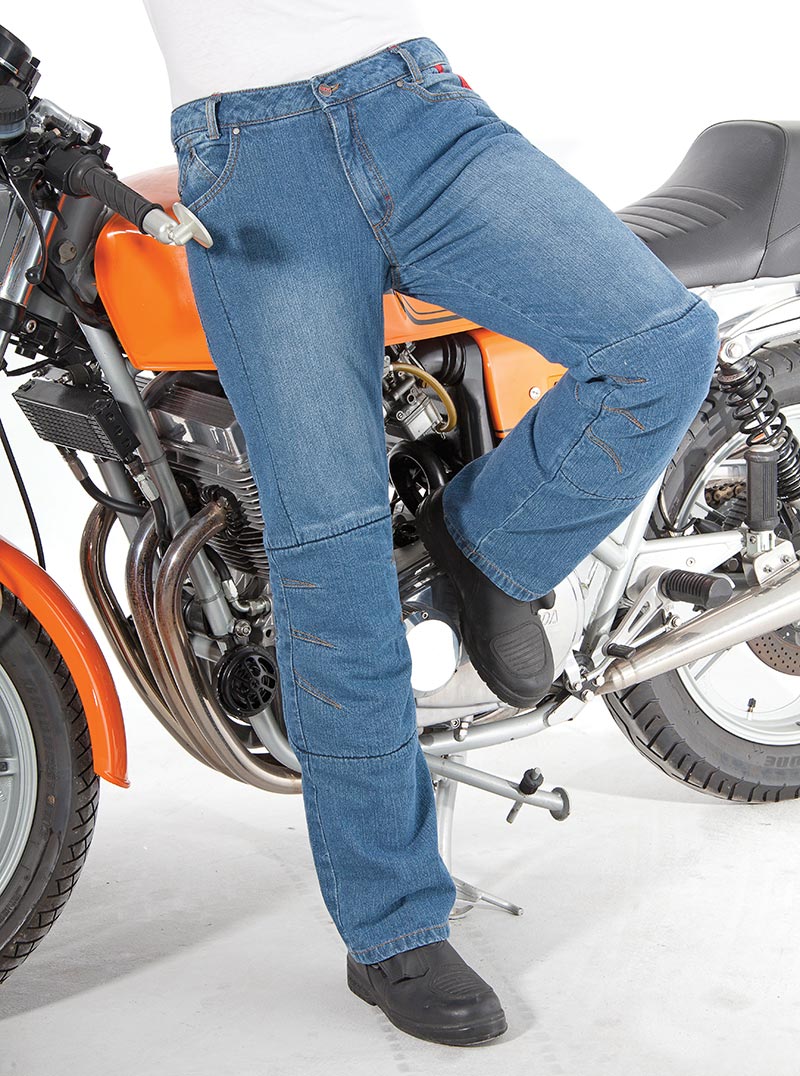 Historically, Halvarssons jeans have been heavy, and really not all that nice!
Halvarssons has, historically, never been all that big on style. They are no Rokker. No Belstaff. No Spidi even. Which is why they have never been strong on jeans. In fact, historically, they have produced some pretty horrid jeans. At a time when Kevlar jeans were starting to look more like normal, street jeans, Halvarssons still managed to make theirs look embarrassingly ugly. They were sometimes made up of so many panels that they looked like some kind of quilted duvet knocked out by a Cabbage Patch doll. And whilst some people liked them, the fit was more 'comatose' than 'relaxed'.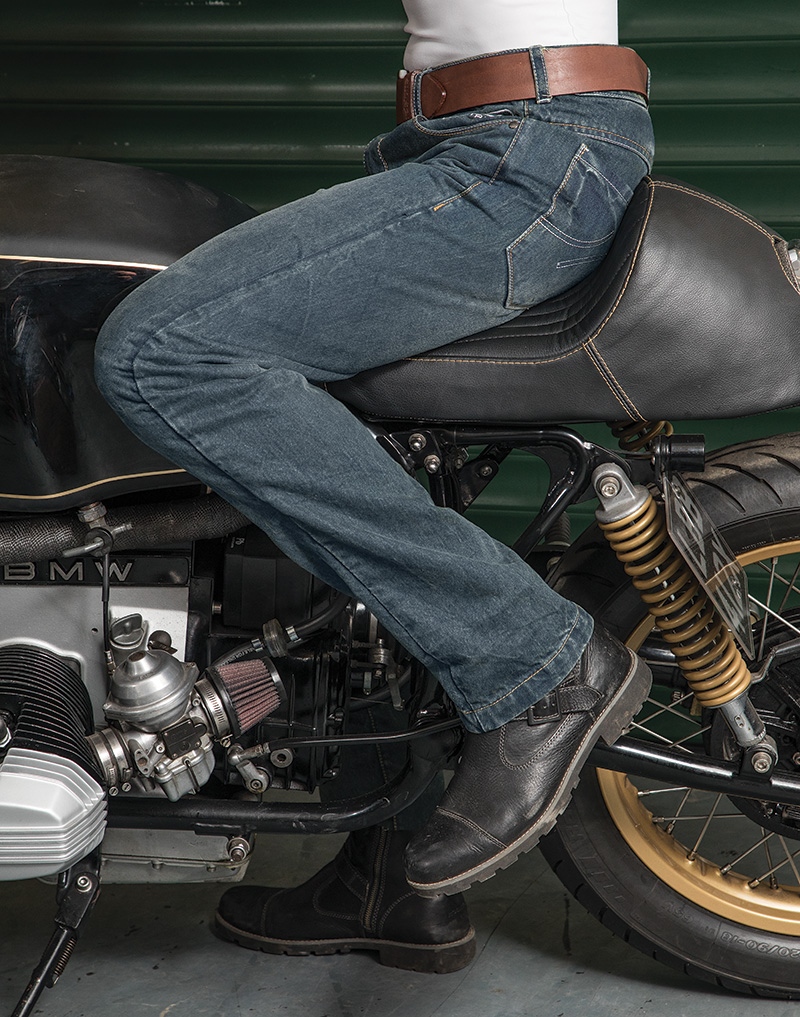 With the Rogen jean, Halvarssons has become a player.
Over the years, whenever Halvarssons presented to us their latest take on a riding jean, we sometimes found it hard not to giggle. A few years ago, they came out with a single-layer jean called the Macan. And technically it was 'single-layer', but they had managed to make it so thick and heavy that it kind of defeated the object. It was heavier than a lot of lined jeans. Some people got on with them, but they were never quite our cup of tea. So, late last year, when they presented their latest effort to us, we saw it as an opportunity for a quick comfort break. Our expectations were far from those of Charles Dickens' Pip.
But this time, by golly, it would seem that Halvarssons might just have gone and darned well cracked it.
Let's tell you why.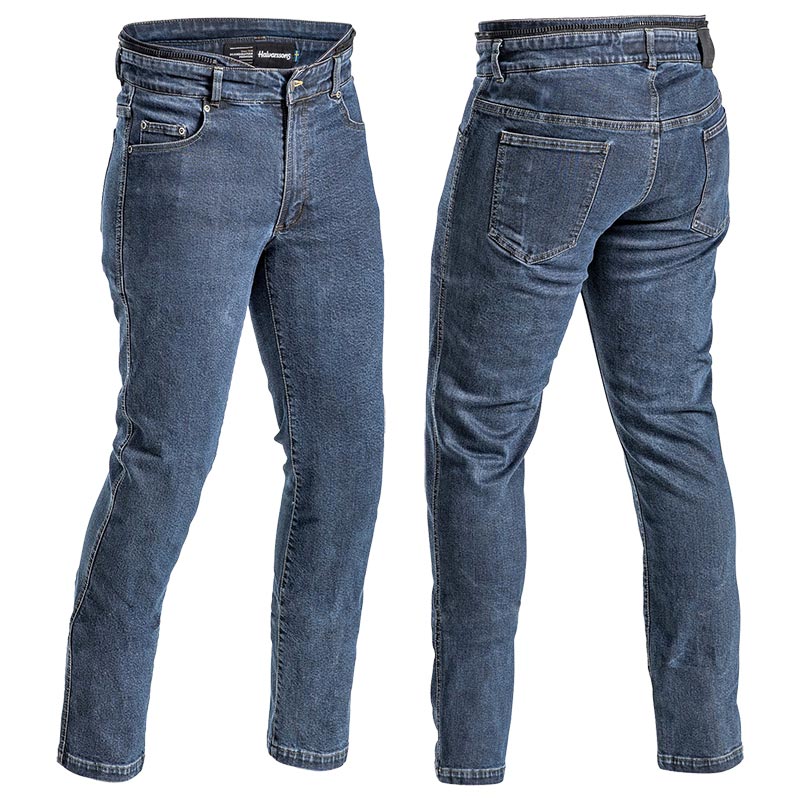 The Rogen jean in detail
The jean is single layer. It's made with aramid fibres, cotton and Elastane. Now aramid fibres don't always make for the lightest single-layer jeans, but there's nothing wrong with the Rogens in this department. Now, they are not PMJ light, nor are they quite Rokker Legend light, but you would have no issue wearing these jeans all day. Armour aside, you would not really think that they were in any way a protective jean. And the stretch component makes them particularly comfortable.
Now these jeans are still Halvarssons jeans, so you wouldn't expect then to be super trendy, overly slim-fitting, or aggressively tapered. And they are not. If you want that 'boy band' look, we have the Tex-Pros from PMJ. And then there's the various iterations of 'Slim Tapered' from Rokker. Now we love Rokker's jeans, but whilst they are not super slim, in our view, we still get issues with those who have rugby players' or rowers' calves. And some people do find the rise on some Rokkers too low.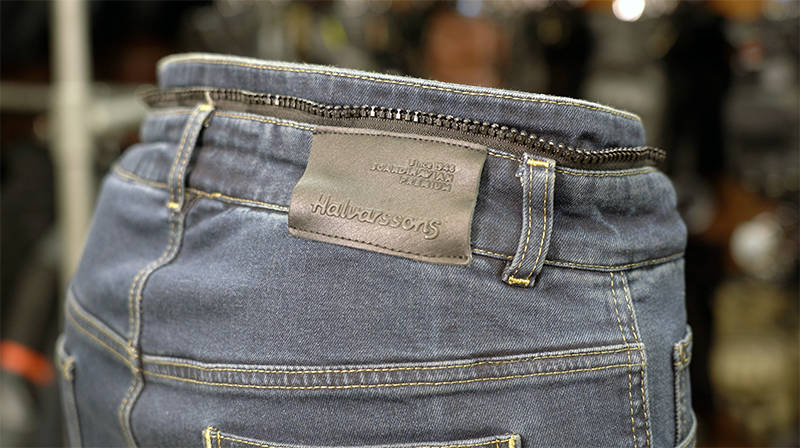 The jeans are quite high rise, which is going to work well on the bike.
And so we are not in any way unhappy with the way the Halvarssons jeans fit. In fact, for some time we have been looking for just such a jean. We just didn't think it would come from Halvarssons. I suppose we would describe the jean as having a 'dad' fit. They are not overly baggy. They also have a slightly higher rise at the back, which will work well on the bike. Most people will have no problem with the way they wear, although if you're the kind of person who cannot commit to a relationship with a pair of jeans without first spending 20 minutes examining yourself in the mirror, they may not be for you.
But there's some other stuff you should know. The jeans come fitted with softish, Level 2 armour in the knees and hips. It's not the amazing armour that Halvarssons came out with last year, but it's still very flexible.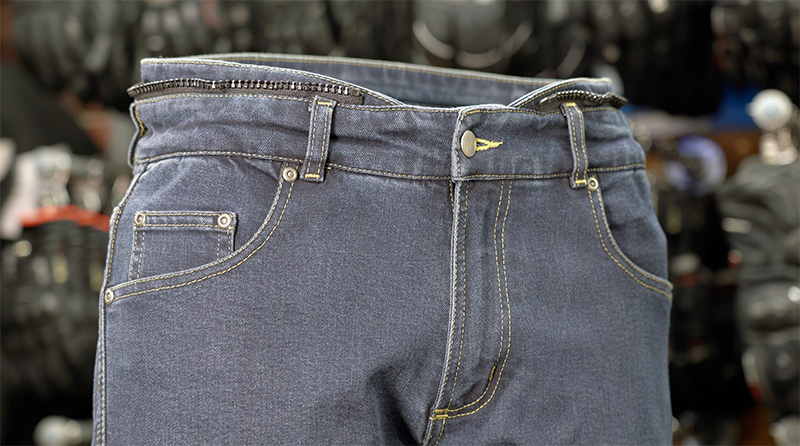 The zip in the waistband is useful, but not particularly stylish.
A lot of people like to zip a pair of jeans into a jacket. And for this we usually propose Halvarssons' unique 'Waist Zip' that can be attached to any jean or pant that has belt loops. But the Rogen jeans come as standard with a zip sewn into the waist. This will be very useful to a lot of people. It will mean that the jeans can be zipped into any Halvarssons or Rukka jacket. In fact, we can easily create a connector that will allow you to connect the jeans to just about any brand of jacket. The problem is that the zip in the waist of the jean does detract a little in the 'cool' stakes. It means the Rogens don't exactly look like a pair of Levi's. A problem for some, maybe; but probably not for all.
We do, however, think that Halvarssons has got one thing wrong with these jeans. And that is the leg lengths. There are only two lengths; and they 32" and 29". Now our Rokker jeans come in four leg lengths: 30", 32",34" and 36". The problem is that, when you sit on the bike the hem of the jean rises, so if you normally wear a 32" leg jean on the street, you will often need a 34" leg in a motorcycle pant. As it stands, therefore, anybody with a leg length much more than 30" is going to find the jeans too short. And who is going to need the 28" leg we have no idea? All I would say is that, if that individual does come into the shop, do be careful of all the sharp edges on our tables.
But there are two real kickers with these jeans.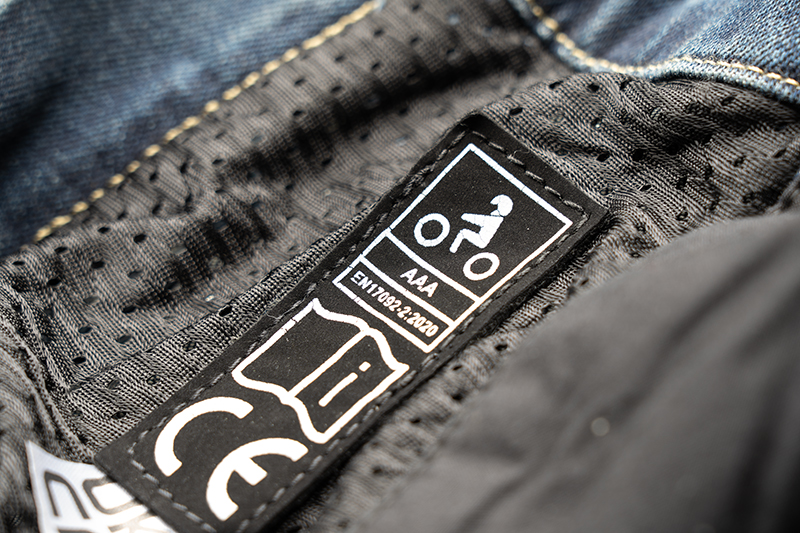 The Halvarssons Rogen jean is rated AAA under EN17092.
The first is that they are rated AAA under EN17092. Now that's the highest, most protective standard you can get. Usually, we are not advocates of chasing AAA for its own sake, because the highest standard will often come at the expense of comfort and wearability, but there's no issue here. The jeans are easy to wear, and they are rated AAA. There's nothing that's not to like in this regard.
The second is the price. These jeans are just £199. And for us here at Motolegends that's quite upsetting because, frankly, that's just not enough money for a jean this good.
In conclusion
Halvarssons has kind of cracked jeans. And they've done it with some style.
The Rogens are going to work really well on a lot of people. A lot of people who may have found, in the past, that jeans just didn't work for them.
The problem is leg lengths, but we are sure that Halvarssons will be working to correct this for the future.
In truth, there's room for lots of different jean brands, and lots of different jean styles, in this market. Many will still prefer the aesthetics and style of a pair of Rokkers. But, for some, the Halvarssons jeans will be perfect.
The Rogens are still light years ahead of many so-called Kevlar jeans on the market, in terms of the way they look, and feel, and wear. And they are so much nicer than any jeans Halvarssons has made before. And if being comfortable and being protected is what it's all about for you, then Halvarssons' Rogen jean is going to hard to beat!
For more information and to buy online, click Halvarssons Rogen single-layer jean.
---
Want some more? Please

click here

to return to our editorial menu.

Share this story