Held Pentland jacket review
Published on: 09 August 2023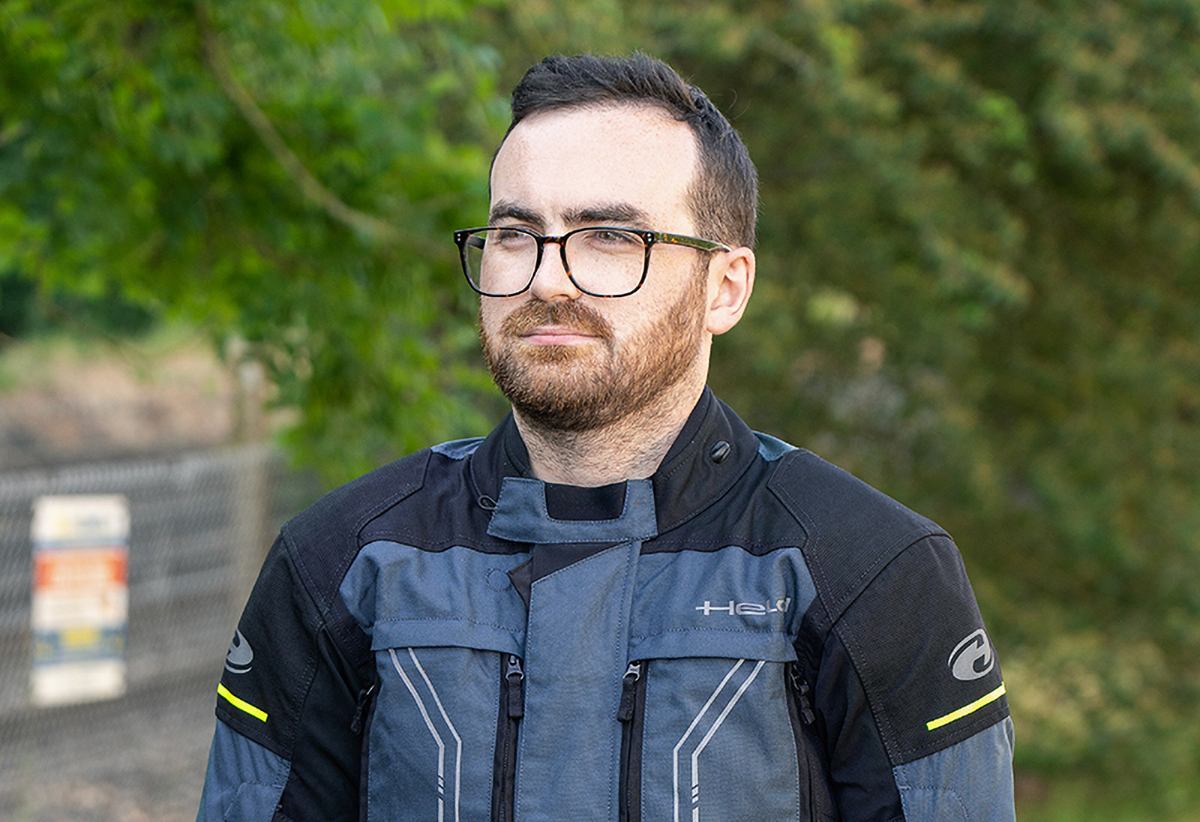 Now this might just turn out to be the suit we've been looking for. We reckon it could become an important suit for us; and we suspect that it will become equally important to our customers. It has the potential to replace the much-loved Halvarssons Wien/Wish combination that has now been discontinued. The Held outfit has a lot going for it. In some ways, we think it could prove to be even better than the aforementioned Halvarssons suit; but importantly it is going to come in at under £650. Meaning that this is a suit that is going to work for a lot of people.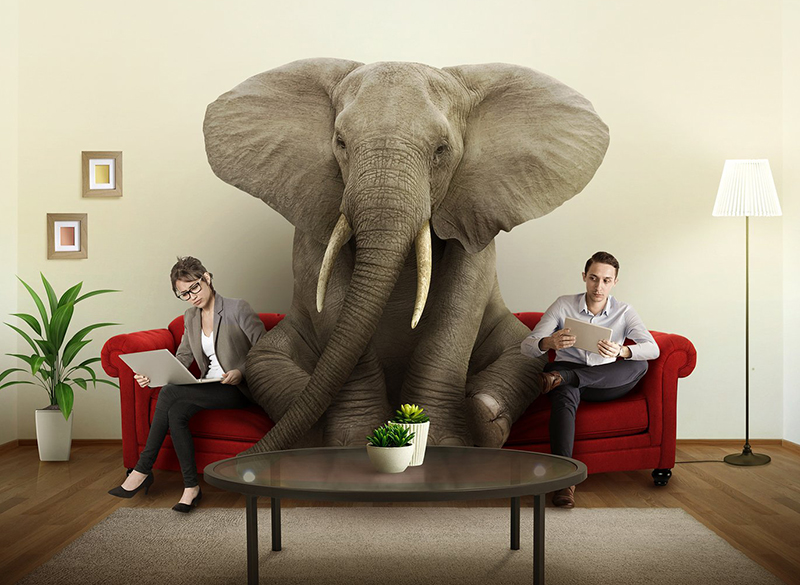 Ejecting from the room the animal with huge ears
But before we get into it, we need to sling the mammal with the huge proboscis out of the room. And it's that this is a drop-liner outfit. Now in a world where many bikers have incorrectly convinced themselves that the only way to stay dry is to wear laminated garments, it has to be acknowledged that the Pentland achieves its waterproofing qualities by means of a drop-liner membrane.
Now the last time I extolled the virtues of a drop-liner garment on YouTube, I was attacked by the trolls for having changed my tune. But my tune is consistent. After all, I always claimed that the drop-liner Wien jacket was the perfect solution for 95% of riders. And so it was.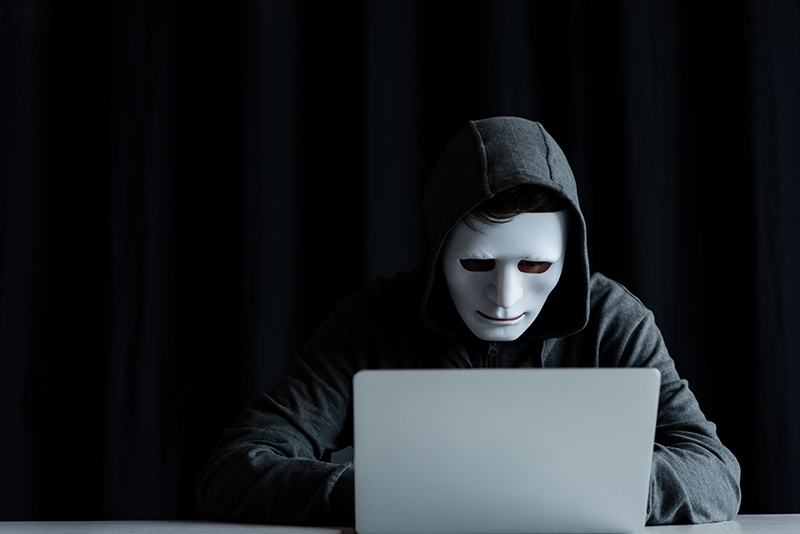 People on the internet are easily confused. We can recognise the benefits of laminated garments, we can even extol their virtues, but for most motorcyclists we would still recommend a drop-liner outfit.
It is true that laminated garments will be better for some people. If you often find yourself riding in four or more hours of heavy rain, a laminated suit might be beneficial because it won't 'wet out' in the way that a drop-liner one might. A laminated jacket and pant might also be the way to go if you commute more than an hour each way into work. And that's because drop-liner gear takes longer to dry, so if you ride into work in heavy rain, there's a chance that you'd still have a damp suit to put on when it came to going home in the evening.
But there are many downsides to laminated garments. Laminated jackets are somewhat less comfortable than drop liner ones. And they won't keep you as warm in cold weather.
Inexpensive laminated jackets, a euphemism for ones not equipped with Gore-Tex membranes, are also notoriously unreliable. They have a tendency to fail. You might get through the two-year warranty period, but most non-Gore-Tex laminated garments are not sufficiently well put together for the long haul.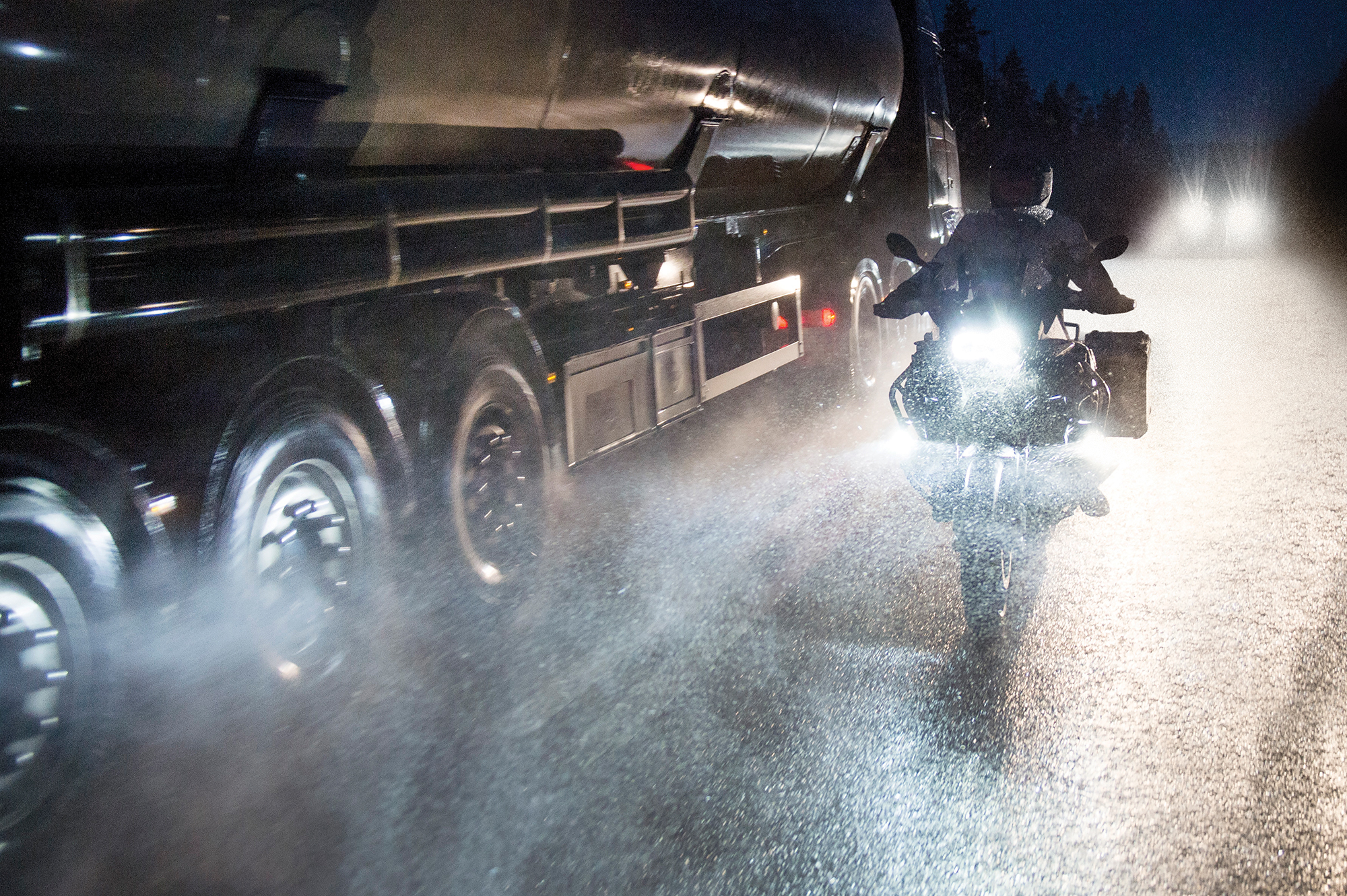 A drop liner outfit is just as waterproof as a laminated one. But in many hours of rain it will take on water. You will stay dry, but may feel cold.
What is absolute nonsense, however, is the notion that laminated jackets are the only way to stay dry. In less than four hours of rain, a drop-liner jacket will be more than up to the job. You won't get wet, and the garment will not 'wet out'.
Let us draw an analogy here. If you ride a bit at weekends, have a short commute, and go on tour once a year, you don't really need a 1250 GS. You might feel better about riding one, but you won't need one, and you will almost never explore the full depth of its capabilities. Truth is you'd probably be better off with something smaller, lighter and less expensive.
And so it is here. Many people buy laminates because they know that they can, in certain circumstances, perform better. They can afford, for example, an expensive Rukka laminated suit, and so they buy one even though in so many ways they would be better off with a drop-liner one. And if people want to waste their money, that's up to them. Same goes for the GS, I suppose!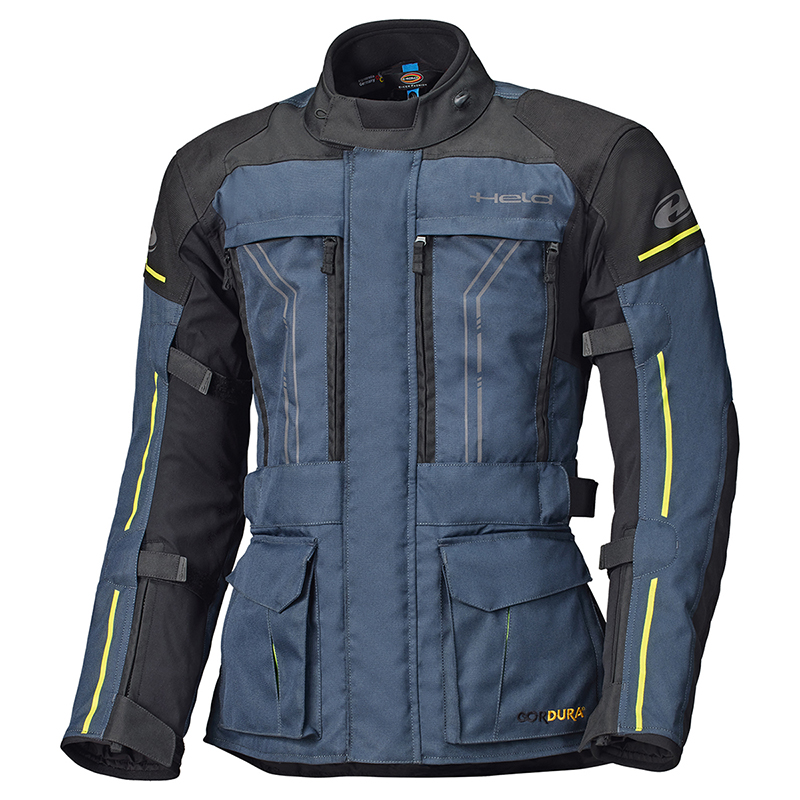 The Pentland jacket in detail
rdura. Now there are jackets made from heavier weights of Cordura, but the upside here is comfort. The Pentland is supremely comfortable, although this does not come at the expense of safety because the Pentland is accredited AA under EN17092. The jacket comes with soft, D3O-like armour in the shoulders and elbows. There's a pocket that will take a D3O back protector.
Stretch panels down the insides of the arms and in the armpits serve to make the jacket even more flexible, as do concertina stretch panels above the elbows. No two ways about it, this is a lovely jacket to wear. But comfort is also about fit; and to this end you also get an elasticated, adjustable belt at the waist, and volume adjusters on the biceps and forearms.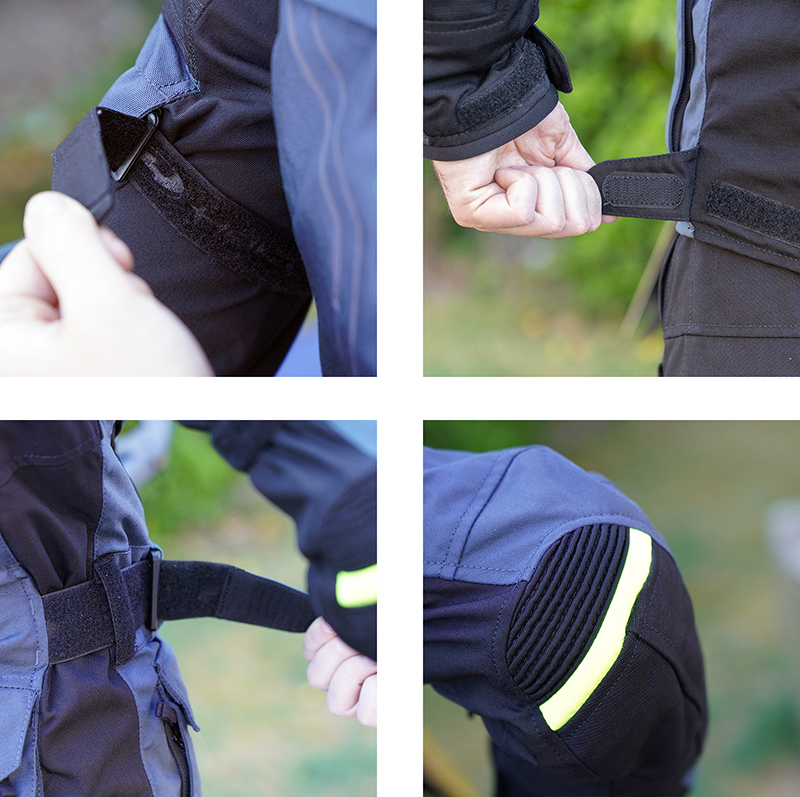 Most people should achieve a good fit in the Pentland.
In styling terms, the Pentland is pure adventure, so you get two large, lower pockets, which incorporate side-entry, hand-warmer pockets. And a large one on the back of the jacket. You also get what look like two, large upper pockets on the chest, although they're not pockets; they're large, zip-down vents. They're actually not large; they're huge. And they are going to work really well in hot weather. There are more pockets inside the jacket, by the way.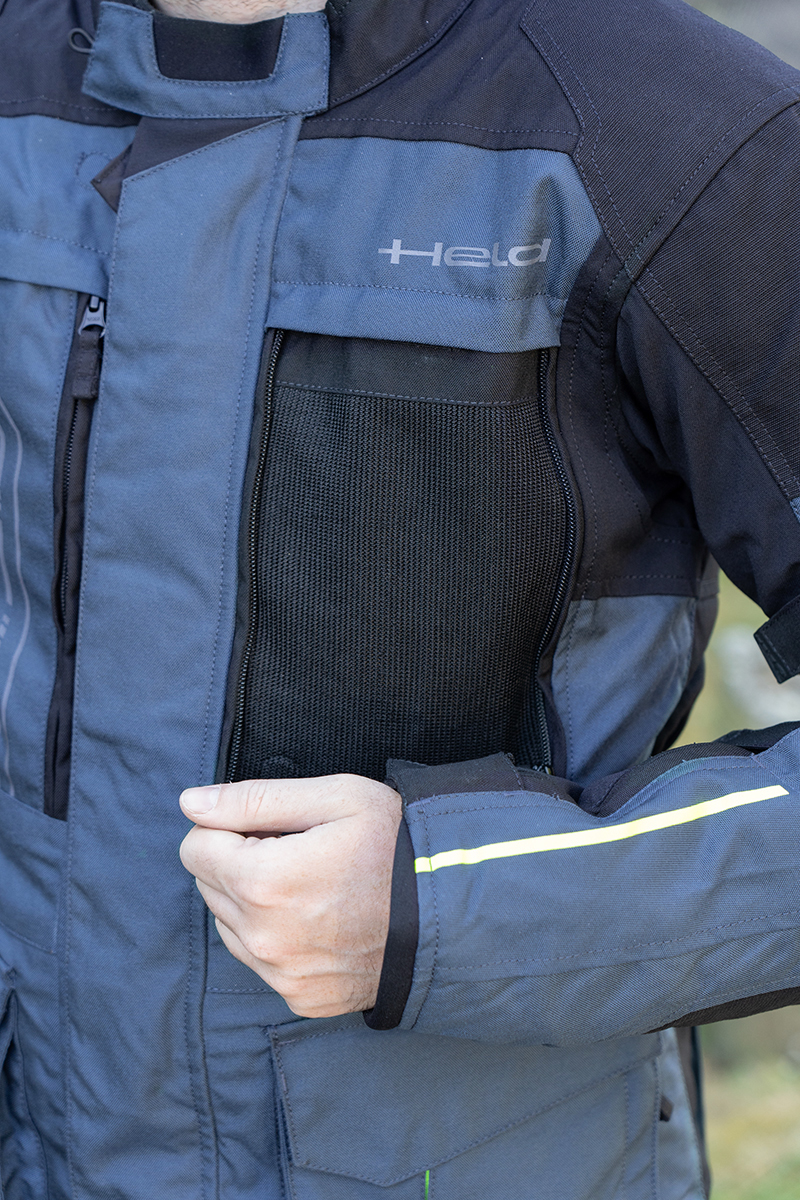 The vents are much better than we ever had on the Halvarssons Wien.
There is one thing you don't get with the Pentland; and it's a thermal lining. This is never a problem for us; in fact, it's the way we prefer it. First, because the liners that come with most mid-market jackets are rubbish. But secondly because it leaves the rider with the option to choose what's the best solution for them. That might be a lightweight Merino top, a fleece, a down jacket, a heated jacket, or conceivably nothing at all.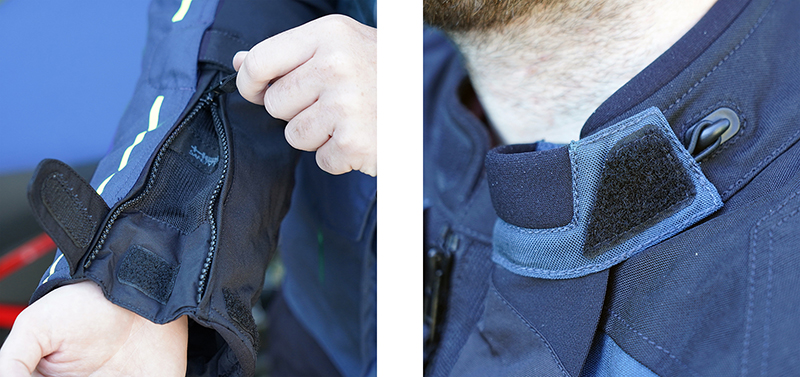 The detailing on the Pentland jacket is incredibly impressive.
There's lots of other nice detailing on the jacket. Such as subtle, hi-viz banding. Zips and Velcro flaps at the ends of the sleeves. Extra layers of Armacor-style material on the elbows and shoulders. A slightly lowered back. A double storm flap on the main zip, with a really neat arrangement of Velcro fasteners that won't snag your clothing. A Neoprene collar. A tab to hold the collar back. You also get a soft Neoprene insert in the neck for added comfort when you're riding. Lastly, there's a connecting zip for attaching the jacket to any Held pant.
But one of the things we really like about Held is the huge range of sizes their gear often comes in. The Pentland, for example, goes from S all the way up to 6XL. And that's pretty large!
So let's now look at the matching pants.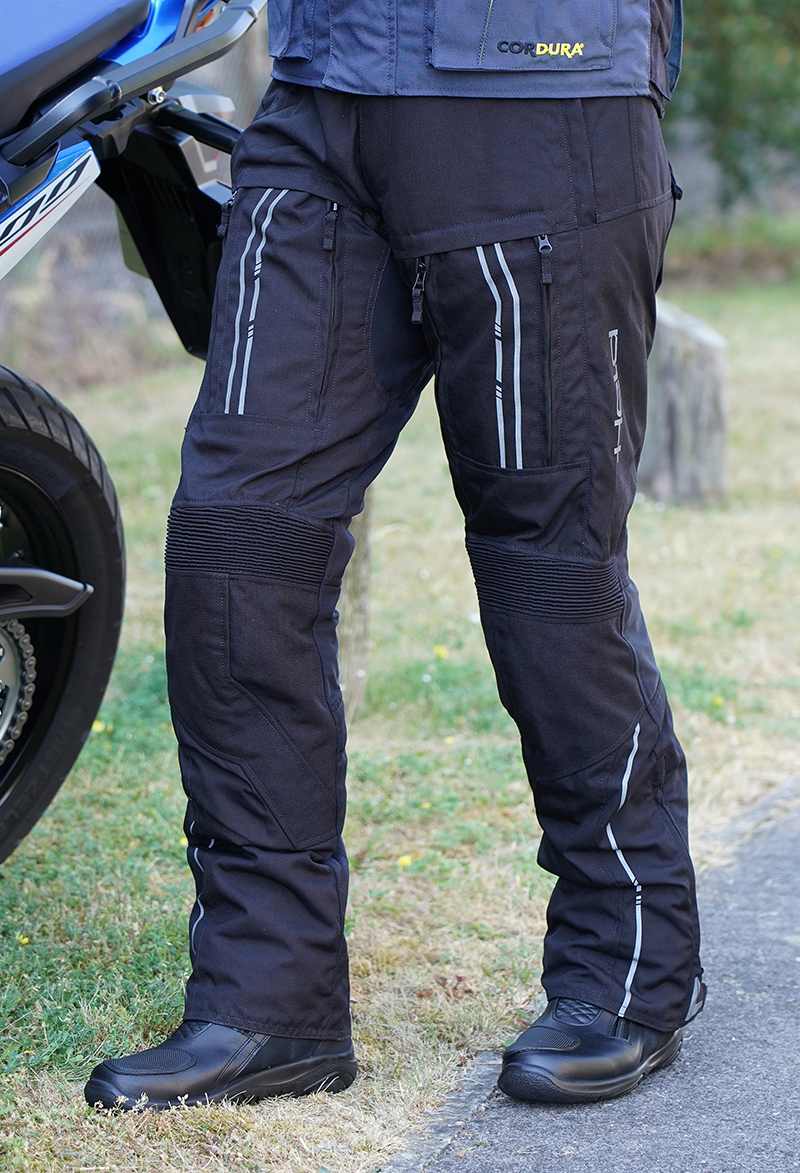 The Pentland pant
As is almost invariably the case, a matching pant is going to mirror the jacket in all the fundamental aspects of construction.
So here we're talking about 500 denier Cordura, a fixed drop-liner membrane, an AA rating, soft armour in the knees and hips, two external pockets, two huge vent panels on the front of the legs, two exhaust vents, stretch at the waist, the knees and in the crotch, added reinforcement at the knees, an anti-slip panel in the seat, long zips with Velcro flaps at the hem, and so on.
One thing you don't get on a lot of pants is a pocket for a coccyx protector. You do with these.
But like the jacket, the pants come in lots of sizes. In fact, in a particularly impressive array of sizes. The waist size goes from S to 6XL. But we also offer Short legs from M up to 4XL. And what Held call a Slim leg, which in our view equates to a longer leg, in waist sizes M to 2XL.
In summary
On paper, this suit looks amazing, and ticks all the boxes; in fact, it ticks far more boxes than you would expect to find on a suit of this price.
Despite what some people may have surmised in the past, we like drop-liner outfits, because we think they're the best option for most riders. This suit is comfortable, has the level of protection you'd expect to find on even the best technical outfits, and comes in an array of sizes that would put Rukka and Klim to shame.
But what we said a few lines above is that this suit looks amazing 'on paper'. And that's because we are new to this suit, so it will be the feedback from customers that will be the final judge. But this is not our first rodeo. We are not bad judges when it comes to assesssing a garment's worth and quality. And we have faith in Held. This is not their first rodeo either, and they haven't let us down yet.
We reckon we might just have a great future with the Pentland. Come and see it for yourself, and be your own judge.
For more information and to buy online, click Held Pentland jacket.
---
Want some more? Please

click here

to return to our editorial menu.

Share this story