Rokker Rokkertech AAA jean review
Published on: 25/08/2022 16:06
We are not going to try and deny that, over the years, we have become what might be termed Rokker fan boys.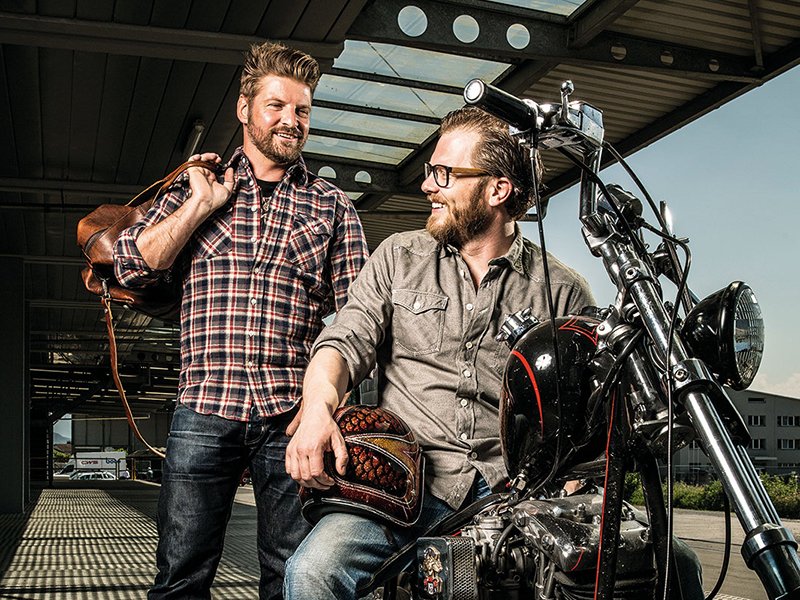 Micheal and Kai own and run Rokker. They're a couple of cool dudes.
Nonetheless, we don't like everything the Swiss company produces. And as with most of the brands we work with, we tend to pick and choose the lines we like. We love, for example, their Urban Racer boots. We quite like their shirts. We're not so taken with their gloves, but they do makes some very nice chinos. What they do better than anybody else, though, is jeans.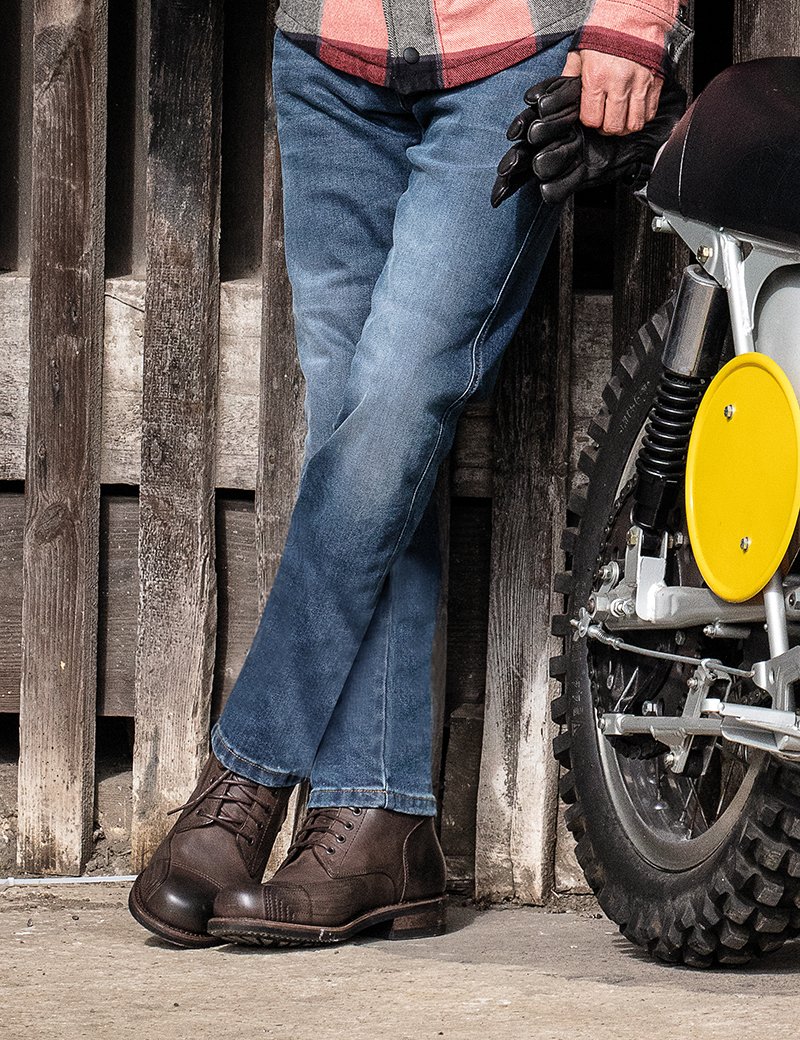 Rokker make some great gear, but what they better than anybody is jeans.
We have recently worked with Rokker to create our own exclusive version of what they call the Tapered Slim jean. It's pretty much the perfect riding jean, as far as we're concerned. It's stronger than leather, has a zip fly, D3O Ghost armour in the knees and hips, and built-in stretch. It treads a fine line on fit. It's pretty slim, but we have had the standard jean made just a tad more generous in the calf to make it a wee bit more comfortable on the bike. It is AA rated, and with its 6.96 second slide time, we reckon that it's strong enough for anybody.
It's all the jean you could ever want, in our view.
The pursuit of AAA-related clothing
As a company that sells protective wear, some people expect us to get excited by products that meet the highest AAA safety standard under EN 17092. But we don't always see these things so simply. And that's because there is often a trade off between protection and safety. People assume that gear that is more protective is safer to ride in. But our view is that this is only the case if it doesn't diminish comfort.
The reality is that it is not difficult for a clothing manufacturer to meet the AAA standard. Yet rarely do the more respected names like Rukka, Stadler, Klim and Halvarssons achieve this level. So the question one has to ask is: do they not have access to the best technology or the most advanced fabrics? And the answer is that of course they do. They merely choose to put rider comfort and wearability ahead of protection for its own sake.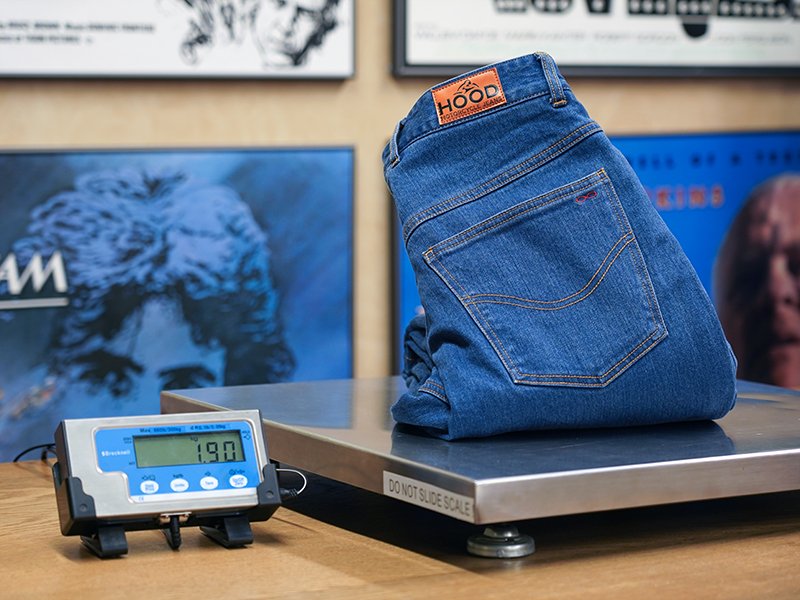 Even artisanal makers can create a product that meets the highest AAA level.
Any manufacturer can meet the AAA standard; indeed many of the AAA garments out there are created by brands at the lower end of the market. The truth is that you can meet the higher standard simply by using thicker, stiffer and stronger fabrics and linings. The problem is that, often, these garments are not so nice to wear. They are not particularly comfortable, and they tend not to breathe very well. The best example of this, perhaps, is a heavily-lined Kevlar jean. Some AAA-rated Kevlar jeans are, without doubt, protective, but they can be hideously uncomfortable to wear, especially on warmer days.
Some people think they have done really well by paying entry-level money for gear rated at the highest AAA level. Well these people, in our view, are making the mistake of buying the price label rather than the garment. In their minds, an AAA rated jean that costs £150 has got to, by definition, be a better buy than an AA rated one that costs £300. And if this is your view, go out and buy a pair of Hood jeans. Their top jean is indeed AAA rated, and it costs less than £200.
But we see things differently. We are big here on passive safety. We advocate riding in gear that delivers the level of protection that you need for your kind of riding, but we are equal believers in the need to wear gear that allows us to ride comfortably. And that's because, only if we are comfortable on the bike, will we ride well, with all our faculties devoted to the job in hand. Namely, staying sunny side up!
Not everyone will understand this. And perhaps not everyone will agree with this. But if the direction of travel is invariably towards ever higher levels of protection, you will eventually arrive at a position where you won't leave home unless you're wearing a one-piece leather suit and probably an airbag too. Might as well also throw in a pair of plastic off-road boots for good measure too.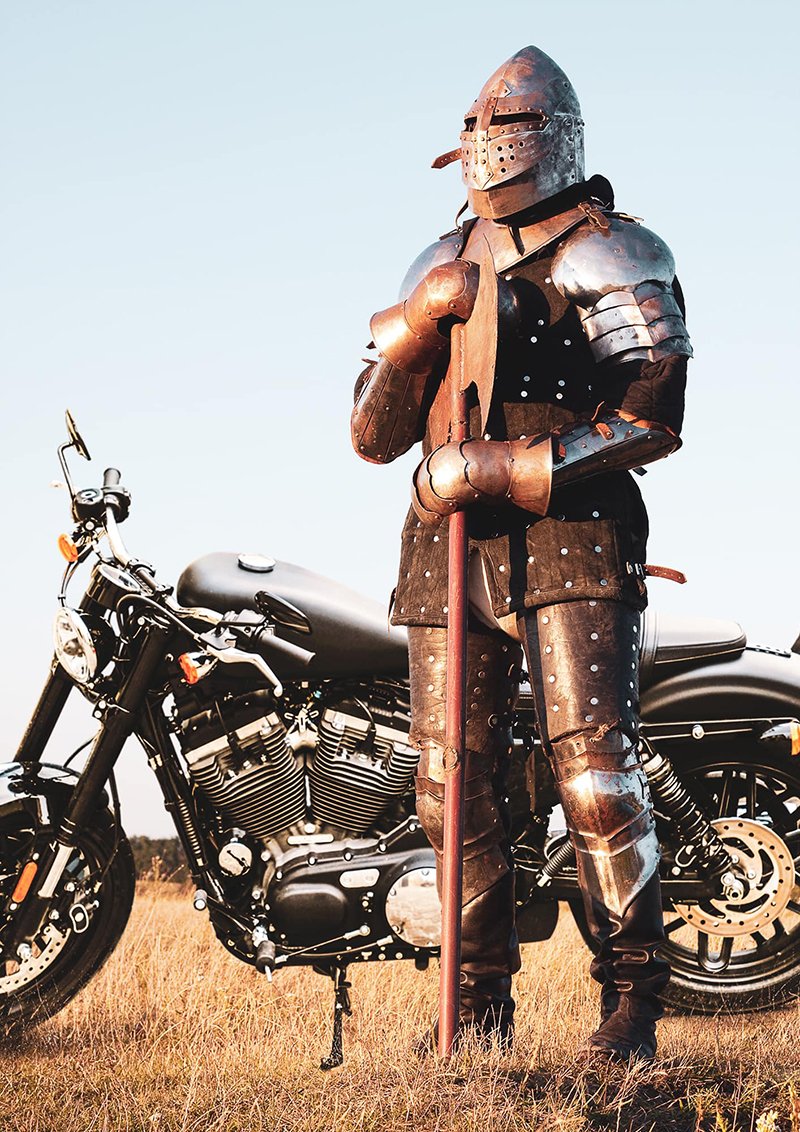 Protection for its own sake is not the goal. Riding safely is the goal.
Dress like this, and there's no doubt that if you come off you will bounce well. But the question is whether, by dressing in this manner, you make it more likely that you'll have an accident in the first place because you won't be relaxed on the bike.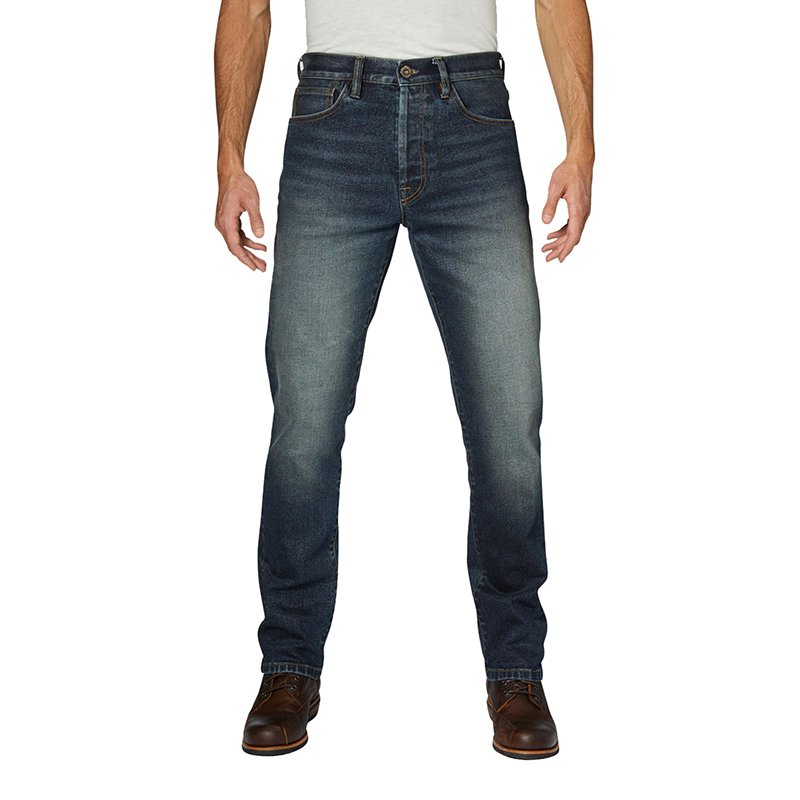 The new Rokker jean is one of the very few, genuinely single-layer, AAA jeans.
The Rokker AAA Rokkertech jean
Given these views, the question must be how excited are we by an AAA-rated Rokkertech jean? And the truth is that we are only moderately so.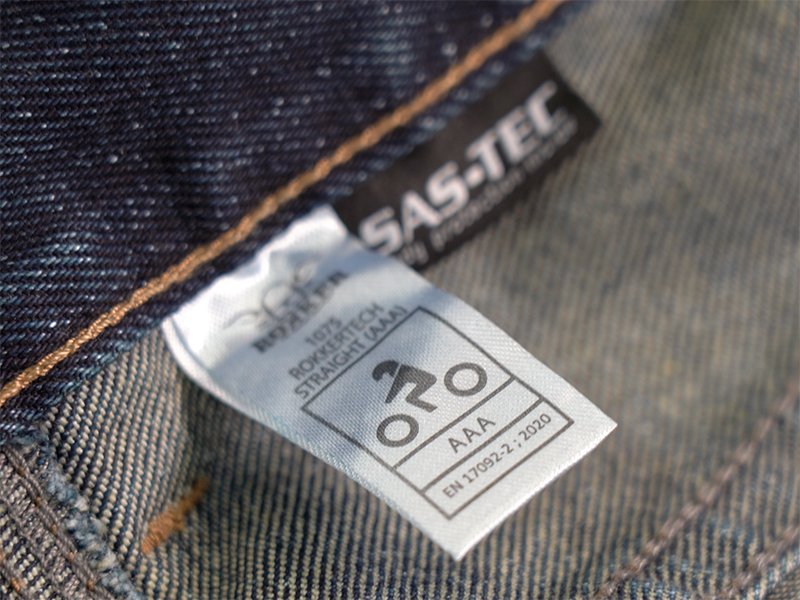 The new jean is AAA rated, but that does not mean it's the one to go for.
We have no argument with higher safety ratings if there is no trade off in comfort, but there is absolutely no way that these new jeans are going to be as comfortable as the Rokker Tapered Slim jean or our Rokker Legends, for example. These new jeans will appeal to those who like to tick boxes, and if you want an AAA-rated, single-layer jean, this is one of very few genuine ones on the market.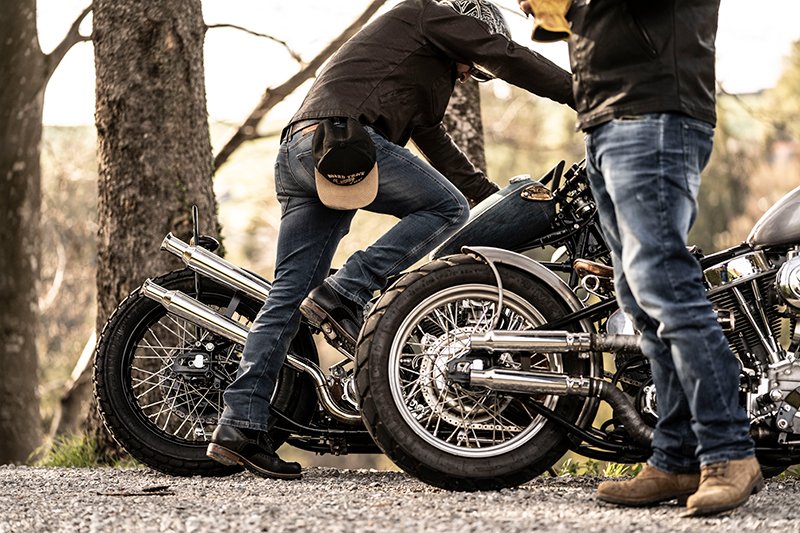 It's all about the protection level you need for the comfort level you want.
From a personal perspective, I have to say that this new jean is not necessarily the jean I would choose to ride in. For me, comfort is hugely important. I want a jean that I am as happy to wear all day on the bike as I would be off it. And whilst these new AAA jeans would be way better than a lined jean in either of these roles, I just think the Rokkertech Tapered Slim / Legend AA jeans with their built-in stretch would be nicer still.
But there is one reason that we are really excited by these jeans, though; and it's that they have a totally different fit to the existing Rokkertech jeans we love so much. They have what Rokker call a 'straight' fit. For that you can read wider, or more generous, in the leg. This is a style that is not going to appeal to the fashionistas, perhaps. They are as full as, if not fuller than, a Levi 501. And that is fine because the fact is that there are some people who do not like the slim and narrow fit of modern jeans.
The new jean is not only straighter in the leg, it also has a substantially higher rise. And again, this will suit some. It may work better on those who are stouter of limb and greater of girth. They will also appeal to those who like a bit more wiggle room in their pants; enough room to house a couple of ferrets, perhaps.
There's also an age thing going on here. We have a lot of people in the shop who look at themselves in the mirror in slimmer jeans, and then declare: "No, that's not me". Well these new AAA jeans may well appeal to those looking for a more of what is known as a 'dad' fit. We suspect that those who want an authentic 1950s'/1960s' look will also like these jeans. No doubt about it, this will be the right jean for some. Whilst for others it may well be the only that fits them properly
And for those who prefer a more fulsome fit, the fact that this jean is AAA-rated can only come as a plus!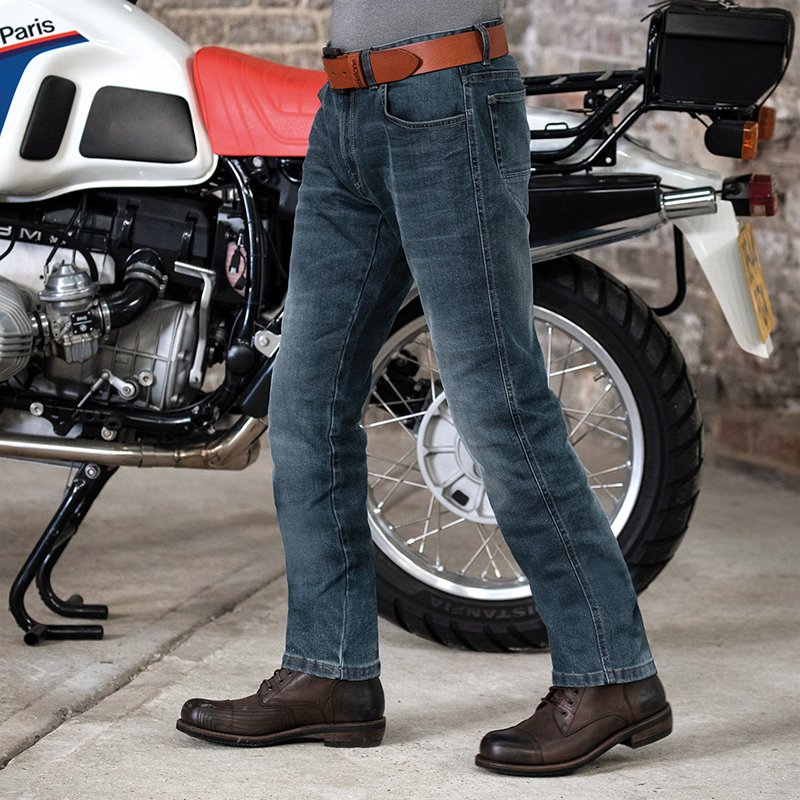 The new jean is not baggy, but it is fuller in the leg with a higher rise.
Buying the AAA-related Rokker Rokkertech single-layer jean
In summary, this is the most protective jean that Rokker has ever made, although we would make one point about the armour they come with. Rokker has moved from D3O for these jeans to Sas-Tec. There's nothing wrong with the armour; it's soft and pliable. But, frankly, particularly in the knees, we just find it too small.
The jean comes in waists 29" up to 46"; up to 34", the increments are single inches.. In principle, it comes in 30", 32", 34" and 36" leg lengths, although not every leg length will be available in every waist size.
Rokkertech jeans are never inexpensive, but new new AAA, because it has a higher UHMWPE content, is the most expensive of them all, at £399.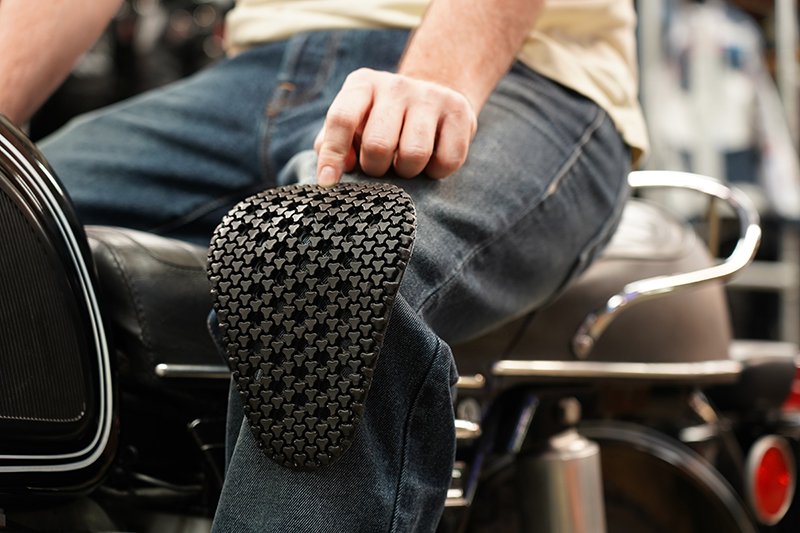 We are not fans of the new armour that Rokker has moved to; it's too small.
As ever, the only way to work out if this is the right jean for you is to come and see us. You can then compare and contrast all the Rokkertech jeans, and when you have reached a conclusion, we will make sure the armour sits correctly. If that means that we have to unsew the armour pockets and move them up or down, we'll do that within the cost. The same applies to the shortening of the jean if necessary; that's on us too.
For more information and to purchase online, click Rokker Rokkertech AAA single-layer jean.
---
Want some more? Please

click here

to return to our editorial menu.

Share this story