Rokker Cargo Slim pants in olive
Rokker Cargo Slim pants in olive
x
We will beat any UK retailer's discounted price by a full 10%
If any UK retailer is selling anything at a price that is lower than ours, we will beat that price by a full 10%.For terms and conditions, click here.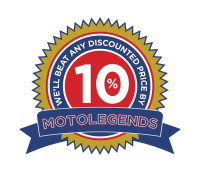 Rokker Cargo Slim pants in olive Product Information
Let's say that you are persuaded of the benefits of Rokker's single-layer jeans with their leather-beating levels of abrasion resistance, but you want a break from denim. No sweat, there are still options. You've always got their chinos, but another option might be these slim-fitting cargo pants.
In truth. They are very similar to their jeans; in this case the material has a 42% UHMWPE content. Now that's actually a very slightly higher percentage than in the Tapered Slim and our Legend jeans, which record a slide time of well over six seconds. We haven't, in truth, had these particular pants tested on a Cambridge machine, but we can be pretty confident that they will have a more than acceptable slide time. And, of course, like our own Rokker Legend jeans, they are rated AA under EN17092. They come with Sas-Tec armour in the knees and hips, by the way.
Now, years ago, cargo pants were all the rage in motorcycling circles; normally worn beneath a hoodie of some description. Those cargo pants tended to be really baggy; and that was because they were often lined with copious amounts of Kevlar. But these cargo pants have little in common with those cargo pants. Being single-layer they can fit more closely to the body. The fit on the Rokkers is actually pretty similar to the Rokker jeans we speak of above. They are reasonably generous above the knee, but below the knee they taper to the ankle. Now you would normally wear a shorter, ankle boot with these pants but, because of the stretch in the fabric, you can usually fit a touring boot inside them. But clearly they won't accommodate a race boot or an off-road boot.
Not much more that we can say about these cargo pants. They have a waterproof coating. That only makes them water resistant, and that coating will wear off after a time. But you can add that back when you wash them, by incorporating a re-prooofer. You get two jean pockets, two back pockets and two cargo pockets. In our view, useful as these last two pockets might be, you shouldn't put anything bulky or sharp in them because, if you do go down the road, it can hurt!
The jeans come in a variety of lengths. Now when you come to the shop, we can ensure that you get the right length, but as a general rule, go for a longer length than you would on a street pant. And that's because when you sit on the bike, the hem will normally rise an inch or two. It also has to be said that the positioning of the armour pocket is also based on the trouser being a little long when you're off the bike.
Specification
Six pocket pant in slim fit
Single-layer construction made with a UHMWPE
Sas-Tec armour fitted as standard in the knees and hips
AA rated under EN17092
Waterproof coating
Zip fly
Available in three different leg lengths
Product Reviews
Reviews
Scott Dunlop: Soft and understated
The fabric is surprisingly soft compared to the legend jeans and comfortable. They do not scream motorcyclist off the bike aside from being a bit long in length.
Leave us your review