Rokker Chino in black
x
We will beat any UK retailer's discounted price by a full 10%
If any UK retailer is selling anything at a price that is lower than ours, we will beat that price by a full 10%.For terms and conditions, click here.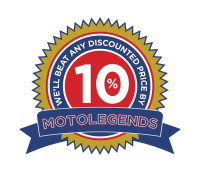 Rokker Chino in black Product Information
Rokker's single-layer chinos are the best that money can buy. No contest. They're made from Dynatec and deliver an amazing 'slide' time of over six seconds, making them around 50% more abrasion resistant than leather. But, in the weaving, the material is treated for waterproofing, and although we would never call these chinos proper waterproof pants, they will more than stand up to a strong shower.

They also look smart enough to be worn into the most formal of offices.
Specification
14oz Scholler Dynatec single layer fabric
Slim fit Mesh lining for breathability
Water and dirt repellent
Coldblack finishing technology (reflects heat and UV)
Constructed without rivets to protect your bike
Pockets for knee and hip D3O impact armour (available separately)
Official CE test slide time of 6.18 seconds
Easy care (wash at 40%, ironing after washing increases water repellencancy)
Delivered in a Rokker presentation box with an exclusive Rokker t-shirt
Size Chart
Rokker Men's Jeans. Please note: Sizes available are shown on the product page.
| | |
| --- | --- |
| UK WAIST SIZE (INCHES) | EU WAIST SIZE (CM) |
| 25 | 64 |
| 26 | 66 |
| 27 | 69 |
| 28 | 71 |
| 29 | 74 |
| 30 | 76 |
| 31 | 79 |
| 32 | 81 |
| 33 | 84 |
| 34 | 86 |
| 36 | 91 |
| 38 | 97 |
| 40 | 102 |
| 42 | 107 |
| 44 | 112 |
Product Reviews
Reviews
Chris McLarnon: Great but warm
They are fantastic but beware may be too warm for the office as I discovered these week. Chilly morning ride for 2hrs was made bearable by these with heated seat and brilliant Scott water proof trousers but found them just too warm in office all day. Will the lite version make a return?
Wayne Dilworth: Expensive........
These trousers are expensive, but they are so comfortable, I dont wear any armour in them, have never worn any in the Rokker originals I own either, however after the jeans I bought , I would never buy any other make of casual biker trousers, worth every penny, word of warning these are on the small side waist wise, similar to Fatface modern chinos
Andy Leett: Superb
These chinos are fantastic quality, superbly comfortable and look really smart, very happy with my purchase. Not forgetting the great service from Motolegends, very prompt delivery.
Brian: You get what you pay for!
These are undoubtably the most practical, reassuring, comfortable and go anywhere biking trousers I have ever had. Being short of leg 29 I was concerned that the knee armour might not work. I bought the D30 Ghost knee with velcro and hip without velcro and it works brilliantly. Its much more comfortable, easy to fit and unobtrusive than standard armour. These trousers are not cheap but you get what you pay for, and these are the best. So is the service from Motolegands exceptionally helpful, thoughtful and efficient. I am one very happy customer!
Martin Fell: Excellent Quality
Just opening the box (and they do come in a very smart wooden presentation box) these Chinos just ooze quality. I ordered them in my normal jean size but with 32" leg (I'm a 31" leg in normal every day trousers) and the fit is perfect all day comfortable. I bought them to commute to the office in so I could wear them all day and then ride home. They are extremely smart and shower proof. I can definitely see me doing some summer touring in them also and they are absolutely the best motorcycle trousers I have ever owned. They are not cheap, but I can see they are going to last several years and you most definitely get what you pay for.
William Lawrence: Second pair of Rokker pants!
Excellent! I have the Rokker Revolutions, but I wanted bike pants smart enough to go straight from bike to client meeting without anyone noticing. These plus Helston Travel boots do the job perfectly: decent protection, all-day comfort and nothing for even the most picky boss or customer to sniff at! Worth every penny!
Martin Fell: Outstanding Quality
Straight from the box (and they really do come in a smart presentation box - with free t-shirt) the chinos just ooze quality. The fit is perfect (I just selected my normal jean/trouser size) and are really all Day comfortable on or off the bike. I bought them to commute to the office in so I can wear them at work also but I would do a summer tour in them also. Best bike trousers I've ever bought. Expensive but definitely get what you pay for. Very happy customer.
Jim Johnston: Mr
These are the best jeans I have ever used. At £299 they are very expensive, and I have dropped a star because you have to pay extra for the armour, which at this price I think should be included, as it is with cheaper alternatives. Having said that, I wanted these for work, and boy, do they fit the bill. Great to wear on the bike, but also all-day comfortable in the office, and they look good enough that no one notices that I am wearing bike gear. Combined with Helston boots, this is a perfect office set up. I haven't yet tried the protective qualities, or their ability to protect in rain, but the quality is outstanding. Even with the armour, the comfort is excellent.
Patrick Burdett: The best.
These are the best riding jeans/trousers I have owned. Sure for wet or extreme cold my Rukka trousers will be the first choice, but this will work Spring to Autumn. Their attraction is they just don't look like proper motorcycle wear, but have all the protection required... especially if you add the knee pads. Buy them one size longer than your normal trousers to avoid ankle drafts and then practise not looking too bored when everyone tells you they 'don't look like bike jeans'. Reassuringly expensive....but quality, innovation and features cost.
alwyn mcmath: can bike jeans be worth £299?! Yes.
I couldn't believe the price of these trousers but I thought I would try them on just to see what you got for the money. I bought them straight away. These are the most comfortable, smartest-looking bike jeans I have ever worn. I often struggle to get jeans to fit because I have big legs but because they have a slight stretch to the fabric, they fit perfectly. I wear them to work nearly every day and can vouch for the the following. 1/ They are definitely showerproof in a twenty minute downpour. 2/ They are definitely protective - I had a brief 'romance' with the back of a car (my error, I'll learn from it). But anyway, I hit the car and whacked my knee hard on the bodywork. It did hurt but I was fine. Once I got home I removed the car paintwork (!) from the fabric of the jeans and they are unmarked. Outstanding.
Leave us your review