WHAT'S NEW PUSSYCAT?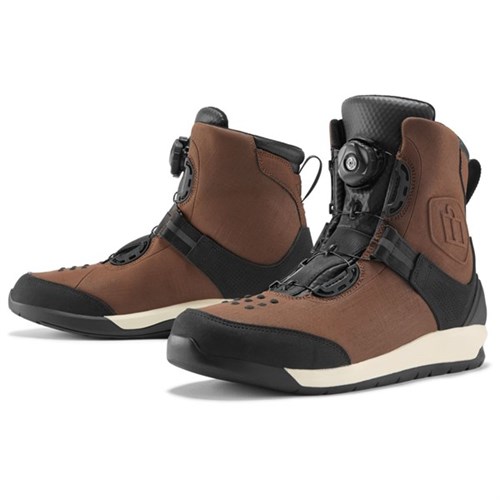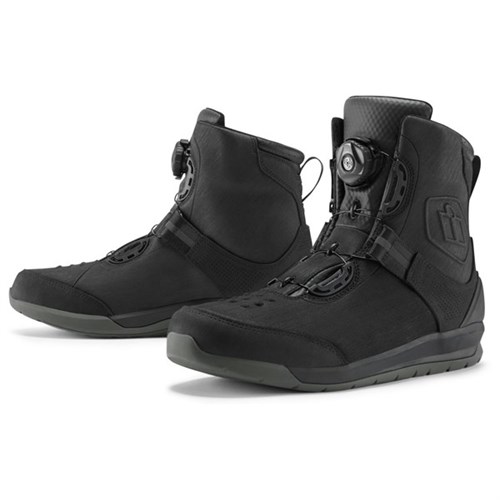 Icon Patrol boots back in stock
Icon's Patrol boots are not new; in fact, they've been around for a couple of years. But they've been out of stock for what seems like an eternity. Good news is that they're back in stock again. The Patrol is a lightweight boot that is made from leather, but a leather that has been given what is called a 'Tectuff' treatment. The boot doesn't feature a waterproof membrane, but this treatment delivers what Icon consider to be their highest level of waterproofing. There are D3O protectors in the ankles, and you get a plastic reinforcement panel in the heel. To soften the gear change, there's a system of rubber nodules on the toe area. But, of course, what everybody really loves about the Patrols is their BOA lacing system. There simply isn't a boot that's simpler and quicker to get in and out of.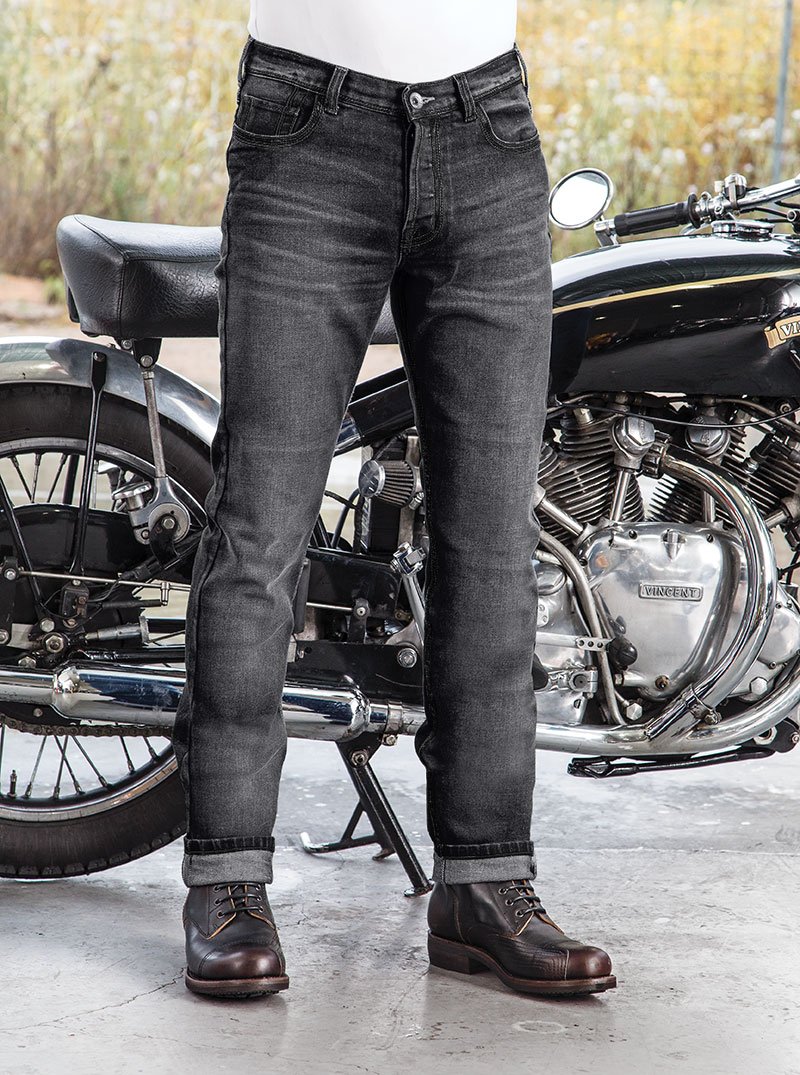 New Rokkertech super-skinny black jeans
Hopefully, you've heard all about Rokker's Rokkertech jeans. They're amazing. Made from a single-layer fabric called Armalith, they flow air like no lined jean ever will. To wear, they feel just like a street jean. In warm weather, they are fabulous to ride in. In truth, they're not so good when it's cold because, again, they flow air so well. When it's cooler, however, you're probably going to want to wear a thin base layer of some description. But what's amazing about the Rokkertech jeans is their 'slide' time. It's more than six seconds in the industry test, which makes them nearly 50% stronger than leather. There has been a black jean in the range for a while, but it has a coating that not everybody loves. They're a bit shiny; verging on the kinky, almost! Well now there's a new black jean. The good news is that it looks much more like a regular black jean. The bad news for some, if not most, of our customers is that they are boy-band tight. You'll never get a pair of Daytonas under them. In fact, they'll even grip a short boot in a fairly vice-like embrace. But if that's your look, and if you want a black jean, you're in luck. They're here in all the available sizes.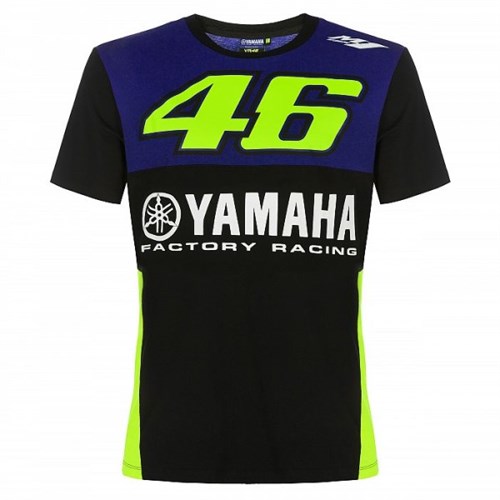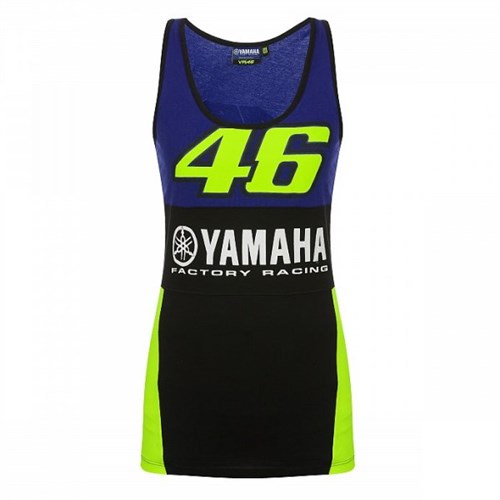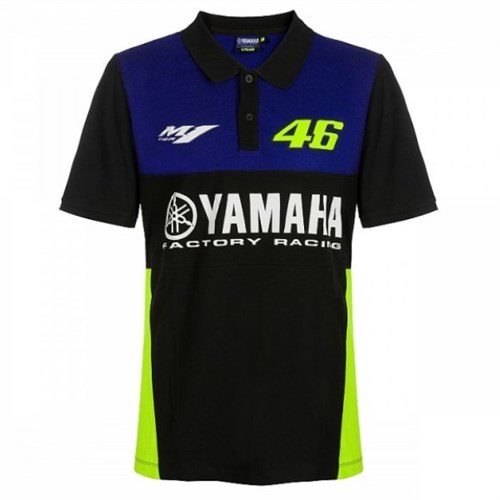 Official 2019 VR46 merchandise
We'll be honest. For us, Moto GP is all about Valentino Rossi. It was not an exciting series before he joined it; and we suspect it won't be after he's gone. But it's been nearly 10 years since he took the title and, every year that goes by, it seems a little less likely that he'll be able to secure a tenth title. In truth, it still seems only a remote possibility, but his battle with Dovi in Argentinia showed that he's still got what it takes and, on the right bike, it's still possible. In merchandise terms also, Moto GP is all about Rossi. He accounts for 98% of Moto GP merchandise sales. You would have thought that any Rossi fan in the world have his 46 T-shirt and cap by now. But it would seem not, because the boy is as popular as ever. Presumably, it's all his loyal fans holding out for one last push. Anyway, his new 2019 range is now here and on the shelves. You can order online or, of course, come and see us.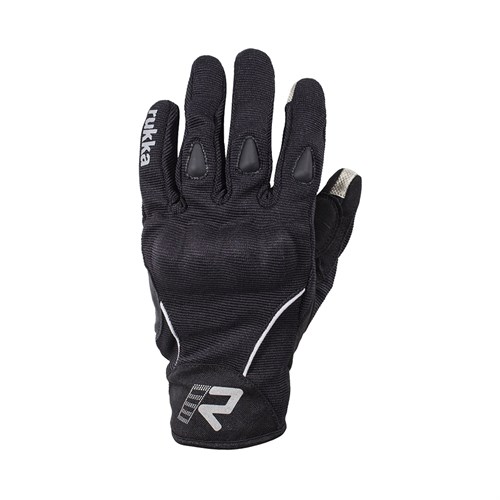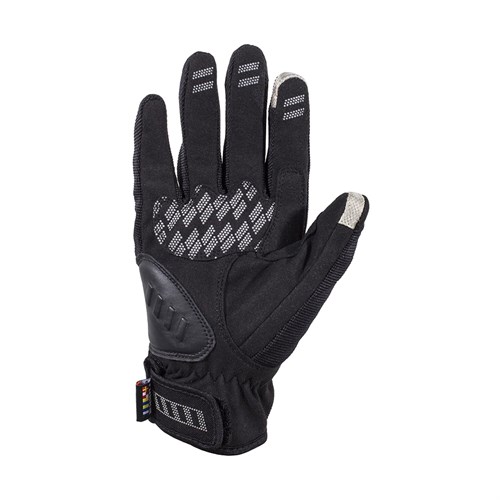 Rukka's high 'air-flow' Forsair glove. Be quick before they disappear again!
One swallow does not a summer make. I know this because I rode down to Dorset last week and, even though the sun was in the sky, I absolutely froze. So I can tell you, on good authority, that summer isn't here yet. I did dress, I admit, in a slightly inappropriate fashion, and cannot ever remember being colder on the bike. Nevertheless, we seem to be seeing lots of customers in the shop who are either preparing for overseas' trips, or for a summer like the one we had last year. We all have our fingers crossed! For those kinds of conditions, the gloves you need are Rukka's Forsair gloves. They are lightweight, incredibly stretchy, as comfortable as any glove you'll ever wear, and still pretty protective. And, even though they're made by Rukka, they're more than reasonably priced. We've only had them in a couple of sizes recently but, this week, we received a big new delivery. We now have all sizes available. But be quick. This is one of those gloves that always seems to sell out.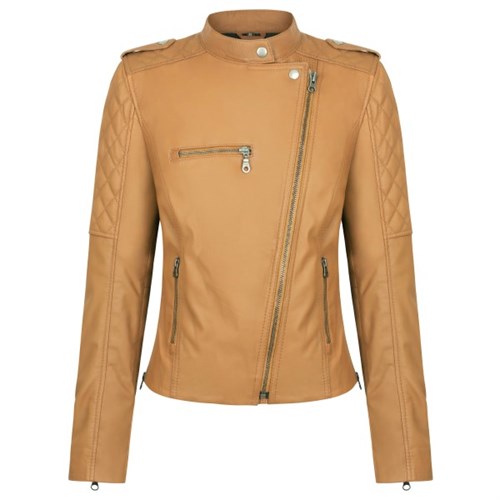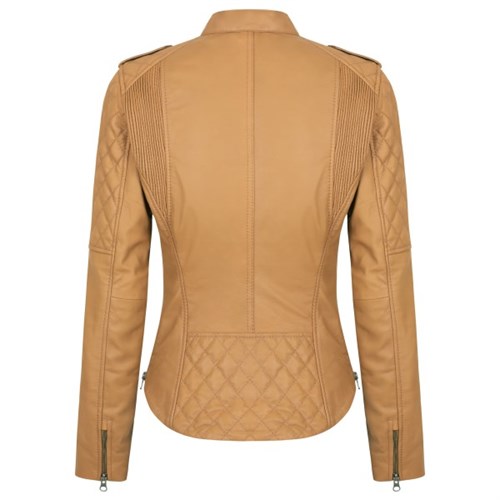 Black Arrow ladies 'Liberty Wheels' jacket
You won't have heard of Black Arrow before. They're a brand new player. They hail from down under. It's a company run by lady bikers who have worked in the fashion world. They reckon they can apply their fashion credentials to two wheels. Frankly, we've heard it all before, but we genuinely like this coffee-coloured, Perfecto-style number. Obviously, it's a leather jacket. They tell us the leather is 0.9-1.1mm in thickness although, in truth, it feels lighter and more supple than this. In the most vulnerable areas, it is lined with Kevlar®. There's CE armour in the elbows, shoulders and back. Zips are by YKK. To make this a jacket that fits on the bike, there are elastic panels behind the shoulders, as well as zippered gussets at the hem. The detailing is also spot on: perforated leather panels, quilted leather on the shoulders and arms, red satin lining, gunmetal hardwear, and so on. But what really has impressed us is the fit. This is one comfortable jacket. It really does fit like a fashion jacket, yet it's got everything you need in a bike jacket. Come and see it for yourself.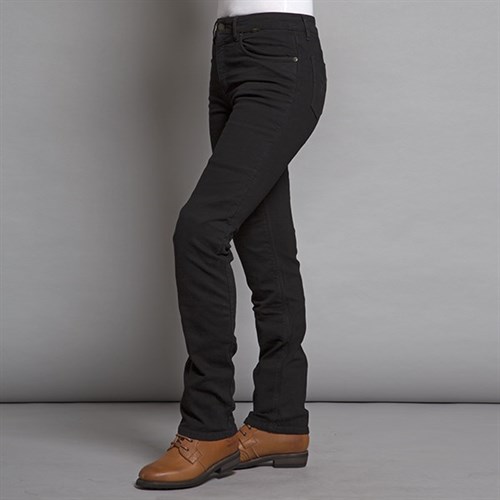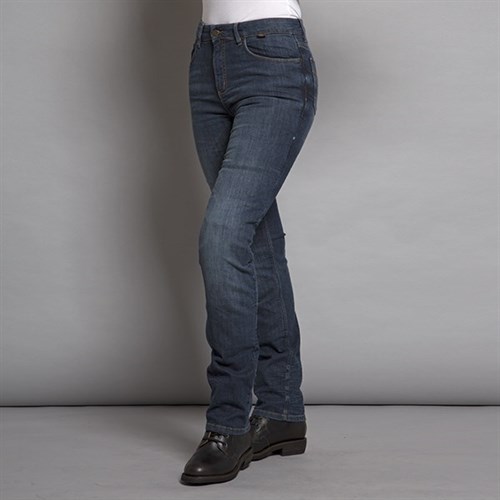 Richa Nora ladies jeans now available in generour sizes
We've always liked Richa's Nora ladies jean. It's not the most protective jean on the market, but it's still a lot more protective than many, with Kevlar® in the seat and down to below the knee. The armour is by D3O, and it's nicely adjustable. But it's the fit that has always attracted fans. The Nora has a highish waist and, with a reasonable amount of stretch in the denim, they fit most women pretty well. But, until now, the largest size was a 20. Well, recently they've come into stock in sizes 22, 24, 26, 28 and 30. Here at Motolegends, we like to think of ourselves as the specialists in ladies' gear. It's never easy because, frankly, most of the manufacturers are pretty useless. So we spend a lot of time pestering them for gear that works on the bike, and that fits real women rather than catwalk models. Bit by bit, we're getting there. And these new Richa jeans are evidence of the fact that we are being heard. Come and see us. These really are lovely jeans to wear and ride in.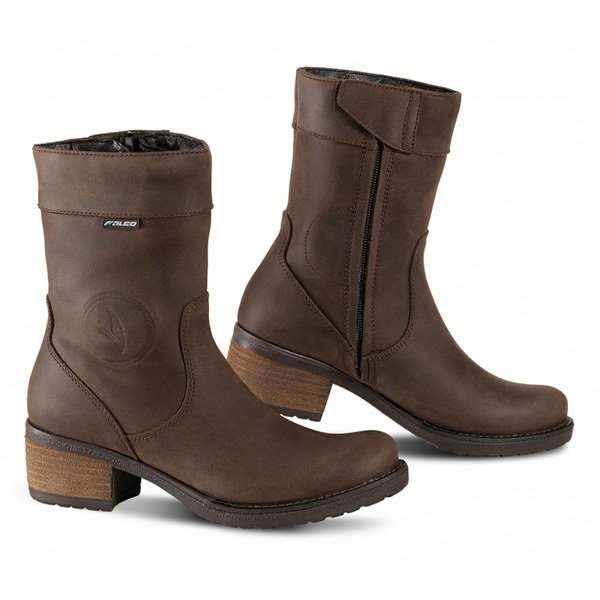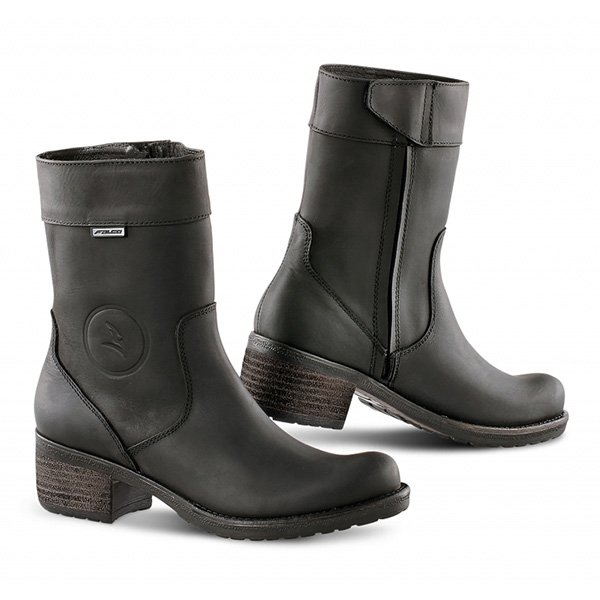 New brown colourway for Ayda 2 boot
By and large, we tend to take the view that if a ladies' motorcycle boot has a heel on it, it's aimed at pillions rather than riders. But the Ayda 2 from Falco might just be the exception to the rule. It has a little heel that gives you a touch of elegance, and few centimetres of extra height. But these are boots that you can ride in. And indeed many of our customers do. The leather has been given an oil treatment that gives the boots a rather nice vintage look. But, even though this treatment will make the leather water repellent, the boots actually have a full waterproof membrane. The heel and toe have hard counters, and there are D3O cups in both ankles. The sole and heel are faced in non-slip rubber. This week we have received the boot in a new colourway. We like this boot; we always have done. But in this new textured brown colourway, we like it even more.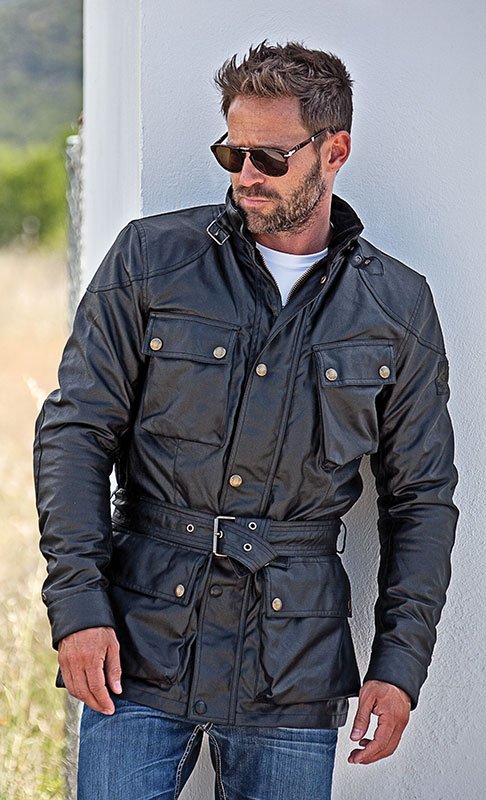 Belstaff wax cotton 25% off. Last chance?
We are in slight danger of being seen as the boy who cried wolf. We've been on 'Sale' with Belstaff for a month or so and, on more than one occasion, we might have suggest that this was your last chance. Well we haven't be deliberately misleading anybody but, right now, we still have some jackets in some colours in some sizes. But certainly not all styles in all colours in all sizes. But what is bringing all this to a head is that, this week, pretty much the entire 2019 collection arrived into the warehouse. We'll be letting everybody know about the new styles in the next week or so, but the gist of it is that the new jackets are little more than CE-approved versions of the existing styles. Many have not changed much at all, but all will be back to the original prices. In some cases, the prices have gone up, as you might expect. The bottom line, therefore, is that time is running out if you want to get yourself a Belstaff at a discount. Until now, the discount on Belstaff waxed cotton has been 20%. For this last weekend, Belstaff has sanctioned an increase to 25%. All we can say, one more time, is that this really could be your last chance. And even though I haven't seen a wolf myself, there's definitely one around here somewhere!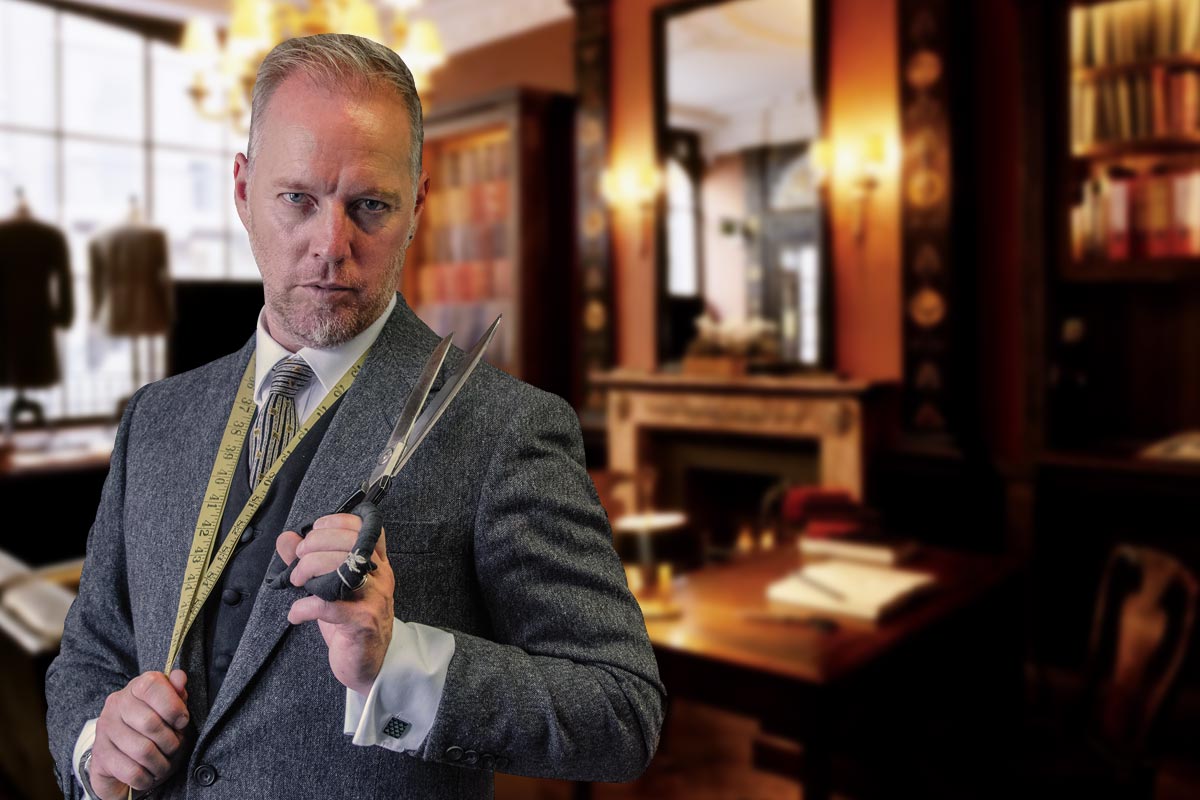 BKS Brian to visit Motolegends 13th April
Brian Sansom is the founder of BKS Leathers. He makes the world's finest one-piece leather suits, and does a mean line in café-racer leather jackets. His company is very different to the BKS brand you find in J&S Accessories. They are about as far apart as it's possible to get. Well we have been working with Brian for a year or so on a very special jacket that he makes exclusively for us. It is basically a bespoke jacket. It can be produced in dozens of different leathers, with different linings, pockets, zip colours and detail options. You really do Get the opportunity to create a totally unique jacket. But more importantly, Brian will tailor it so that it will fit you, and you alone; not some guy who happens to have the same chest size as you. This really is a special jacket; there's nothing safer, nothing more stylish, and nothing so exclusive. Brian visits us every four to six weeks; and he'll be here next Satuday. If you want to make an appointment, phone us on 01483 407500.

WHAT'S NEW PUSSYCAT ARCHIVE