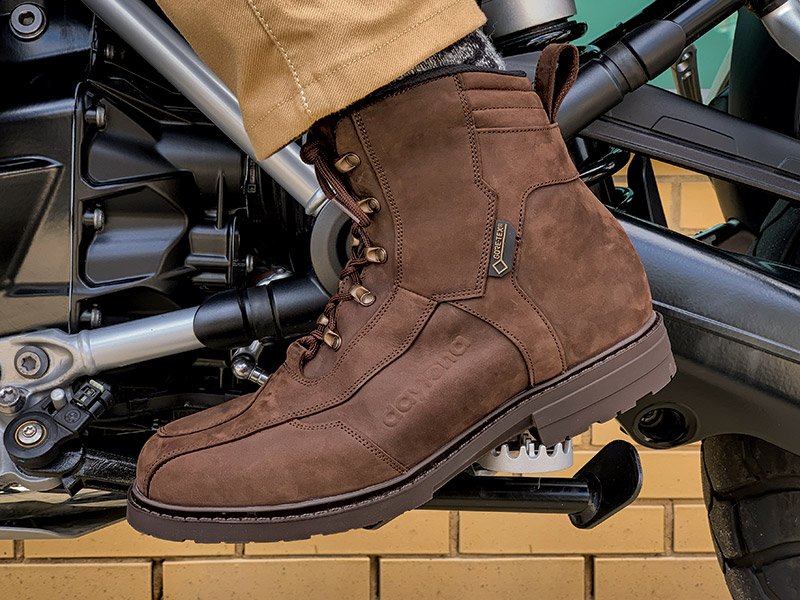 The new Daytona AC Classics GTX boot
For Daytona, the AC Classics GTX signifies something akin to a paradigm shift. In concept, it's pretty much a walking or hiking boot and, indeed, Daytona has made sure that this is a boot you could walk around in all day but, obviously, beneath the skin it's every bit a biking boot. And certainly the company has not made any concessions as far as safety and protection are concerned. The chassis of the boot is a high-quality nubuck leather that has been treated for waterproofing. The real waterproofing, however, comes courtesy of Gore-Tex's latest 'More Season' membrane. The boots fasten by means of external speed lace-style eyelets, but you also get a side-zip for an easier entry and exit. The air-cushion insole is anatomically shaped for comfort, whilst the upper part of the boot's shaft is padded to the same end. There are hard protectors on the ankles, with open-cell padding on the inside of the boot. Obviously, you also get a gear change pad on the toe. In the sole of the boot, there's a hot-dipped, galvanised, steel inlay that stops the boot from twisting in an accident. The heel is all rubber and, like just about every other part of the boot, can be replaced when worn out. Available in brown or black, they cost £319.99.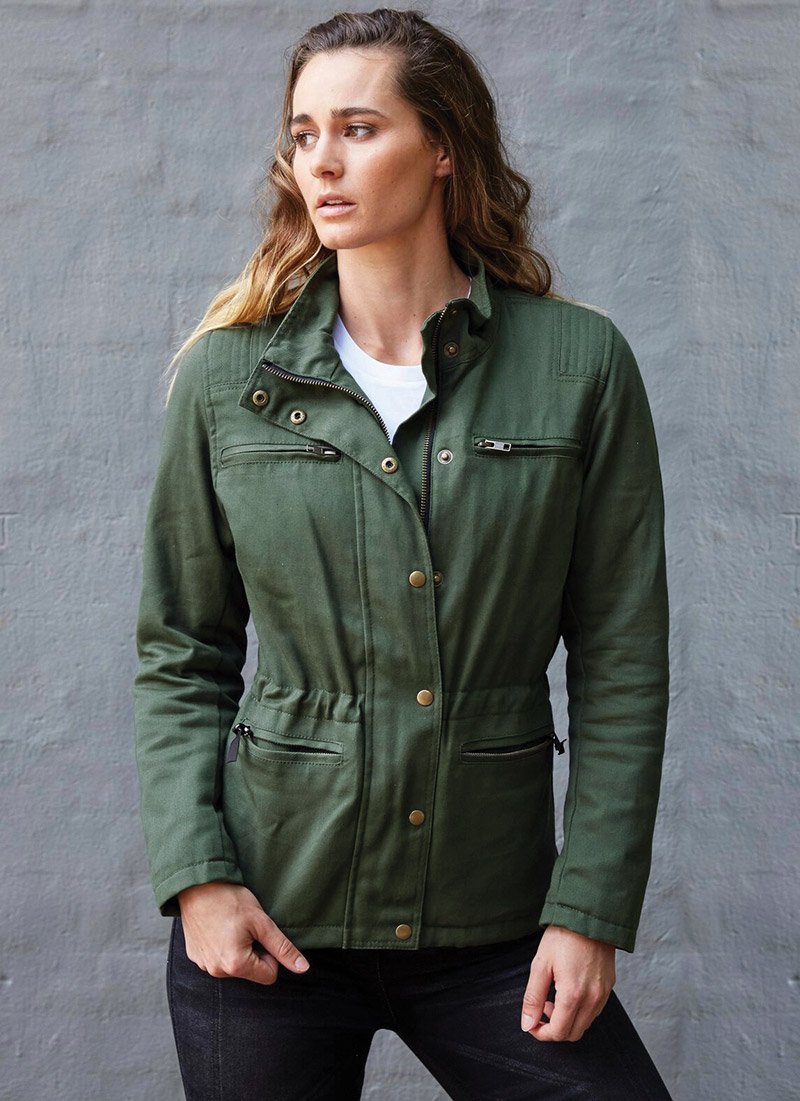 New Blackbird Savanna jacket
Blackbird is an Australian maker of motorcycle jackets. They are able to combine fashion with protection in a way that does not seem to compromise either facet. From their range, we have selected just this one jacket. It's called the Savanna, and what we like is the way it fits. It's a superbly comfortable jacket, but it's nicely shaped and can be adjusted above the hips. The outer fabric is lightweight, but throughout it is lined with Kevlar® for abrasion resistance. The Savanna has a waterproof and breathable liner, and comes ready fitted with CE armour in the elbows, shoulders and back. Air vents allow cool air to enter the jacket on warmer days. At the shoulders, pleating helps with articulation, whilst a drawstring inside the waist allows a more waisted shape to be achieved. All the pockets fasten with YKK zips, and down the front you get a poppered placket. At the sides are zippers to enable the hem to splay a little when you sit on the bike. This is jacket that has been really well thought through. You can wear it with confidence on the bike, and with great style off it.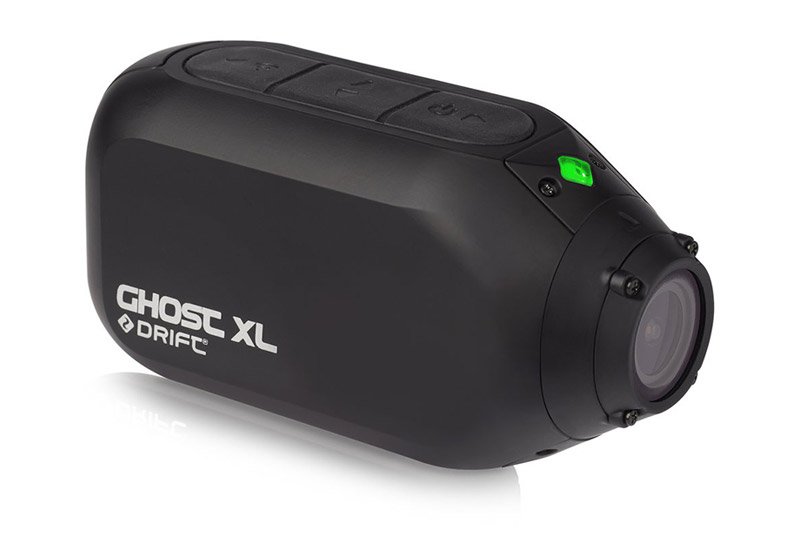 Ghost XL A new action camera from Drift.
The Ghost XL has been designed to be part action camera and part dash-cam camera. It has many of the features we've come to expect of Drift. We're talking about things like the 300° rotating lens, built-in Wi-Fi, rear LCD screen and so on. But the Ghost XL has lots of unique features that set it apart. It has an impressive battery life of nine hours at 1080p. What also sets the XL apart is its IPX 7 waterproof rating and waterproof power and audio connectors, which mean that weather should never be a factor. The camera's Dashcam loop-recording mode ensures that you'll never run out of memory, whilst the event-detection safeguard means that those important key moments will not be missed.The XL has also been designed to perform well in low light conditions. So whether you need a dash cam or an action camera, you now need only one camera: the XL.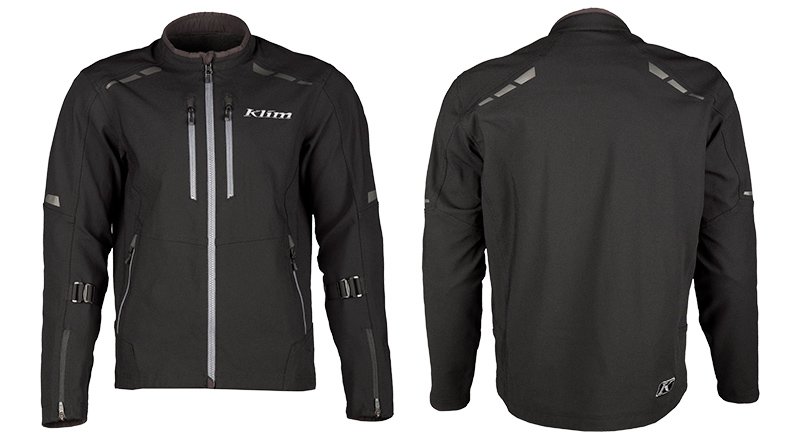 Klim Marrakesh jacket now available in black
The Marrakesh is Klim's take on the Rukka Forsair. It has been designed for hot-weather riding, and to flow huge amounts of air. To this end, of course, it has no waterproof membrane. The problem with most mesh-style jackets, though, is that they lack strength, so if you end up going down the road they're not particularly protective. But the Marrakesh is made from 1000 denier Cordura, so it's going to be as tough as a regular jacket. The Marrakesh wears and fits more like a soft shell top than a motorcycle jacket, and for many that is the appeal. And in this it is helped by the fact that the material it is made from contains four-way stretch. Protection-wise, the Marrakesh comes equipped with D30 armour in the elbows, shoulders and back. In the interests of balanced reporting, however, we would have to admit that the Forsair will flow a little more air because its material is knitted rather than woven, and so it will be better in the very hottest weather. But the Marrakesh looks and fits better. It is every bit as comfortable as the Rukka, and it's a more protective piece. The Marrakesh also has something the Rukka doesn't; a waterproof coating. It's also £40 cheaper than the Rukka. Factor in that the Rukka does not come with a back protector, and that difference becomes £100. We've had the Marrakesh in grey for a month or so, but the reason we've included it in this week's Pussycat is that it's now also available in black.

Schuberth M1 Pro now in stock
We like the M1; always have done. It's a great lid for urban commuting, or for wearing when you're pottering about. We like the full-length, outer visor, and the drop-down sun visor, and we love the comms., although you need to know that the system gets a bit ropey at much over 60mph. Above this, there's just too much wind noise hitting the microphone. Might be better on a bike with a big screen, of course. Well, for 2019, Schuberth has made some changes. The new comms. unit that goes into the back is now made by Sena, and not Cardo. So if you've got a C3 Pro or C4 Pro, you can now converse with somebody in an M1. The venting has also been changed, so that the air now channels out of the helmet down the back of the neck, and not out the rear-mounted Schuberth logo. Finally, the lining has been changed to make the helmet a bit more comfortable. We didn't find the old M1 uncomfortable but, if the new interior doesn't compromise the quality of the fit, we're all for it. The new Sena comms., by the way, can be fitted into an old M1 and, by the same token, the old Cardo comms. will work in the new helmet. The importer is only bringing the helmet into the UK in black or white. We really like the matt stone, and so this version will be an exclusive colourway for Motolegends.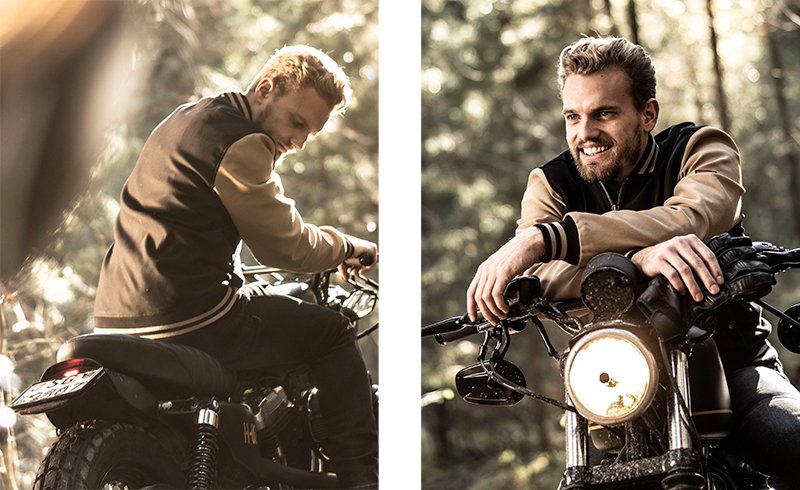 Rokker came over from Switzerland earlier this week to present to us their new collection for 2020. One item they showed us was a melton wool, college jacket with leather sleeves. For various reasons, we didn't like it. What we wanted, we told them, was a college jacket made from denim-dynatech like their chinos. We hold all of Rokker's UK stock in our warehouse, and it was with some embarrassment that we learned that the jacket we had asked for has been in the building for the last six months. We went and fetched it off the shelf, and kind of fell in love with it. If it's a style you like, then we have to tell you that the Rokker iteration is perfect for the bike. It's really lightweight, but the Dynatech delivers leather plus levels of abrasion resistance. It comes as standard with D30 in the elbows, shoulders and back. It doesn't come with a waterproof membrane, but the material is impregnated when it is woven, so delivers a decent level of get-you-home water resistance. The bottom line is a super-lightweight jacket that is more than up to the rigours of motorcycling. It is also, of course, more cool in styling terms than a motorbike jacket has a right to be.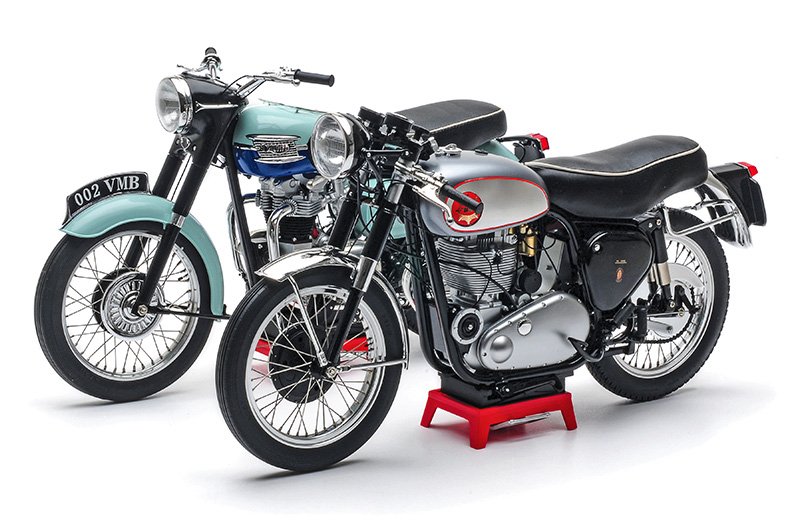 Collectible 1:6 scale classic bike replicas
One of our other businesses, Diecast Legends, specialises in collectible replicas of cars and bikes, although these days bike models are few and far between. Recently, Dutch maker VMB released large-scale replicas of a couple of the most famous British bikes of all time. The bikes both measure about 14" in length, and the detail is amazing. These are most certainly not toys. They are miniature works of art, worthy of a place in any collector's cabinet. The bikes are the 1959 Bonneville and the BSA Gold Star DBD 34 Clubman. 1959 was the first year of the Bonneville. It was created for the American market, but the original Tangerine Dream colourway didn't go down well with our cousins across the water, so Triumph produced a second colourway of Pearl Grey over Azure Blue. It was better received. The second bike from VMB, the BSA Gold Star, became the bike that all the ton-up boys wanted to ride. When it was launched, it was one of the fast bikes on the road. On its release in 1956, it totally dominated the Isle of Man Clubman TT. Today, it is seen as the archetypal café racer. Both bikes are in the warehouse, but they are selling fast. But don't worry, we will be receiving weekly re-supplies.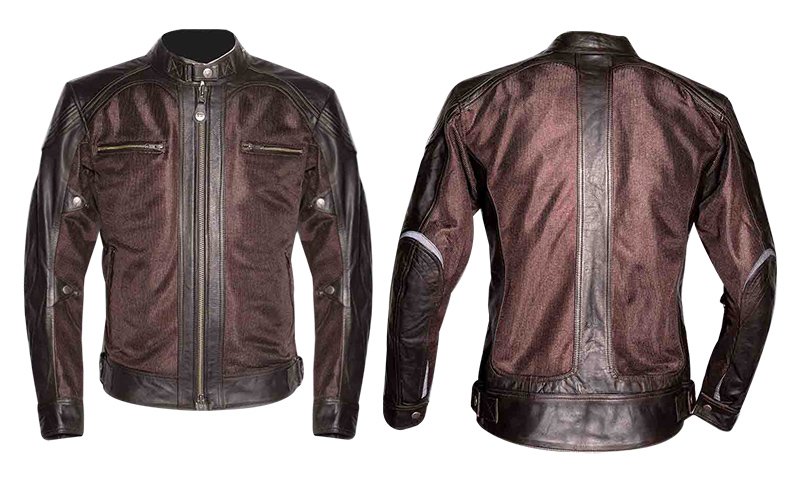 'By City' is a brand of motorcycle clothing that you probably won't have heard of before, although we've been monitoring their progress for a few years now. As their name suggests, the company is all about the kind of gear you would wear riding in the city. There's some really nice gear coming through later in the year but, for now, we've chosen just one item. It's a mesh jacket with a leather chassis. And that makes it quite unique. The problem with your average £100 mesh jacket is that it's not particularly strong in an accident situation. Yes, these jackets flow air but, slide down the road and they don't tend to fare too well. This new mesh jacket, called the Sahara, meets the new CE EN17092 standard and comes with Level 2 armour in the elbows and shoulders. But its point of difference is the leather that makes up the body of the jacket. It is going to be stronger than the Nylon structure of most mesh pieces. We also think it looks great. The leather, of course, is quite lightweight because when it's hot, weight is your enemy, but even lighter, thinner leather is going to be stronger than the material in most mesh jackets. It's no Forsair or Marrakesh, but it is a step up from your normal mesh jacket. No two ways about it.


Warnorm jumpers back in stock
Personally, this doesn't seem to be an appropriate time of year to be talking about woollen jumpers, but Sara asked me to include them in this week's Pussycat because they've been out of stock in many sizes for a while, and this week we received re-supplies. The jumpers are all based on a design that is known as 'Warnorm'. These jumpers were knitted in the war by volunteers for the Army, Navy and RAF. We don't tend to offer street wear, by and large, but we've included them in our collection because, after the war, they became a staple for motorcyclists wanting to stay warm on the bike. They come in four colourways, and although we wouldn't suggest they are in any way high-tech, they are very cosy, and worn under a Belstaff wax cotton or the right kind of leather jacket, they look the business.

WHAT'S NEW PUSSYCAT ARCHIVE