WHAT'S NEW PUSSYCAT?
30% off all Shark Evo-One helmets

The Shark Evo-One is a truly unique helmet. In many ways, it is far more practical than a traditional flip-lid helmet, because it can be ridden legally in both the full-face and open-face configurations. The Evo-One was launched only in 2016, and it has been a great success, but as they did with the previous Evoline model, Shark is intent on continuously improving and updating the helmet. And so, in a few weeks' time, there will be a new modular helmet called the Evo-One 2. It is, in essence, the same helmet, but they've made some improvements to the visor mechanism, making it easier to open and close. They've also introduced a whole new range of colourways, which we have to say that we like a lot. Of course, as always when a new model is released, one can anticipate that there will be a increase in prices, either immediately at launch or shortly thereafter. But the existing Evo-One is being discontinued entirely, and so the importer has reduced prices in order to clear its shelves. So the good news is that all Evo-Ones are now reduced by 30%. But we should warn you that stocks are not huge and, at these prices, you can expect them to disappear quite quickly.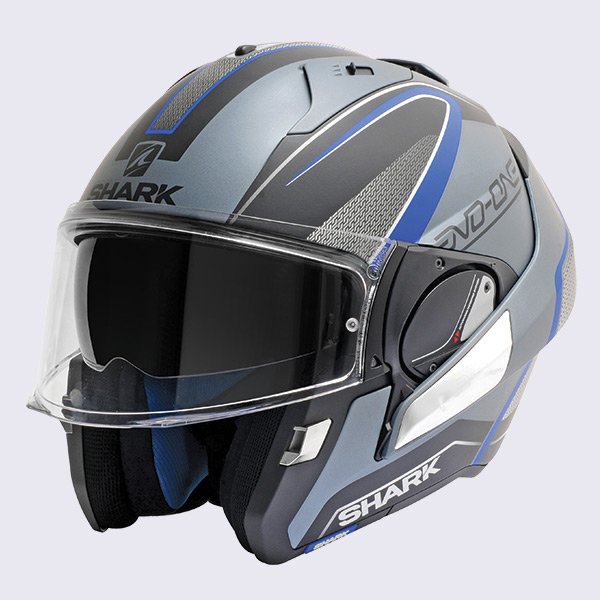 The Bering 'C-Protect Air' air-bag vest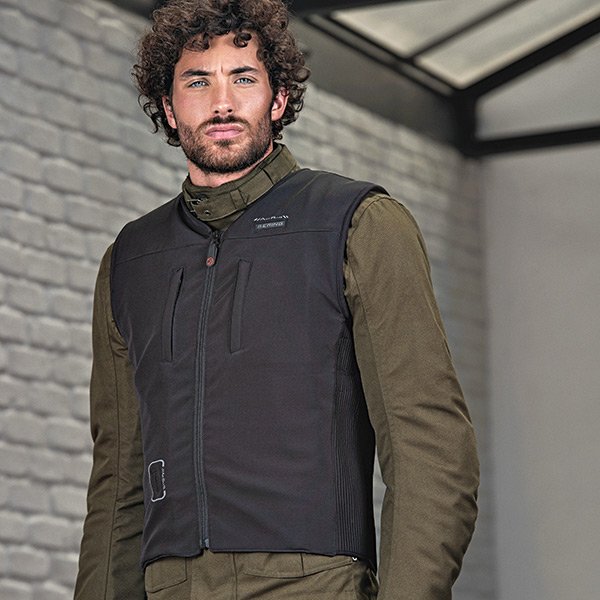 We have offered air-bag vests before, but we've always had reservations. Now at last there's a vest we really like the look of, and that we have full confidence in. It's made by French manufacturer Bering, and it's just come into stock. It's very simple and light; it looks like a body warmer. It's very understated and, with its accordion stretch panels up the flanks, it fits snugly. It's triggered by means of a cable that is attached to the bike via the supplied strap. The air-bag on the C-Protect has a back protector on the outside for extra impact absorption, which research has shown is far more effective than having the protector next to the body. In the event of an accident, the air bag inflates in less than 0.1 seconds. Once inflated, the air bag protects the thorax, abdomen and the entire length of the back, from the neck to the coccyx. Many air-bag vests were designed for horse-riding and adapted for motorcycling. The Bering C-Protect Air was designed specifically and exclusively for motorcycling. We think it's the best fitting, lightest, most wearable vest we've come across. With an air bag this easy to wear, the argument for wearing one has strengthened significantly.


All Belstaff prices to go up in early November

It's that time of year. With new collections due from most of the clothing manufacturers in the coming few months, one can anticipate that nearly all of them will be increasing their prices. This year, of course, it is clear that the increases will be a little more significant, as a result of the weak pound. The Mojave, for example, will be going up from £495 to £525, an increase of 6%. The Crosby will be increasing by 12%, from £425 to £475. The Trialmaster's new price will be £575, an increase of £50; that's 10% more than its current price of £525. In fact, every jacket in the range will be increasing in price from between 5%-20%, so the time to act is within the next few weeks. The new prices will technically take effect when the winter Belstaff delivery pitches up. We don't know exactly when that will be, but it will be at some point in the first half of November. Right now, our stocks of all Belstaff jackets are high. That won't be the case for long, we suspect.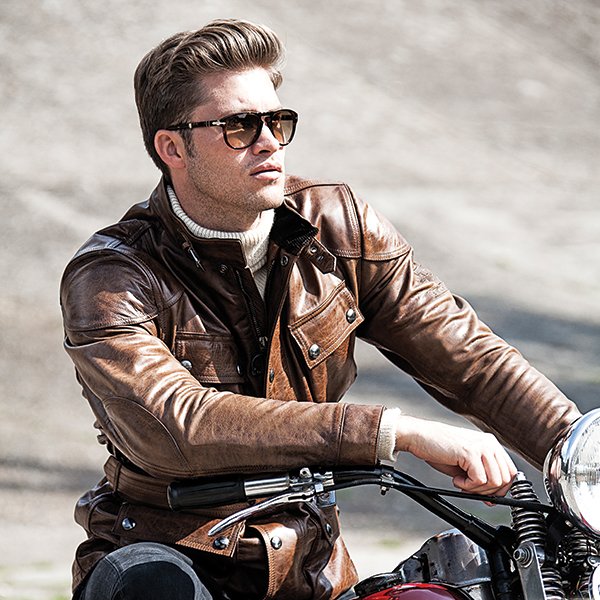 Looking for a proper winter glove?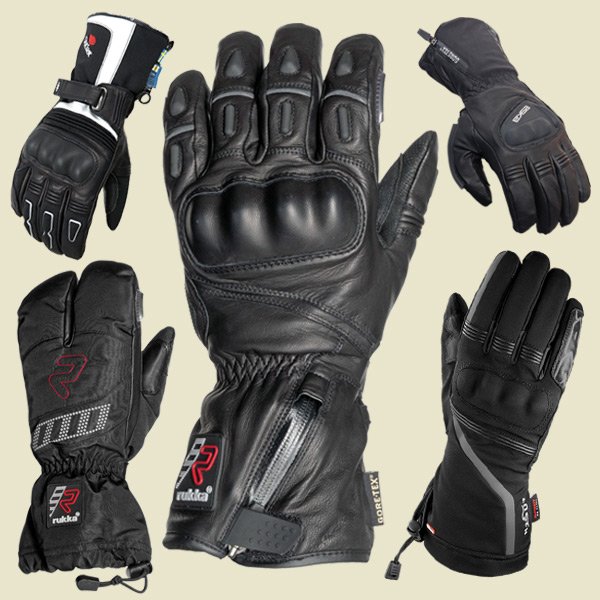 The leaves are changing colour, and falling fast. Winter is approaching, and so we need to properly equip ourselves for the months ahead. We've selected five gloves that we think will serve you well in the coming season. The Rukka R-Star is furiously expensive, and offers two separate compartments for extra warmth. It comes with a Gore-Tex membrane, but is perhaps not the most tactile of gloves. The Rukka 3-finger glove is for those who realise that mittens are always warmer than fingered gloves. The Halvarssons Advance glove has an Outlast thermal membrane that works particularly well with heated grips. The NK5 from Spidi has a 200 gramme Primaloft lining for warmth, but it also has a laminated waterproof membrane that makes it exceptionally waterproof. Which brings us on to the Eska Pilot GTX glove. It's warm, and has a Gore-Tex membrane, but despite its bulk, it's particularly easy to wear and ride in. If you're looking to stay warm this winter, you won't find better gloves than these.


Re-designed XP-1 Micro-Start now in stock

Back in 2013, it was the XP-1 that started the whole micro-starter revolution. Well, it has recently been re-designed, and is now better and more powerful than ever. Measuring just 170mm x 80mm, and weighing just 440 grammes, the XP-1 is small enough and light enough to carry in your pocket. Yet it's so powerful, it can start any motorcycle, or even a five litre V8 engine. And it's good for 30 starts in a row. It can even power and charge your mobile devices, and comes with a powerful, built-in LED flashlight. It's incredibly simple to use. Charge it once, and it will hold its charge for up to a year. And if you are using it a lot, you can rest assured knowing that it's good for a thousand separate charges. Frankly, it's the accessory you should never leave home without. It's so small, you can stow it anywhere on the bike, meaning that you can avoid those stomach-wrenching occasions, normally somewhere where it's cold and dark, when your bike fails to start. The XP-1 comes with all the leads and accessories you will ever need. And don't forget, obviously, that if you're not on the bike, it'll be just as useful in the glove-box of the car.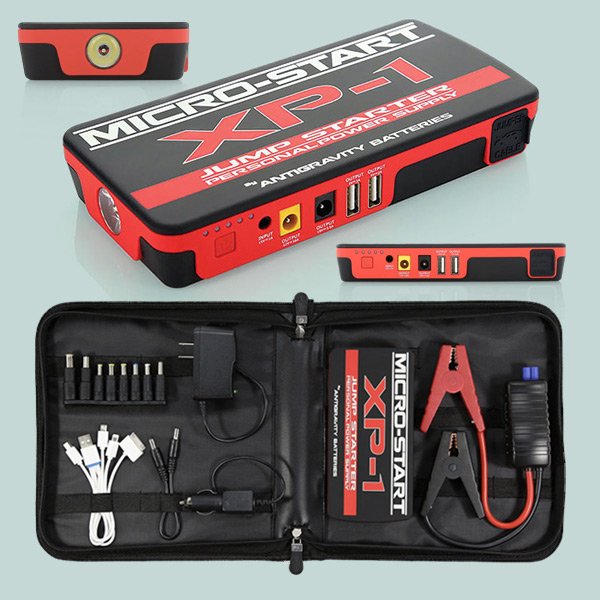 Helstons Leather Jacket Sale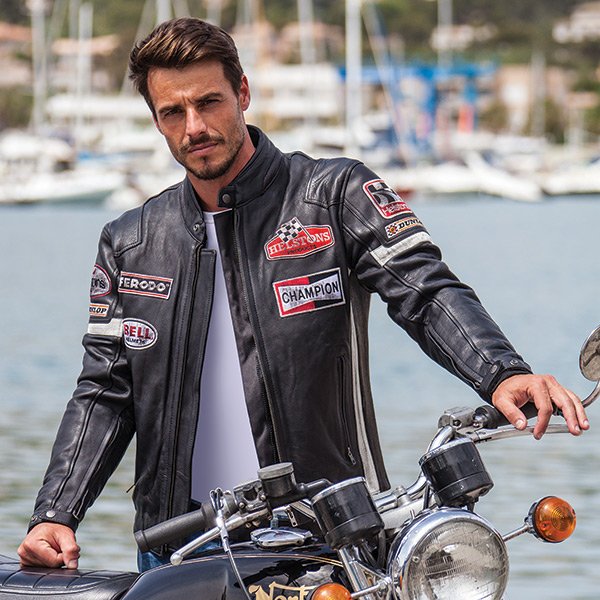 Helstons make what we consider to be the very finest, retro-styled, leather biking jackets. The treatments, the oils and the waxes they apply to their leather give them a softness and authentic appearance that other jacket producers simply cannot match. Thermal liners, waterproof membranes and full armour, including a back protector, complete the picture. Well, in a few weeks' time, when our new Christmas catalogue lands on doorsteps, we'll be introducing four or five new styles. Which, in our world, means that some jackets will need to be de-listed. In order to make that happen, the jackets that will be reduced are the Ace, which is the non-vintage version of the Ace Vintage. The GT Seven, which is adorned with classic racing badges. The Fuel Dirt is a collaboration with Fuel Motorcycles. The Heat Perforated is a light summer-weight jacket, whilst the Razzia is a shaped ladies' jacket. All will now be reduced by 20%. Our numbers on all these jackets are quite low, so don't expect them to hang around for long.


Rukka Armaxis jacket reduced to clear

For 2018, Rukka has rationalised its range considerably. This probably reflects the fact that the new Nivala has proven so popular that demand for jackets like the Armaxis and Armaxion has reduced considerably. The problem is that the Nivala is so superior that most people are prepared to go the extra mile to get the top-of-the-range model. And understandably so. The Nivala, with its Stretch Cordura, is much more comfortable to wear. Its thermal liner is brilliant, and its venting is better than on any Rukka that has gone before. Rukka has therefore sanctioned a sell-off of its popular Armaxis jacket. The Armaxis may lack some of the refinements of the Nivala, but it is still, of course, every bit a Rukka jacket, with a Gore-Tex Pro Shell outer, and a removable soft-shell inner liner that can be worn separately. We actually have very few in stock but, as of today, we are reducing the price of the jacket by nearly 20%; from £1099.99 to £899.99. But you will need to be quick because, at this price, it's a bit of a bargain.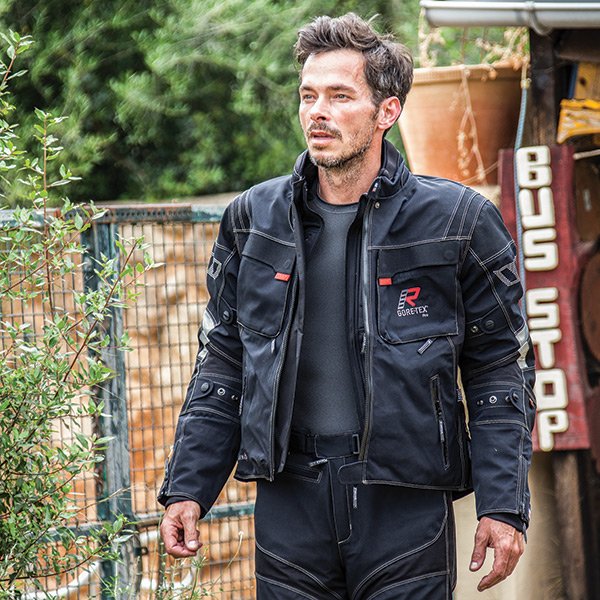 Share this page