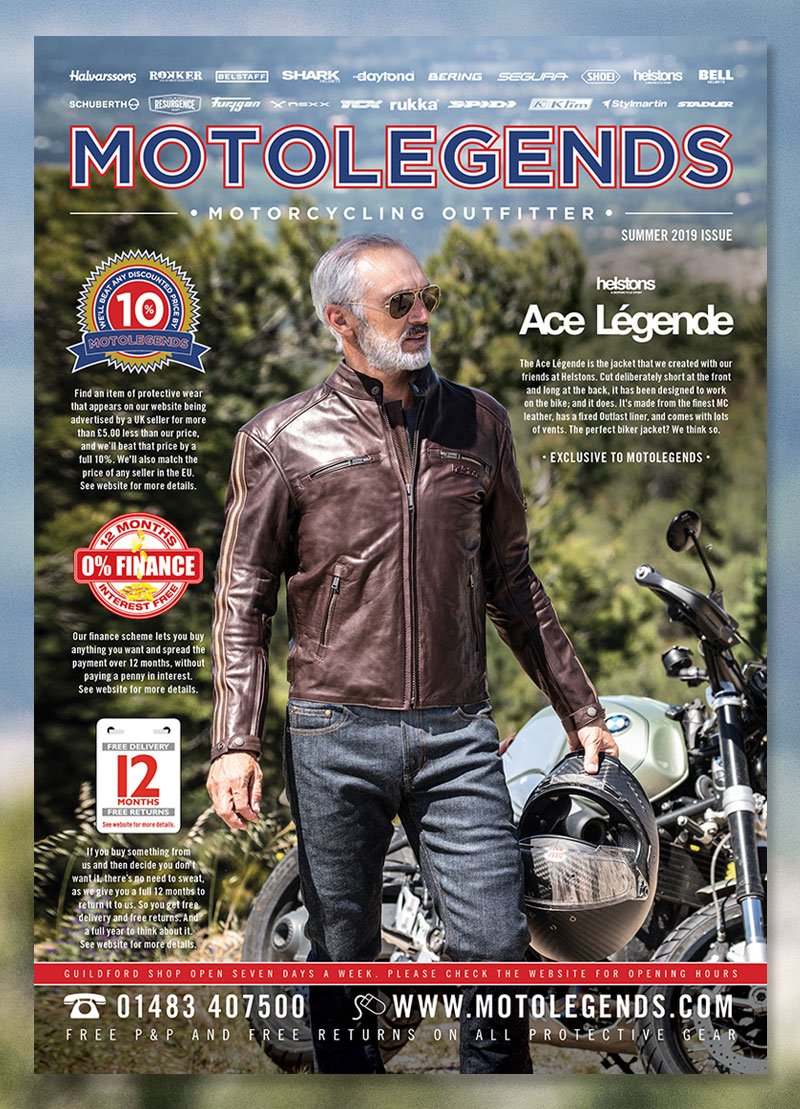 We'd love to send you our latest 100 page summer catalogue
Nobody else in this business does a catalogue in the way we do. Every month, we send them out to customers; and in them we feature all the best and all the latest products. And we tell it like it is. If something has a fault in its design, we'll tell you. And if we think something is brilliant, we'll tell you that too. The latest issue is a bit special. At a hundred pages, it's 50% bigger than our usual catalogues. And we've printed it on the nicer paper we usually reserve for Christmas. And we've gone to these lengths because we've just come back from our summer shoot in the South of France, and we wanted everybody to see all the new 2019 ranges in all their glory. As ever, we've got some interesting articles, including one about retro helmets that's not going to please everybody! Anyway, you can
click here
to download it; or if you prefer to check out the latest gear when you're in the bath we're more than happy to send you a physical copy in the post. To subscribe,
click here
. Of course, if you're old school, you can always just pick up the phone and talk to a real person. The number is
01483 407500
.

Price reduction on Helstons Ace Vintage
Earlier this year, we launched a new leather jacket from Helstons called the Ace Légende. It has been produced to a specification we developed with Helstons. The end result, we love. In some ways, for us, it's the perfect leather biking jacket. All the design features we wanted have been incorporated. The plan, for us, was that it would replace the Ace Vintage which, for the last three years, has been our best-selling Helstons jacket. But wires got crossed and, a few weeks ago, a load more Ace Vintages turned up in the warehouse. Frankly, this means that we have too many jackets on the shelves. And so we've reduce the price from £449.99 to £359.99 in order to help them find new homes more speedily. At this price, the Ace Vintage is a bit of a bargain, and it's still a heck of a jacket. If you've always hankered after an Ace Vintage, there's never been a better time. At the same time as these Ace Vintages were delivered, we received all our new 2019 jackets. And so we've reduced the prices on all of last year's jackets, which is what we'd normally do. In truth, even though we say they're last year's jackets, most of them are on-going in Europe, so they're nearly all current models. Take a look at the site. We really rate Helstons' jackets. They come with everything, including, in all cases, a back protector, and, in many cases, a waterproof membrane. We reckon there are some bargains to be had. But be quick.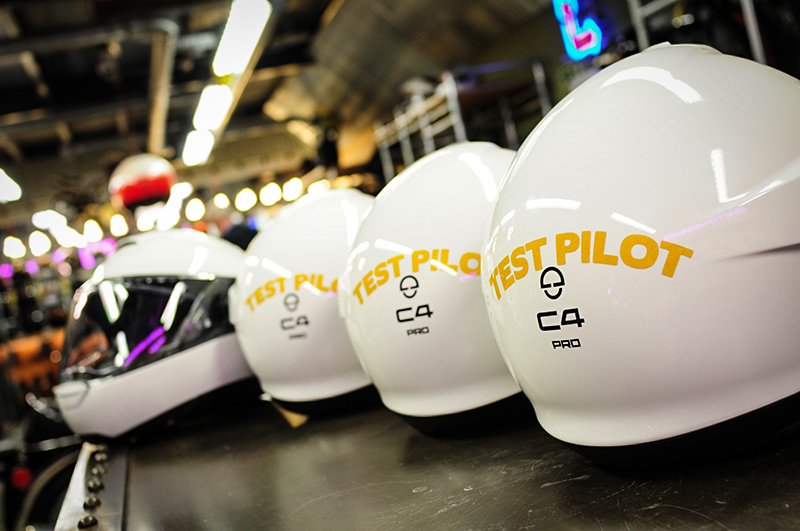 Schuberth C4 Pro test helmets
You may well know that Schuberth's C4, flip-lid helmet has recently been superseded by an updated model called the C4 Pro. The C4 was a good, if perhaps not a great, helmet. And although it was, at the time of its launch, the most technically sophisticated helmet money could buy, it was blighted by a number of gremlins. These have all been addressed in the new model, which has a plusher lining, a proper 120 Pinlock visor, and more sound deadening material that ensures that it's now as quiet as the C3 Pro. But the problem with buying a new helmet is that you really only get to work out if it's right for you after you've owned it for a while. And often that's too late. Well, to make sure that this doesn't happen with the C4 Pro, Schuberth has supplied us with a set of test helmets for our customers to try before they buy. We've got them all here in the shop in Guildford, so if you want to see if the C4 Pro is the helmet for you, come and see us. If you're the cautious sort, phone us first, and we'll put a helmet to one side for you.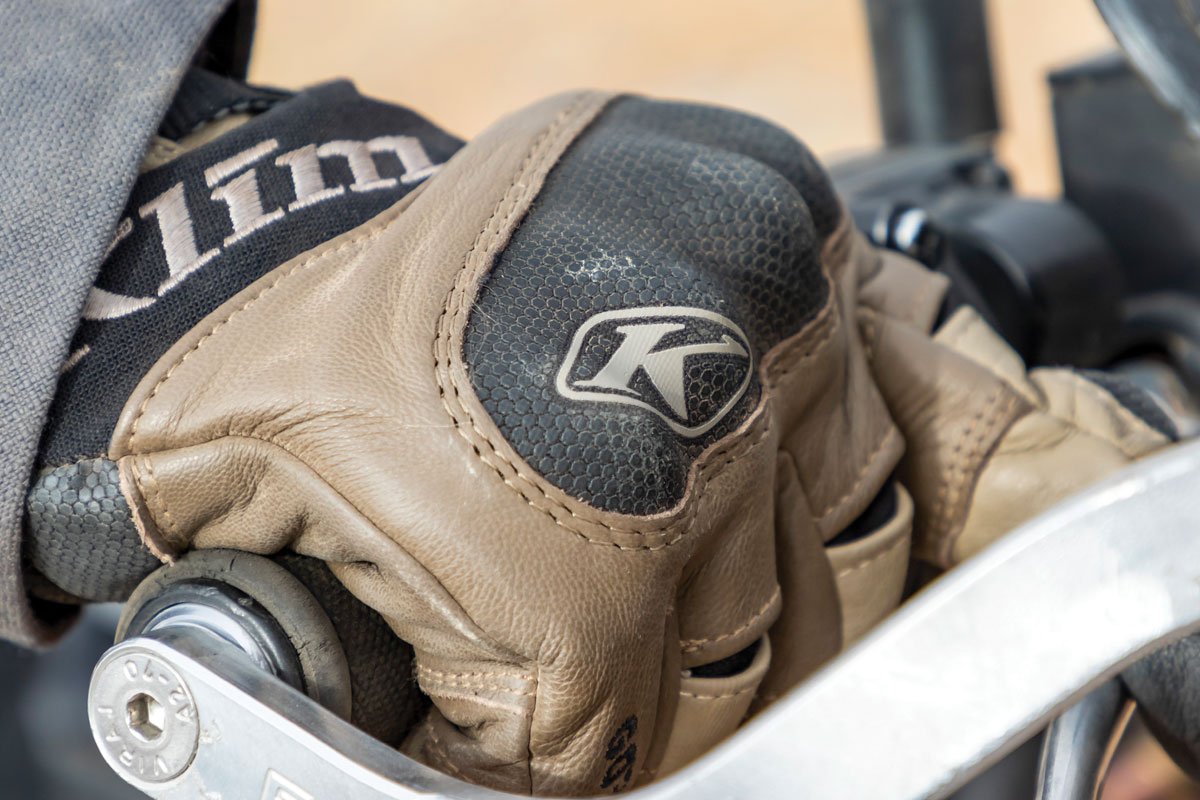 Top 10 summer waterproof gloves
There are summer gloves and there are summer gloves. The true summer glove has no waterproof/windproof membrane, and obviously no thermal lining. It could be leather or textile, and it could well have perforations or vents. The other kind of summer glove is more suited to your average British summer. It is light in weight, has no thermal lining, but it does have a waterproof membrane. We call these summer waterproof gloves; and they're two, perhaps eve three, season in their applicability. Well we recently sent out a bulletin about this style of glove. If you didn't see it,
click here
. For most people this is going to be the glove you wear most of the time. And, obviously, we've got some of the best on the market.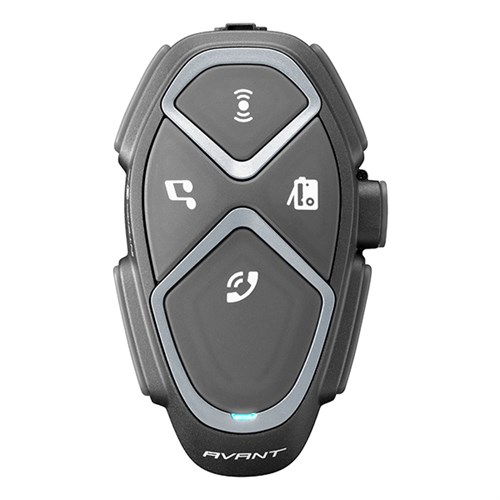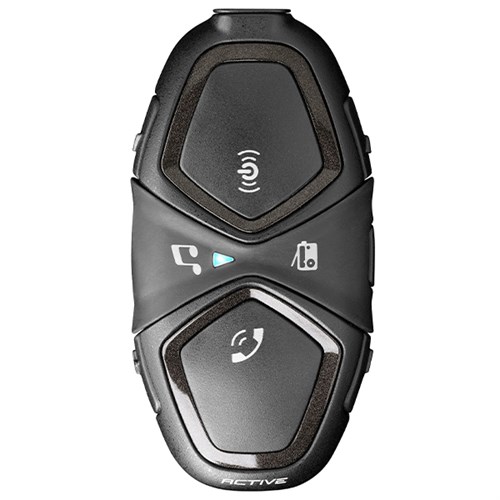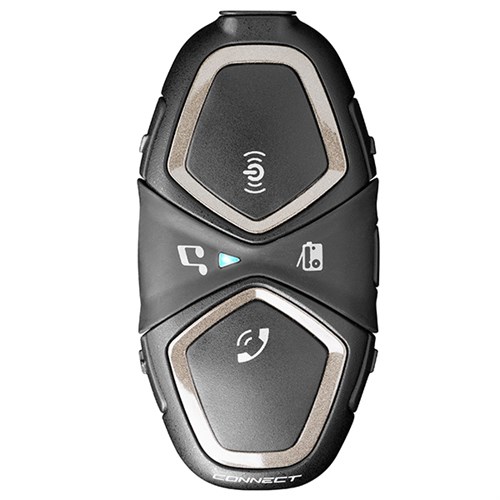 New Interphone comms. sets
Recently launched are three new Interphone packages. The new Connect intercom replaces the Link, which is the basic model designed for rider to pillion communications. The new Active replaces the middle model, previously known as the Sport. The new Avant is the new top-of-the-range model that replaces the Tour. Now the changes are not huge, but the improvements are all worthwhile. The units are now slimmer. They're going to fit more closely to the helmet, and thus potentially generate less wind noise. The button layout is cleaner, and this should make them easier to operate with gloved hands. Apparently, the system for clamping the units to the helmet is also easier, and it works better if mounting on a curved part of the lid. The speaker wire now goes into the back of the control unit rather than the bottom. It means the wiring is out of the way; it also makes for an easier installation. Most importantly, the sound chip on all three units has been improved, to deliver better quality sound. The best news for these improved products, however, is that the prices have not changed. And when did that ever happen?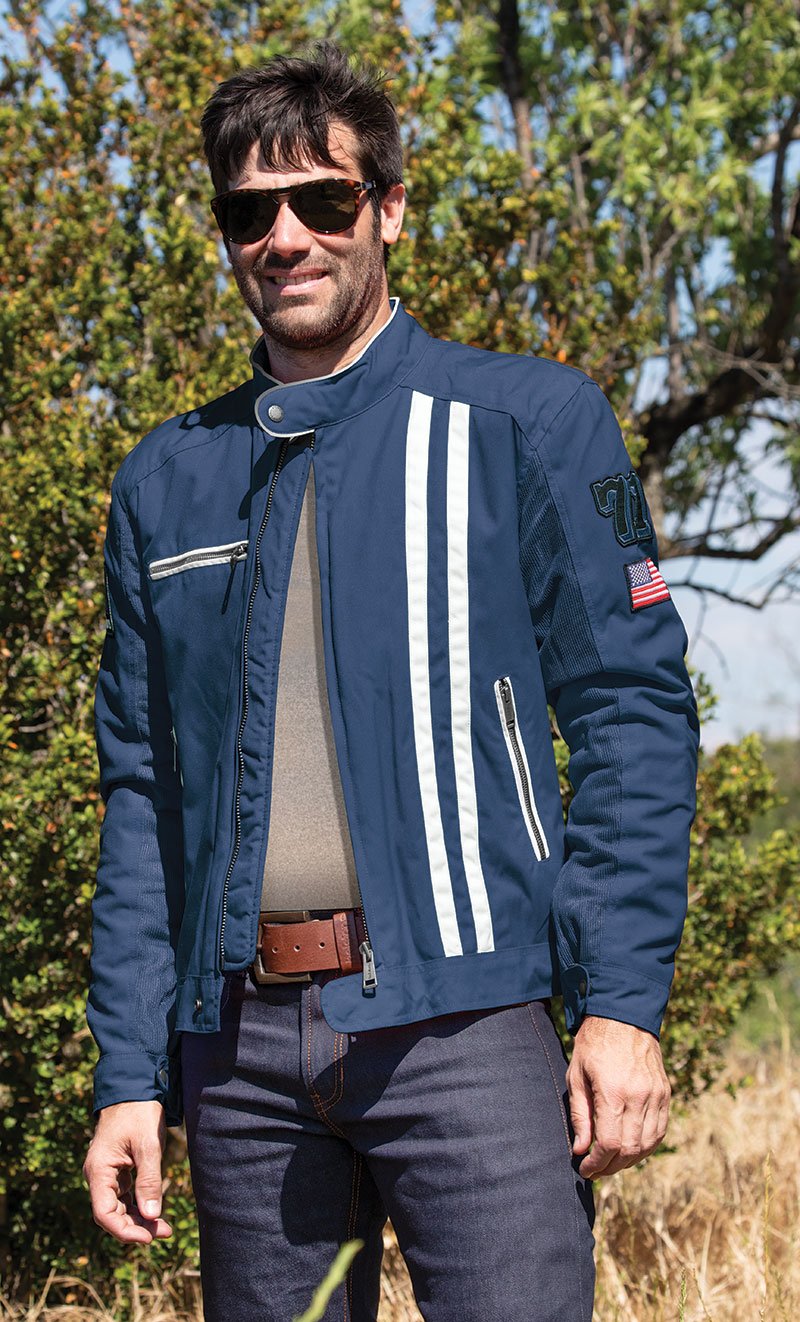 Helstons 2019 collection now on shelves
Very recently, we've had in a number of new leather and textile jackets from our French friends, Helstons. For ladies, there's a jacket called the Laureen and the Sarah. Now, Helstons' ladies' jackets have sometimes been a bit too heavy and stiff for some, but these new jackets are much easier to wear. They're worth a look. On the men's side, we've had in re-stocks of a mesh jacket we did last year that was called the Modelo. It's one of the better, traditional mesh jackets out there and, for the price, it's pretty impressive. There's a gorgeous new leather jacket in a very subtle, dark green that is called the Road, a lovely mid-brown jacket called the Scoty, and a jacket called the River that comes in standard and perforated versions. What also turned up earlier this week was this, lightweight jacket with Shelby stripes. We know there are lot of people who are waiting for it.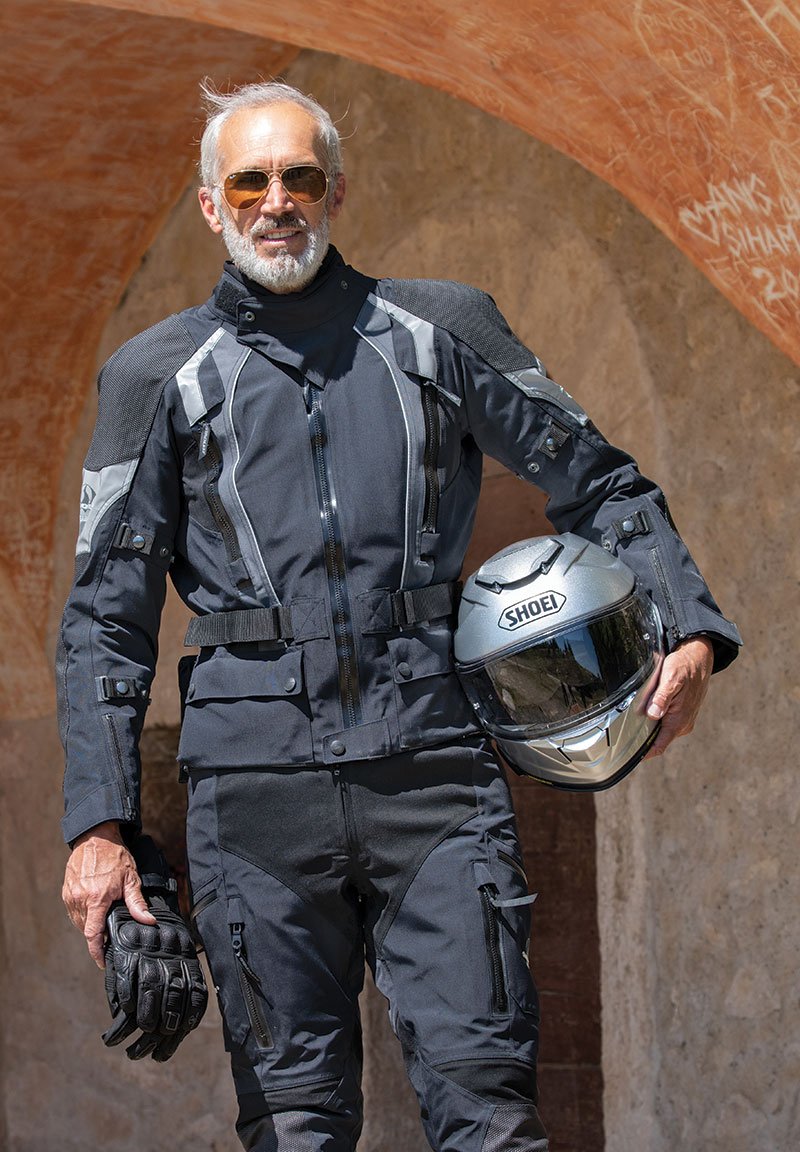 The new Stadler Supervent 3 jacket is now here
We, as you may well have realised by now, really like Stadler's laminated gear. It's built using only the best ingredients. And it's built to last. If you're all about comfort, you might be better off with Rukka's Nivala, or certainly Halvarssons' Wien outfit. But if you want the highest levels of protection from the elements, and the last word in safety, we're not sure anything comes close. Stadler backs all its suits with a 10 year warranty, so that might give you some idea of how confident they are about the way it's all put together. This year, we've changed allegiance from a jacket called the 4AllPro to the latest version of a jacket called the Supervent. The most recent iteration is called the Supervent 3. It's not massively dissimilar to the 4All Pro. It has a marginally sportier cut, longer vents, and a vented placket that allows you to ride without the main zip done up, to allow more air to circulate around the body. But Stadler has made a couple of other minor improvements for the Supervent for 2019. First the shoulders have been made a little less broad. This puts the armour, naturally, into a better position, making the jacket more comfortable to wear. They've also enlarged the arm holes themselves, because some people found them too tight. In suggesting that the Stadler is not the most comfortable suit on the market we are, to an extent, merely trying to manage expectations. It is not an uncomfortable suit and, if the size is the right one, on the bike it will feel right. But Mr Stadler makes the point that this is a suit that has been designed to work at its best in the riding position. It may not work quite so well when you're scoffing a burger and chips. If you're curious, and want to know why the German Police would wear nothing else, come and see us. A couple of other things. Stadler can do bespoke sizing for those who can never find anything off-the-peg. And whilst you'll never find anybody discounting the suit, Stadler has made it possible to get three years' interest-free finance on this gear. With a deposit of just £173.30, you'd pay a mere £43.32 a month for three years. When those three years are up, you'll have a paid for suit that still has seven years' warranty left!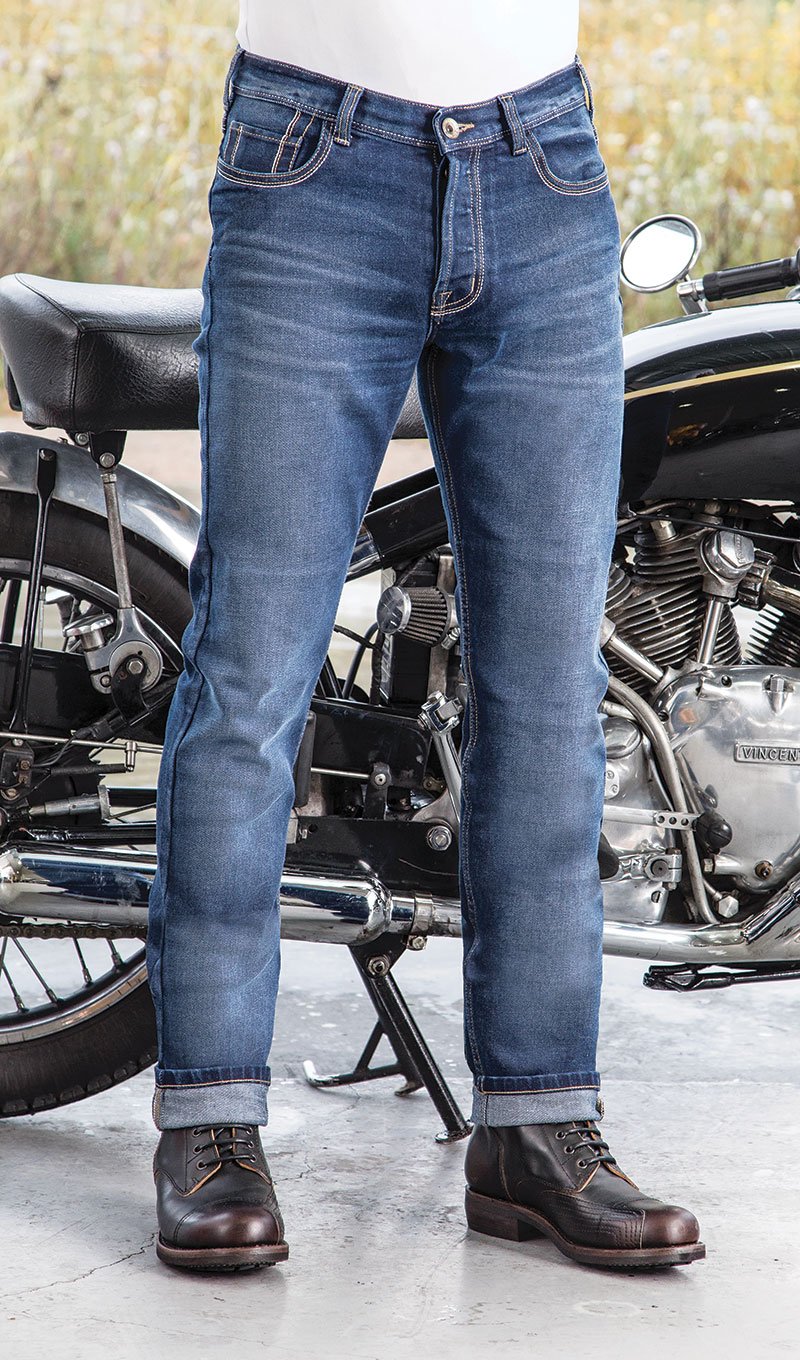 Our favourite Rokkertech jean is back in stock
We love Rokker's Rokkertech jeans, we virtually live in them and nobody knows more about how to get them to fit properly than we do. Come and see us in Guildford, and we'll make sure we get the armour in exactly the right place, even if we have to move the armour pocket. And we'll get you on and off the shop bike to make sure that leg lengths are right too. And all alterations are on us. We'll do all of this because we're convinced that this is the best bike jean money can buy, and if you buy a pair, we'll want them to be perfect. These days, there are really three different washes/fits. The raw version has a straight leg. The vintage/dirty wash has a slim leg. And the black version has a skinny leg. But about 18 months ago, Rokker stopped producing our favourite version; a version that had what we'd call a light wash. We thought this was the perfect version. Enough of a fade for a bit of a worn look, but not so washed out that you looked like somebody who couldn't afford a new pair. Well, we've managed to persuade Rokker to re-make our favourite version, and the good news is that it's only available from Motolegends. The fit is supposedly slim, but recently we've found that on most Rokker slim-fit jeans you can still get them over a tall, Daytona-style boot. Anyway, we've still got the country's largest stock of all the colourways and all the sizes, so if you're interested in a motorbike jean that wears like a pair of Levis, but that delivers 50% more abrasion resistance than leather, set the satnav for Guildford.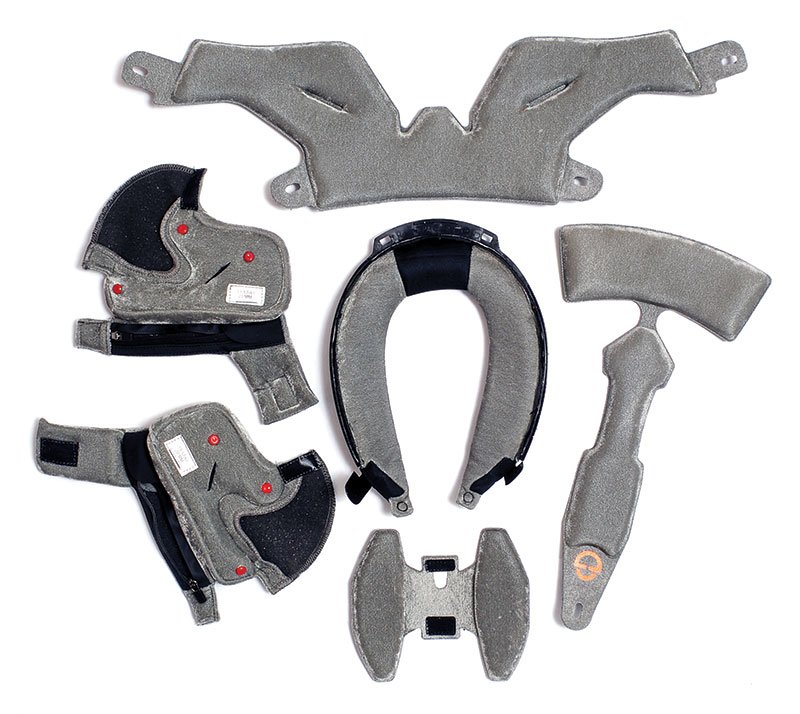 Free interior upgrade for all Schuberth C4 flip-lid helmets
We've probably bored most of our customers to death with tales about the C4, the gremlins it initially suffered from, the C4 Pro that subsequently replaced it, and so on. Well, one of the improvements that has been effected for the C4 Pro is a new, plusher, more luxurious liner. And it is really nice. In most cases, it makes the helmet much more comfortable to wear, although noise absorption was the original motivation behind its adoption. Well, totally unexpected as it was, we've just heard from Schuberth that they're prepared to supply the new interior to anybody who bought the old C4 from us. Frankly, we were gobsmacked. It's a generous, and forward-thinking, gesture. So, if you purchased your helmet from us and want to upgrade your lining, we'll supply a new one totally free. Now, there are a couple of ways to make this happen. Phone us, give us your details and your helmet size, and we'll send the six components that constitute the interior to you for free. If you want us to fit it for you, you can bring your helmet in and leave it with us, and we'll phone you when it's ready. Or we'll send it back to you. Unfortunately, we cannot fit it there and then. It can take a half hour to change all the pieces and, during shop hours, we won't have the time. Of course, you don't have to visit us in person. You can send your helmet to us; we'll fit the replacement interior, and then send it back to you. But there is one potential problem. The new interior is most definitely thicker. If your C4 currently fits tightly, there's the possibility the the new interior will make it uncomfortably tight. In fact, if the fit on your C4 is snug, we reckon you should leave it as it is. Anyway, we'd like to thank Schuberth for the gesture. Nobody is perfect; we all make mistakes, and their C4 was not perfect. But it would seem that the company is now determined to do the right thing. We salute them!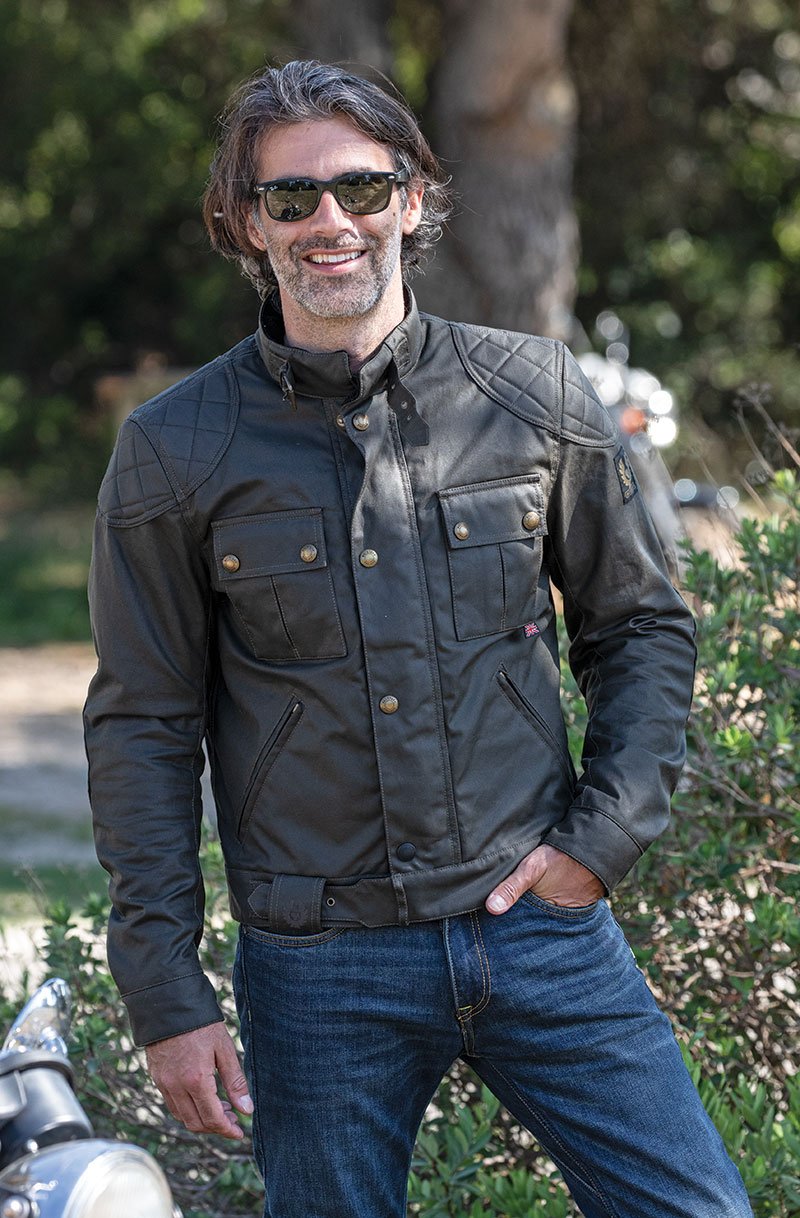 Important notice on Belstaff pricing
At the end of April, Belstaff introduced its totally new 2019 collection of motorcycle jackets. This newly-repatriated British brand has totally embraced the new CE regulations, so all of their new jackets are now fully tested and CE approved. Working with British Millerain, Belstaff has developed new, more abrasion-resistant fabrics. They've improved the fit, and have taken the opportunity to update much of the detailing. We now get new, improved YKK zips and, in some cases, the jackets even have zippable vents. Somewhat surprisingly, just weeks after the new collection was released, we have discovered that many of the new jackets are being heavily discounted on the internet. This is not what you'd necessarily expect on a brand as prestigious and exclusive as Belstaff, but it is going on. Of course, as ever, it's the usual suspects that have taken the initiative. One of them is a big player on the continent, but some of the discounters are much closer to home. But, as most of our customers will already know, we will not be beaten on price. If somebody in the UK is cheaper than us on any Belstaff jacket, we'll beat their price by 10%. If the retailer is in Europe, we'll match their UK-delivered price. It shouldn't take you long to work out who is offering cheap Belstaff jackets. Just Google 'Belstaff Tourmaster motorcycle jacket', for example. The recommended price is £725.00. You'll soon see who is discounting it. Take 10% off any of their prices on any Belstaff jacket, and that's what you can buy it for from us for. As one of Europe's largest retailers of Belstaff motorcycle wear, we carry huge stocks of their entire range in our warehouse. Right now, we have on our shelves pretty much every jacket, in every size, in every colour. If you want to try one on for size, come and see us in Guildford. And you might want to do this because Belstaff's sizing has changed quite significantly. But, equally, you can order online with total confidence, as we offer free despatch and free returns. Of course, we're not sure how long this situation is going to last for, so if you've ever fancied a Belstaff, there's probably never been a better time to take the plunge.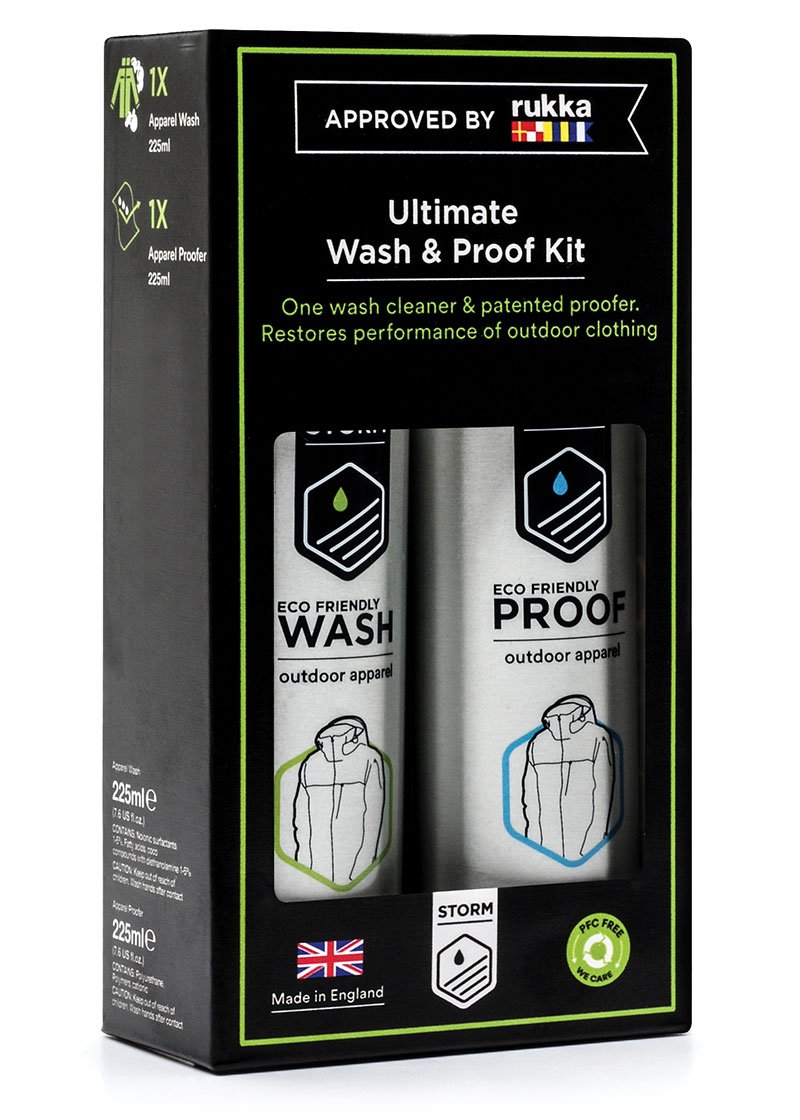 The only motorcycle apparel cleaning product recommended by Rukka
The more you ride, the more frequently you should wash your motorcycle gear. If you ride less than 5,000 miles a year, mostly in nice weather, once a year is probably enough. But if you commute daily, or ride in excess of 10,000 miles a year, there's a case for washing your gear at least twice a year. And you do need to wash your riding jacket and pants because they won't work as they're intended to if you don't.
There are a couple of issues. First is the fact is that mud, dirt and road grime will get encrusted into the outer fabric of your garments. This build-up of dirt is basically hydrophilic. That is to say that it will attract and absorb moisture. This water may not find its way through the waterproof membrane, but it will cause the jacket to become heavy and waterlogged. It will speed up the process of what we call 'wetting out'. And it applies to both drop-liner and laminated garments alike, although the impact on a laminated garment will be less. This build-up of dirt and grime in the pores of your clothing will also reduce its breathability.
The other issue is that if you don't wash your gear, deposits of salt from your sweat will build up on the waterproof membrane inside the garment. This will make the membrane less breathable, and reduce the ability of the membrane to allow moisture to wick away from the body. These salt deposits will also be hydrophilic, meaning that water can be sucked into the membrane. , instead of passing through it. When it comes to cleaning your motorcycle gear the big 'no-no' is a detergent bought from a supermarket. Even a non-bio can damage the membrane. A bio liquid or powder is worse. And if you use a fabric conditioner, it's basically game over.
Now, historically, we've always recommended a non-detergent cleaner from somebody like Nikwax, but now there's a better option that has been formulated specifically with motorcycle clothing in mind. It's produced by a company called Storm specifically for Rukka, and where it differs to other non-detergent cleaners is that its formulation includes no soap whatsoever. Soap causes two issues. It has a high ph factor, so in hard-water areas you need to increase the dosage. But perhaps more importantly, if for whatever reason the soap doesn't get rinsed away, it clings to the membrane. These soap deposits will attract moisture and reduce the membrane's breathability. But because the cleaning products made for Rukka by Storm don't use soap, you'll never be left with a soapy residue in the membrane. And because there's no soap, the dosage will be consistent. From every bottle set, you'll get three washes. But there's one other major benefit to using Rukka's Storm cleaning kit. And that is that you pour both solutions into the dispenser drawer at the same time. With Nikwax, you do the wash first, and then follow this up with a second cycle for the re-proofing. But with the Rukka kit both jobs are done with a single wash.
The way we see it, this new 'wash and proofing' kit represents a significant benefit when it comes to washing your gear. Because it doesn't contain soap, it works better than traditional non-detergent, soap-based cleaners. And wherever you are in the country you use the same dosage. And, of course, you save time by only having to run one cycle.
Of course, it goes without saying that you can use Rukka's recommended system on any brand of motorcycle wear. Obviously, check your washing instruction before you wash any items of bike wear, but the usual rules apply. Take all the armour out first. Wash pants and jackets inside out. And when the garments are more or less dry, put them into the dryer for a 15-20 minute cycle, as this helps to reactivate the reproofing. Finally, make sure to remove any tissues from your pockets before you put your gear into the wash. It's a horrid job trying to vacuum off all those bits of white fluff!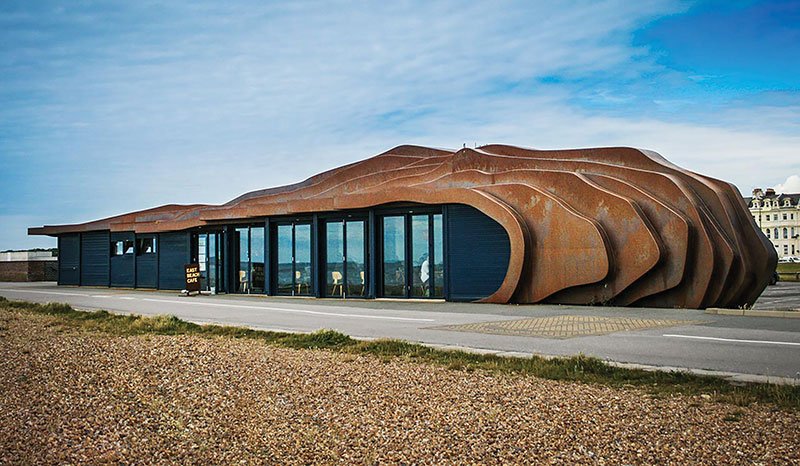 Join us for a fish and chip run to the East Beach Café in Littlehampton
Our next fish and chip run will be on Saturday 13th July. And the destination will be our favourite fish and chip venue: the East Beach Café in Littlehampton. We won't be eating in the restaurant inside. Instead, we've booked a couple of the outdoor tables so that we can dine al fresco. We're going to limit the ride to 20 people because the East Beach Café cannot handle more than this. The plan is to leave Guildford just after 5.00pm when the shop closes. We should be down there easily for 6.30 - 7.00pm. Back on the road by 8.30pm. In bed by 10.00pm; that's important for us lot because we're back in the shop first thing on Sunday morning! If you want to join us, we'd ask you to reserve your place online. The code is
FNC1307
. The cost is
£10
, which will obviously go towards the evening's repast. If you don't know the East Beach Café, Google it. From an architectural perspective, there's not a more interesting chippy in the land. And the fish and chips are pretty good too.

WHAT'S NEW PUSSYCAT ARCHIVE