Bagster Replacement Large Flip Plastic Clasp
Bagster Replacement Large Flip Plastic Clasp
x
We will beat any UK retailer's discounted price by a full 10%
If any UK retailer is selling anything at a price that is lower than ours, we will beat that price by a full 10%.For terms and conditions, click here.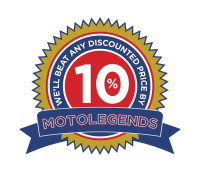 Bagster Replacement Large Flip Plastic Clasp Product Information
Genuine Bagster replacement spare plastic adjustable locking strap locks a strap in place, unstitched.
Product Reviews
Reviews
Tony Wood: mr
good as usual glad you can buy these spares. Tony
APOSTOLOS ZAMPRAKAS: Best store
The services is best.the product same as in description,delivery in time,I will buy again!!!
Leave us your review