Bagster Replacement Metal Push Clasp
Bagster Replacement Metal Push Clasp
x
We will beat any UK retailer's discounted price by a full 10%
If any UK retailer is selling anything at a price that is lower than ours, we will beat that price by a full 10%.For terms and conditions, click here.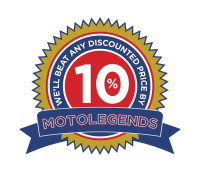 Bagster Replacement Metal Push Clasp Product Information
Genuine Bagster replacement metal push clasp.
Product Reviews
Reviews
L James: No more sliding Tank Bag when going round bends.
The Z spring in the push clasp had snapped inside my 25 year old bag and was no longer securing my tank bag. Wasnt aware that Motolegends was a distributor in the UK. So was glad that I was able to source a replacement.
Leave us your review