Daytona Road Star GTX boots in black
Daytona Road Star GTX boots in black
x
We will beat any UK retailer's discounted price by a full 10%
If any UK retailer is selling anything at a price that is lower than ours, we will beat that price by a full 10%.For terms and conditions, click here.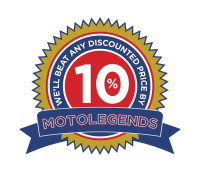 Daytona Road Star GTX boots in black Product Information
The Daytona Road Star GTX is made from the highest grade of leather available; leather that has been treated for waterproofing at the tanning stage. Of course, the main waterproofing comes courtesy of a Gore-Tex liner. On the boot you get two zip fasteners to make them easier to get in and out of, and there's a Velcro fastener at the top of the shaft to enable you to adjust the fit around the calf.
Safety wise, there are composite protectors on both ankles. You also get a hot-dip galvanised steel inlay in the foot bed. The boot features an extra grippy sole and 3M Scotchlite reflectors.
Daytona's boots are quite wide, but extremely comfortable.
We also stock the boot in an
extra wide fit
and a
narrow fit
.
Specification
Hydrophobic cowhide construction
Gore-Tex membrane for water-resistance and climatic control
Breathable
Perfect fit, different widths available, narrow and wide (wide sizes marked with w)
Touch fastening adjustments to suit different calf sizes
Two zip fasteners at the sides for quick and easy access
Reinforced abrasion resistant gear change cushion
Anatomically formed insole
Plastic ankle protection on both sides of the ankle
Padded shinbone protection
Plastic reinforced inner sole with steel inlay
Reflectors in the heels
Rubber grip soles
Height of shaft: 29cm
One year warranty on manufacture with two years on waterproofing
Size Chart
Daytona Mens motorcycle boots. PLEASE NOTE: This size chart shows all sizes available across the entire Daytona range. Only certain sizes are available for certain boots. The sizes available for this boot are shown in the drop-down list on the product page.
| | |
| --- | --- |
| EU | UK |
| 38 | 5 |
| 39 | 6 |
| 40 | 6.5 |
| 41 | 7 |
| 42 | 8 |
| 43 | 9 |
| 44 | 9.5 |
| 45 | 10 |
| 46 | 11 |
| 47 | 12 |
| 48 | 13 |
| 49 | 14 |
Product Reviews
Reviews
HB: Greatest motorcycle boot
This is the greatest motorcycle boot ever mad, I know it, you know it, yes its expensive but the greatness has its cost,regarding the size, I find it true size, forget about people telling to size up or to go down size, just go to the Daytona size chart on there website and stick to it
Peter B: Lovely Boots
Once you get the right size the curve zip needs the boot to be worn a few times before it closes easily. Once on they are extremely comfortable. The gear change pad is very soft and if you are used to a hard pad this can surprise. A brilliant boot to ride in. As they say it does what it says on the box.
Peter: Daytona Road Star Wide Fit
These boots are comfortable from the minute you put them on. The long curved zip is a pain to fasten until youve worn them a few times, after that no problem. I dont think Ill be bothered too much by winter riding.
Tony: The very best set of boots!
I bought mine 23 years ago when I bought my first new Triumph Trident 900 the sales guy said I would never need another pair and at £200 they were very expensive at that time. These boots have travelled all over Europe, across North America and many parts of wet but lovely UK. They are superb and have never let me down. Comfortable, safe and stylish they still look good today. If I ever need another pair of boots then these will be my only choice!
Robert Heaven: Dr
Great boots - no doubt of that at all. The sizing is difficult though and it's best to try them at the shop rather than order them online. My size is 9 - but I ended up with a 10.5 wide after sending back three pairs.
Rich Edwards: Time to Replace
I purchased my Daytonas from HG eight years ago. I average 15k miles a year in all weathers. They have just started to leak around the heel cup area, i suspect the membrane has given out from wear and tear after 100k miles. Daytona will repair them, however the cost is nearly the price of a new pair. Which is a shame because they are still in great condition overall. But I do look after my kit. So time to replace them with ....same again please.
David Harkman: Mr
Great for the daily commute, warm comfortable and the build quality is amazing, great service from Motolegends as always, will definitely use again
Mike Dignum: Product Review
Just bought a pair as every biker at work wears Daytona and rave about them. Wore thenm to work today and found them comfortable and warm.
Vaughan Whiteley: Product Review
Without a doubt the best motorcycle boots I've ever experienced. 100% waterproof even through the heaviest of high mountain rain storms and the usual Irish summer weather (Bloody wet!). My original pair, (now 8 years old) have out performed and outlived 2 pairs of other makes bought by me for my wife..... at last she has admitted that my boots are better and is buying a pair of ladies boots as we speak. Make the investment and I promise you, you will not regret it.
Gregory O'Riordan: Product Review
I've been wearing my original Daytona Road Star GTX for close on 9 years, always waterproof, warm when needed yet never hot on the warmest days & excellent to wear & walk around in all da, too! Durable & still amazingly comfortable - even if in need of a renovation now! The best boots I have ever owned, in 40 years of biking - will buy again, an amazing product - cannot recommend highly enough!
Leave us your review