Held Alserio GTX boots in black
Held Alserio GTX boots in black
x
We will beat any UK retailer's discounted price by a full 10%
If any UK retailer is selling anything at a price that is lower than ours, we will beat that price by a full 10%.For terms and conditions, click here.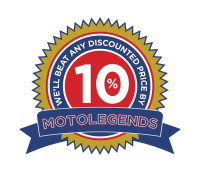 Held Alserio GTX boots in black Product Information
It doesn't mean that we're always right, but we do take the view that Daytona makes the world's best motorcycle boots. But one level down, in our view, is Held. Some of their boots, quite frankly, are almost direct copies of models made by Daytona. For example, the Annone. The Alserio GTX is also pretty derivative.

The Alserio is made from a full-grain, calf's leather, although in some areas this is interspersed with panels of something like Lorica; in other words, hard-wearing, synthetic materials. Like the Annone, the Alserio is Gore-Tex lined. You get a fibreglass shin protector, fibreglass pucks in the ankle, a volume adjuster for the calf, a gearchange pad, a Vibram sole, reflective inserts, and so on.

The Alserio should be a little more comfortable than the Annone, both on the bike and off. And that's down to the more extensive use of concertina stretch panelling in both the forefoot and the heel. It is also a little cheaper than the Annone; and that can be put down to the fact that, there's a little less leather in the Alserio, and that there's only a single zip entry.

Like all Held boots, the Alserio comes with a five-year warranty. It's going to be as protective and as waterproof as any touring boot on the market. There's no such thing as a motorcyclist for whom the Alserio is not good enough. You may prefer another brand. You may find a fit elsewhere that you prefer, but the Alserio is still a fabulous boot. And it's perhaps a little more affordable than some.
This product benefits from Held's five year warranty extension as long as the purchase is registered with Held.
Specification
Full-grain leather and textile chassis
Gore-Tex membrane liner
Single-zip entry
Velcro adjuster at calf
Gearshift pad
Vibram sole
Fibreglass shin protector
Fibreglass ankle protectors
Reflective inserts
Concertina stretch panels in forefoot and heel
This product benefits from Held's five year warranty extension as long as the purchase is registered with Held


Product Reviews