Belstaff Long Way Up
Published on: 18/09/2020 11:24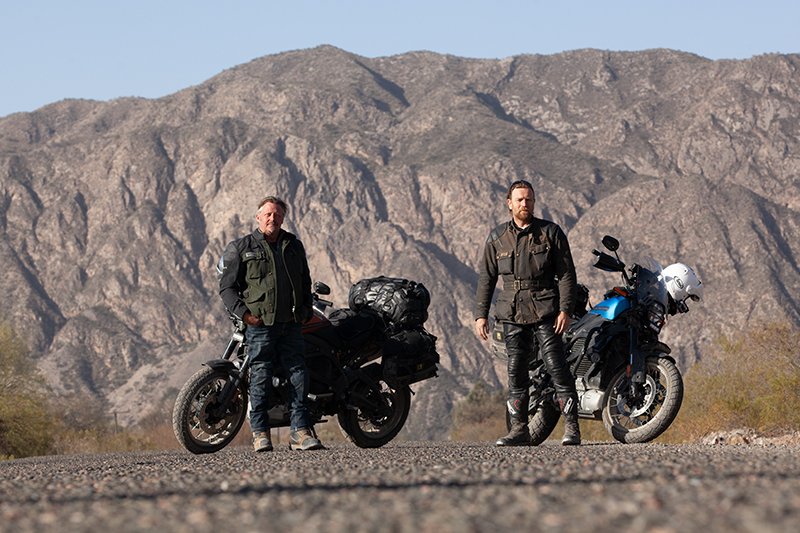 At the back end of 2019, Ewan McGregor and his best pal, Charley Boorman, set off on their latest trip. Their adventure would take them from the southernmost tip of South America, 13,000 miles north to Los Angeles. For their previous journeys the boys rode BMWs, but this time round they transferred their allegiance to Harley Davidson. If that wasn't going to be enough of a challenge for them, the decision was taken to undertake the ride on the brand's latest electric bikes!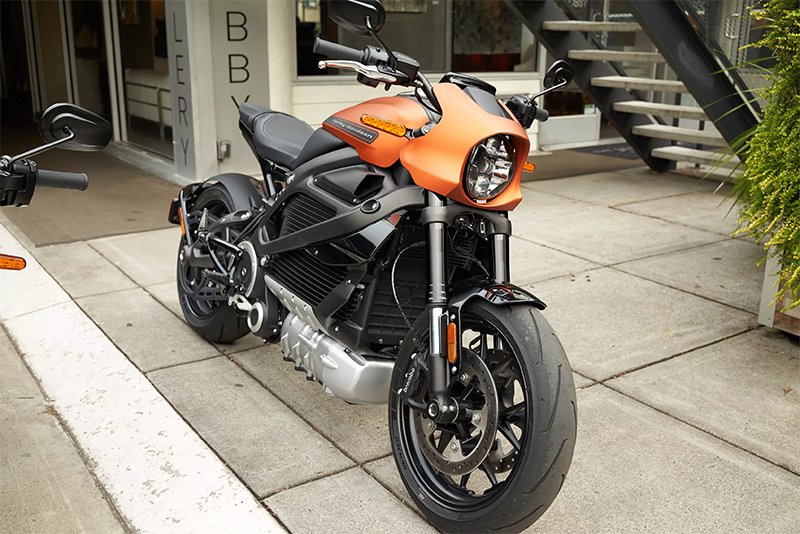 A 13,000 mile ride is no mean undertaking. Historically, it would not have been the kind of trip most people would have contemplated on a Harley Davidson. But just to add a touch of spice to the adventure the two boys elected to do it on the American brand's latest LiveWire electric bikes.
But as with the Long Way Round and the Long Way Down, for this trip, the Long Way Up, they elected to stick with their long-term clothing partner: Belstaff. Now, some 18 months before their departure, Belstaff came to see us about their desire to create a new, high-end, adventure-style suit. Ewan, it would seem, had decided to ride in a traditional wax cotton jacket, but Charley wanted something more akin to a modern Klim suit.
We showed their design team the best that was on offer from the likes of Rukka, Klim, Stadler and Halvarssons. We discussed, at some length, the features that we felt would be important on such a suit, as well as the features we felt would not be. We had a couple of meetings to refine the offering, and left it to them. We first saw the pre-production samples at Eicma in October 2019, just before the boys set off. We made a number of suggestions about changes, and although we were too late to amend the suit that Charley actually wore, we have been told that our proposed amendments have been incorporated into the final production pieces that are due to arrive with us in the coming weeks.
If you're reading this bulletin, it means that the Long Way Up series has now officially aired on Apple TV. And it means also that we are now allowed to tell our customers all about the gear the two guys wore for their 100 days in the saddle.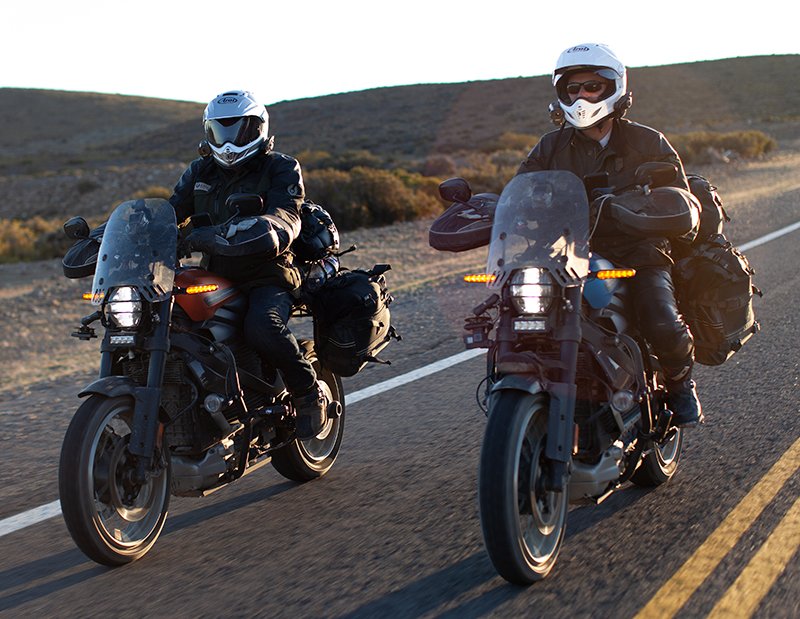 For the trip, Charley wore a new technical suit, the development of which we were involved in. Ewan, ever the film star, chose a more classic form of attire, combining a new heavy-duty wax cotton jacket with a pair of tight-fitting leather pants.
Now we've recently made videos about the six different items that have been produced by Belstaff, and which form part of the new Long Way Up collection.
There's Charley's new adventure suit, a pair of single-layer jeans called the Charley, and a duvet-style jacket that both the boys wore, both on and off the bike. There's a new, wax cotton jacket that Ewan had a hand in designing, and a pair of leather pants that he decided he wanted to wear for the trip.
You can click on any of the above items to view the video reviews we have made for each item, although in fact one video covers the jacket and pants for Charley's technical suit. As ever, our reviews tell it how it is. In all honesty, there are things we would change, improvements we would want to make, on just about every piece in this new collection, but we are hugely impressed by, and very excited about, what Belstaff has done.
This is the most interesting and innovative development from Belstaff in all the years we have been working with them. Belstaff has never done 'technical' before, yet their new suit is a match for the very best produced by the very best. Their new single-layer jean is a beauty, whilst we can see their down jacket becoming the mid layer that everybody wants to wear. Of course, if a more classic look is your thing then Ewan's gear is pretty cool too.
So, if you've got a spare moment or two watch some of the videos; or visit the website to check out the specs. in a bit more detail. Of course, if you want to see what the gear is really like, we will have the entire collection here in the shop as soon as it is released, which we expect to be at some point in the coming few weeks.
In terms of other gear the boys wore, you should try and catch the series on Apple TV. What we can tell you is that both Ewan and Charley wore Arai Tour-X 4 helmets. Ewan wore a pair of old Sidi off-road boots that are no longer available, whilst Charley rode in a pair of Forma 'Terra Eva Lows' that he got from us. He also wore, for parts of the trip, a pair of Lee Parks gloves, which he picked up from the shop when he visited us just before he set off for South America.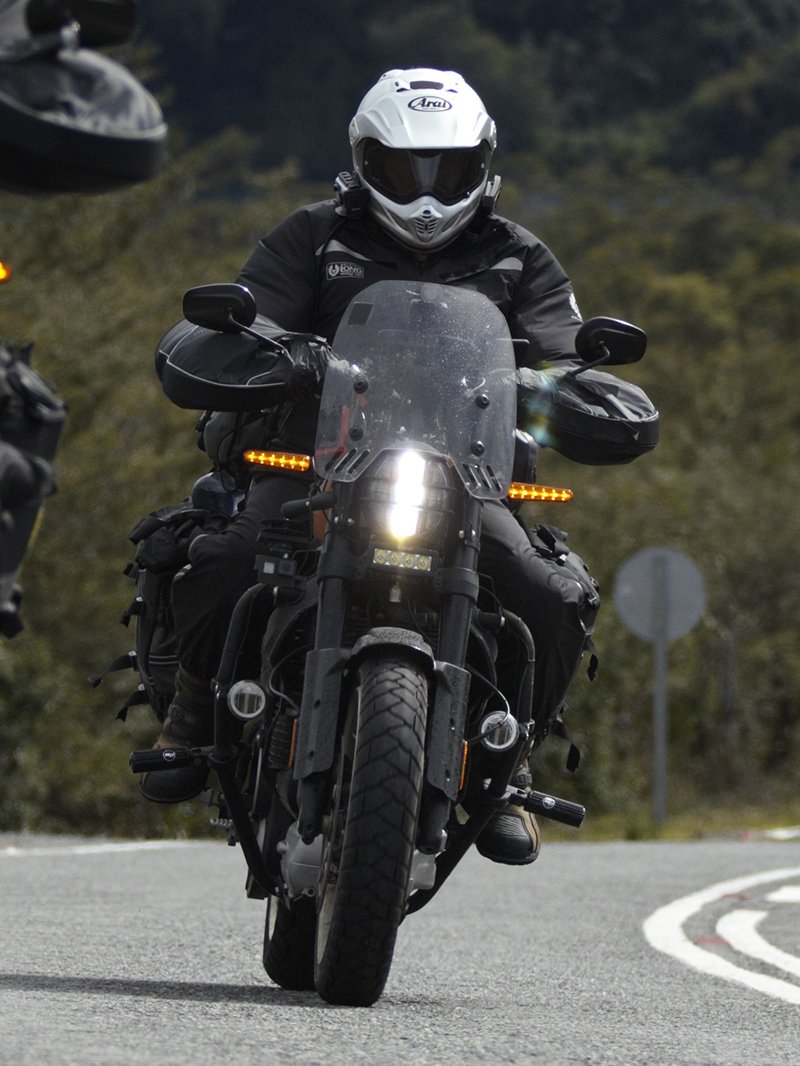 The Long Way Up is the first step on Belstaff's latest journey that will re-establish the company as a force in British motorcycling. Belstaff is a great brand; the most stylish and fashionable in the business, but with Jim Ratcliffe now at the helm there's a new direction that will see the brand becoming as renowned for how its gear performs as it is already for how its gear wears and looks.
It was in 2017 that Belstaff returned home to British ownership, when Jim Ratcliffe acquired the business. That's good news. Jim Ratcliffe loves British heritage brands but, even more importantly, Jim is a dyed-in-the-wool biker. And that's refreshing because, until very recently, there was barely a single biker in the entire company. It is Jim's mission to transform Belstaff from a company that is known largely for its stylish biker wear into a company that is recognised equally for the quality of its technical clothing. This new Long Way Up collection is the first step on that journey. Baby steps they may be, but we are immensely excited to be involved with this iconic British brand at such an interesting time. For many years, Belstaff has sat on the periphery of the motorcycle protective wear business. But make no mistake; Belstaff is once again going to be a force to be reckoned with.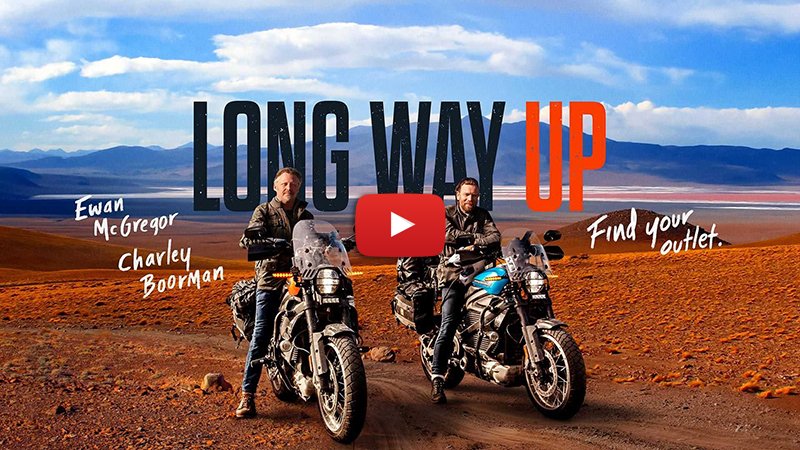 ---
Want some more? Please click here to return to our editorial menu.

Share this story